What makes a brand stand out from the rest? Is it customer support? Or product performance? It's both. Choosing the right HVAC product is paramount, especially if you experience a cold climate. You wouldn't like having a faulty furnace when the temperature plummets below zero degrees, or a gas leak during the summer heatwave, but with a sea of options, which one should you pick?
Going for a high-end brand such as American Standard or Trane eliminates any cause for worry; both brands offer similar products in almost the same price range while providing exceptional performance. This is because both are sister companies and manufacture their products on the same assembly line with the same components.
This article will compare American Standard with Trane, consider a few alternatives, and figure out the best HVAC brand for you.
Bottom Line Up Front
American Standard and Trane are the same under the HVAC unit's body since they belong to the same business group and share the same assembly line. However, Trane offers a wider range of heat pumps, ACs, and furnaces, allowing you greater freedom of choice. Of these two, choose the cheaper one because Trane only charges more to cover its marketing expenses.
Main Differences between American Standard vs Trane HVAC Systems
The most notable differences between American Standard vs Trane HVAC Systems are:
While American Standard and Trane HVAC products share their assembly line, they are finished in different logos and colors to distinguish the brands.
While Trane uses model numbers to distinguish its air conditioners, American Standard uses platinum, gold, and silver series to do the same.
While American Standard offers seven air conditioners, Trane offers two additional systems; the Trane XR17 and Trane XL16i.
While American Standard offers 13 furnaces, Trane provides 15.
American Standard currently only offers gas furnaces, while Trane provides oil and gas furnaces.
While American Standard offers seven heat pumps, Trane offers ten.
While American Standard has ten air handlers, Trane only has six.
Key Features of American Standard HVAC Systems

American Standard is one of the best HVAC manufacturers; its air conditioners, furnaces, and heat pumps are considered durable and highly energy-efficient. Although its products are slightly cheaper than Trane's, it offers a wide range of units to cover your home's complete cooling and heating needs.
All American Standard HVAC units integrate prime-quality components; the reason why they last more than two decades. The brand also offers long product warranties to prove the quality of its products. Their product warranty is divided into three levels:
A basic limited warranty covers component failure up to five years of use for unregistered units/units registered after sixty days of installation.
Registered Limited Warranty extends the warranty term to ten years if you successfully register your product within the stated time.
You can also buy an optional warranty for your HVAC units.
You can also transfer the product warranty to the new owner for $99 if you sell your house, but make sure you do it within ninety days. However, warranty transfer will only be entertained for units registered after August 1, 2011.
American Standard air conditioners have a SEER Rating ranging from 14.75 to a maximum of 38. SEER rating (Seasonal Energy Efficiency Ratio) defines the unit's cooling efficiency; in simpler words, the greater the SEER rating, the more money you save. Similarly, its furnaces have an AFUE (Annual Fuel Utilization Efficiency) rating ranging from 80% to 97.3%. This defines how efficient the unit is in extracting heat from the fuel.
Some HVAC models can be operated via American Standard's mobile app; their advanced control features allow versatility in managing and maintaining the required temperature zone around your house.
American Standard's HVAC products are expensive due to their long-lasting and premium products. If you are looking for quality, you must compromise on the price. Their unit price also includes labor and installation.
Performance of American Standard HVAC Systems
American Standard deals with HVAC requirements for small to large spaces; its products are designed to handle heating and cooling capacities varying from 80,000 BTU to 9000 BTU. I recommend getting a load estimate from a licensed HVAC technician for the space you would like to heat or cool. American Standard has a vast network of contractors who help you select the ideal unit for your requirements.
American Standard's HVAC units are one of the most durable systems available. Sometimes it is hard finding a replacement part, but it can be easily obtained from a licensed dealer.
American Standard HVAC Systems Product Range
American Standard and Trane share most of the product lineup, which is marketed through cosmetic changes. As a complete package, you can buy traditional split systems, which maximize heating and cooling efficiency while reducing energy costs. While all cooling units are electric, you can choose electric or gas-powered heating units depending on your convenience.
Air Conditioner: American Standard's cooling units provide premium comfort solutions for year-round use with the help of advanced, varying-speed compressors, which keep costs at a minimum. Currently, 7 AC models are available.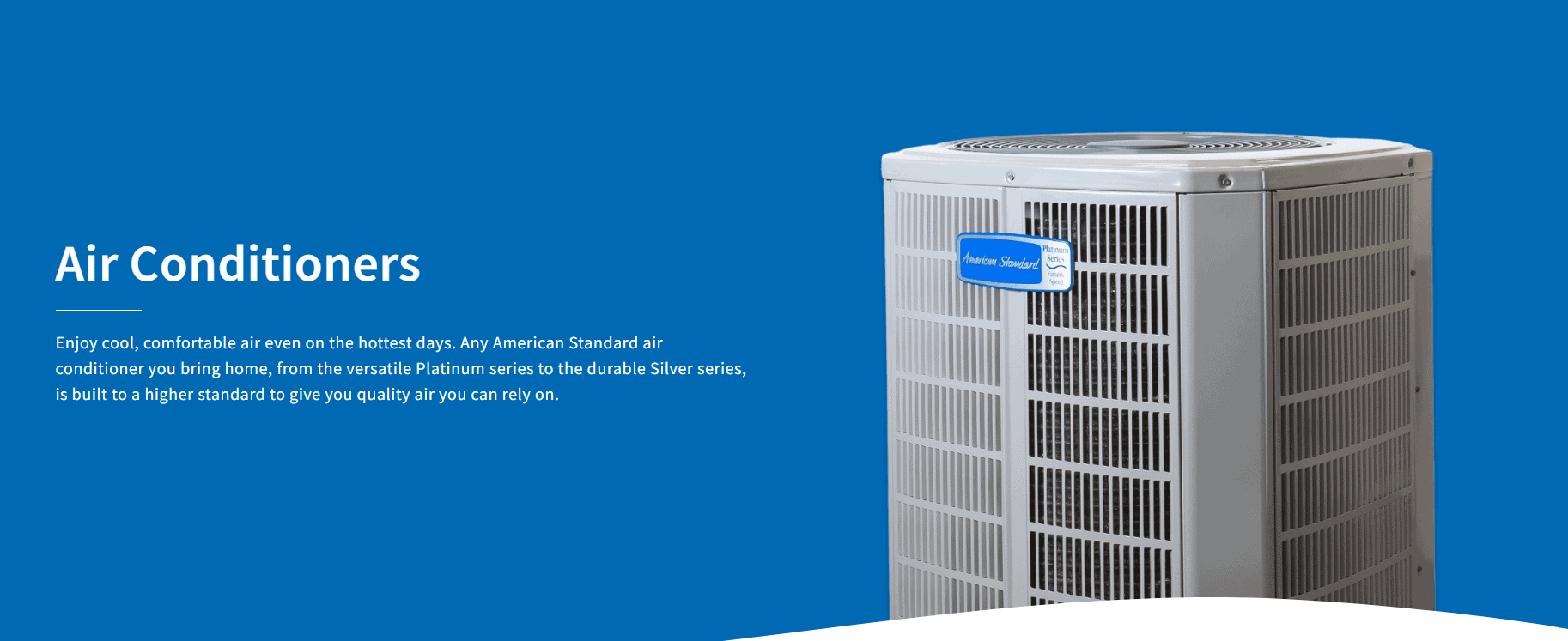 Furnaces: For people who experience extremely frigid winters, having a furnace is a must. American Standard delivers long-lasting coziness and warmth with its gas furnaces. These are available as single-speed, double-speed, and modulating speed units.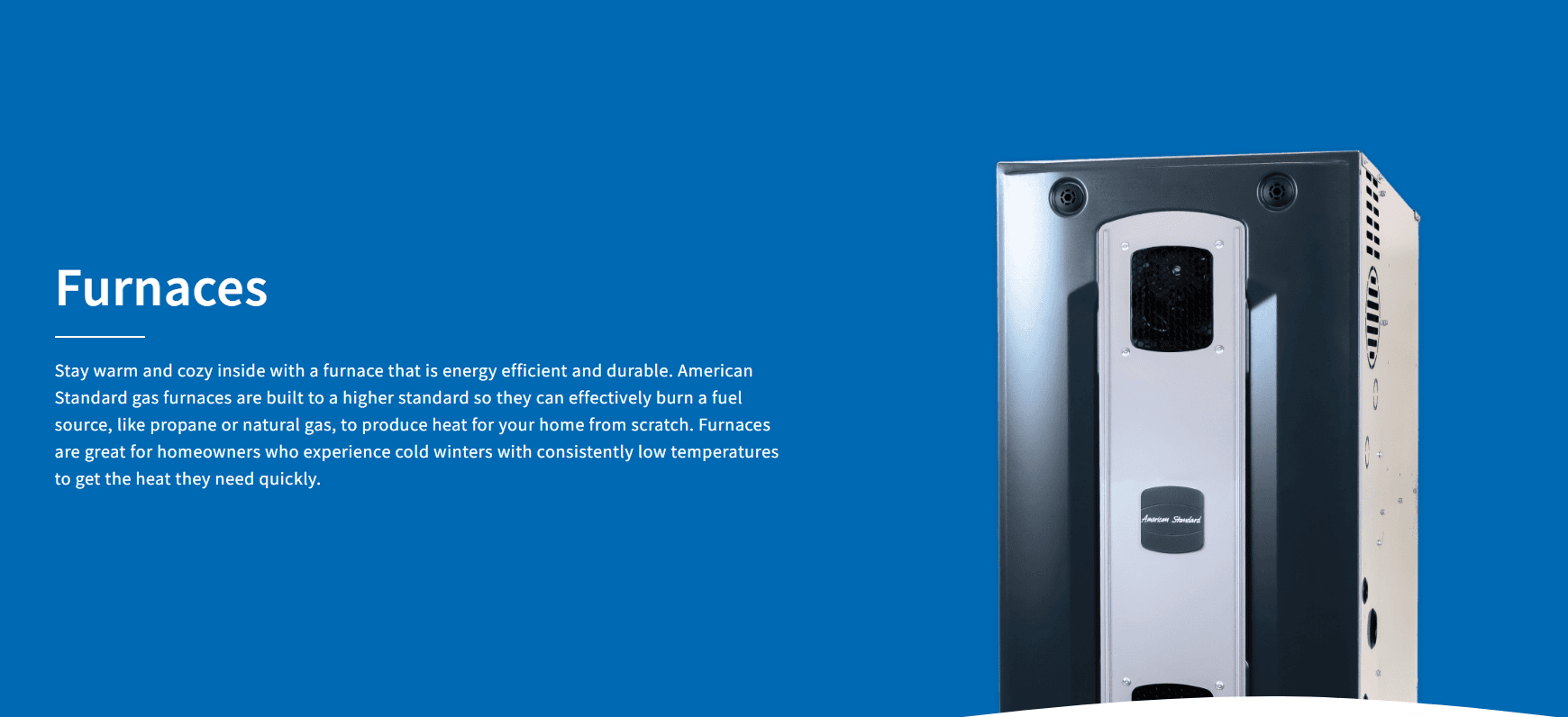 Heat Pumps: Heat pump is recommended for people living in moderate climates. These provide the versatility of cooling, heating, and humidity control year-round. Currently, seven heat pump models are available.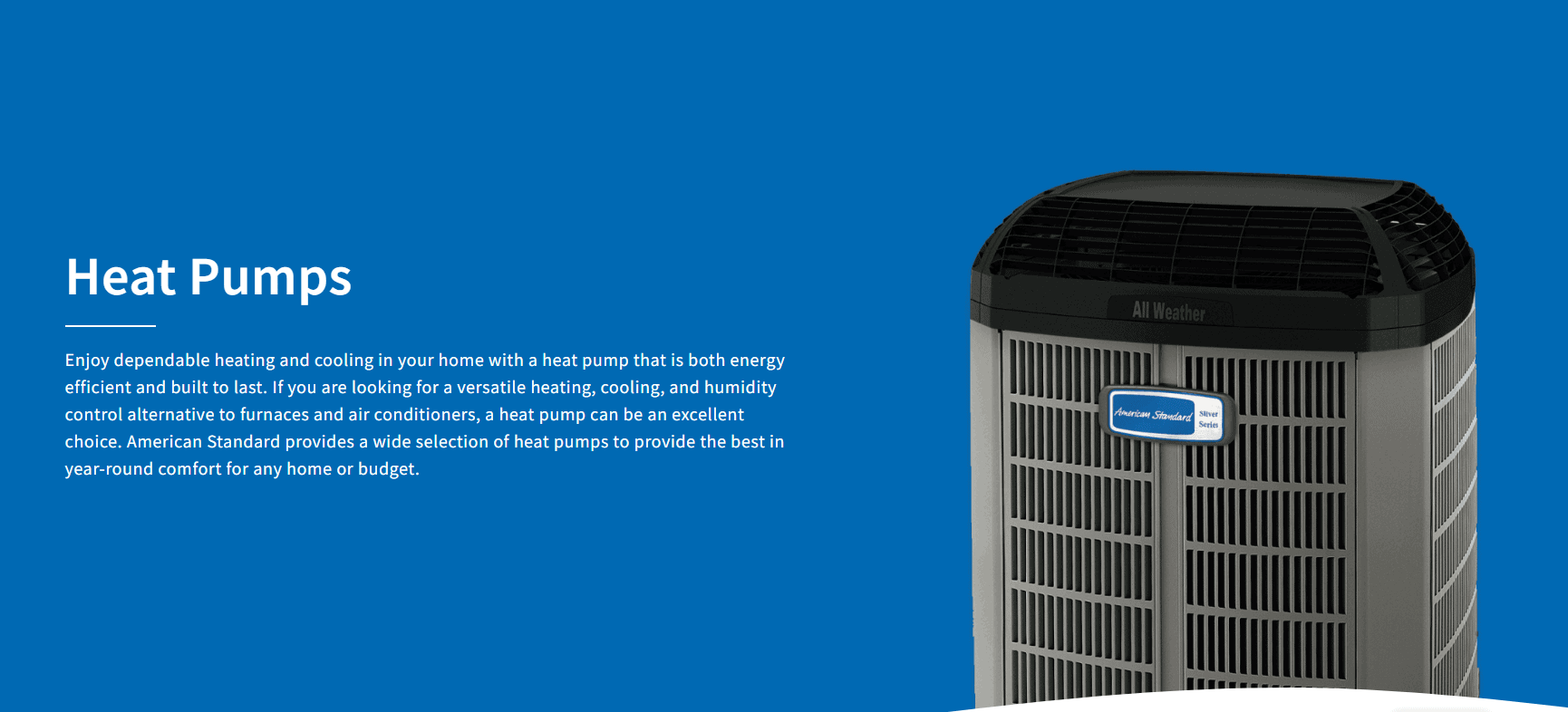 Air Handler: Air handlers, as the name suggests, handle the air around your house. They are responsible for evenly circulating warm or cool air from your air conditioner or furnace while controlling humidity and limiting energy loss. Currently, ten air handler models are available.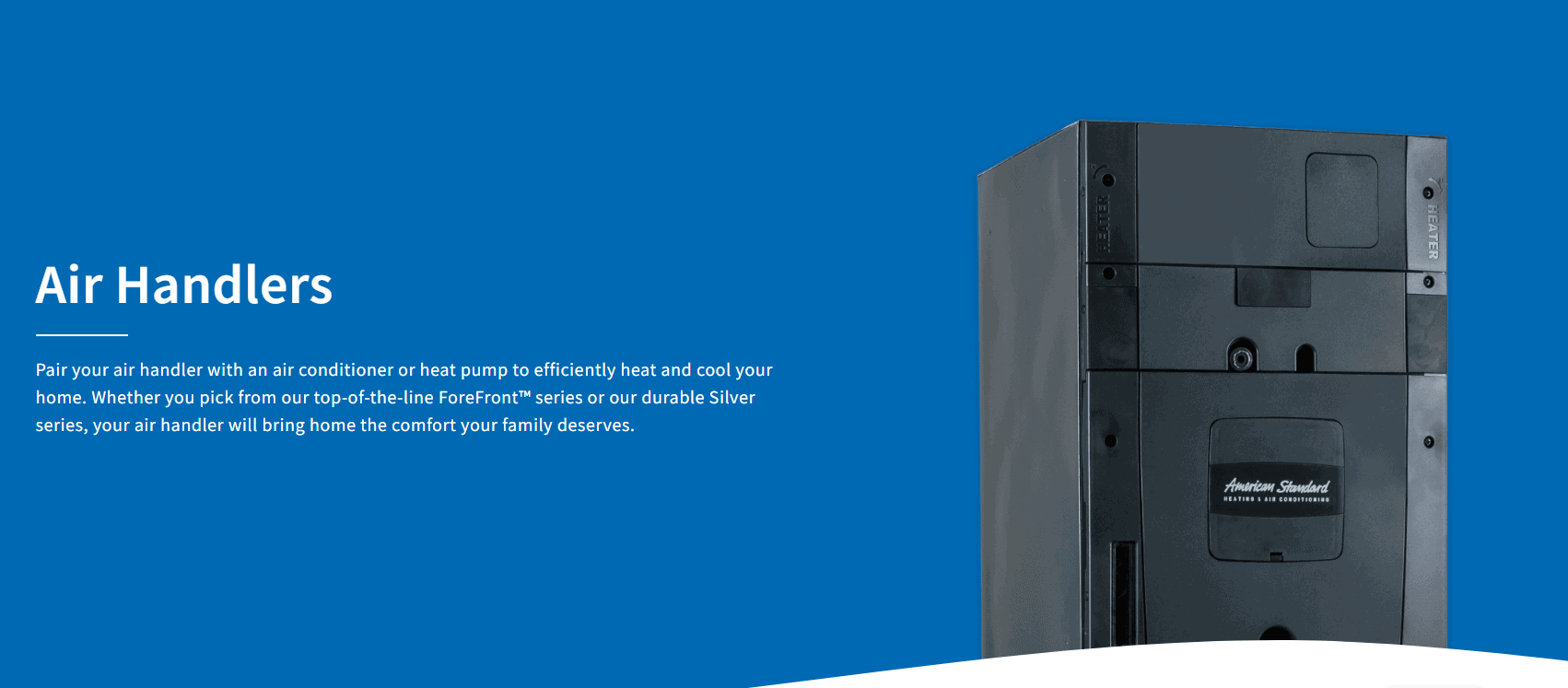 Indoor Coil: American Standard manufactures rust-resistant, aluminum-based coil that is durable but also quiet and efficient. This coil boosts the functionality of your existing heat pump/furnace and efficiently transfers energy.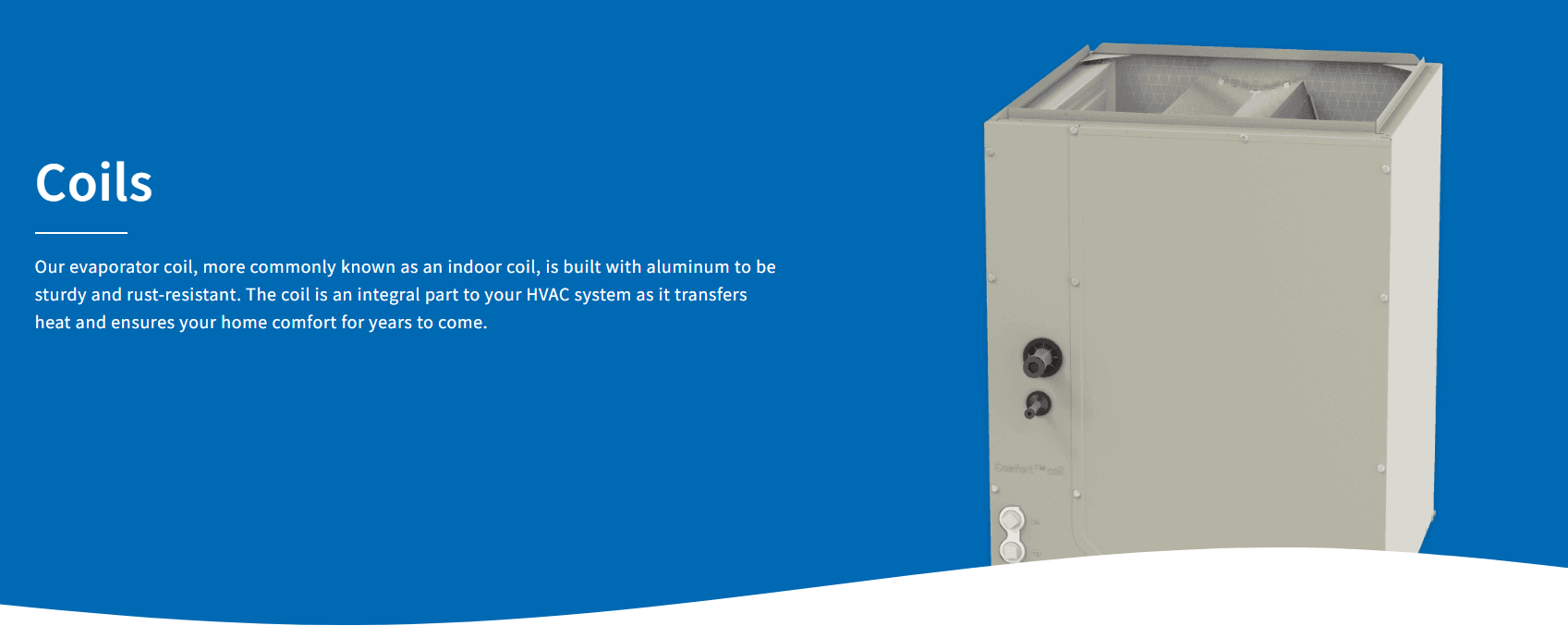 Smart Thermostats: These thermostats offer remote control by connecting to your local Wi-Fi, allowing you to enter desired settings. Smart thermostats can be operated via computer, tablet, or smartphone. You can also program the thermostat to switch to energy-saving mode when let's say; you leave for work. It also monitors the entire system to diagnose system performance.

Traditional Thermostat: Simple thermostat system allows you to manually set your cooling and heating preferences. Easy to operate, yet it learns from your usual settings.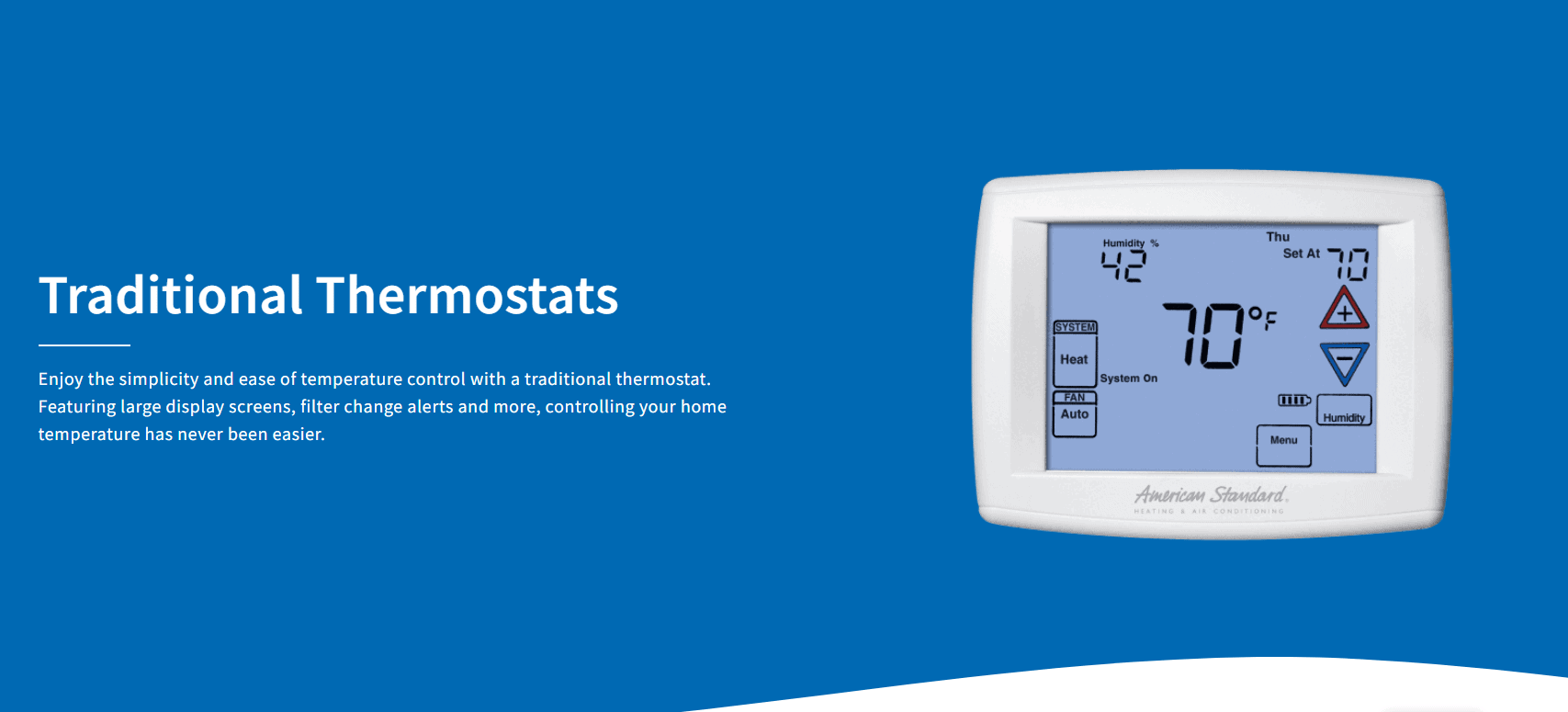 Zoning Systems: Advanced HVAC system which allows you to lock individual room temperatures, providing a greater degree of control around your house.

Ductless Systems: For managing temperatures without using ductwork, these systems come to deliver optimum performance while occupying less space.

Packaged Systems: These HVAC units employ cooling and heating components in a single outdoor unit. These are suitable for a house without attics and basements or modular and mobile homes.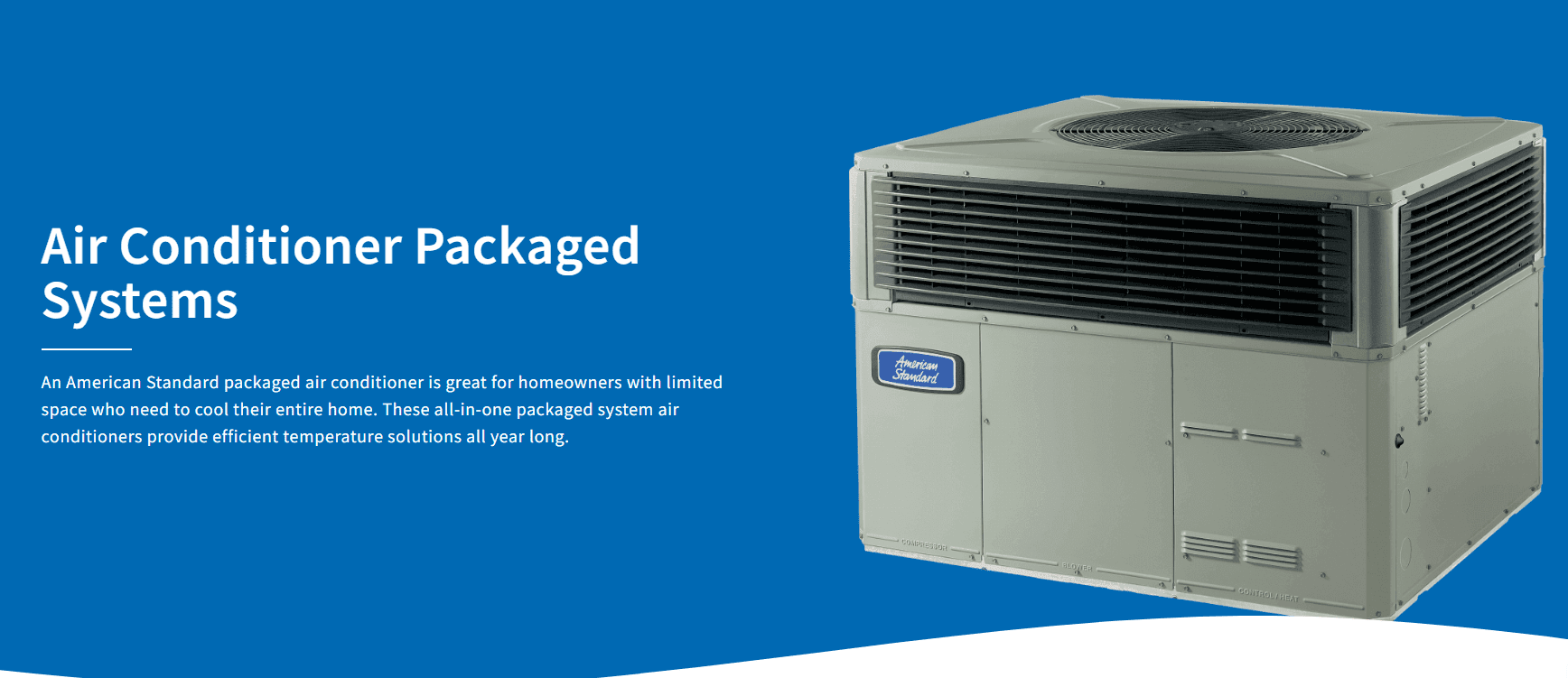 Air Quality Control Systems: These systems maintain healthy air quality by optimizing moisture and circulating fresh air while filtering allergens such as pollen and dust.

Light Commercial Units: Ranging from five to twenty-five tons, these systems fulfil the HVAC requirements of homes, offices, and buildings via packaged and split units.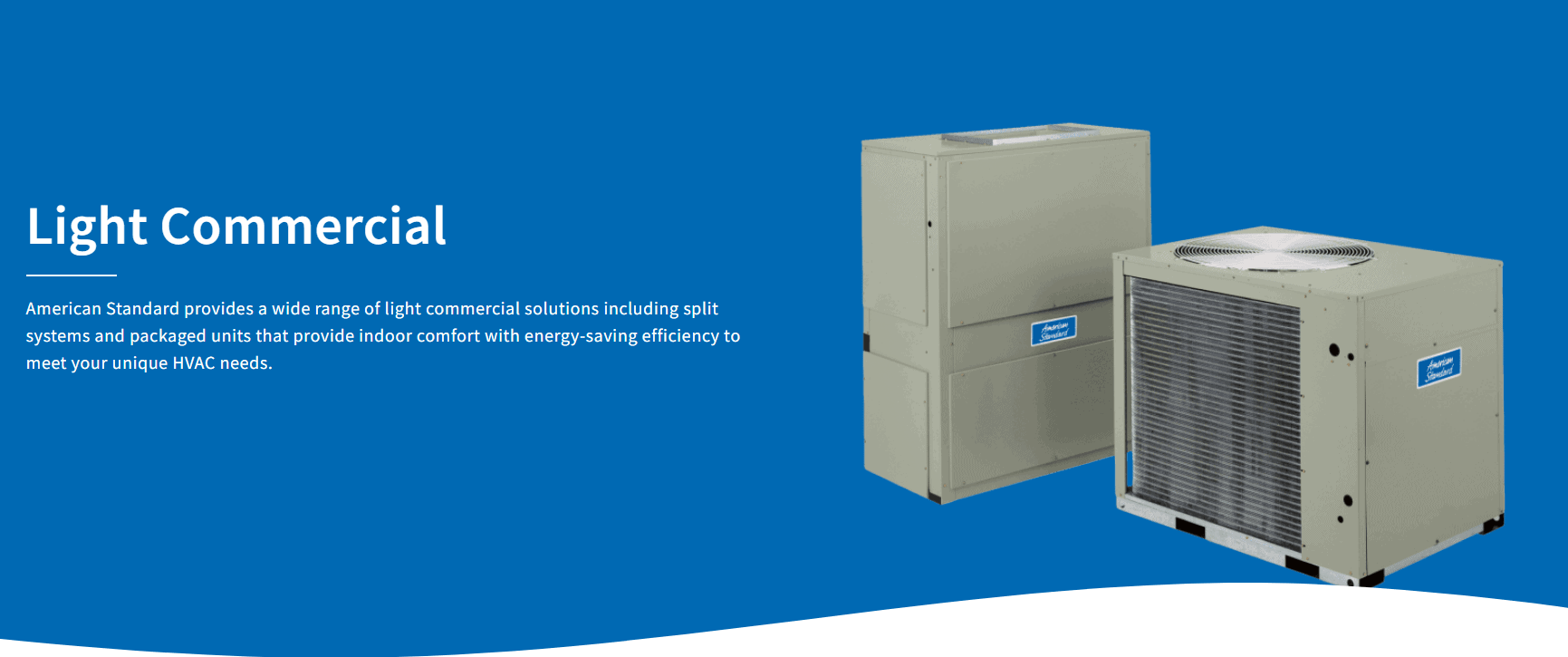 Pros
Long and extendable warranty coverage.
Product quality is one of the best in the market.
Wide range of HVAC products to choose from.
Mobile app connection and remote functionality.
Cons
Expensive products.
The warranty does not include labor costs.
The replacement part takes time to source.
Key Features of Trane HVAC Systems
Since Trane and American Standard are sister companies and share the same production line, both offer almost the same lineup and equal quality products with the exception of a few; the exception being that one offers a wider product range. While the production cost of both brands is virtually the same, you will find Trane to be more expensive. This is because Trane spends a greater budget on its marketing to showcase a premium look. This extra cost is ultimately passed on to the customer.
Trane HVAC units have an incredibly long service life; up to twenty years. Moreover, its product lineup is rated with top efficiency numbers. The warranty provided has exactly the same scheme as American Standard's; a five-year basic warranty if the unit is registered after 60 days of installation or is unregistered, a ten-year limited warranty if the unit is registered within 60 days of installation, and an option to extend the existing warranty.
The warranty covers only unit components, therefore you have to pay for the labor. Furthermore, the warranty transfer also follows the same scheme as American Standard's.
Trane's HVAC products offer high efficiency and performance; its outdoor units have a maximum sound rating of only 75dB, yet they lead the market with their high SEER and AFUE ratings. Moreover, you will find yourself pampered with Trane's exceptional customer support. Overall, Trane provides top-of-the-line HVAC products and maintains quality care with its qualified technicians and aftersales service.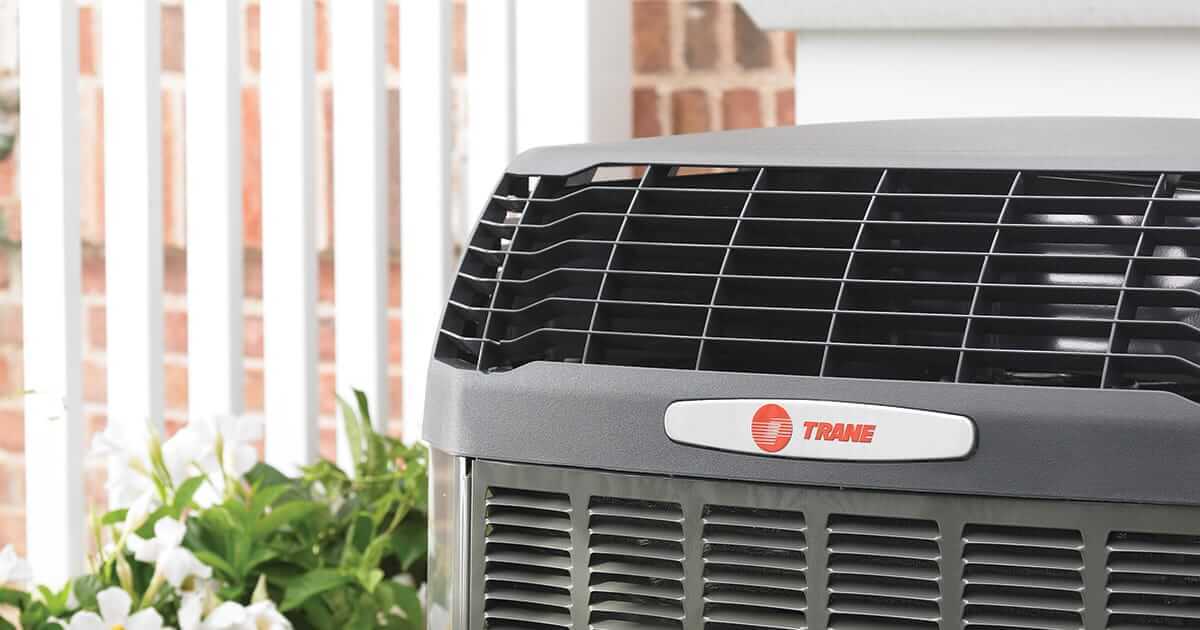 Performance of Trane HVAC Systems
In comparison to American Standard, Trane offers equal performance because of the same components used. While other brands offer SEER ratings of around 33, Trane leads the market with a maximum SEER rating of 38 with its mini-split air conditioners, while its gas furnaces have a maximum AFUE rating of 97.3. Moreover, Trane's HVAC units consume up to 40% less energy than competing units available in the market.
In moderate climates, Trane's 12 HPSF-rated heat pumps maintain comfort by managing the temperature while utilizing minimum power. Their HVAC units are also Energy Star qualified, saving you hundreds to thousands of dollars in the long run.
Trane only produces quality HVAC products, which is why you would find their prices off-putting. But you get highly durable, efficient, and energy-saving products (up to 60% energy saving) which offer a long service, providing a great return on the investment.
Trane HVAC Systems Product Range
Like American Standard, Trane also classifies its HVAC products by specific features. For example, you can filter the available furnaces by energy star label, energy efficiency, or fuel type. Altogether, Trane offers a wider product range than American Standard.
Air conditioners: Trane's air conditioners integrate high-quality components which keep energy costs at the minimum while providing premium cooling comfort. Available in 1, 2, and multi-speed compressors with a SEER rating ranging from 14.5 up to 22. Currently, 9 AC models are available.

Furnaces: Available as either gas or oil-powered, Trane furnaces are designed for extremely cold winters. Although expensive, these furnaces maximize energy and heat efficiency while delivering a long service life.

Heat pumps: Electric-powered heat pumps are ideal for moderate climates; these provide both cooling and heating while utilizing minimum power. Currently, ten heat pump models are available.

Air handlers: Designed to circulate air around your space, these air handlers pair with your existing heat pump or AC for added performance. Currently, six air handler models are available.

Traditional Thermostat: Provides basic HVAC operation and control settings from the available touchscreen.

Smart Thermostat: Wi-Fi-enabled smart thermostats offer you the convenience of setting your HVAC preferences via your smartphone, computer, or tablet. It also lets you program the system to reduce energy costs.

Zoning Systems: Offers you the freedom to divide your space into different temperature zones by directing warm or cool air only to areas where you need it.
Ductless Systems: Allows you to manage the temperature in single or multiple rooms without using ductwork.
Air Quality Systems: These include air filters, purifiers, and humidity control systems which elevate the air quality around your space.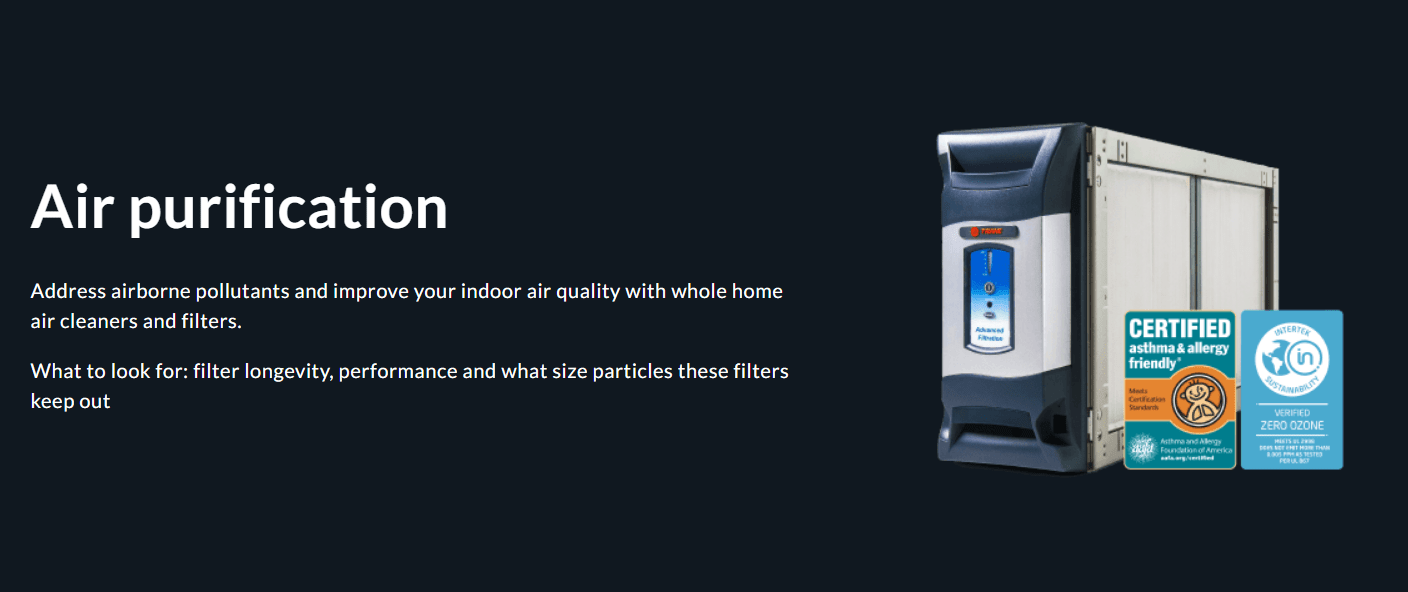 Packaged Systems: These offer the versatility of bundling cooling and heating units in a single outdoor box to minimize space usage.

Indoor Coil: Rust-resistant all-aluminum coil maximizes heating performance while adding efficiency to your existing system.
Pros
Convenient warranty coverage.
Long service life.
Variety of HVAC products to choose from.
Remote functionality.
Cons
Expensive products.
Labor costs are not included in the warranty.
The replacement part can be hard to source.
Other Alternatives to Consider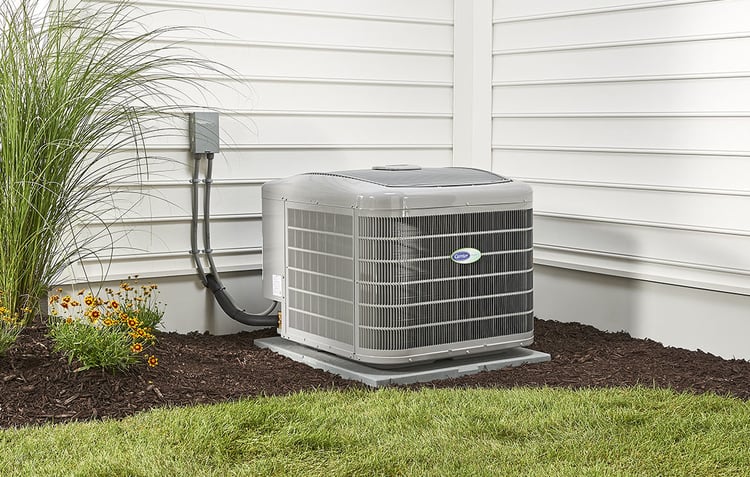 Expect high level of quality and durability from Carrier's HVAC units which offer a range of products with extensive warranty; Carriers provides a ten-year, twenty-year, and lifetime warranty depending on the product, which can be ideal for some consumers.
Moreover, its entry-level models are equally efficient as Trane's or American Standard's, yet are more affordable. Carrier is a fine alternative thanks to its solid quality and long-lasting units.
Daikin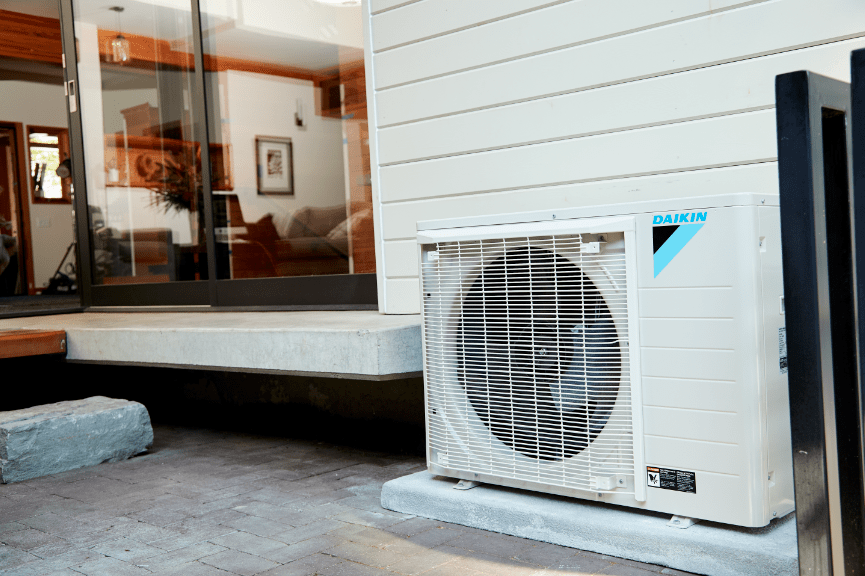 Daikin strives to offer the latest technology to deliver comfort and performance with its HVAC systems. Its wide range includes residential and commercial HVAC units for many applications. Moreover, Daikin runs its systems globally in over 170 countries, proving its quality and high customer satisfaction. If you are willing to pay the extra price, Daikin is a great choice.
FAQs
Question: Is American Standard as good as Trane?
Answer: Trane and American Standard are sister companies and use the same components to produce HVAC products. The only difference between them is the color and logo.
Question: How long does American Standard HVAC last?
Answer: A well-maintained American Standard HVAC product can last up to 25 years.
Question: Should I replace my 20-year-old HVAC?
Answer: A 20-year-old HVAC unit is old enough to be replaced with a new unit considering its age. New units are far superior in efficiency and performance, whereas old ones are prone to cracks and leaks.
Verdict
It is now clear that there is no major difference between American Standard and Trane due to the reasons stated above. Both are exceptionally reliable and high-end brands which manufacture top-of-the-line products. So which one should you choose? Well, consider your HVAC requirements and your budget, the get a load estimate from your local dealer/contractor.
If the required unit is available under both brands, choose the one which offers better customer support or has more local dealers. You know that both brands sell the same product, so it is wise that you make sure you get the best after-sales support and customer care to deal with any issues you face in the future. Cheers!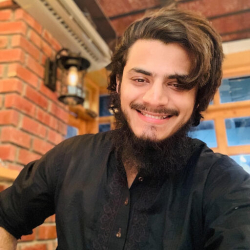 Latest posts by Zabrain Arshad
(see all)