Trane and Amana are both permanent fixtures on the list of best HVAC brands because they are historically reliable, efficient, and durable.
The quality and value of their heating and cooling units make it hard to say that one brand is better than the other. However, I believe that the fastest way to choose between Amana and Trane models is to consider these factors:
Does the contractor's quote match your budget?
The model's list of features 
Your home's size
Estimated energy savings 
I want to clarify that these aren't the only factors that might tip the scales in favor of Trane or Amana brand since there are so many aspects you must consider before deciding which HVAC system to install in your home.
In this Amana vs Trane HVAC Systems comparison, I'll cover the essential traits of these brands and hopefully assist you in determining which one is better for your needs.
Related article: Rheem vs Trane HVAC Systems
Bottom Line Up Front
Side-by-side comparisons of Trane and Amana HVAC systems don't show significant differences between the products these two brands offer.
Amana's best central AC model has a marginally higher SEER than Trane's top AC unit, while the efficiency ratings of other HVAC products in their portfolios are almost identical.
Still, my opinion is that Trane's units are quieter and tougher than Amana's, which makes them more dependable in the long run.
Related read: The best Amana portable air conditioners
Main Differences between Amana and Trane HVAC Systems
The main differences between Trane and Amana HVAC systems are:
Trane equips all heat pump and AC models with Climatuff compressors, whereas Amana's air conditioners and heat pumps feature Copeland compressors.
Amana's systems can be controlled via the CoolCloud HVAC app, whereas Trane's units are compatible with the Trane Home app.
Trane is a luxury HVAC brand, whereas Amana is regarded as a mid-range brand.
Amana doesn't release mini-splits under its brand name, whereas Trane offers several single-zone and multi-zone mini-split models.
See also: York vs Trane HVAC systems
Key Specifications
| | | |
| --- | --- | --- |
| Brand | Trane  | Amana |
| Average Product Lifespan | 20 years or more | Up to 20 years |
| System Efficiency | Medium or high | Medium or high |
| Refrigerant Types | R-410a, R454b | R-410a |
| Noise Level | 70 dB to 75 dB | 71dB to 76dB |
| Warranty Coverage | Five-year base warranty or 10-year warranty for registered products | Ten-year warranty after registration or 5-year warranty for unregistered products |
| Latest Price | Check the latest prices here | Check the latest prices here |
The Essential Characteristics of Amana and Trane HVAC Systems – Amana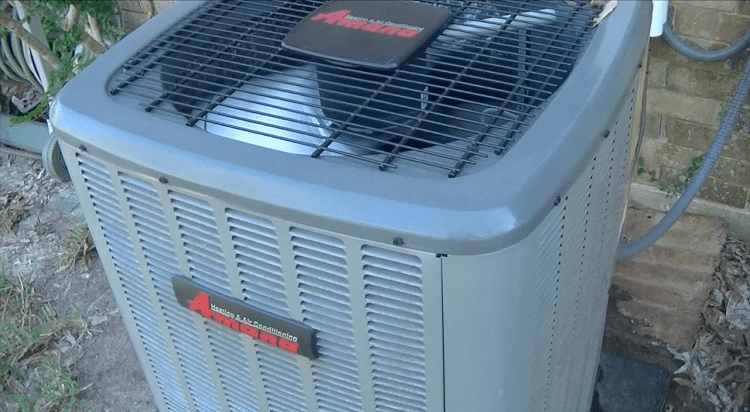 Although it is best known as a home appliance manufacturer, Amana has been an active player in the HVAC market for over six decades.
Throughout its history, the brand's ownership switched hands several times, and most notably, Goodman Manufacturing Company purchased Amana's HVAC division in 1997.
Fifteen years later, Amana became a part of Daikin Industries after the Japanese HVAC manufacturer acquired the Goodman brand that still owns Amana.
I'm bringing up Amana's complex corporate history to help you understand why Daikin's and Amana's HVAC models have almost identical parts.
Moreover, Amana is Daikin's mid-range brand, but their products have similar energy efficiency ratings. Amana and Goodman brands only offer ductless systems released under the Daikin brand name.
So, essentially, buying an Amana furnace, heat pump, or central AC means you'll get a more affordable version of a Dakin system.
Related article: Daikin vs Trane HVAC systems
Key Features
Amana ACs have SEER up to 24.5
Select models are compatible with ComfortNet thermostats
Amana gas furnaces are fuel-efficient
Most heat pumps have scroll compressors
High-end Amana HVAC systems are Bluetooth-enabled
Inadequately installed units are ineligible for extended warranty coverage
All Amana distributors offer consumer financing options
The brand's heat pumps are well-suited for cold climates
Product Categories
The bulk of Amana's HVAC products comes from the following categories:
Central air conditioners
Gas furnaces
Packaged units
Air handlers
Heat pumps
Each category contains a wide array of models, so if you're searching for an AC, you'll have more than ten units at your disposal. These whole-home cooling systems have alphanumeric names such as AVXC20 or ASXC16 that indicate their type, category, and tonnage.
Unlike Lenox and other popular HVAC brands, Amana doesn't release its products within different series. Differentiating between high-end and entry-level models can be slightly complicated if you're unfamiliar with the brand's product portfolio.
Amana can be a good option for homeowners looking for high-efficiency gas furnaces and air handlers because the brand offers more than fifteen models in both of these product categories.
I want to point out that the exact features and characteristics of Amana HVAC systems depend on the model.
Check also: The best Amana window air conditioners
Tonnage and Coverage

The unit's size or tonnage refers to its maximum cooling or heating output. However, it is often impossible to determine the HVAC system's coverage area using only its size.
Most of Amana's heat pumps and ACs have between 24,000 BTU and 60,000 BTU, or two and five tons. In theory, a 2-ton unit should be powerful enough to regulate the temperature in 1,000 to 1,500sq/ft spaces.
However, the climate, the home's layout, and other factors can shrink the system's coverage, making it unsuitable for a space in this size range. The same applies to gas furnaces and all other products in Amana's portfolio.
Independent contractors or licensed Amana technicians can help you select the correct system size for your home. Trane and Amana offer units in similar sizes, although Trane could be a better option if you need a 1.5-ton heat pump because the minimum tonnage of most Amana models is 24,000 BTUs.
Seasonal Efficiency
Although it might sound surprising, Amana's best heat pump and AC units have higher SEER and HSPF ratios than Trane's high-end models.
Still, the Amana AVCZ20 heat pump has SEER 21 and 10 HSPF, while the Trane XV20i's efficiency ratings are SEER 20 and 10 HSPF. As you can see, the seasonal efficiency difference between these two systems is negligible.
The rest of Amana's and Trane's heat pump lineup has similar SEER and HSPF ratios, which is why I think neither brand has an advantage in this product category.
The situation is similar in the central AC category since Amana's premier model has a better seasonal efficiency rating than Trane's top AC unit. Once again, the difference is minimal as both models can drastically lower a household's monthly power consumption.
Amana manufactures some of the most fuel-efficient variable-speed gas furnaces on the market, with AFUE ratings up to 98%.
Brand Reputation
I often hear homeowners inquiring about the origin of the components on Amana's HVAC systems.
I find this unnecessary because all the parts the brand uses in its heating and cooling units are manufactured in the US.
Hence, there's no need to doubt the reliability of the brand's models, as their average lifespan is around two decades. Amana isn't a luxury brand, and most of its products are more affordable than Trane's.
The price of an Amana heat pump can vary from $2,000 and $6,000, but their actual cost is much higher because installing them is expensive. The brand gives a five-year base warranty for all products.
Registering an HVAC system up to two months after installation enables you to extend the part coverage to ten years and get the Limited Lifetime Unit Replacement, Lifetime Compressor, or Lifetime Exchanger warranty.
Related article: Goodman vs Carrier HVAC systems
Trane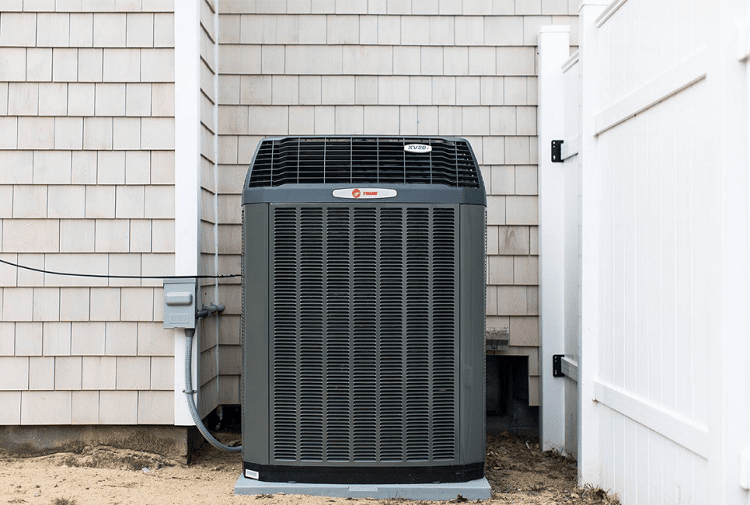 Only a few HVAC brands enjoy such high esteem among homeowners as Trane. The brand is famous for its long-lasting residential HVAC units with excellent energy-saving capacities.
Trane ACs and heat pumps have sturdy outdoor cabinets that don't deteriorate even if they're directly exposed to sun, rain, snow, or high levels of air salinity. Moreover, all cabinets have sound insulation, which is why Trane's units are quieter than Amana's.
These systems have some of the industry's best compressors and condenser coils that minimize their power consumption. Trane has manufacturing facilities in the following states:
New Jersey
Arkansas
Texas
Missouri
Florida
Georgia
Hence, almost all Trane models are assembled in the United States. The parts the brand uses in its cooling and heating systems meet the highest quality standards.
That's why refrigerant leaks, thermostat problems, and other common HVAC system issues don't often occur on Trane's models.
Check also: Bryant vs Trane HVAC systems
Key Features
A Trane air conditioner can lower the household's monthly power usage by 50%
All coils on Trane units are made from aluminum
The brand has a good selection of traditional and Smart thermostats
The Trane Home app has diagnostics features
Several Trane HVAC systems are compatible with Amazon Alexa and Google Home
AC models have high air filtration capacity
Applying for a financing credit is easy
Low warranty transfer fees
Product Categories
Contrary to what you may think, Trane doesn't offer a large assortment of products. The heat pump product category has ten models, including three variable speed units. Still, its heat pump collection is as versatile as Amana's.
Trane's selection of two-stage and variable ACs is limited, and Amana offers more options in this category. Both brands have an excellent selection of gas furnaces, so finding the unit that meets your criteria shouldn't be hard.
Trane doesn't have product lines. Instead, the brand utilizes alphanumeric names similar to those Amana uses to label its products. Moreover, each system configuration has a unique model number, so 3-ton and 5-ton versions of the same heat pump model have different model numbers.
Trane's mini-split models can have cassette, floor-mounted, and wall-mounted indoor elements.
You might also like: Ruud vs Trane HVAC systems
Tonnage and Coverage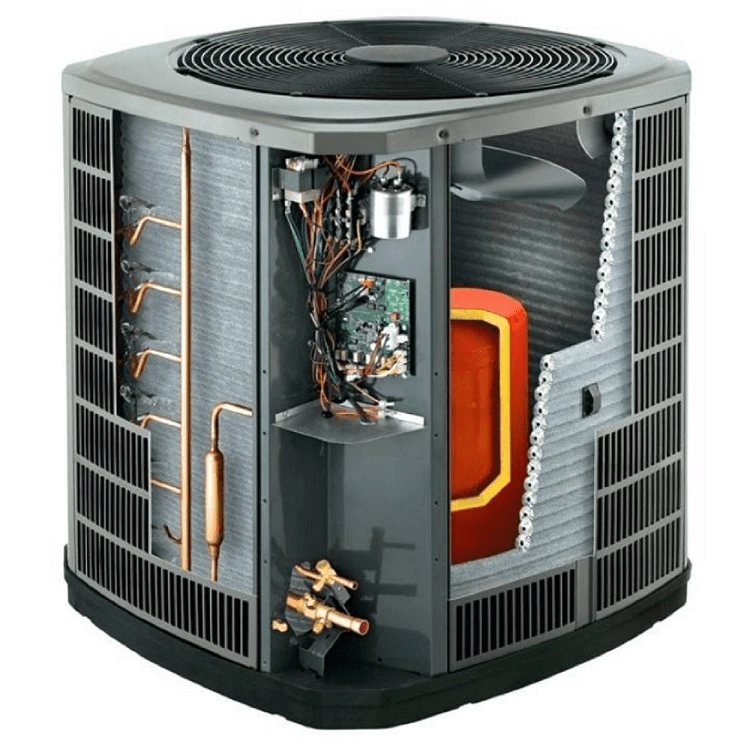 The only scenario in which the system size can be a factor that prompts you to choose Trane over Amana or the other way around is if a certain model is too powerful for the space where you want to install it.
For instance, Trane's two-stage XR16 heat pump can only have between three and five tons. Hence, considering one of Amana's two-stage heat pump models with lower outputs makes sense if this model doesn't fit your home.
Trane produces residential HVAC systems for small and vast spaces but estimating the unit's coverage area can be tricky.
A 12,000 BTU Trane mini-split should be powerful enough to cool and heat a 600sq/ft room, but the unit's coverage area might shrink to 400sq/ft if the room doesn't have good insulation.
The size estimation process is even more complicated for Trane's larger systems, so you should consult a professional before choosing a heat pump, furnace, or AC tonnage.
See also: Lennox vs Trane HVAC systems
Seasonal Efficiency
The average annual energy savings of Trane heat pump and AC systems varies from 29% to 50%.
That's why comparing the efficiency ratings of Amana's and Trane's systems won't give you a realistic picture of their efficiency since none of Amana's models can lower a household's cooling and heating expenses by 50%.
Both brands offer models with excellent efficiency ratios, but Trane's units have more features that limit their power consumption. Buying one of the brand's models means you'll spend $800 less yearly to keep your home's room temperature comfortable.
Most Trane units are Energy Star qualified, which means they meet or exceed US Environmental Protection Agency's energy efficiency standards.
Brand Reputation
Don't feel intimidated by Trane's pricing. The cost of the brand's HVAC units might seem high, but their durability and energy-saving potential more than makes up for the high price.
The quote you'll receive from the contractor will depend on several factors, including:
The state of the home's ducting
Home's layout and size
The unit's features
Climate
The installation costs will be between $3,000 and $10,000 higher if you have to replace the entire ducting system. Also, high-tonnage units are more expensive than models with 12,000 BTUs or 18,000 BTUs.
All Trane products have five-year warranties. The brand also offers 10-year parts, 12-year compressor, and 20-year heat exchanger warranties for all registered units. Limited Lifetime warranties are available for select models.
Amana vs Trane – Pros and Cons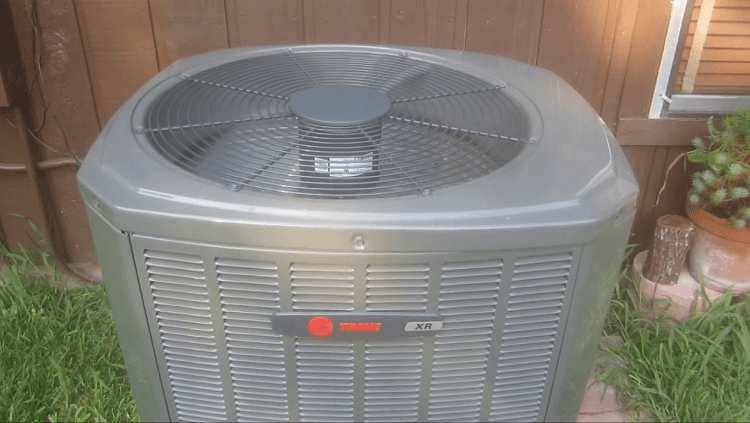 Trane Pros
Trane ACs are compatible with the CleanEffects whole-house air filtration system
Some systems have outdoor cabinets with WeatherGuard tops
The brand's gas furnaces have excellent dehumidification capacities
Trane's packaged units are reliable
Trane Cons
Dealing with Trane's customer service can be stressful
Amana Pros
Amana's products have good energy ratings
All models are made in the US
Amana furnaces have stainless steel heat exchangers
Most models have built-in diagnostics systems
Amana Cons
Some Amana units are loud
The Best Alternatives to Amana and Trane Brands
Don't narrow your options to two brands before exploring what other HVAC manufacturers offer.
Browsing Daikin's and Goodman's product portfolios can help you discover models similar to Amana's units. Learning more about the American Standard's units might be useful if none of Trane's models fit the bill.
I've shortlisted a few alternatives to Amana and Trane brands, so let's take a quick look at them.
Heil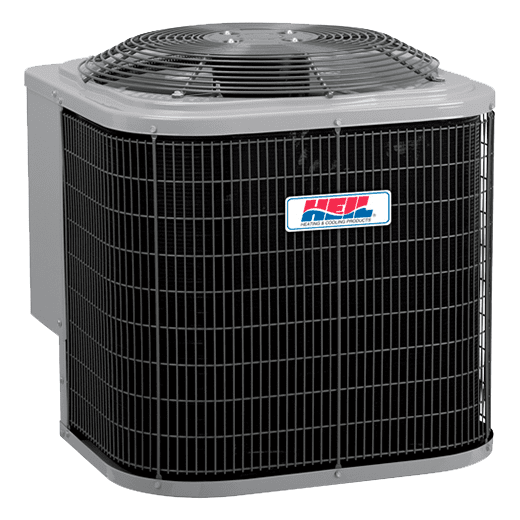 An entry-level brand like Heil might be a good pick if Trane's and Amana's models are outside your price range. Heil's ACs and heat pumps don't have impressive SEER or HSPF ratios, but despite this, most models have Energy Star labels.
The brand's warranty coverage for registered products lasts for a decade and ensures you can replace all faulty parts for free.
Heil doesn't have a large assortment of gas furnaces with AFUE ratings over 90%, which makes it a poor option for homeowners shopping for this type of heating system.
Lennox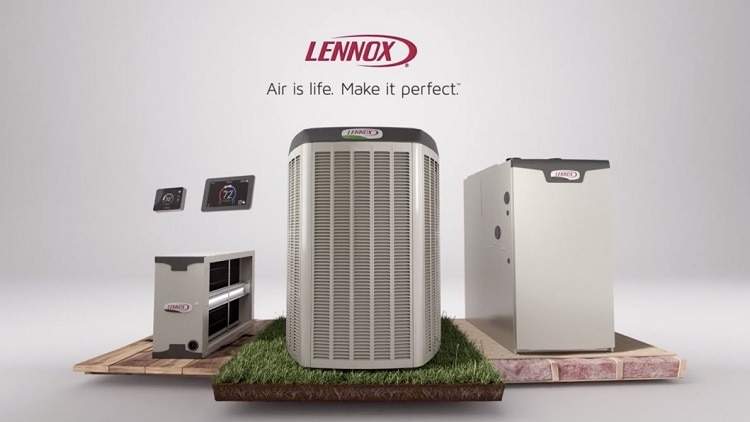 I like the Lennox brand because it gives homeowners cooling and heating solutions in all price ranges. The models from the Merit series are affordable but less efficient than the Elite or Dave Lennox Signature Collection units.
The brand manufactures some of the most efficient heat pump and air conditioning systems on the market, perfect for homeowners that put efficiency before price. Lennox's warranties are among the very best in the industry.
Ruud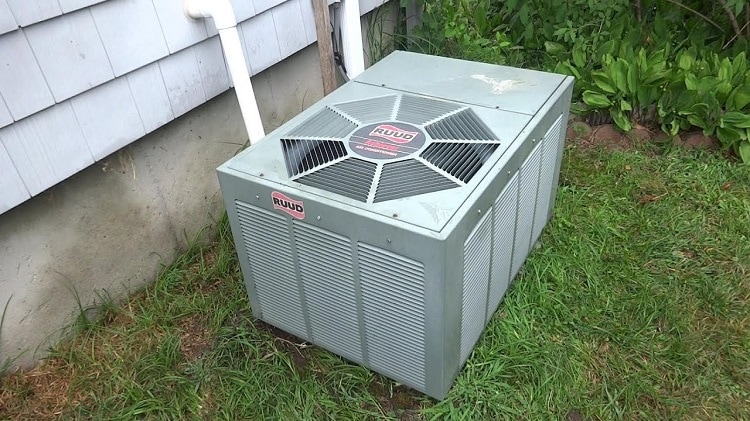 Although its products cannot compete with Trane's, I think that some of Ruud's HVAC systems could be a great substitute for low-end or mid-range Amana models. Several Ruud ACs have SEER 20 or 19, but most units in this category have SEER lower than 16.
The brand has a vast collection of heat pumps and AC units, which makes it easier to find a model with the correct tonnage, features, and price for your home.
Frequently Asked Questions
Question: Are Amana's Warranties Transferable?
Answer: You can only transfer a base 5-year warranty even if your unit is registered and eligible for a ten-year warranty.
Question: How Often Do I Have to Perform Maintenance Checks on Trane HVAC Systems?
Answer: A licensed technician should inspect a Trane system at least once every six months.
Question: Where Can I Find Replacement Parts for Amana's HVAC Systems?
Answer: The quickest way to find a replacement part for an Amana unit is to contact the nearest dealership.
Do you need a new thermostat for your unit? Our guide to the best thermostats could help you find the right solution.
Final Thoughts
Going through the specifications of Trane's and Amana's models shows that both brands offer dependable, long-lasting systems that can help you spend less on heating or cooling your home.
Trane is, in my opinion, a better pick if you want a quiet unit that maintains the same efficiency level throughout the year. I suggest taking into consideration one of Amana's models if you're looking for a powerful gas furnace or a moderately priced heat pump.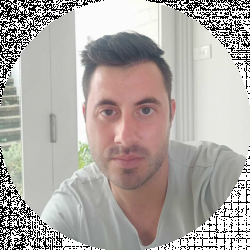 Latest posts by David Borgogni
(see all)