Brand comparisons aren't always useful, especially when comparing the industry's top brands. In most cases, you'll have to look at individual products to determine if one brand is better than the other.
That's the case with Goodman vs. Carrier comparison because both companies are rated among the most reliable HVAC brands by Forbes and other reputable media outlets.
How much value you'll get from either of these brands comes down to the specifications of the HVAC product you'd like to buy. In my experience, Goodman is slightly more affordable, but Carrier's units use less power.
I'll take you through the key characteristics of each brand in the Goodman vs. Carrier comparison to help you decide which company to choose.
See also: Heil vs. Carrier HVAC Systems
Bottom Line Up Front
A glance at each brand's product portfolio won't reveal significant differences, as both Carrier and Goodman have versatile selections of heat pumps, ductless systems, furnaces, and air conditioners.
Carrier's models across the board have somewhat higher efficiency ratings than their Goodman equivalents. So, I recommend getting one of the Carrier products if quality and energy savings are your top priorities.
Goodman is a reliable choice if you have a limited budget and you're searching for a quiet HVAC system that won't draw too much power during heating or cooling seasons.
You might also like: Goodman 3-ton Heat Pump Review
Main Differences between Goodman vs Carrier HVAC Systems
The main differences between Carrier and Goodman HVAC systems are:
Daikin Industries owns the Goodman brand, whereas United Technologies Corporation is Carrier's parent company
Carrier heat pumps have SEER ratings in the 14 to 24 range, whereas Goodman doesn't offer models with SEER ratings above 21
Carrier releases ductless models under its brand name, whereas all Goodman's mini-splits are produced by Daikin
Goodman offers five-year and ten-year warranties for most of its products, whereas Carrier offers lifetime warranties for some HVAC systems
Carrier furnaces and heat pumps last for more than twenty years, whereas the lifespan of Goodman's heat pumps and furnaces is usually around 15 years
Key Specifications
Goodman 
Carrier 
Estimated lifetime
10 to 15 years
20 to 25 years
System efficiency
Low to moderate
Moderate or high
Indoor unit types
Ceiling cassette, wall-mounted
Wall-mounted, Ceiling cassette
Noise levels
Moderate
Low
Refrigerants
R-32, R-41A
R-454B, Puron(R-410A)
Latest Price
Check the latest prices here
Check the latest prices here
Examining the Features of Carrier and Goodman Brands
Goodman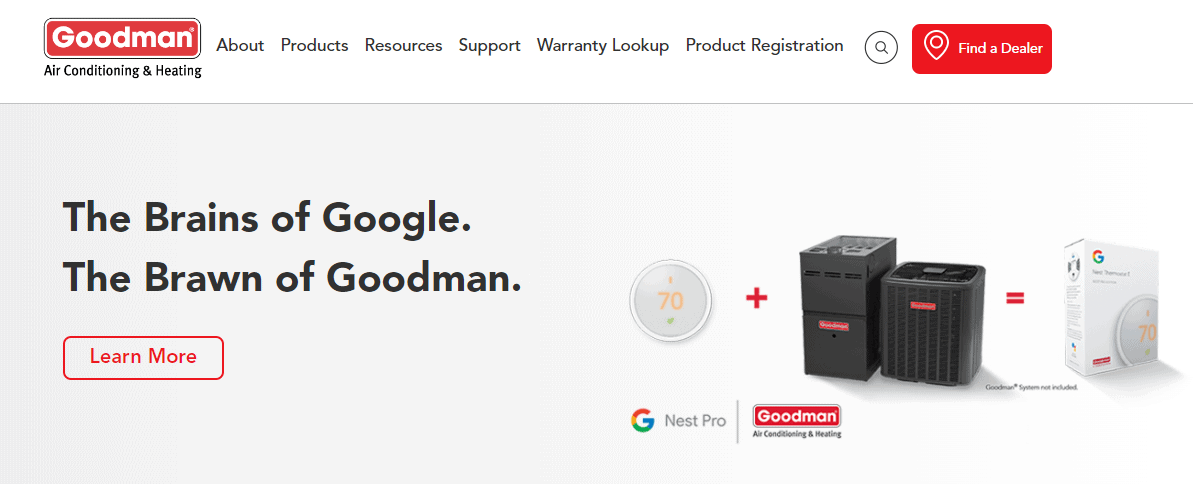 Even though they operate as independent brands, Goodman and Amana belong to the same parent company. Daikin purchased Goodman in 2012, but the brand has kept its original name for the last ten years.
However, in April 2022, Daikin Industries Ltd changed the name of its subsidiary from Goodman Global Group to Daikin Comfort Technologies North America Inc.
Despite the change, most of Goodman's HVAC products are still released under the same brand name. Like most of the industry, I see Goodman heat pump, AC, and furnace models as scaled-down versions of Amana's HVAC systems.
Moreover, Goodman no longer offers mini-splits under its brand name, which indicates that all of its other products in the North American market might soon go through rebranding.
Although it is widely viewed as an affordable brand, Goodman still offers durable and reliable HVAC systems that don't break down often.
Check also: Daikin vs. Trane HVAC systems
Key Features
Most Goodman products require filter changes every 90 days
The highest heat pump model's efficiency rating is SEER 21
Goodman manufactures gas and oil furnaces
Some whole-house cooling and heating systems make more than 70dB of noise
Installation costs for Goodman ACs range from $3,000 to $4,500
Goodman's HVAC systems utilize the ComfortBridge technology
All heat pump models have louvered coil guards
Outdoor elements of Goodman HVAC systems have weather-resistant steel cases
HVAC System Types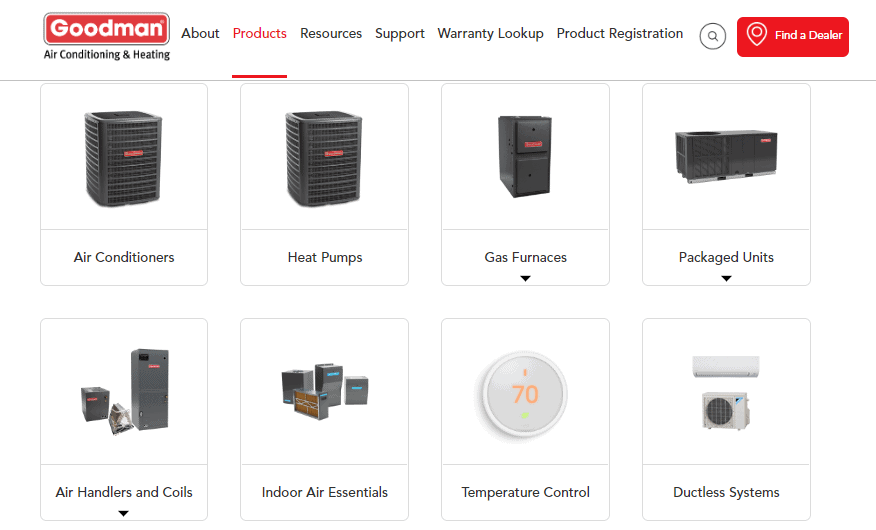 Visiting the brand's website is the quickest way to get better acquainted with its product portfolio, which includes a variety of air conditioners, furnaces, and heat pumps.
Most units have Copeland scroll compressors and other high-quality parts that maintain efficiency even when operating under extreme weather conditions.
In addition, some models utilize Copeland ComfortAlert diagnostics technology and sensors that measure the coil and ambient temperature to ensure the system functions normally.
Goodman high-end heat pump units are equipped with the SmartShift technology that enables them to transition onto the Defrost mode seamlessly.
As I already mentioned, the company doesn't release ductless systems under its brand name, so if you're in the market for a mini-split, you should explore Amana's models.
On the other hand, Goodman is an excellent choice for homeowners searching for a fuel-efficient furnace because it offers more than ten multi-speed gas furnace models.
Related article: How to camouflage a mini-split unit
System Sizes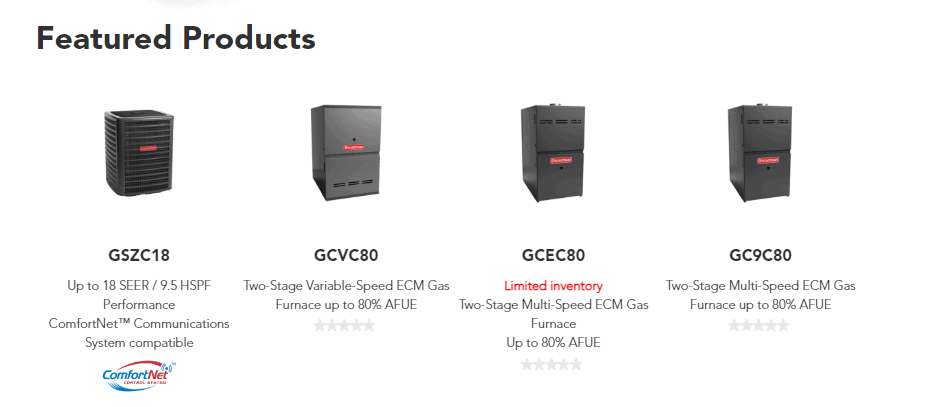 The coverage area of an HVAC system doesn't depend solely on its BTU output because climate or your home's insulation might limit the size of the area it can heat or cool.
I advise using Goodman's website to find and contact a local contractor that can assist you in estimating the HVAC system size suitable for the space where you'd like to place the unit.
However, none of the heat pump and AC models are a good fit for homes under 1,000sq/ft because their sizes range from two to five tons.
You should also remember that furnaces usually have higher BTU outputs than air conditioners or heat pumps, and most Goodman models are available in a size range between 60,000 and 120,000 BTUs. Opting for a model that is too small or too big for your home will result in high fuel consumption.
Energy Efficiency Ratings
Goodman's products have standard efficiency ratings. Its most efficient heat pump has a 21 SEER, which places it shoulder to shoulder with flagship models of brands like Trane, American Standard, or York.
The majority of heat pump options Goodman offers have SEER 18 or lower efficiency ratings and each brand's heat pump model is Energy Star certified. Nonetheless, only few of Goodman air conditioners come with the Energy Star label.
Still, the GVX20, the company's most energy-efficient AC model with the SEER 24.4 rating has the Energy Star certificate.
You can choose from gas and oil furnace models with 90% or higher AFUE and 80% AFUE ratings. This parameter shows the amount of fuel the unit converts to heat, so a model like GMVM97 can turn 98% of the fuel it burns into thermal energy.
The Durability of Goodman HVAC Systems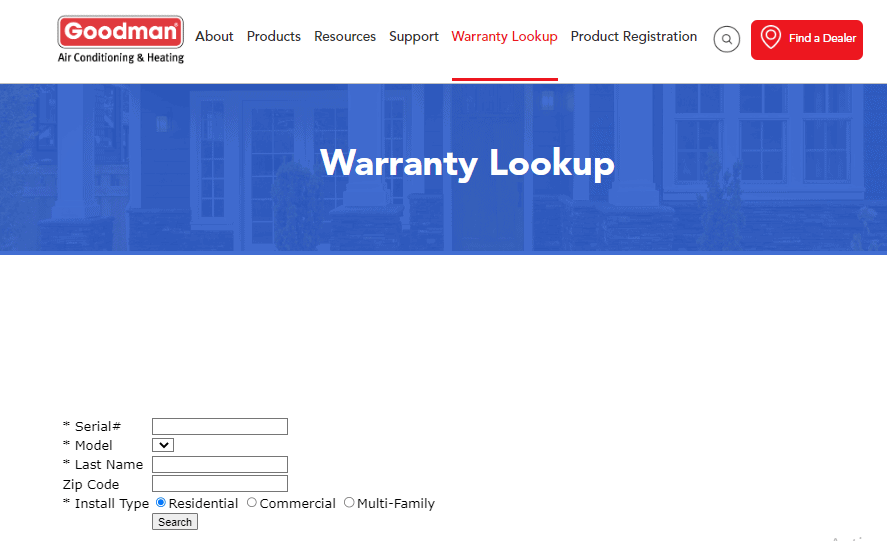 System's dependability is understandably one of the main concerns homeowners have when choosing an HVAC system. Still, I think most people miscalculate the value of regular maintenance for their heat pump's or AC's durability.
A Goodman unit should last for no less than ten years, if not much longer, if you change its air filters frequently and perform all other upkeep tasks that prevent dirt or frost accumulation on its key components.
Most AC and heat pump models come with limited lifetime compressor warranties, and you won't have to cover the replacement costs if this component of your system fails. All Goodman furnaces have limited lifetime heat exchanger and ten-year part warranties regardless of their AFUE rating.
Carrier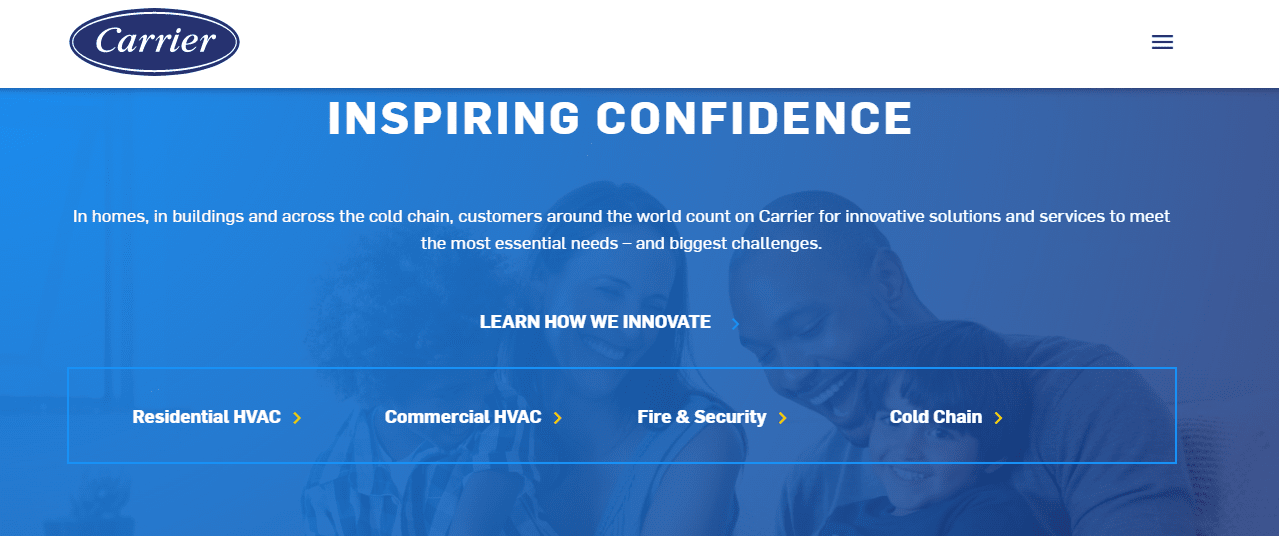 Willis Carrier is the inventor of air conditioning. So, it's not surprising that the company he founded in 1915 became one of the biggest manufacturers of HVAC systems decades after his death.
Carrier controls a major portion of the industry's market share and owns numerous HVAC brands, including Bryant, Tempstar, and Heil.
The company's products are famous for their efficiency and innovativeness as they're equipped with the latest technologies that maximize the user's comfort.
Unlike Goodman, Carrier offers a wide spectrum of highly efficient ductless systems suitable for small and vast spaces.
The brand manufactures some of the most expensive HVAC systems you can get, which makes it a poor choice for homeowners with low budgets. Their durability makes them a great investment since most Carrier models last for more than twenty years.
In addition, all products have excellent warranty coverages that include free part replacements.
You might also like: Tempstar vs. Carrier HVAC systems
Key Features
Most models make less than 60dB of noise
Carrier produces residential and commercial HVAC systems
Customizable system configuration
All system types allow intricate temperature adjustments
Warranties don't cover labor costs
Carrier's products are available in several sizes
Most HVAC systems have Energy Star labels
Models from the Infinity series are compatible with Smart Thermostats
HVAC System Types

Aside from mini-splits, Goodman's and Carrier's product lines look the same. Still, Carrier has a slightly wider assortment of heat pump and AC models, as each price tier offers multiple options.
The company releases its HVAC systems within Infinity, Performance, and Comfort series. Carrier's flagship models with high-end features come from the Infinity series, but most of the heat pump and AC options are from the Performance or Comfort series.
Their features vary from one model to another, but most systems have variable speed compressors, weather-proof outdoor unit cases, and excellent air filtering capacities. The brand has just four oil furnace models, while all other units run on gas.
The brand's Infinity furnaces are compatible with heat pumps and ACs from the same series, and homeowners can use them to create a system that controls the room temperature in their homes throughout the year.
Please read: Carrier mini-split model guide
System Sizes
Regardless of the manufacturer, all HVAC units are available in standard sizes. However, mini-split units have a minimum output of 9,000 BTU, while heat pumps and ACs are usually available in sizes above 18,000 BTUs.
Except for furnaces, Carrier and Goodman residential HVAC products are available in the 9,000 BTU to 60,000 BTU range. Finding a Carrier unit you can install in 400sq/ft space or a venue with more than 2,000ft/ft isn't difficult because all brand's products are available in different sizes.
Failing to select an appropriate system size for a single room or an entire home can create a broad spectrum of problems that range from increased power consumption to frequent part failures.
Carrier furnaces can have anywhere between 40,000 and 120,000 BTUs, and they're a good fit for 1,000 to 4,000sq/ft homes. Unit size isn't a factor that can make the choice between Carrier and Goodman brands easier.
Energy Efficiency Ratings

Potential energy savings are the reason why I think that covering the high cost of a Carrier systems upfront pays off. The brand's most efficient ductless model has 42 SEER, and its efficiency is the same for all size options.
Almost all mini-splits have Energy Star labels, and they don't draw more than 2,000 Watts per hour. AC models also have high-efficiency ratings, so you can pick a unit with 26 SEER, 19 SEER, or 17 SEER.
Aside from the 25VNA4 unit, all other Carrier heat pumps have SEER ratings below 18, and their heating performance ratios rarely exceed 10.
Although some Carrier HVAC products have high-efficiency ratings, they don't outperform Goodman models significantly. Hence, Carrier has more to offer its users in terms of energy efficiency, but that doesn't mean that getting a Goodman heat pump will drastically increase your monthly electricity bill.
See also: Bryant vs. Trane HVAC systems
The Durability of Carrier HVAC systems
I think reliability is Carrier's biggest advantage over any HVAC brand, not just Goodman. Its products don't lose their efficiency over time, and its parts aren't prone to failure.
It's hard to exaggerate the importance of regular upkeep for the longevity of Carrier's models, as just changing air filters can add years of service life to the unit.
Factors like daily usage or prolonged exposure to harsh weather can influence the unit's durability, but in most cases, a Carrier HVAC product should last more than twenty years. Although sturdy, Goodman's HVAC systems are not a better option than Carrier's models when it comes to durability.
Goodman Vs. Carrier – Pros and Cons
Carrier

Pros
Most AC and heat pump models have Energy Star certificates
Standard and Smart thermostats have advanced temperature and humidity control options
All compressors and heat exchangers come with limited lifetime warranties
Carrier is commonly regarded as one of the most reliable HVAC brands by industry insiders
Cons
Carrier is among the most expensive HVAC brands
The warranty doesn't cover labor costs
Goodman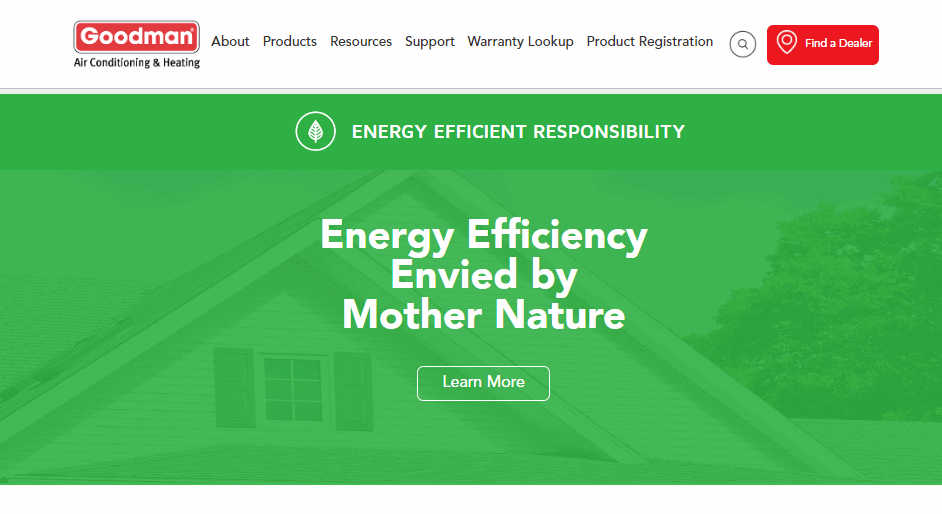 Pros
Excellent selection of high-efficiency furnaces
Most models don't draw a lot of electricity
Goodman products perform well in all climates
A vast network of licensed contractors
Cons
High installation costs
Some models are noisy
The Best Alternatives to Carrier and Goodman HVAC Systems
You'll have no shortage of options if you're looking for an AC, mini-split, or a heat pump you don't have to change or repair often.
American Standard, Rheem, or York are just a few brand names that offer products comparable to those you can find in Goodman or Carrier portfolios.
All top HVAC brands manufacture durable units designed to withstand daily wear and tear for over a decade. My experience has taught me that thorough research is the best way to determine which brand and model is the right solution for a home's heating or cooling requirements.
Let's take a quick look at some of the best alternatives to Goodman and Carrier HVAC brands.
Lennox
I've always liked the design of Lennox's products, as each brand's model is elegant and matches well with different home décor styles.
All company's models have much more to offer than beautiful design since most units are energy efficient and use technologies that ensure a high level of comfort. Lennox is a premium brand, and some of its products cost more than $5,000.
So, I recommend exploring more economical options if you're on a tight budget.
Amana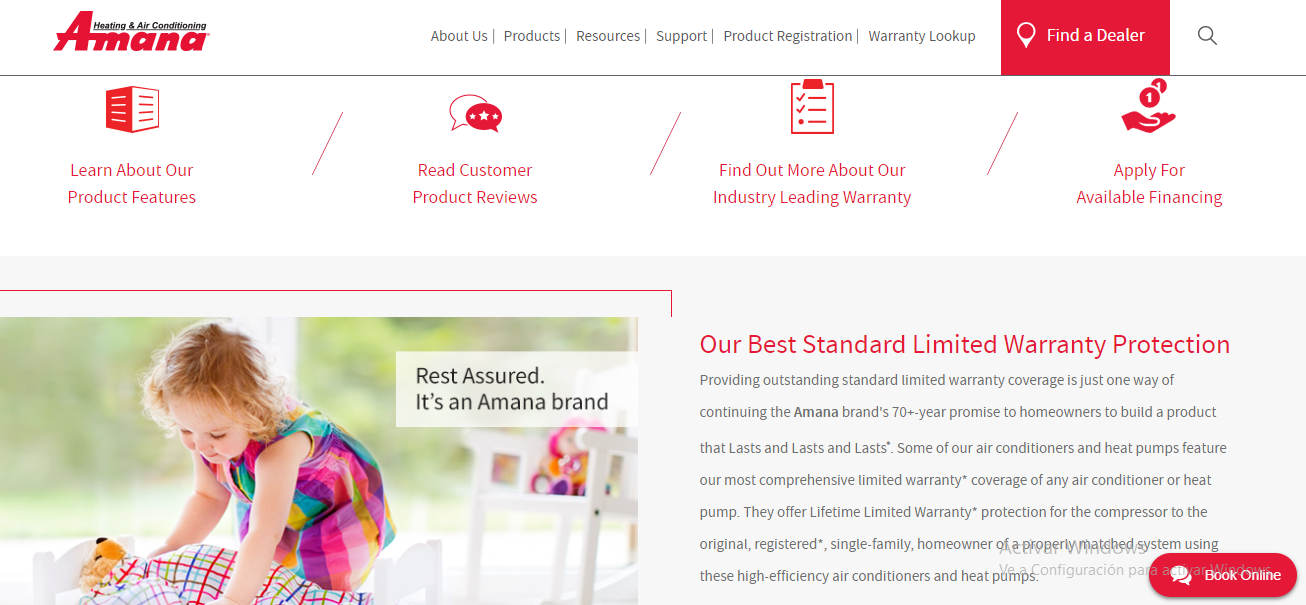 Like Goodman, Amana is among the brands that operate under Daikin Group's leadership. Its products are assembled at the same facilities as Goodman's, so you can expect a similar level of quality from both brands.
Amana's units are more expensive, and their warranties are the same as those you'd get if you opt for a Goodman or Daikin HVAC system. As a mid-range brand, Amana is ideal for homeowners who don't want to overspend on a heat pump or AC unit.
Rheem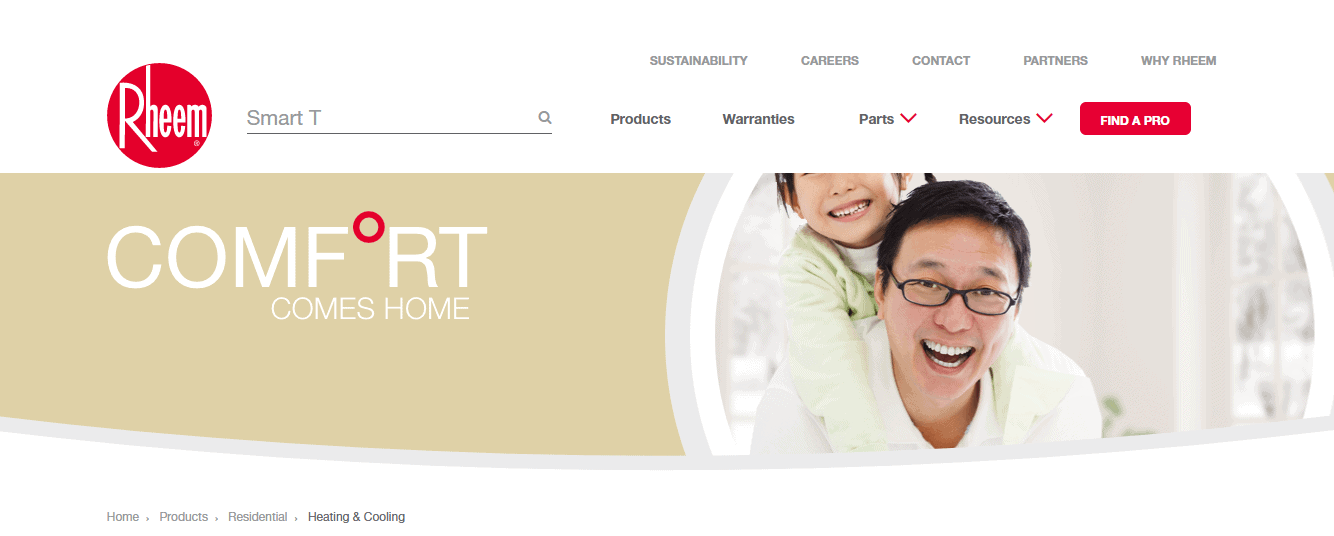 The range of Rheem's cooling and heating products can be overwhelming. Its heat pump models provide an affordable alternative to high-end systems produced by luxury brands.
Most units have good but not great efficiency ratings, so you shouldn't expect top-notch performances from Rheem's ACs, mini-splits, or heat pumps. The brand's Prestige series furnaces are among the best on the market because their AFUE ratings go up to 98.7%.
All vital components of Rheem HVAC systems are covered by limited lifetime warranties, while all other parts come with ten-year warranties.
Frequently Asked Questions about Carrier and Goodman Brands
Question: How Much Does It Cost to Install a Carrier Mini-Split?
Answer: The least expensive installation option with all parts of the system included costs around $900, but you may have to spend over $2,000 to install a brand's multi-zone ductless system.
Question: Does Goodman Manufacture Packaged Units?
Answer: Yes, Goodman offers packaged ACs, heat pumps, dual fuel, and gas-electric units.
Question: What are Carrier's Financing Options?
Answer: Carrier has multiple financing options, including bank credit or lease-to-own.
Final Thoughts: Which Brands Makes Better HVAC Systems Goodman or Carrier?
The value Carrier HVAC products bring is hard to match because they utilize innovative technologies and last longer than most of their competitors. It's unrealistic to expect the same level of performance from systems manufactured by an affordable brand like Goodman.
Although they lack the bells and whistles of the industry-leading heat pumps or ACs, Goodman's models are reliable, efficient, and budget-friendly.
I hope the information you found in this article will help you understand the differences between Carrier and Goodman brands. Please go through our Ruud vs. Trane comparison to learn more about these brands.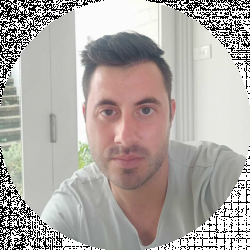 Latest posts by David Borgogni
(see all)