Understanding the differences between Tempstar vs Carrier HVAC systems requires a lot of research and effort. The same company owns both brands, which is why some of their models have the same features, efficiency ratings, and coverage range.
Despite this, Carrier's product line is more versatile and includes a broader selection of premium models with high SEER ratings. So, in this article, I'll introduce you to the vital traits of Carrier and Tempstar HVAC systems and share my opinions with you about some of their flagship models.
Bottom Line Up Front
Tempstar and Carrier heat pumps or air conditioners are nearly identical in terms of efficiency. Most units these brands offer have SEER ratings below 19, although several Carrier models have higher SEER ratings. Tempstar, on the other hand, has a slightly better selection of entry-level models.
Despite the numerous advantages of Tempstar's HVAC systems, I still think that Carrier's models perform better in adverse conditions and last longer than the units its sister company offers. Both brands provide ten-year warranties for most of their products.
Check also: The best 2-ton heat pumps
Main Differences between Tempstar vs Carrier HVAC Systems
The main differences between Tempstar and Carrier HVAC systems are:
Carrier was founded more than a century ago, whereas Tempstar released its first HVAC systems in the early 1980s
Tempstar's units don't have weather-resistant cabinets, whereas most Carrier's models  have the WeatherArmour that protects them from extreme weather conditions
Carrier models utilize the Silencer System II technology to control their noise levels, whereas Tempstar HVAC systems don't have noise-reduction properties
Tempstar's most expensive models cost around $2,500, whereas Carrier's high-efficiency units can cost more than $4,000
You might also like: The best portable heat pumps
Key Specifications
| | | |
| --- | --- | --- |
| Brand | Tempstar | Carrier |
| Efficiency level | Medium to low | High to medium |
| Noise level | 56dBt to 76dB | 51dB to 76dB |
| Refrigerant types | R-410a | R-410a |
| Indoor unit mounting options | Wall, low wall, ceiling | Wall, low wall, ceiling |
| Length of the warranty period | Ten years | Ten years |
| Estimated life expectancy | 15 years | 25 years |
| Latest prices | Check the latest prices here | Check the latest prices here |
Evaluating the Features of Tempstar and Carrier HVAC Systems
Tempstar

Although it isn't very long, Tempstar's history is complex because it changed ownership several times since it was founded. Originally, Heil started the Tempstar brand to meet the growing need for efficient HVAC systems, but several years later International Comfort Products Company acquired Heil and Tempstar.
Carrier purchased the ICP and all its subsidiaries in the late 1990s, adding Tempstar and Heil to the long list of brands under its leadership.
Tempstar brand product line includes a wide array of furnaces, heat pumps, air conditioners, and mini-splits that, in my opinion, meet the needs of most homeowners.
Their efficiency levels depend on the system type and the model, so some of the brand's units can have SEER ratings up to 40, while heat pump models have SEER ratings below 20.
Even though most of Tempstar's HVAC systems aren't expensive, their installation costs can add up to $5,000 to their market value.
Please read: The best 3-ton heat pumps
Key Features
Tempstar heat pumps and ACs have SEER ratings in the 13 to 19 range
Most models have high dehumidification capacities
All units come with a No Hassle Warranty, but its duration and specifics depend on a model
WiFi-enabled models are compatible with Ion System Control technology
The quietest Tempstar HVAC system makes 56dB of noise while operating at maximum capacity
Some Tempstar mini-split models have SEER 40 ratings
Tempstar has dealerships throughout the United States and Canada
Most replacement parts for Tempstar HVAC systems are readily available
See also: The best 14,000 BTU air conditioners
HVAC System Types
I always found the scope of Tempstar's product line impressive as each product category contains an abundance of options designed for different budgets.
Moreover, all units are released within series, and you can explore models from the Deluxe or Premium series if you need an HVAC system with a high SEER rating or browse through the Value series models to find a cost-effective cooling or heating solution for your home.
However, each product category contains different series, so the brand's heat pumps and central ACs are published within the Premium or Value series, while mini-splits are released within four series.
Tempstar's selection of gas furnaces includes fourteen models that come from Ion, QuietComfort, and Performance series. I think that the brand's oil furnace options are worth exploring if you're interested in a unit with an AFUE rating close to 90%.
On the other hand, most of Tempstar's packaged units are loud, and their SEER ratings are surprisingly low.
Please read:  The best AC units for sheds
Coverage Range and Maximum Outputs
Never go through the HVAC unit selection process alone. I repeat these words like a mantra because it's easy to overlook the importance of getting the right unit size for the space you'd like to heat or cool.
I think that installing a 3-ton heat pump in a 1,000sq/ft space can be an expensive mistake that will ultimately increase your monthly utility bill.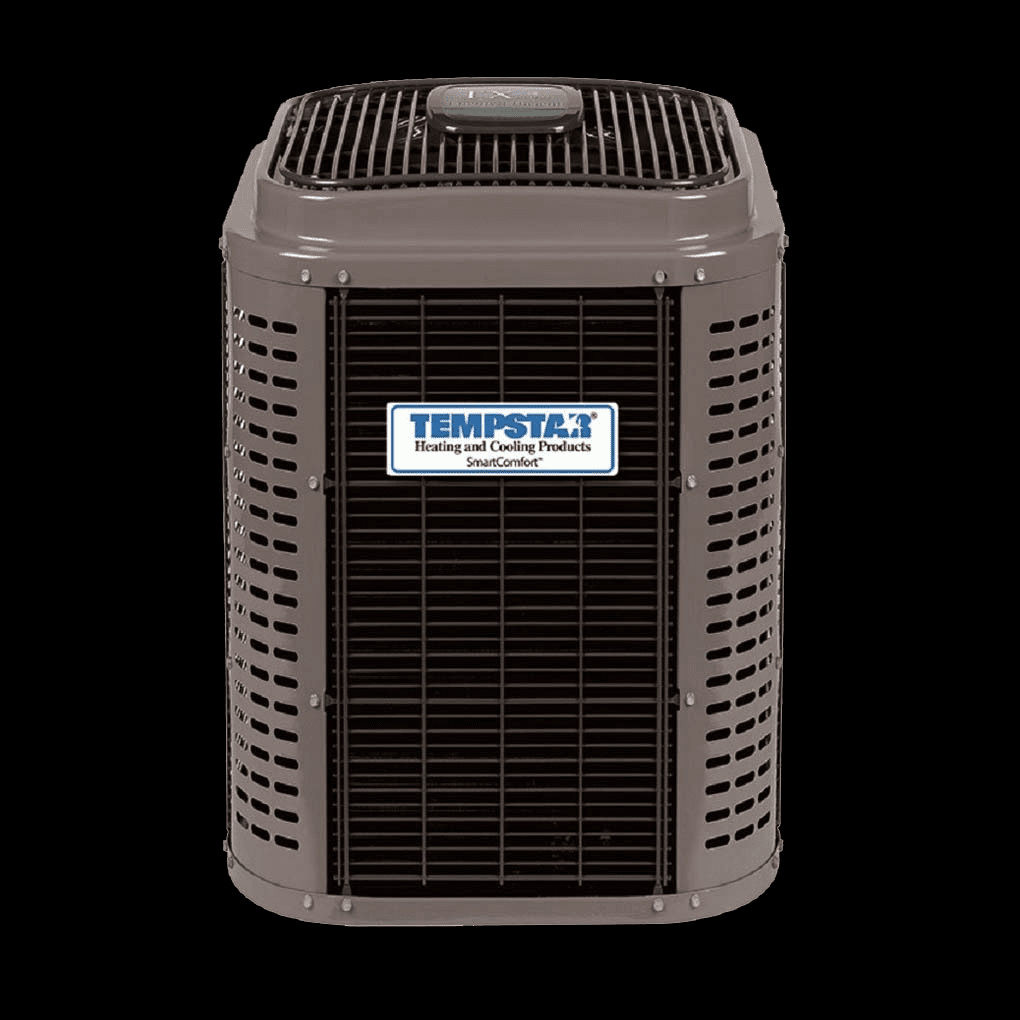 Getting in touch with a Tempstar contractor early in the selection process will help you avoid this problem and ensure the unit you get won't struggle to control the temperature in your home. Tempstar's HVAC systems are available in all sizes, but their coverage range depends on their type.
Furnaces usually have a narrower coverage range than air conditioners, even though their maximum outputs range from 45,000 BTU to 120,000 BTU. So, a 60,000 BTU Tempstar mini-split or heat pump can control the temperature in vaster areas than a 60,000 BTU gas or oil furnace.
Check also: How to become an HVAC technician
Power Draw and Energy Efficiency Ratings
I use the HVAC system's SEER rating as a guideline that helps me estimate its power consumption during the hottest months of the year. I try to avoid models with SEER ratings lower than 16 because they would inflate my electricity bill.
Tempstar's air conditioners and heat pumps from the Premium Ion series have SEER ratings in the 15 to 19 range, while models from the Performance series have 18 to 13 SEER ratings. So, I don't recommend choosing a Performance series model if you're searching for an HVAC system with vast coverage.
Most of the brand's single-zone and multi-zone ductless systems have excellent HSPF and SEER ratings. Still, their efficiency depends on the model. The highest AFUE rating a Tempstar furnace can have is 98%, but you can also choose from a variety of gas-powered models with AFUE ratings in the 90% to 96% range.
You might also like: The disadvantages of mini-split systems
Dependability of Tempstar HVAC Systems
I've never particularly liked Tempstar's tradeoff between quality and price. The brand's HVAC systems aren't expensive, and their price varies from $3,800 for high-end Premium Ion series models to $1,400 for an entry-level Performance Series unit.
Even though most models come with a ten-year No Hustle Warranty, some systems can have five-year or three-year warranties. The installation costs of Tempstar's HVAC systems can exceed $5,000, making their upfront cost too high for the quality they offer.
The key components of Tempstar air conditioners, heat pumps, and furnaces don't wear out quickly. Still, you shouldn't expect to use these systems for more than fifteen years. In addition, parts of these systems break down often, which increases their upkeep costs.
Check also: The best Pioneer mini-splits
Carrier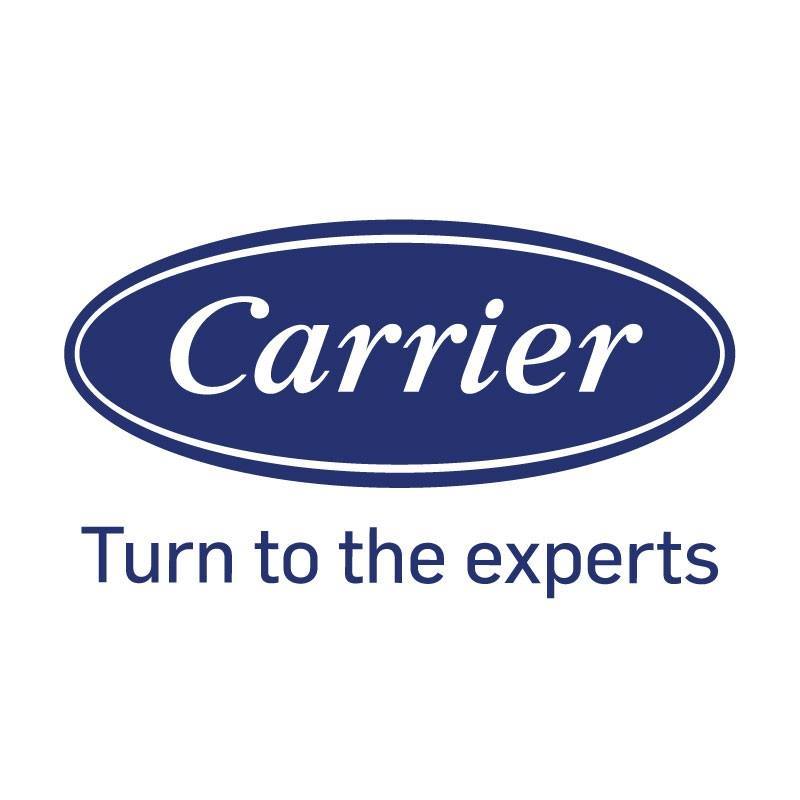 The key difference between the Tempstar and Carrier brands is, in my opinion, the versatility of premium options. Carrier has been one of the top brands in the HVAC industry for decades, and its products have a reputation for being efficient and reliable.
Like Tempstar, Carrier releases its HVAC systems within different series that indicate the product's performance capacities.
This makes choosing a heat pump, furnace, or mini-split easier because it eliminates the need to browse through the brand's high-end models if you're looking for a medium-efficiency unit. Carrier HVAC systems have high-quality components, but you'll still have to repair them occasionally.
Even so, Carrier's units are much more durable than Tempstar's since they can last up to 25 years. The warranty details depend on the HVAC system type and the model, but most units have ten-year warranties.
See also: The best Carrier mini-splits
Key Features
Carrier offers a limited lifetime warranty for its furnace models
Some heat pumps and air conditioners are equipped with the Greenspeed Intelligence feature
Most models are Energy Star certified
Carrier's mini-splits can have SEER ratings over 40
Some units are compatible with the Infinity Control system
The quietest Carrier HVAC system makes 51dB of noise
The company has a global network of contractors
High installation costs
HVAC System Types
At first glance, Tempstar's and Carrier's product lines are identical. Both brands manufacture the same types of HVAC systems and release them within different series that indicate their characteristics.
All Carrier heat pumps, mini-splits, and air conditioners are released in Infinity, Performance, and Comfort series. The Infinity series heat pump models have SEER ratings up to 24, while the highest SEER rating you can get in the Comfort series is 15.
Also, you can choose from Infinity, Performance, and Comfort gas and oil furnace models. The Infinity series features six furnace models equipped with advanced features that allow them to control air humidity or efficiently dispose of the condensate.
Carrier has an excellent selection of Smart and traditional thermostats that enable you to program the unit, utilize its energy-saving features or set a different temperature in each zone.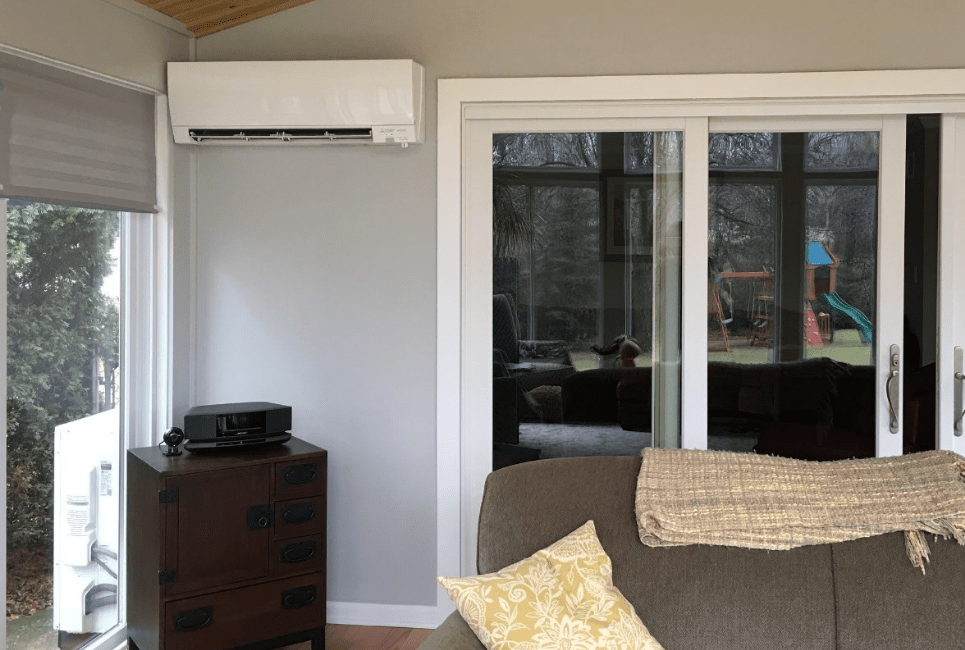 Coverage Range and Maximum Outputs
All HVAC brands, including Tempstar and Carrier, offer HVAC systems in various sizes. The maximum outputs of Carrier's residential heat pumps, multi-zone mini-splits, and ACs are limited to 5 tons.
So, you'll have to consult with the company's representative if you need an HVAC system capable of controlling temperatures in spaces larger than 3,000sq/ft. The maximum size of a single-zone mini-split doesn't exceed 36,000 BTUs.
I suggest contacting a local dealer if you want to find out more about the available size options for a specific Carrier furnace model because this information can be hard to find.
However, the maximum size of the brand's furnace models is around 120,000 BTUs and you can use these units to heat spaces up to 2,600sq/ft. In my opinion, neither brand has an advantage in this segment because their units have similar outputs and coverage.
Power Draw and Energy Efficiency Ratings
Nearly all Carrier HVAC systems I've ever used were Energy Star certified, and their power consumption was low for their size. SEER ratings of the brand's heat pump and AC units span from 14 to 26, but most models have 16 to 19 SEER ratings.
Also, some of the Carrier heat pump systems are compatible with the Hybrid Heat system, which reduces their power draw and boosts their HSPF ratings. Ductless systems are also energy efficient, and they outperform Tempstar's units.
Carrier furnaces can have AFUE ratings up to 98%, and you can make intricate adjustments to their fuel efficiency levels based on your current heating needs. Also, the brand's selection of high-efficiency gas and oil furnaces is more versatile than Tempstar's.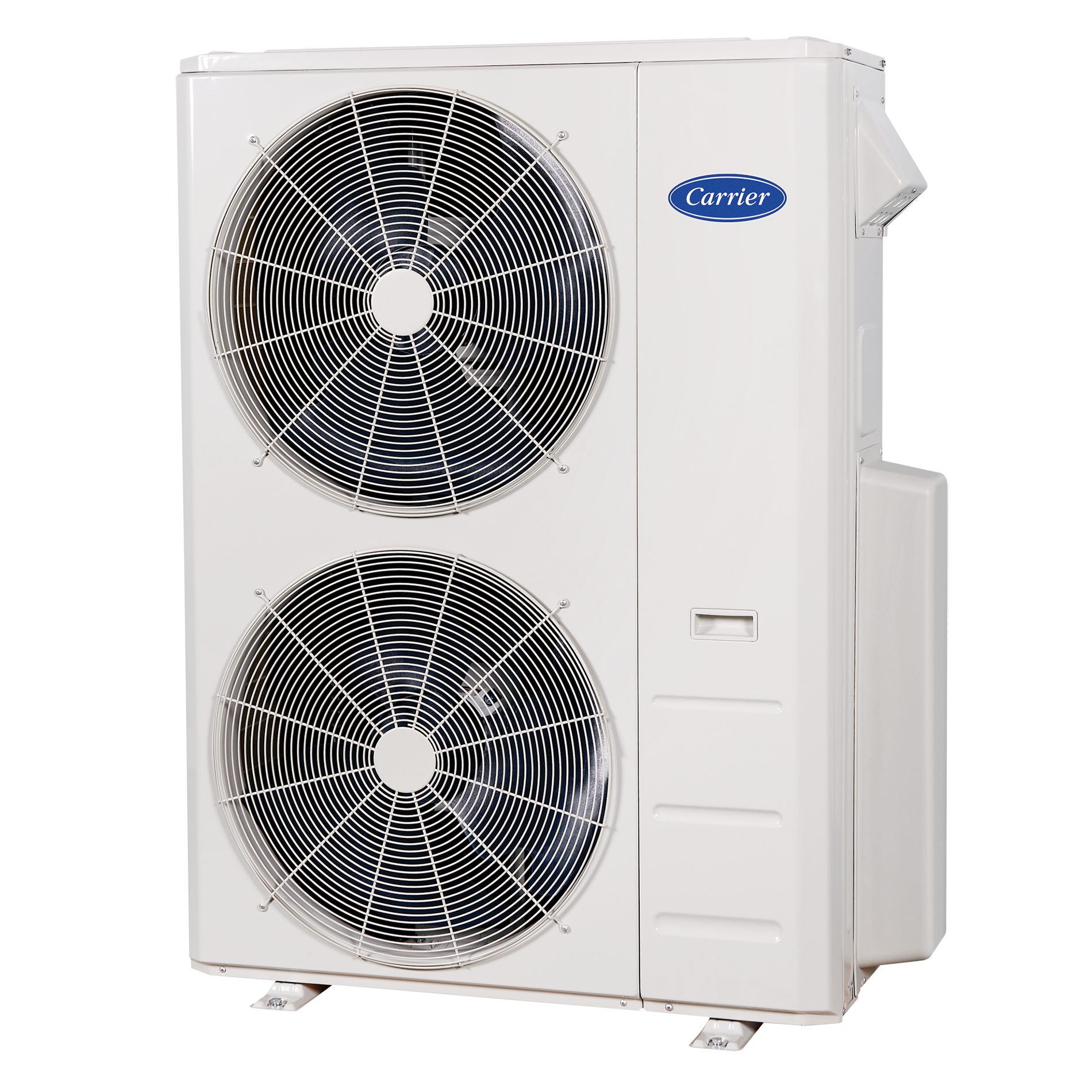 Dependability of Carrier HVAC Systems
I was intimidated by the high upfront costs of Carrier HVAC systems for a long time, but after having the opportunity to use one of the brand's units for a couple of years, I think they offer an excellent return on the investment.
Most units have high-quality parts that eliminate the need to repair them often. In addition, the unit I had cut my annual heating and cooling costs by 50%, which more than justified its price.
Most of the issues I've encountered with Carrier HVAC systems were easily fixable, and I never had to spend a lot of money to repair my unit. However, finding spare parts for Carrier's models can be expensive and time-consuming.
Aside from Infinity and Performance furnace models with limited-lifetime heat exchanger warranties, all other Carrier HVAC systems come with ten-year warranties.
Tempstar vs Carrier – Pros and Cons

Carrier
Pros
Most Carrier units are quiet
Almost all HVAC systems have advanced temperature and humidity control options
Carrier offers a wide range of Energy Star-certified models
All units have high-quality components
Cons
None, Carrier is an industry-leading brand for a reason
Check out how Carrier compares to others:
Tempstar
Pros
Tempstar's products are inexpensive
Nearly all Tempstar HVAC systems are WiFi-enabled
Moderate to low power consumption
Mini-split systems utilize inverter technology
Cons
Some central AC units are loud
Tempstar HVAC systems don't last more than 15 years
The Best Alternatives to Carrier and Tempstar HVAC Systems
I never rush through the selection process. Instead, I take the time to explore and compare HVAC systems produced by different brands. This allows me to shortlist all units within a specific price range with the features I'm looking for and select the one that checks all the boxes.
Let's look at the HVAC brands you can explore if you're considering alternatives to Tempstar's and Carrier's models.

Carrier, Tempstar, and Comfortmaker belong to the same parent company, and their product lines are similar. Like Tempstar or Carrier, Comfortmaker releases its heat pumps, AC, furnace, and mini-split models within Ion, Deluxe Performance, and QuietComfort series.
The features and performance capabilities of Tempstar's and Comfortmaker's HVAC systems are almost identical, and both brands offer a broad spectrum of heat pumps, air conditioners, furnaces, and ductless systems. However, most Comfortmaker's models aren't a good alternative to Carrier's units.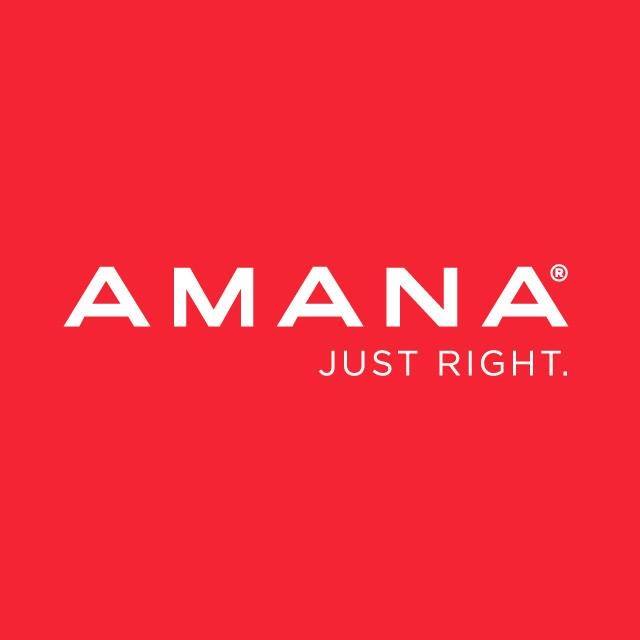 I don't think you should spend too much time exploring Amana's HVAC systems if you're looking for a new gas furnace because the brand offers just two models. However, the company provides a variety of high and medium-efficiency heat pump and air conditioner models.
All units are durable and last long after their ten-year warranties expire. Amana's whole-house heating solutions aren't among the most expensive on the market, but their installation costs can be steep.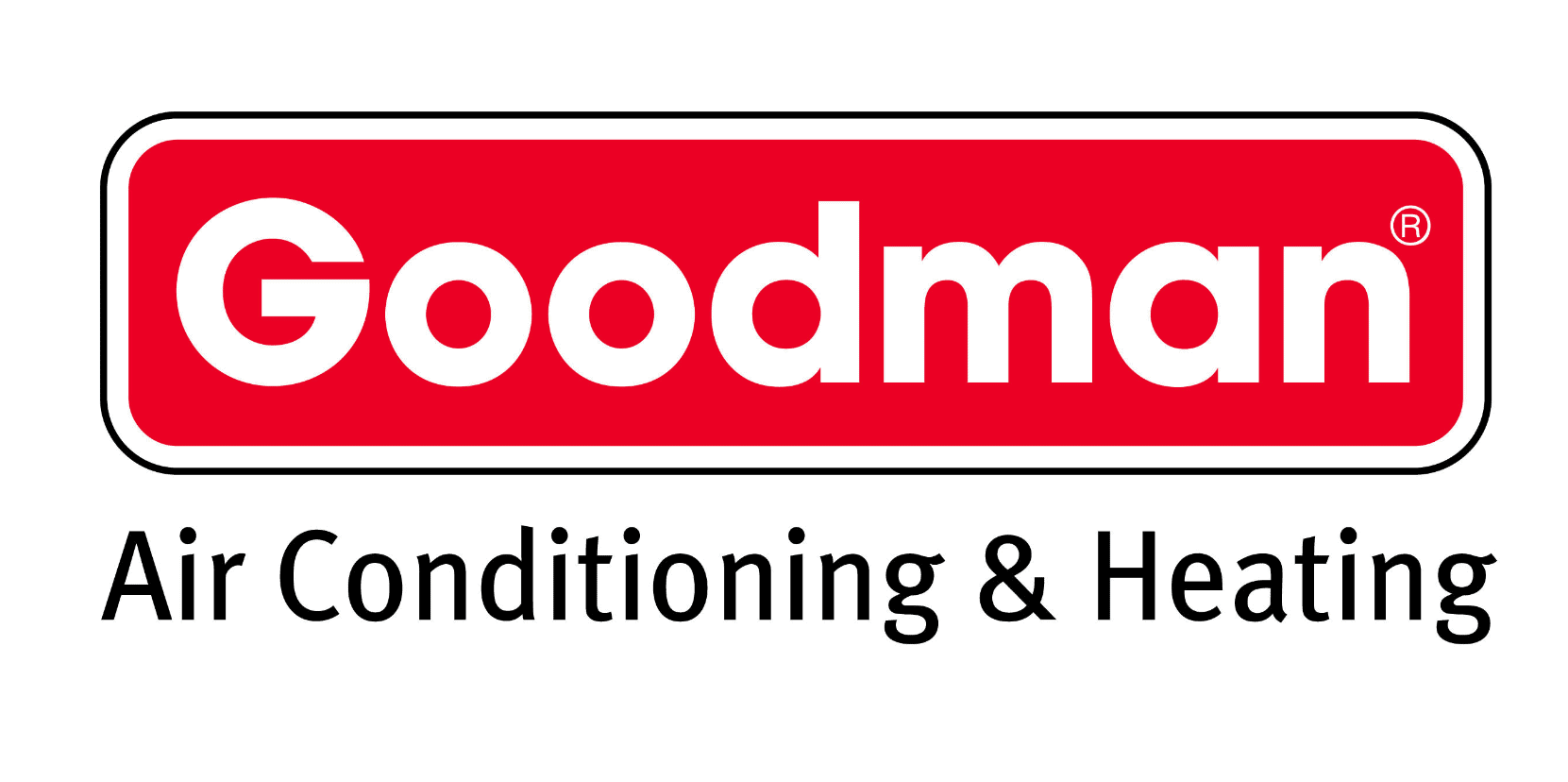 I recommend browsing through Goodman's heat pump, furnace, and central AC models if you're looking for an HVAC system that can perform at the same level as Carrier's model.
Besides being highly energy-efficient, Goodman's units are also equipped with features that allow you to monitor their performance or detect potential problems. Goodman's is also a reliable option if you need a high-efficiency furnace because it offers more than ten models with 90% or higher AFUE ratings.
Frequently Asked Questions about Tempstar and Carrier HVAC systems
Question: Do Tempstar HVAC systems perform well in coastal climates?
Answer: These systems perform well in hot and humid conditions, although extreme temperatures limit their coverage range.
Question: Is it necessary to have an annual inspection of a Carrier HVAC system?
Answer: Having your Carrier HVAC system inspected by a licensed technician every six to twelve months can extend its lifespan for more than a decade.
Question: Are replacement parts for Tempstar HVAC systems expensive?
Answer: Most OEM parts for Tempstar's units are affordable, but replacing some components can be expensive.
Check out our guide to the best furnace condensate pumps to find out how to dispose of your furnace's condensate more efficiently.
My Verdict: Are Carrier's HVAC Systems Better than Tempstar's?
Although it might seem that the Carrier is clearly a better option than Tempstar, this is only partially true. Carrier's models offer everything you'll need to regulate the temperature in your home, but its medium-efficiency units are more expensive than the competition.
Tempstar's units don't last as long as Carrier's, but their efficiency levels are similar. I recommend considering one of Tempstar's models if you're on a limited budget and intend to replace your household's HVAC system after 10 to 15 years.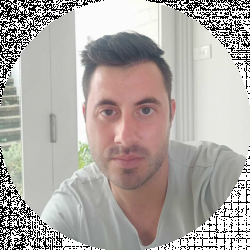 Latest posts by David Borgogni
(see all)