I purchased a gas furnace for my home years ago, but unfortunately, the model I chose didn't have a built-in condensate pump, and I had to empty its drain pan often to prevent flooding. Ultimately, I started exploring the best furnace condensate pumps to reduce the unit's upkeep requirements.
Connecting the device to my furnace enabled me to get rid of hoses and eliminated the need to clean the unit's drip pan. Also, I selected a model that makes less than 60db of noise, so adding a condensate pump to my home's heating system hasn't disrupted my sleep or daily activities.
In this article, I'll go over all the vital aspects of selecting a furnace condensate pump and walk you through some of the most efficient models designed for residential use.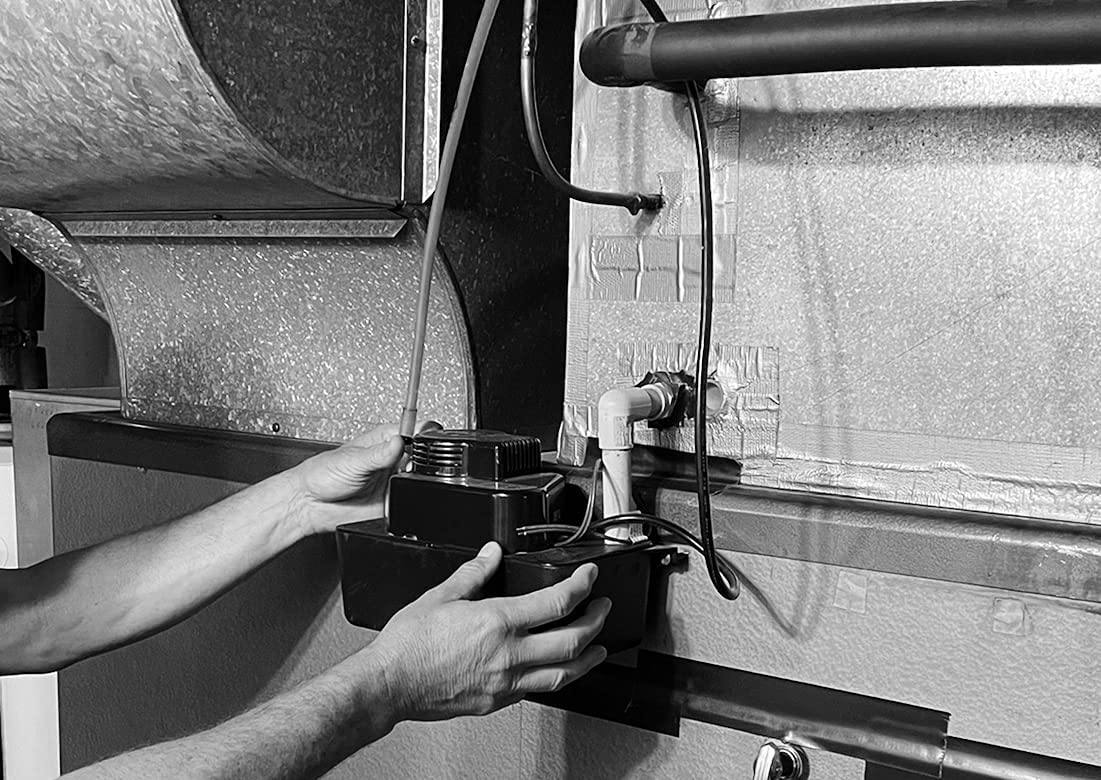 Bottom Line Up Front
The amount of condensate your furnace generates depends on its heating capacity, so the condensate pump you choose should be able to remove all water the heating unit generates.
I recommend choosing the Becket Corporation CB201UL condensate pump if your furnace produces more than a gallon of condensate per hour. Conversely, a smaller pump like the Little Giant VCMA-20ULS is better for furnaces with heating outputs below 50,000BTUs.
Please read: The best RV furnace guide
My Top Picks At a Glance
What Is a Furnace Condensate Pump?
A condensate pump is essentially a water pump designed to remove condensate generated by ACs, dehumidifiers, or furnaces. Hence, most models aren't designed for a specific type of heating or cooling appliances, so you won't have to worry about the pump's compatibility with your unit.
They're commonly used in the following situations:
Elevated or uneven floors prevent gravity-based continuous drainage
The nearest floor drain is too far away from the furnace or AC unit
Connecting a furnace with a sink or a drain with pipes poses a safety hazard
Most condensate pumps arrive with vinyl tubes that enable the user to connect them to the unit's condensate drain tap. Hence, you need to check if the pump's tube fits your furnace's tap before you purchase it.
The size of the pump's water collection tank is also a feature you shouldn't overlook, especially if you have a high-capacity furnace.
You might also like: How to find the best furnace blower
Standard Features of Furnace Condensate Pumps
Understanding how these devices work doesn't take a lot of time. All models are equipped with a motor triggered by a float switch. The motor remains inactive until the water in the tank reaches a certain level, for instance, 2.5 inches, at which point the float switch turns on the motor.
The pump can move condensate vertically for ten or twenty feet depending on how powerful its motor is, allowing you to connect the device to sinks or drains located above the pump. Models designed for residential use usually have 1/30 or 1/50 HP motors.
Depending on the model, you'll plug the pump's power cord into the nearest socket or use batteries to power it.
Top tip: Models with stainless steel mounting tabs and ABS plastic tanks don't corrode quickly or support algae growth. 
I suggest checking the pump's water temperature limit since most models can't handle water warmer than 140F. Condensate pumps have similar dimensions, and finding space for them near the furnace shouldn't be difficult.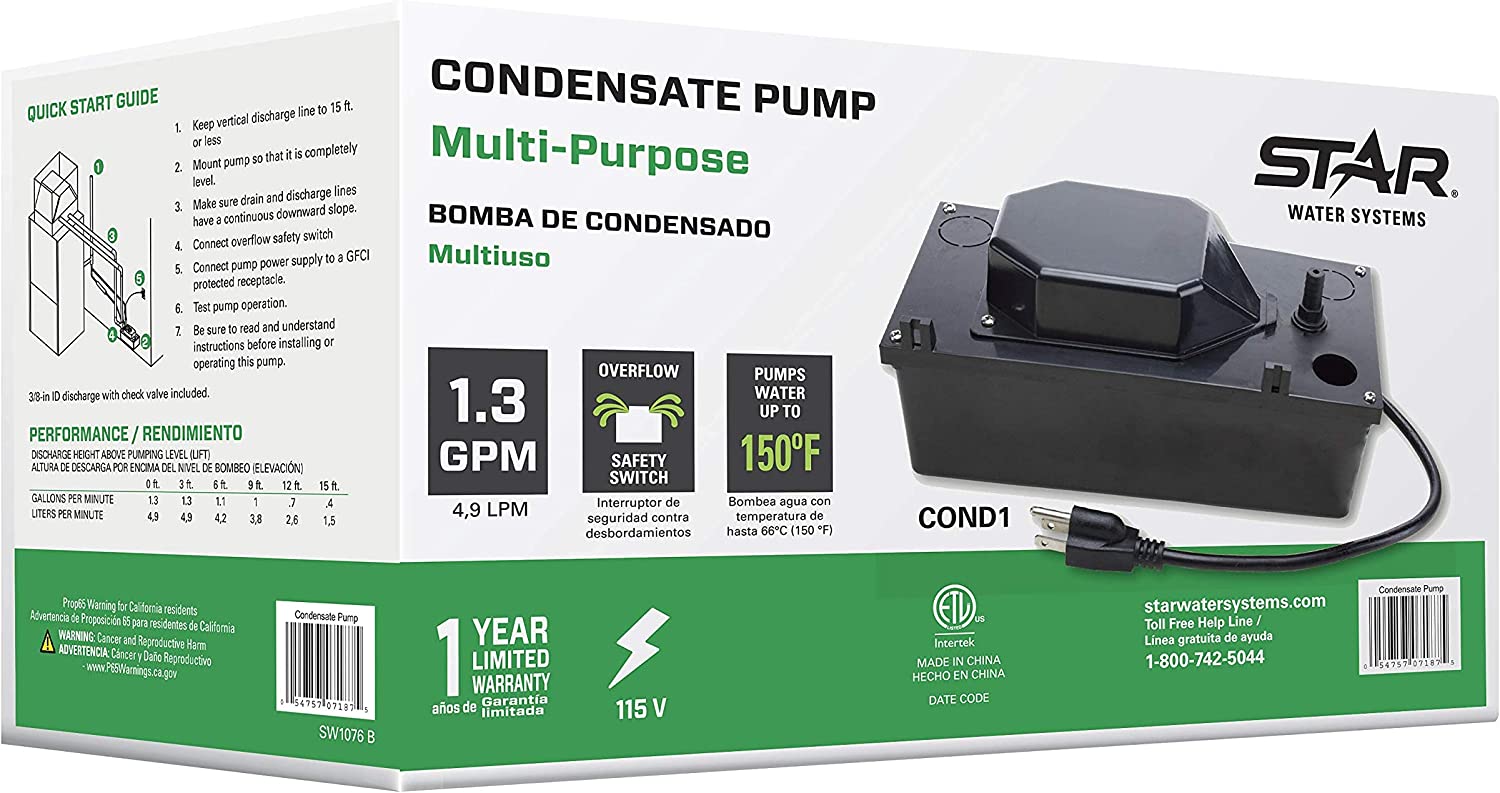 Installing a Furnace Condensate Pump
I wouldn't describe myself as a skilled handyman, but even I could install a furnace condensate pump on my own. The installation process is straightforward and takes place in the flowing stages:
Step 1 – Choose a suitable location for the device on your furnace, floor, or wall. Ensure the pump is located a few feet from the unit if you want to fasten it to a wall or floor. The tank should be level before you drive screws through slots.
Step 2 – Proceed to attach the pump's pipe to the furnace's drain tap and use the discharge tube to connect it to a floor drain. The discharge tube should be sloped to avoid potential issues.
Step 3 – Most models are compatible with water alarms that turn off the furnace if the pump overflows, and you need to ensure this component is wired correctly.
Step 4 – Switch on the pump and add water into its tank to test if it's working properly.
Check also: Furnace transformer replacement guide
Maintenance and Durability
I consider myself lucky because I didn't have to replace my condensate pump for five years. However, most homeowners install new condensate pumps on their furnaces every two to three years.
Motor failure, leaking pipes, or water tank overflowing are some of the most common problems associated with these devices. Also, sporadic maintenance can shorten the pump's lifespan and slow it down.
Top tip: Shut down the breaker before removing a hard-wired condensate pump from a furnace to make sure the power is off. 
I perform regular maintenance checks every six months to determine if the pump's hoses are clogged or if its water reservoir needs cleaning. Also, I flush the hoses and wash the water tank annually. This process isn't time-consuming and usually takes around an hour to complete.
Perform a test run to ensure the device works after reconnecting it to your furnace.
How Much Does a Furnace Condensate Pump Cost?
These devices aren't expensive, considering how useful and durable they are. Models with 0.5-gallon tanks and 1/30 HP motors cost around $50, while pumps with a one-gallon tank and 1/50 HP motors are closer to $100., but you might have to spend more than $100 if you want to get a model with a safety switch.
I recommend choosing a condensate pump that arrives with an installation kit because purchasing hoses and other parts separately can increase your expenses.
Most brands offer limited one to two-year warranties that include free part replacements. However, the exact warranty coverage depends on the brand and the model you choose.
The power draw of these appliances is usually low, and installing a condensate pump on your furnace won't significantly impact your household's monthly power usage.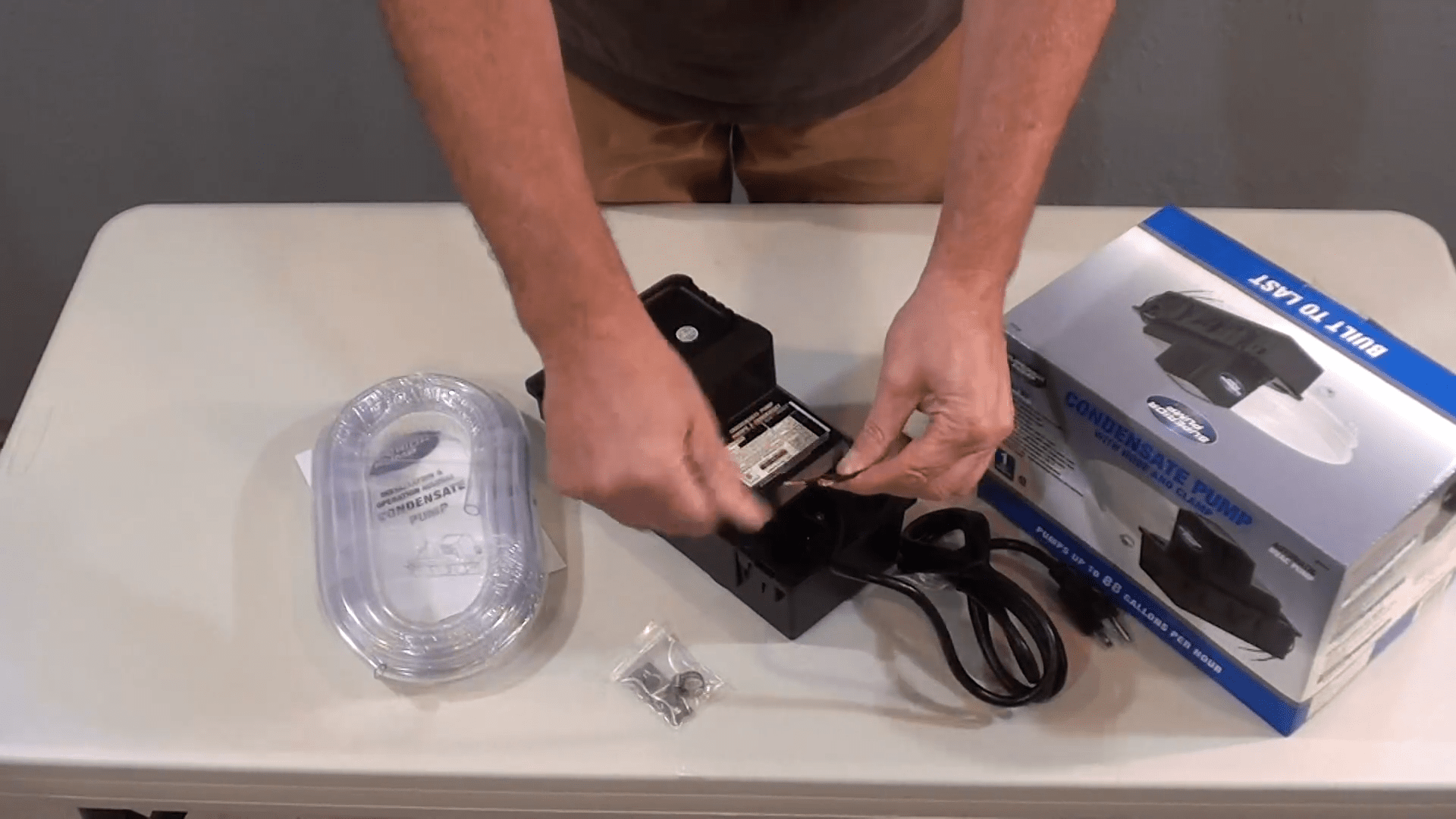 See also: How to find the best flame rollout switch
Selection Criteria
Homeowners are usually guided by different contextual factors while choosing a condensate pump for their furnace. So, shortlisting the best furnace heat pumps for this guide based on their features wasn't possible.
Besides the model's maximum lift or length and width of its hoses, I also considered factors that aren't directly related to its performance capacities. Let's go through the key criteria I used to choose the best condensate pumps:
Water tank size – I relied on this parameter to identify models suitable for a variety of furnaces. Tank sizes of models I featured in the article vary from 0.2 to 1 gallon.
Price range – I utilized this criterion to choose the best affordable and high-end models.
Please read: The best propane hose extension
Top 9 Furnace Condensate Pumps
Star Water Systems Cond1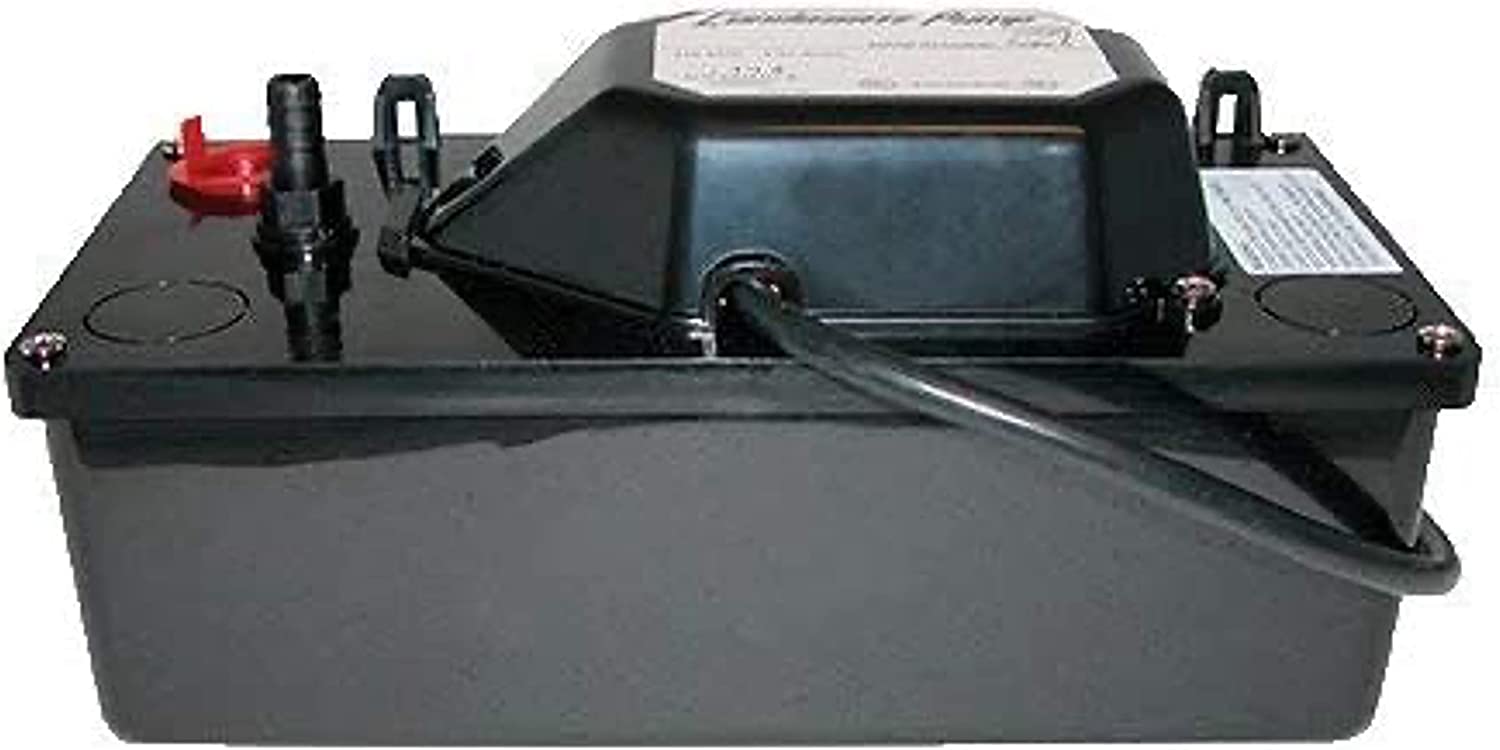 I like furnace condensate pumps with an integrated safety switch like Star Water Systems Cond1 because they eliminate the chances of water overflow. This model has a plastic housing and water tank and is compatible with 3/8 discharge hoses.
Its sealed 1/6 HP motor is powerful enough to secure an 18 feet lift and remove up to 1.3 gallons of condensate in a minute. However, the pump's flow rate decreases with distance, and it can only dispose of 0.4 gallons of water at distances larger than 15 feet.
Pros
It has a built-in safety switch
Installing this condensate pump is easy
The pump can handle condensate temperatures up to 150F
It comes with a one-year warranty
Cons
Discharge hoses are sold separately
Superior Pump 97154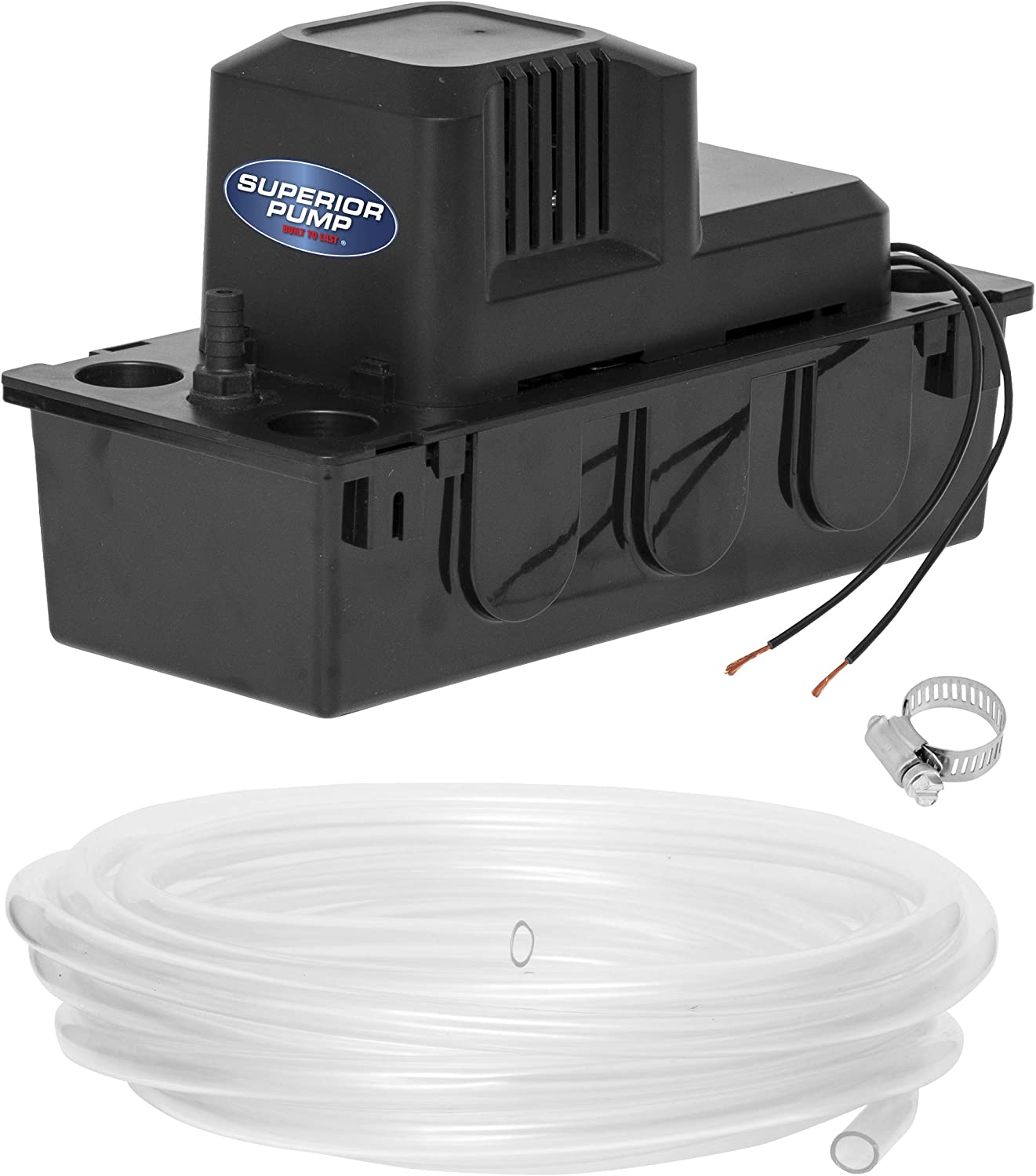 A 1/50 HP motor, excellent condensate removal capacity, and the automatic safety switch are among the Superior Pump 97154's features that caught my eye. This model also has four 1-1/8-inch inlets and three inlet caps that seal its ½-gallon tank and prevent condensate leakage.
The pump can drain up to 88 gallons of condensate per hour, and its maximum lift is 18 feet. Its thermally protected motor is fan-cooled and has solid copper windings. This Superior Pump model comes with twenty feet long and 3/8-inch wide discharge hose.
Pros
It has a powerful motor
The pump's metal components are corrosion-resistant
It turns off or on automatically depending on the water level
Cons
The pump's power cord is only six feet long
Diversitech Asurity FP-22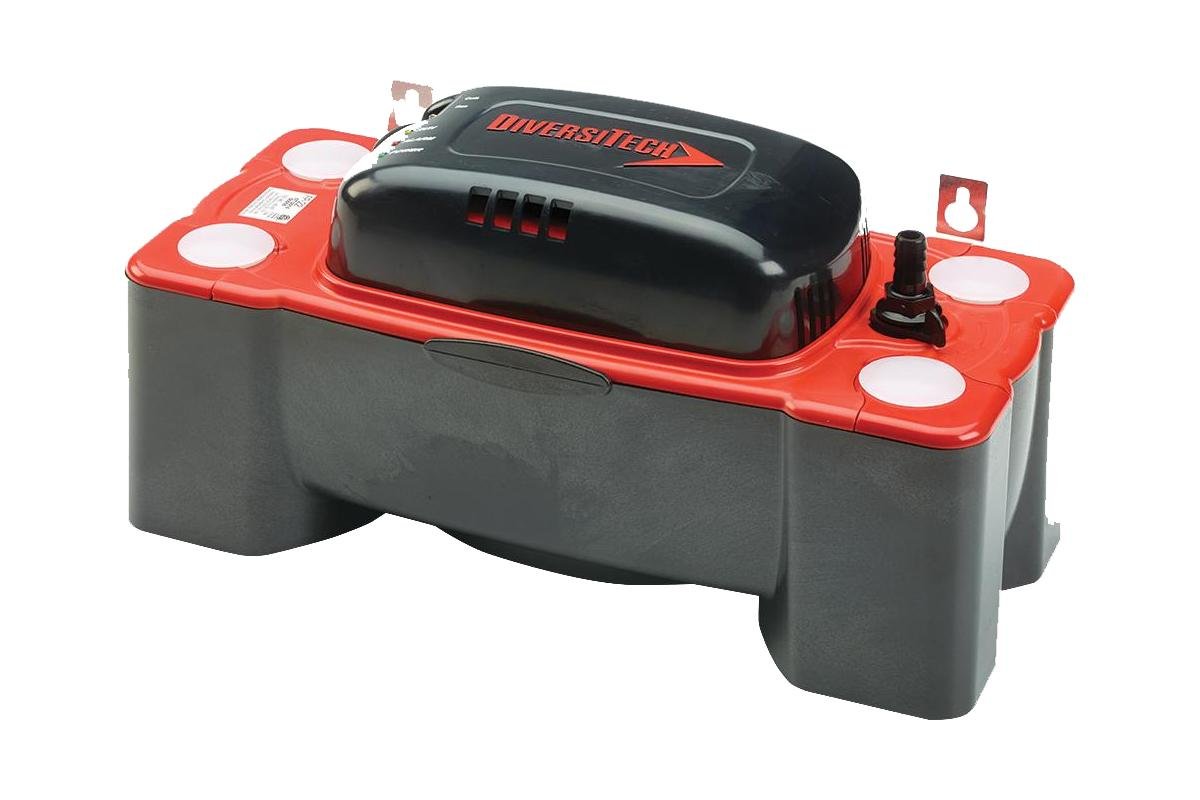 I suggest taking a closer look at the Diversitech Asurity FP-22if you need a condensate pump that can perform well in humid, acidic, and hot environments. Its condensate storage capacity is limited to 0.5 gallons, but despite this, it has an impressive 22 feet lift and a 144GPH drain capacity.
Its water temperature limit is set to 190F, while the maximum continuous operating temperature is 165F. The pump has anti-vibration feet and sturdy metal connectors that prevent it from moving.
Pros
The pump has four inlet holes
It has a built-in overflow protection switch
The manufacturer offers 120V and 230V versions of this condensate pump
It can remove up to 2.4 GPM of condensate
Cons
Little Giant VCMA-20ULS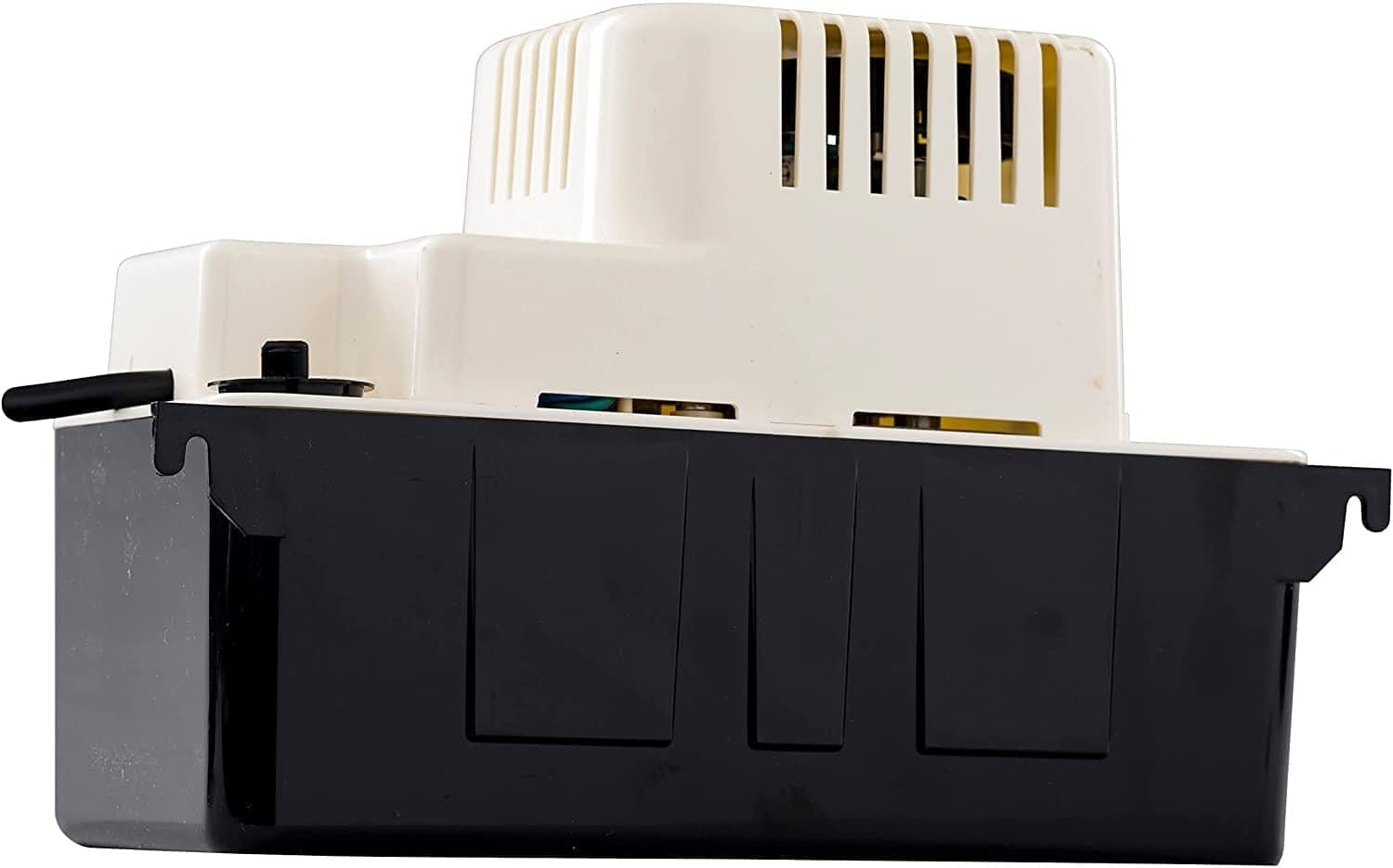 Even though I wasn't impressed by the features the Little Giant VCMA-20ULS offers, I believe this model is a great budget option for homeowners that don't need a powerful condensate pump.
Its ½-gallon tank detects the water level automatically and activates the 1/30 HP motor that can drain up to 80GPH of condensate. However, its performance decreases with distance, so this Little Giant's model has a 20-foot shutoff. Also, this pump can't withstand exposure to water warmer than 140F.
Pros
It supports a water alarm connection
Its motor shaft is made of stainless steel
It has three inlet ports and two cap plugs
Cons
Tubing isn't included in the package
PumpSpy Automatic Condensate Pump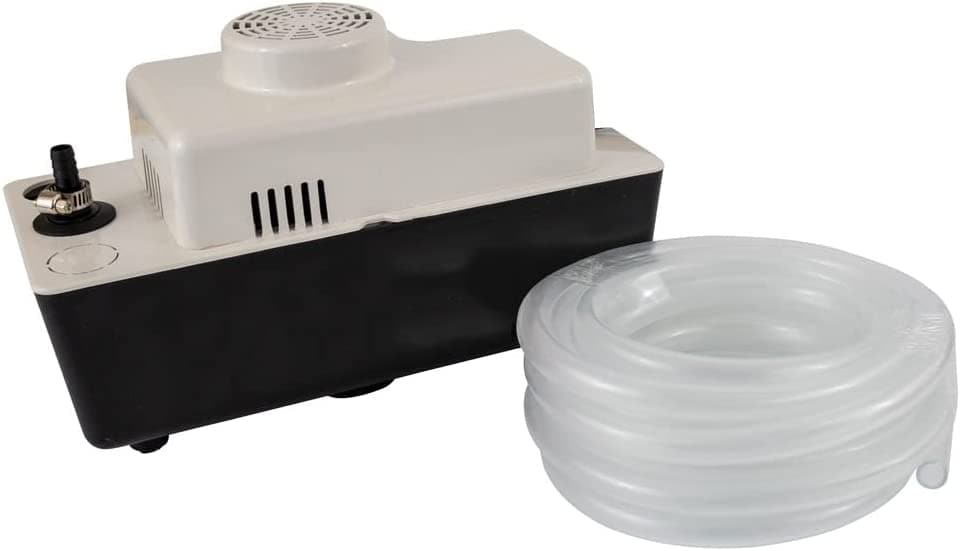 I think that a PumpSpy Automatic Condensate Pump could be a good solution for gas furnaces that don't generate high amounts of condensate. This unit has a 1/20 HP motor that can move nearly three gallons of water per minute and offers an 18 feet lift.
However, the model's water disposal capacity diminishes with distance, and you can't use it with discharge hoses longer than 20 feet. Its plastic body is sturdy, but you'll have to clean it often to remove the dirt it accumulates.
Pros
Synchronous technology lower's the motor's noise level
3/8-inch vinyl tubing is included in the model's price
It has an automatic shutdown function
The pump is covered by a three-year warranty
Cons
It has a small water tank
KZR TKVCMX-20ST-230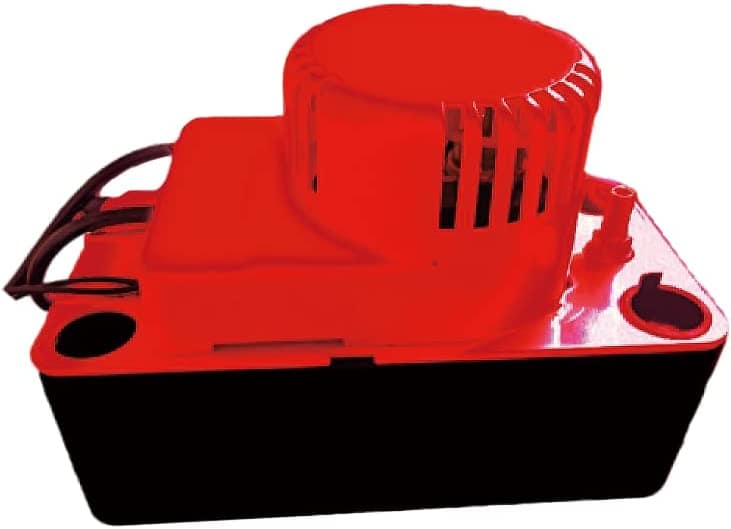 The condensate pump I am using isn't more powerful than the KZR TKVCMX-20ST-230. This KZR model has a centrifugal pump design, and it is powered by a 1/30 HP motor that can't remove more than 84 gallons of water in an hour.
Its maximum lift is twenty feet, while the hottest water temperature the pump can handle is 140F. The pump features two lead wires that allow you to connect it to a water alarm. Also, the automatic water level detection feature turns on the unit after the water in the 0.6-gallon tank reaches a certain level.
Pros
The pump makes less than 50dB of noise
It has a 60F to 140F water temperature range
The motor is protected from overheating
An affordable price
Cons
It's not suitable for all gas furnaces
Fujiwara FUJ-40S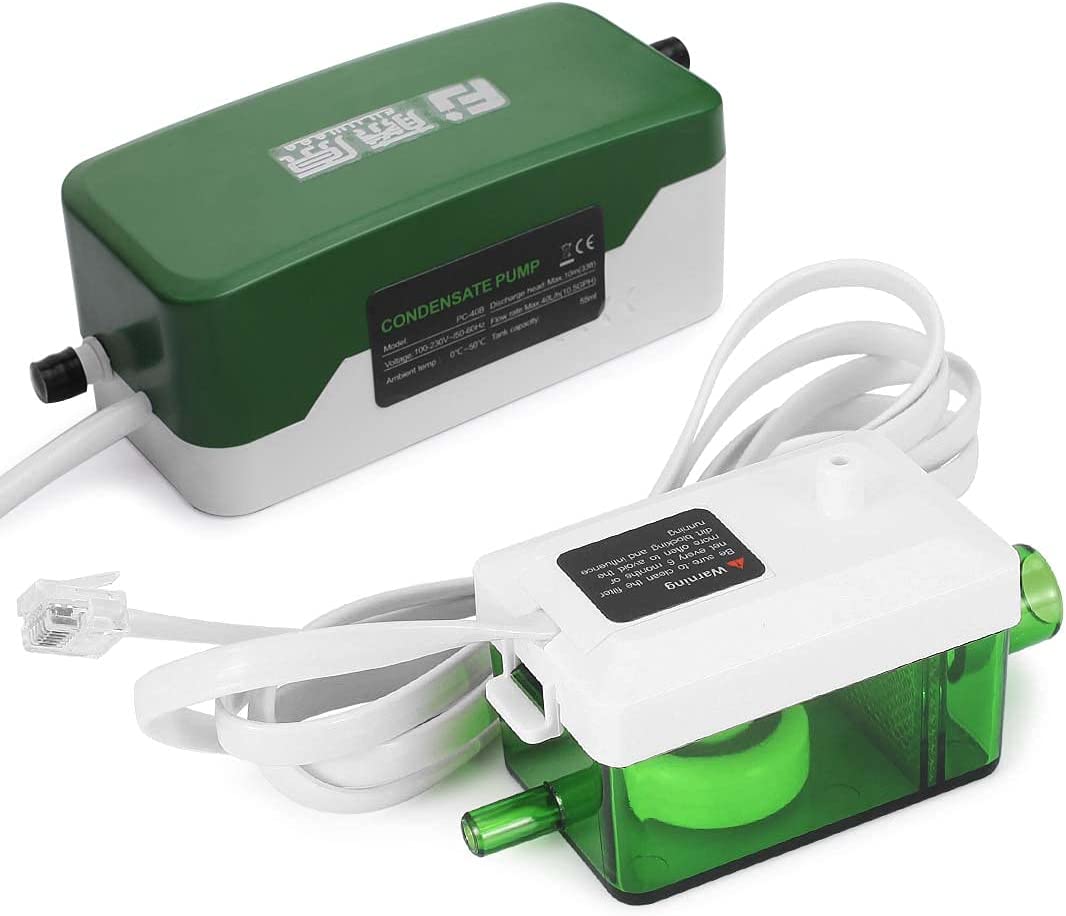 I think that the Fujiwara FUJ-40S is one of the best options for homeowners who need a condensate pump with a sizeable lift. Despite lacking the capacity to drain more than 10 gallons of water per hour, the pump has an impressive 32-foot lift rating.
The probe induction technology reduces the chances of condensate overflow protecting the furnace's components from potential damage. Even so, the pump's tank can't hold more than 0.05 gallons of water which prevents you from using it with high-performance furnaces.
Pros
The pump makes less than 18dB of noise
It doesn't draw power in standby mode
It is compatible with water alarms
9/16 hose arrives with the pump
Cons
It can't drain high amounts of condensate
Becket Corporation CB201UL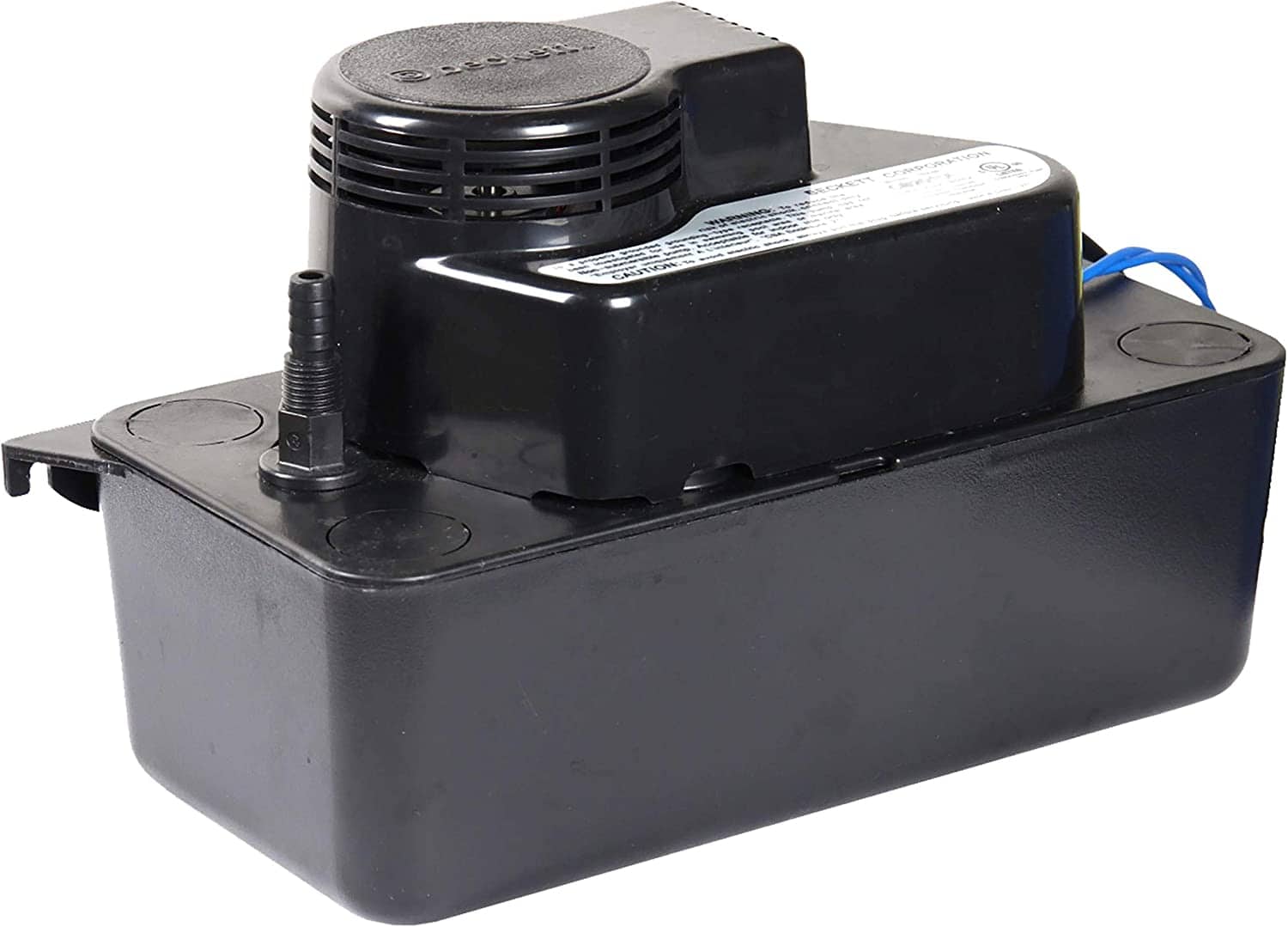 I recommend choosing the Becket Corporation CB201UL if you need a condensate pump with a high flow rate. The fan-cooled motor can remove more than three gallons of water in a minute and allows for the maximum twenty-foot lift.
Also, the model's dual float design prevents overflow and increases efficiency. Its power cord is six feet long, so you must check how far the nearest power outlet is from the location at which you want to install this condensate pump.
Pros
It has a powerful motor
An excellent replacement for the brand's older models
The manufacturer offers a two-year warranty for this model
It drains 188 gallons of condensate in one hour
Cons
Liberty Pumps LCU-20S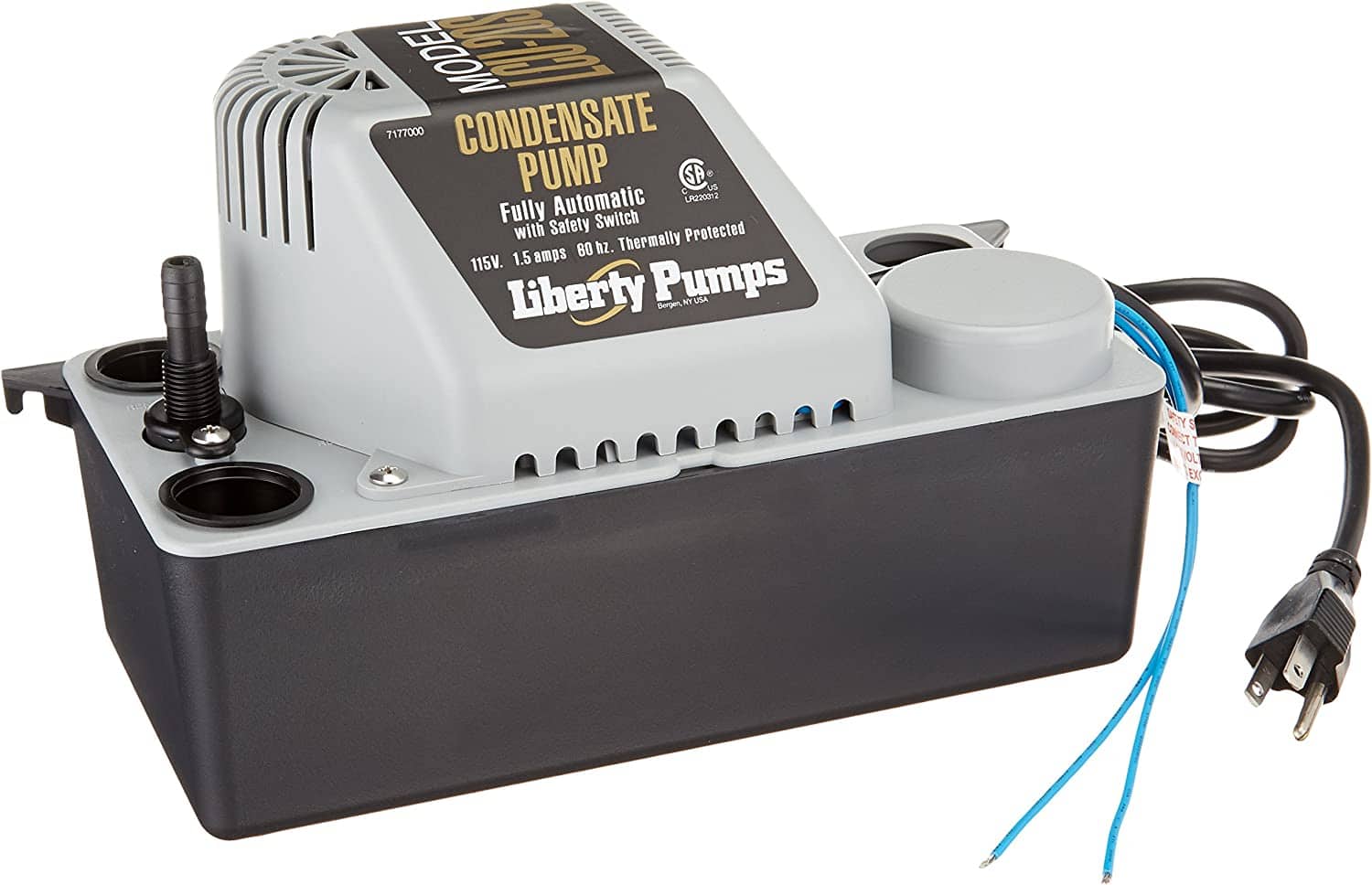 The Liberty Pumps LCU-20S' appearance can be deceiving because the pump has an impressive flow rate despite its compact dimensions. You can drain nearly two gallons of condensate per minute, but remember that the pump's plastic tank can't hold more than half a gallon of water.
A thermally protected 1/30HP motor allows for 20 feet of lift, providing you with flexibility during the installation process. Check valves and 3/8-inch hoses are sold separately, which increases the pump's already steep price.
Pros
It detects the water level automatically
The pump weighs just 5lbs
It has three 3/8-inch intake openings
Cons
It's not suitable for 230V furnaces
Frequently Asked Questions about Furnace Condensate Pumps
Question: Can I extend the condensate pump's discharge hose?
Answer: Most models have a 20-foot shutoff limit, so extending the discharge hose over that limit isn't possible.
Question: Do I need a condensate pump with a large water tank?
Answer: Opting for a model with a large tank isn't necessary unless your furnace generates high condensate amounts.
Question: How much does it cost to repair a condensate pump?
Answer: Repairing a faulty condensate pump is often more expensive than buying a new one since you may have to spend more than $100 to replace its motor.
The information I provided in this article should make choosing a condensate pump easier and help you find the model suitable for your furnace. Please read our guide to the best washable furnace filters if you need to replace your unit's original air filter.
My Verdict: How to Know which Furnace Condensate Pump Is the Best?
All condensate pumps I used with my furnace had excellent safety features, high flow rates, and powerful motors. The quality of these components ensured I don't have to replace my furnace's condensate pump often.
That's why I recommend getting a model like the Becket Corporation CB201UL with remarkable performance capabilities and sturdy construction. Optionally, you can consider a model like Little Giant VCMA-20ULS or Fujiwara FUJ-40S if you need a condensate pump with a moderate flow rate.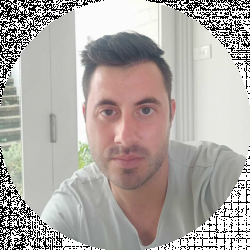 Latest posts by David Borgogni
(see all)