Comparing Daikin vs Carrier HVAC systems is a battle of the giants, similar to the endless Nike vs Adidas or Apple vs Microsoft debates. I was fortunate enough to use systems produced by both HVAC System brands, and both units performed admirably over the course of several years.
I find it hard to decide which of these brands is better because their products have set efficiency standards for years. In my opinion, selecting a unit suitable for the space you'd like to heat or cool is far more important than the brand you choose.
So, in this article, I'll take you through the essential features of Daikin and Carrier HVAC systems to help you decide which brand is the best fit for your home.
Bottom Line Up Front
I think that Daikin offers a slightly wider range of products than Carrier, so you'll have more options at your disposal if you opt for a Daikin HVAC system. In addition, components on Carrier's units are more prone to failure than those on models produced by Daikin.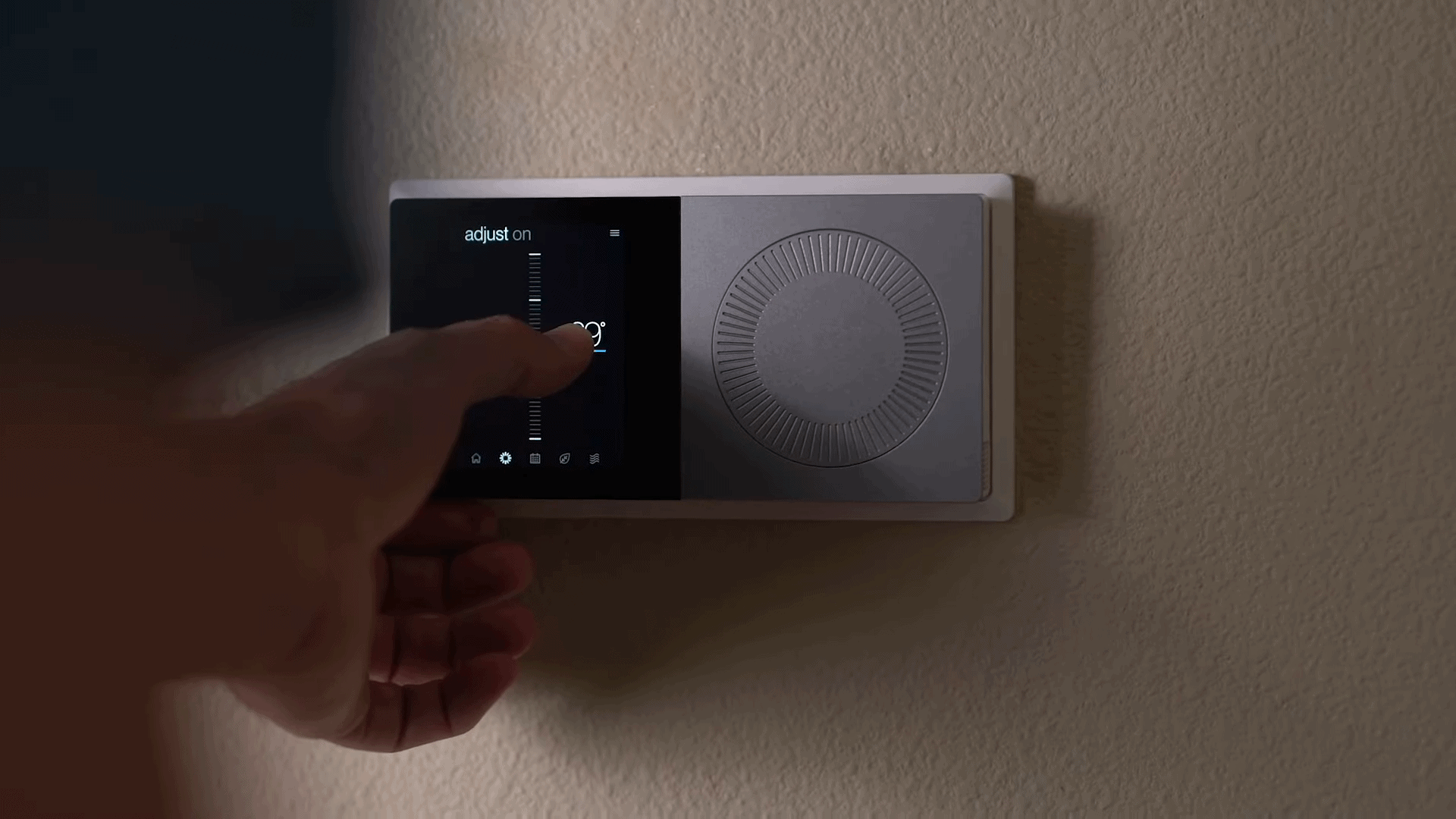 Hence, in terms of reliability and efficiency, Daikin's HVAC systems take the day. Still, I suggest considering Carrier's whole-house cooling and heating solutions if you need a budget-friendly unit.
Main Differences between Daikin vs Carrier HVAC System
The main differences between Dakin vs Carrier HVAC systems are:
Carrier's HVAC systems are expensive, whereas Daikin offers slightly more affordable products
Carrier doesn't have a broad selection of whole-house systems, whereas Daikin offers a wide array of high-end packaged, heat pump, and AC products
Daikin HVAC systems have a sleek design, whereas many of the Carrier's models aren't visually pleasing
Carrier cooling and heating units don't have anti-allergenic properties, whereas most Daikin models help relieve allergy symptoms
Daikin isn't the best option for homeowners searching for a window AC, whereas Carrier is a much more reliable option if you need this AC type
You might also like our guides on: How to Find the Best Heat Pump or How to Find the Best Window Heat Pump
Key Specifications
| | | |
| --- | --- | --- |
| Model | Daikin  | Carrier |
| Noise level | Moderate | Low |
| Estimated life expectancy | Up to 20 years | Up to 25 years |
| Warranty duration | Up to 20 years with units with a heat exchanger and 6 years for other parts | Lifetime warranty for key components and ten-year warranty of other system parts |
| Refrigerant types | R-32, R-134a, R-410-a | R-410a R-22, R-12, R-134a |
| Cooling and heating efficiency | Excellent | Good |
| Indoor unit mounting options | Wall, ceiling, floor | Wall, ceiling, floor |
| Latest price | Check the latest prices here | Check the latest prices here |
Examining the Features of Daikin and Carrier HVAC Systems
Daikin

Despite being one of the oldest HVAC system manufacturers in the world, Daikin entered the North American market less than twenty years ago. Besides air conditioning systems, the company also produces air filters, chemicals, and medical equipment.
Its HVAC systems are famous for their reliability, as most models maintain their cooling and heating efficiencies throughout their lifetimes. Nearly all brand's models require professional installation and upkeep, which increases their overall cost.
Refrigerant leaks are arguably one of the most frequent problems users of Daikin's products encounter. Nonetheless, the parts of these systems don't break down easily, so it's unlikely that you'll have to replace the unit's coils or other vital components often.
Also, the brand offers a five-year warranty for all parts of their heating and cooling systems, while the brand's Asure Extended Service Plan protects the system's key components for up to twenty years.
Key features
Most models have high SEER and HSPF ratings
A versatile selection of HVAC systems
Excellent air filtering capacities
Complex installation process
All units have eco-friendly refrigerants
Advanced temperature and air humidity control option
Modern and elegant design
Suitable for homeowners with allergy and asthma problems
HVAC System Types
Before we proceed further, I would like to make clear that Daikin produces HVAC systems for residential and commercial contexts, and in this article, I'll focus on the brand's residential models.
Brand's HVAC systems are divided into the following categories:
Single-zone – This category contains units with just one indoor air handler. Single-zone mini-splits with a heating function are called heat pumps, while units that can only reduce the room temperature are referred to as air conditioners.
Multi-zone – Depending on the model, these systems can have up to eight zones. Users can choose outdoor and indoor units.
Whole-house – These powerful heat pump systems are designed for vast spaces, and their cooling and heating capacity varies from two to five tons.
In addition, Daikin offers more than twenty high-efficiency gas furnace models equipped with variable speed technologies or modulating gas valves. I suggest comparing the features of Daikin's HVAC systems if you're unsure which HVAC type is the right option for your home.
Please check: How to Find the Best Furnace
Heating and Cooling Outputs of Daikin HVAC Systems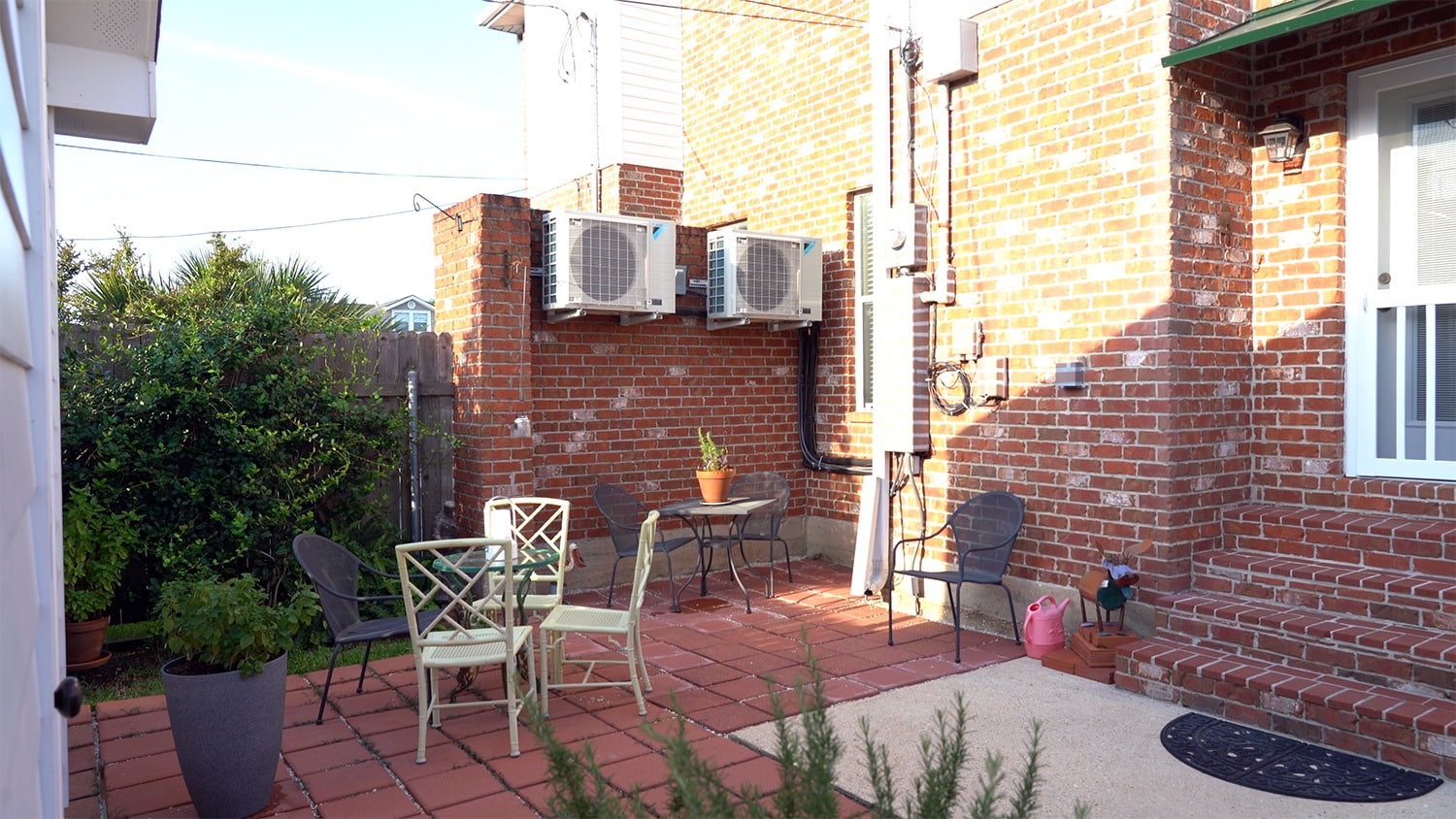 The brand offers a wide range of HVAC system sizes suitable for 250sq/ft rooms or 2,500 sq/ft houses. Besides the size of the area you want to heat or cool, various other factors can affect the unit's coverage range.
That's why I recommend hiring an HVAC technician to help you estimate a Daikin system size that fits your home's requirements. Moreover, the company can help you contact a contractor in your area that can guide you through the entire process.
Outputs of Daikin's mini-split systems range from 9,000 BTU to 48,000 BTU allowing you to pick the option that best fits your needs. Multi-zone systems have several indoor handlers with maximum cooling capacities between 9,000 BTU and 18,000 BTU.
Most heat pump models are available in multiple sizes, so depending on your needs, you can opt for a 36,000 BTU or 60,000 BTU system.
You might also like: How to find the best 3-ton heat pump
Power Consumption and Energy Efficiency
Dakin's HVAC systems are famous for their efficiency. None of the brand's air conditioner and heat pump mini-splits have SEER ratings below 16, and most models are Energy Star Certified.
In addition to high SEER ratings, these units also have excellent EER and HSPF ratings that indicate their overall heating efficiency.
However, I must point out that the amount of power you'll have to spend on heating or cooling your home with a Dakin HVAC system also depends on its size and how often you use the system. Brand's mini-split models utilize inverter technology and have a wide range of power-saving features.
Efficiency ratings of the brand's gas furnaces span from 80% to over 95%, indicating that most models waste a minimum amount of fuel. Also, units with lower efficiency ratings are less expensive than furnaces with 95% or higher efficiency ratings.
Reliability of Daikin HVAC Systems
A long warranty period, or advanced power-saving features are excellent indicators of the reliability of these systems. On average, the brand's heating and cooling units last for 15 to 20 years, and their efficiency doesn't decrease over time.
However, they require frequent maintenance as clogged air filters or refrigerant leaks might damage the compressor or the evaporator coil. Having your Daikin HVAC system examined annually by a licensed technician ensures all its components are in good condition.
Prices of the brand's units depend on their type, size, and features, so you can spend more than $5,000 on a 5-ton Daikin heat pump or a few hundred dollars on a 9,000 BTU mini-split.
Carrier

Carrier has established itself as one of America's best home appliance manufacturers in more than a hundred years of existence. The company currently owns some of the most famous HVAC brands, including Bryant, Heil, Comfortmaker, and Payne.
Carrier's HVAC systems are customizable so users can choose the unit's power source, heating, and cooling capacity, or noise level. The brand also offers a broad range of products that come with specific indoor and outdoor components.
The performance capabilities of these systems vary, but their parts don't deteriorate or break down quickly. Even so, corrosion, refrigerant leaks, and inefficient air filtration are some of the most common faults of these systems.
The components of all brand's models are protected by a ten-year warranty, while Carrier's outdoor compressors come with a lifetime warranty. So, even if one of the parts of your Carrier HVAC system breaks down, you'll likely be able to replace it for free.
Please read: Carrier mini-split guide
Key Features
The brand has a nationwide network of licensed contractors
Carrier HVAC systems offer efficient heating and cooling
The brand manufactures portable and window ACs
A long warranty period
Most systems require professional installation
Low maintenance requirements
Some systems have high SEER ratings
Low noise levels
HVAC System Types
Like all competing brands, Carrier manufactures HVAC systems designed for homeowners with different heating and cooling requirements. Here's an overview of the HVAC system options this brand offers:
Air conditioners – These units only have a cooling function, and their outputs are suitable for spaces larger than 1,000sq/ft.
Heat pumps – Best suited for homeowners searching for a system that can heat and cool their entire house, Carrier heat pumps have sturdy and durable designs.
Ductless – Carrier releases all its mini-splits within the Infinity, Performance, and Comfort series. Users can choose between single-zone and multi-zone models.
Furnaces – The brand offers a versatile selection of gas and oil-powered furnaces capable of heating spaces up to 2,500sq/ft.
The performance capacities of systems from each category are similar to those you can expect from Daikin's units. The easiest way to decide whether to buy a Daikin or Carrier HVAC system is to compare specific models.
Please check: The best 12,000 BTU mini-splits
Heating and Cooling Outputs of Carrier HVAC Systems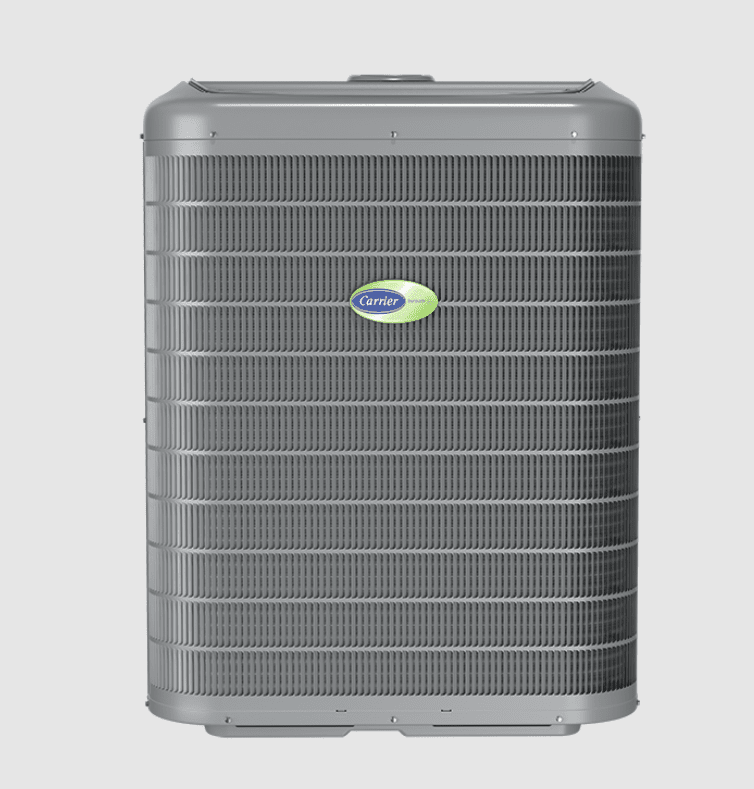 Finding a Carrier HVAC system suitable for the room you want cool or heat shouldn't be too difficult because the company offers units of all sizes.
For instance, a 9,000 BTU mini-split model from the Comfort or performance series can be a good option if your need a unit that can control the temperature in spaces smaller than 400sq/ft. On the other hand, an AC unit like the Infinity 24VNA6 can help you keep your home cool.
I advise against buying a Carrier furnace before consulting an HVAC technician because selecting the right size for the space you want to heat can be tricky.
Broadly speaking, Carrier heat pumps are a whole-house cooling solution, but whether you need a two-ton or five-ton model depends on the size of your home. There are no major differences between Daikin and Carrier HVAC systems that are almost identical in terms of their output capacities.
Power Consumption and Energy Efficiency
Using a Carrier heat pump for an hour can cost between 0,10$ and $1, depending on the model's energy efficiency ratio and size. The maximum hourly power draw of these units, in my experience, doesn't exceed 5kW, while their minimum power consumption is around 800W per hour.
Air conditioning units use a similar amount of power to cool spaces, and on average, they draw 3.5kW/H to regulate the temperature in a 2,000sq/ft space.
Some Carrier's heat pumps and air conditioners are Energy Star certified, so opting for an Energy Certified model can reduce your household's monthly power consumption. The efficiency rating of the company's gas and oil furnaces ranges from 76% to 96%, depending on the model.
SEER ratings of Carrier mini-split systems range from 16 for entry-level models to 42 for high-end units. Also, most models have high HSPF ratings and don't consume much power during the heating season. However, Daikin's HVAC systems are somewhat more energy-efficient than Carrier's products.
Check also: The best GE brand air conditioners
Reliability of Carrier HVAC systems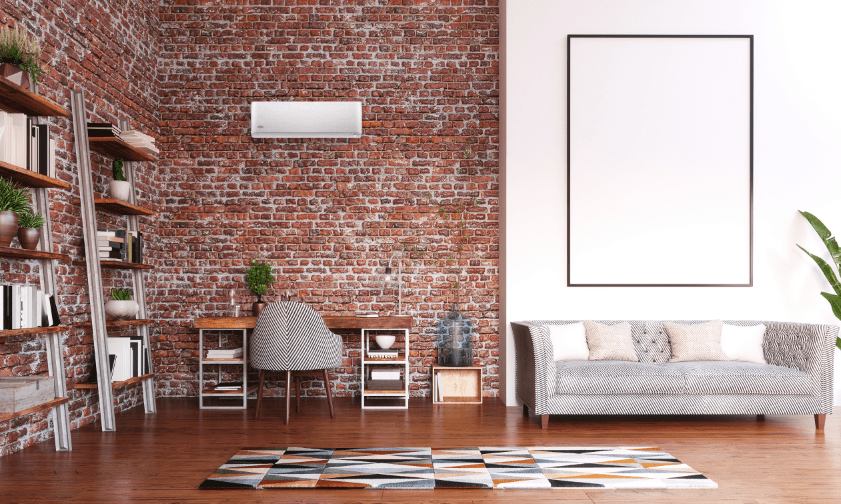 If the length of the Carrier's HVAC system warranty is an indication of their dependability, opting for one of the company's air conditioning, heat pump, or mini-split units is an excellent long-term cooling and heating solution for most homes.
I don't think installing any of these units on your own is a good idea, although it might cut your costs because a single mistake can shorten their lifespan. With proper upkeep, Carrier HVAC systems can last up to 25 years.
Brand's best and most powerful HVAC systems can cost close to $15,000, which makes them considerably more expensive than Daikin's models. Prices of single-zone Carrier mini-split systems vary from $1,000 to $2,000, depending on the model's coverage range.
Daikin vs Carrier HVAC Systems – Pros and Cons
Daikin

Pros
All HVAC systems have high air dehumidification and filtration capacities
Some units are WiFi-enabled
High energy efficiency
Excellence price-performance ratio
Cons
Some models make more than 60dB of noise
The warranty for the system parts expires after five years
Carrier

Pros
Suitable for all residential contexts regardless of their size
Excellent performance at extreme temperatures
All parts of these HVAC systems are durable
The company allows users to customize their systems
Cons
Heat pump and furnace systems are expensive
The selection of models with output capacities over four tons is somewhat limited
The Best Alternatives to Daikin and Carrier HVAC Systems
I don't think you should opt for a Daikin or Carrier HVAC system before exploring the models produced by competing brands. Units manufactured by Goodman, York, Rheem, and countless other companies stand shoulder to shoulder with Carrier or Daikin furnaces, heat pumps, or air conditioners.
All HVAC system manufacturers offer a broad spectrum of models designed to control temperatures in an entire household or a single room. I've listed several alternatives to Carrier and Daikin brands so let's look at what they offer.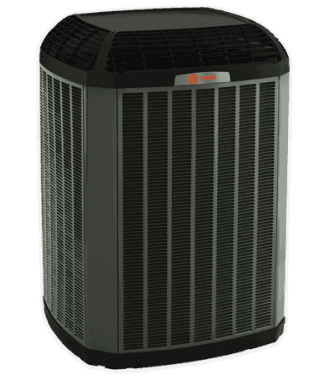 As one of the largest heating and cooling appliances producers in the United States, Trane is one of the most obvious alternatives to Daikin and Carrier brands.
The company's impressive product portfolio includes whole-house air conditioners, heat pumps, and gas furnaces. Moreover, Trane's selection of single-zone units features over twenty mini-split models.
The heating and cooling outputs of whole-house systems range from 24,000 BTU to 60,000 BTU, and they can control temperatures in 1,500 to 3,000sq/ft spaces. The brand offers five and ten-year warranties for all HVAC systems.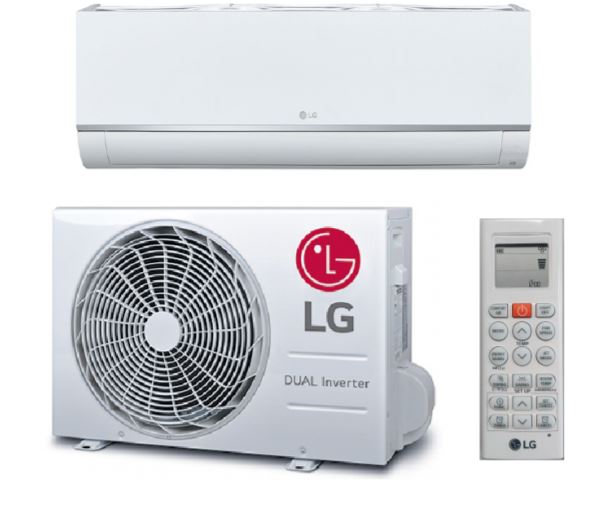 Very few brands can compete with LG's single and multi-zone mini-split systems. You can choose from standard and high-efficiency models compatible with wall-mounted, cassette, and low-wall indoor units. Most LG mini-split models are released within Art Cool Premier and Mega series.
Their heating and cooling outputs range from 9,000 BTU to 24,000 BTU, while some extended pipe systems can have 36,000 BTU capacity. LG doesn't produce whole-house heat pumps, air conditioners, or furnaces, so you'll have to explore other options if you're looking for one of these HVAC systems.
High efficiency and reliability are the common traits of all products American Standard offers. The versatile selection of heat pumps, air conditioners, furnaces, and mini-split can seem overwhelming if you're unsure which HVAC system size you need.
The company has a vast network of contractors that can help you choose and install the right unit for your home. All models are under warranty for at least ten years, but you can also extend your unit's warranty period.
Check out related HVAC System comparisons from top brands:
Frequently Asked Questions about Daikin and Carrier HVAC systems
Question: Do I have to register a Daikin HVAC system to start its warranty period?
Answer: You must register the HVAC system you purchased at the company's website to initiate its warranty period. Failing to do so for more than three months can void the unit's warranty.
Question: How often do I have to replace air filters on Carrier HVAC systems?
Answer: Most models have reusable air filters, so in most cases, you won't have to replace them often, but you should clean your unit's filter every few months.
Question: Can I combine Daikin's whole-house air conditioner with a furnace?
Answer: Yes, you can, but you must make sure both units are compatible.
Final Thoughts: Does Daikin Make Better HVAC Systems than Carrier?
I hope this article has helped you understand Carrier and Daikin HVAC systems better and which of these brands is a better option for you. Please continue reading our guide to the best Pioneer mini-splits for more information about the split systems this brand offers.
It's hardly a mistake if you get a furnace, air conditioner, or heat pump made by either brand. Both manufacturers offer a wide selection of energy-efficient units, so finding a model with the output suitable for the space you want to heat or cool shouldn't take long.
I think Daikin HVAC systems have a slight advantage over Carrier in terms of efficiency, affordability, and reliability. However, Carrier's models are more durable and less prone to common HVAC system failures.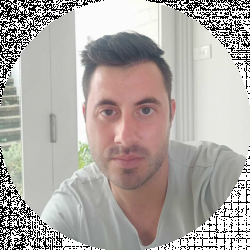 Latest posts by David Borgogni
(see all)