I create a list of top brands that offer products within my budget whenever I need a new HVAC system. Over the years, I've weighed up Daikin vs Trane units frequently because they're often at the top of my list, and almost every time, I choose Daikin because it is a more affordable option.
Despite this, I still think Trane produces some of the best ducted and ductless HVAC systems on the market. Almost all of the brand's air conditioners, furnaces, and mini-splits are highly efficient and have various features that help you control the room's air quality and temperature.
I'll take you through the ins and outs of Trane and Daikin brands to help you compare their products and decide which one offers a better HVAC solution for your home.
Bottom Line Up Front
Both of these brands offer information about the prices of their products on request, so estimating the cost of a Daikin or Trane system is often impossible before making inquiries about a specific HVAC system.
Daikin furnaces, air conditioners, and heat pumps aren't as expensive as those offered by Trane, and they're a better option if you need a budget-friendly model. I think Trane HVAC systems are only worth considering if you're looking for a high-performance unit with a vast coverage range.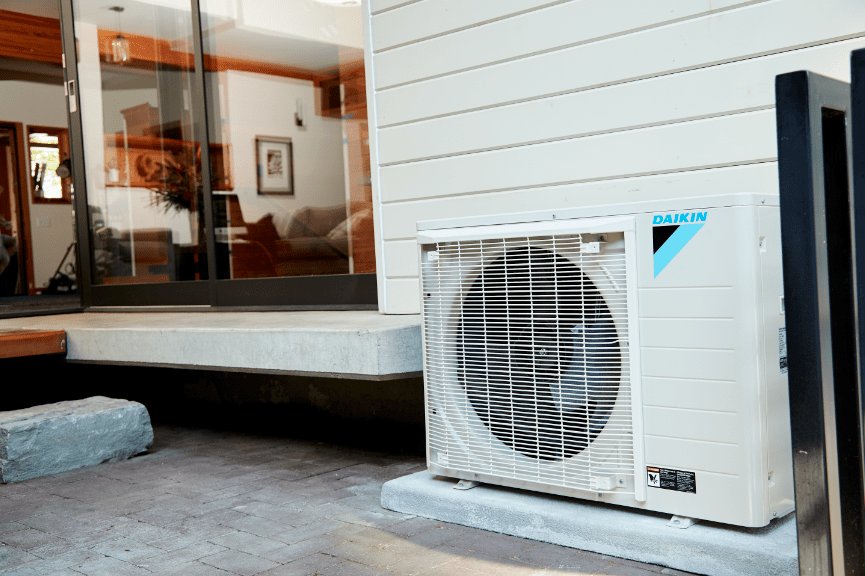 Main Differences between Daikin vs Trane HVAC Systems
The main differences between Daikin and Trane systems are:
Daikin offers a variety of warranty options, whereas Trane's warranty options are limited
Trane's HVAC systems have high SEER and HSPF ratings, whereas Daikin's models usually have medium efficiency
Daikin air conditioners and heat pumps can be loud, whereas Trane's units don't make a lot of noise
Trane HVAC systems offer various innovative control options, whereas only a handful of Daikin units support smart functions
Key Specifications
| | | |
| --- | --- | --- |
| Model | Trane | Daikin |
| Efficiency ratings | High | Medium |
| Noise levels | Low | Moderate |
| Refrigerant types | R-410a | R-32, R-134a, R-410-a |
| Indoor unit mounting options | Wall, low-wall, ceiling | Wall, low-wall, ceiling |
| Estimated life expectancy | Up to 25 years | Up to 20 years |
| Length of the warranty period | Ten years | Twelve-year limited warranty |
| Latest prices | Check the latest price here | Check the latest prices here |
Evaluating the Features of Daikin and Trane HVAC Systems
Trane
Very few HVAC industry brands offer better heating and cooling units than Trane, but their products are also among the most expensive on the market. The company provides a broad spectrum of whole-house and single-room models equipped with features that maximize their comfort level.
So, regardless of the HVAC system type you choose, you'll get a powerful unit that won't use a lot of power during winter or summer.
Unsurprisingly, the upfront cost of Trane air conditioners, heat pumps, and ductless mini-splits is high, but purchasing one of the brand's cooling or heating solutions is an excellent long-term investment. Their components don't deteriorate quickly, and most models can last for decades.
In addition, system parts are under warranty for six years, and you can replace them for free if they break down, while the outdoor compressor warranty lasts for ten years.
Please read: How to find the best heat pump

Key Features
Most models have automatic safety features
Low noise levels
Excellent dehumidification and air filtration capacities
A wide operating temperature range
All units have eco-friendly refrigerants
High installation and maintenance costs
Each Trane HVAC system has numerous energy-saving options
HVAC System Types
Trane produces all categories of residential cooling and heating systems, so knowing which type of unit you'd like to get will make the selection process easier. Let's take a brief look at the HVAC system types this brand offers.
Ductless mini-splits: These single-zone and multi-zone units have heating and cooling functions and a wide outdoor temperature operating range. They're a reliable year-round solution for most homeowners.
Air conditioners and heat pumps – These powerful systems are designed for large multi-storied spaces. Trane makes some of the most reliable heat pumps and air conditioners on the market that last long after their warranty periods expire
Furnaces – Oil and gas-powered models are highly fuel-efficient, and they're available in multiple sizes, so you can pick the option that fits the space you want to heat.
Besides these common HVAC system categories, Trane manufactures packaged ACs, humidity control, and air purifier appliances.
You might also like: The best 2.5-ton heat pump
Sizes and Coverage Range
I think of Trane as mostly a whole-house cooling solution because the brand doesn't offer a lot of single-room models. Each air conditioner and heat pump is available in several sizes, and you can get a two-ton or five-ton model.
Also, you can hire Trane's technician to estimate your home's cooling and heating requirements and help you choose a suitable model. Regardless of the option you select, you'll get a highly efficient system that doesn't need a lot of power or fuel to reach selected temperatures.
Most Trane HVAC systems are Energy Star certified, which means they consume significantly less power than ACs or heat pumps than units that don't have this label. Trane gas or oil furnaces are also among the best in this industry, and each unit is available in several sizes.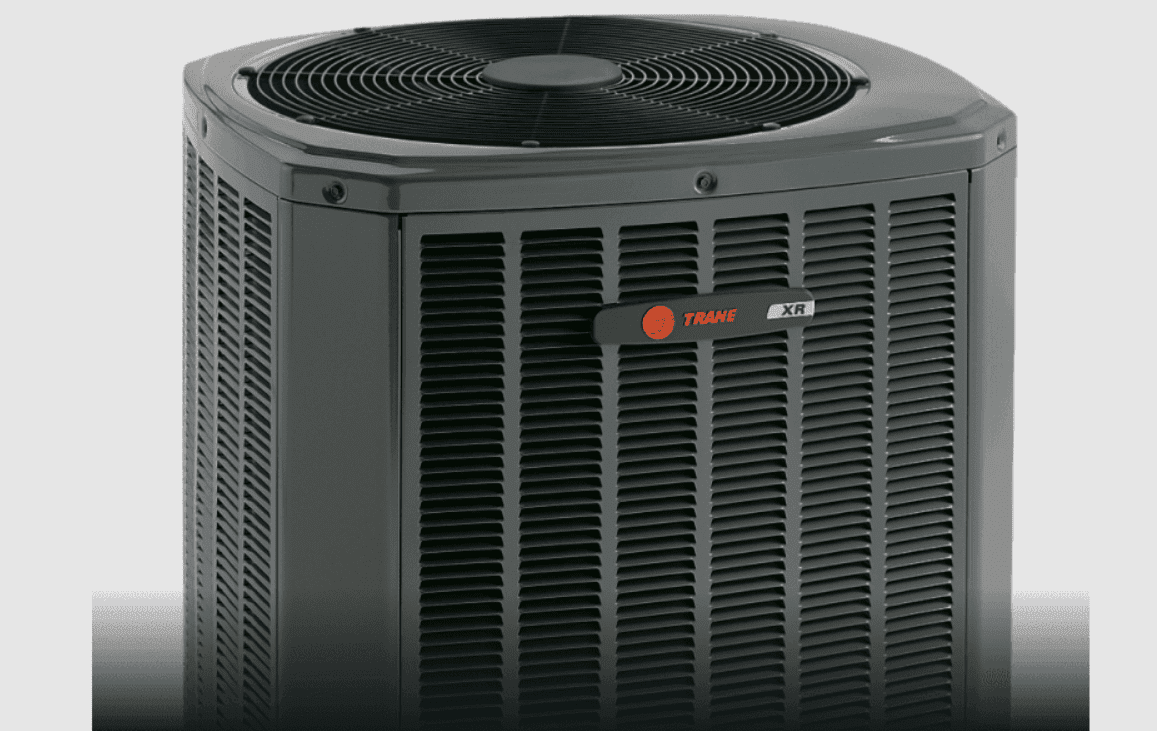 Power and Fuel Efficiency
Depending on their tonnage, these systems can draw between one and five kW per hour, which makes them more energy efficient than other cooling or heating sources. Trane systems I used need around 20kW of electricity daily to maintain the same temperature in a home during summer or winter.
They remain equally efficient during their lifespan, although infrequent maintenance can increase their power consumption. Trane furnaces with high heating outputs over 50,000 BTU can run on a 20-gallon propane tank for approximately eight hours.
I recommend checking how much fuel the unit you're interested in needs to estimate how much propane you have to get through a heating season. Also, buying a furnace with a high AFUE rating can reduce your heating costs over the years.
Please check: The best RV furnaces
Reliability of Trane HVAC Systems
Dependability should be the least of your worries if you're thinking about getting a Trane HVAC system. Each unit is produced in accordance with the highest industry standards and built to last. The brand's heat pump and air conditioner units usually remain in excellent condition for more than two decades.
However, all Trane HVAC systems have high upkeep requirements, so a clogged air filter or a dirty evaporator coil can shorten their lifespan.
In my opinion, Trane's ten-year warranty is underwhelming, considering that some models cost close to $15,000. Even so, the manufacturer offers a free replacement of faulty parts for units still under warranty.
See also: The best five-ton heat pump
Daikin
Daikin has a broad selection of medium-efficiency units that can control temperatures in any residential context.
The brand is generally regarded as budget-friendly, but some of its heat pump or furnace models cost between $5,000 and $10,000. Their efficiency depends on a model, so I suggest exploring Daikin's Energy Star-certified units that can keep your cooling or heating expenses relatively low.
I never struggled to find a Daikin contractor that could estimate the right HVAC system for my house, and I think their services are professional and timely. Installation costs aren't insignificant, especially if you're searching for a whole-house unit.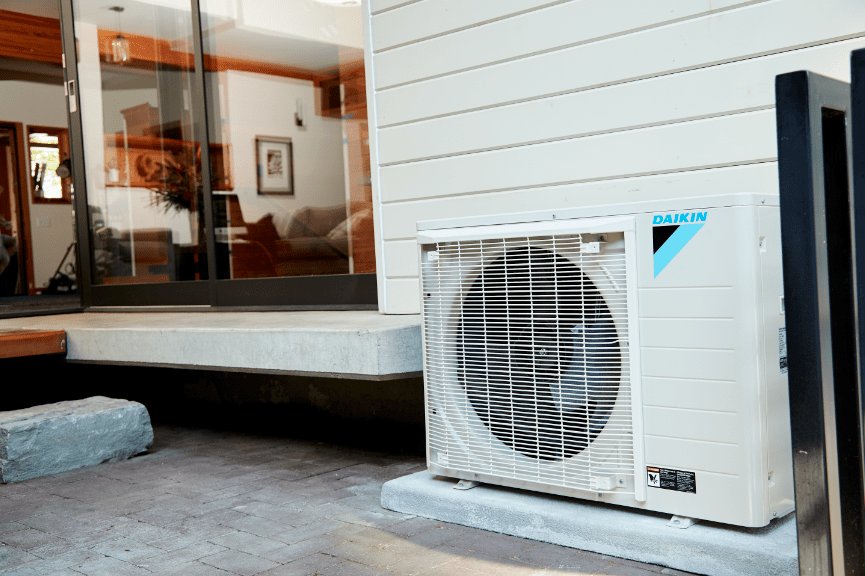 Please read: The best 12,000 BTU air conditioner
Key Features
Daikin HVAC systems can improve a home's air quality
Outdoor units are made from rust-free materials
Moderate power consumption at high outdoor temperatures
Excellent warranty coverage
Good fit for medium-sized houses
Most models have innovative features
Some units are compatible with Daikin One+ thermostat
HVAC System Types
The easiest way to decide which Daikin HVAC system you should choose is to calculate the number of zones you'd like the system to have. Also, air conditioner and heat models are compatible with thermostats, allowing you to control each zone's temperature separately.
You can choose from the following types of Dakin HVAC systems:
Mini-splits – A single-zone ductless unit can be a good choice for rooms up to 1,500sq/ft, while multi-zone mini-splits are usually more powerful.
Furnaces – Most Daikin furnaces run on gas. Their sizes and fuel efficiency depend on a model, so the only way to determine which unit is the right choice for you is to compare it to the performance capacities of other brands' models.
Air conditioners and heat pumps – You should only consider a Daikin heat pump or air conditioner if you're looking for a unit that can be your home's primary cooling or heating source. Most brands' models are durable and efficient.
Sizes and Coverage Range
The manufacturer doesn't include BTU ratings in all product descriptions of their mini-split units. However, each model has a coverage range that usually spans from 250 to 1,500sq/ft, which indicates they're available in multiple sizes.
The same goes for Daikin's heat pumps and air conditioners that can have cooling outputs in the 24,000 BTU and 60,000 BTU range.
However, the unit's coverage range doesn't only depend on its power output, so you must make sure that the model you want to get is suitable for the size of the space where it will be installed.
Daikin furnace models can also have different sizes, but they're usually used as a whole-house heating solution, and you won't be able to find a unit designed for small spaces.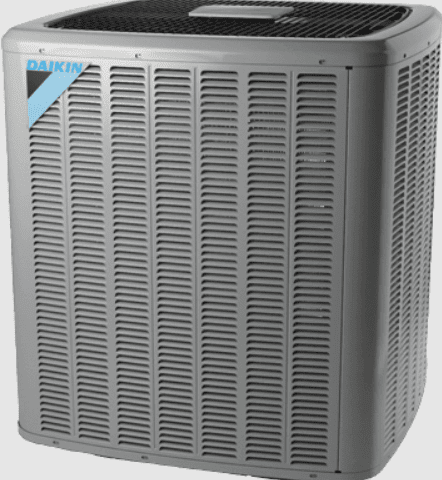 Power and Fuel Efficiency
The sizes of Daikin's HVAC products depend on their type, so a single-zone mini-split can have up to 24,000 BTUs, while a heat pump can have up to 60,000 BTUs.
High-capacity air conditioners and heat pumps draw more electricity per hour than ductless mini-split systems. The brand has an excellent selection of Energy Star-certified models that can lower your heating and cooling monthly costs.
However, Trane is still a more energy-efficient option because its models require minimum power to keep a space warm or cool. Hence, the price difference between Daikin and Train HVAC systems starts to shrink over time.
You might also like: The best AC units for sheds
Reliability of Daikin HVAC Systems
An air conditioner or a heat pump produced by this brand can remain fully functional for up to twenty years. The company's mini-split models are as durable as its whole-house cooling and heating options, and in most cases, you won't have to replace them for decades.
All Daikin products have high-quality parts that operate normally in hot or cold conditions. Like all HVAC systems, the brand's air conditioners, heat pumps, furnaces, and mini-splits have high upkeep requirements because their air filters accumulate dirt quickly.
I also recommend scheduling annual maintenance checks with the contractor who installed the system to ensure all components are in good condition.
The warranty for these models lasts ten to twelve years, depending on the option you choose, but you must register your unit within sixty days from the purchase to get a full warranty.
Daikin vs Trane – Pros and Cons
Trane
Pros
Trane HVAC systems aren't noisy
These units offer multiple air quality control options
Most models have high-efficiency ratings
Homeowners can get a pricing estimate for a specific model online
Cons
The short warranty period for a high-end brand
Obtaining information about specific models can be tricky

Daikin
Pros
Daikin HVAC systems perform well in hot and cold conditions
High-quality parts ensure the unit's long lifespan
All models are equipped with innovative energy-saving features
Outdoor components aren't prone to corrosion
Cons
These units can be loud
High upkeep costs

The Best Alternatives to Daikin and Trane HVAC Systems
The most important thing for me is to find an HVAC system that fits my home's cooling and heating requirements.
That's why I focus more on the unit's specifications than the brand that produced it. Exploring Goodman's or Rheem's products and comparing them to Daikin's or Trane's models will widen your range of options and allow you to compare their performance capacities.
Here are a few of the best alternatives to HVAC systems made by these two brands: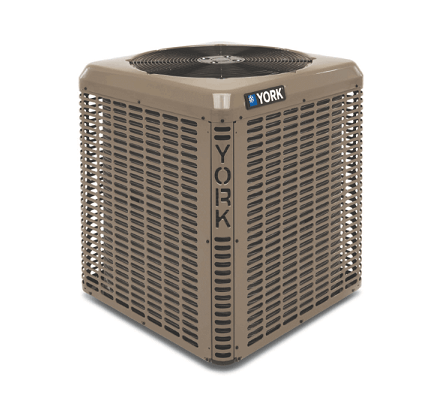 As one of the world's largest manufacturers of HVAC systems, the York brand is one of the most obvious choices if you need a powerful and reliable heat pump or air conditioner. Moreover, the brand offers a broad spectrum of single-zone and multi-zone mini-split models with high SEER ratings.
All York's models come with ten-year warranties, but the brand also offers the Extended Warranty option that can protect your unit after its warranty period expires.
Browsing through the long list of Amana furnaces, air conditioners, mini-splits, and packaged units can be tiring. Moreover, the brand offers a variety of single-room cooling options, including portable or window ACs.
Amana's whole-house systems don't have high SEER ratings, and they draw more power than Daikin or Trane models over a cooling or heating season. Even so, the brand's products can help you regulate your home's room temperature at a relatively low cost.
Please read: The best Amana portable air conditioners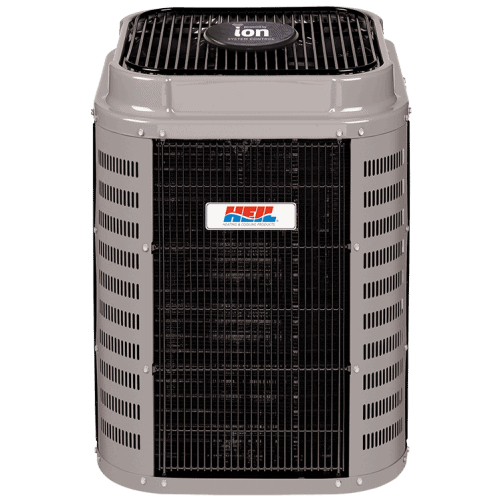 The SEER and HSPF ratings of Heil heat pumps aren't impressive, as most models need a lot of power to keep a space warm or cool at high or low outdoor temperatures. However, your household's monthly utility bill won't increase by much if you decide to get a Heil air conditioner or heat pump.
The brand's selection of models is somewhat limited, so you won't have a lot of options when choosing a heat pump or a mini-split.
Related top HVAC Systems brand comparisons:
Frequently Asked Questions about Trane and Daikin HVAC Systems
Question: Are Trane HVAC systems programmable?
Answer: Yes, they are, and you can program them to operate automatically even when you're not at home.
Question: Can I evacuate a Daikin HVAC system on my own?
Answer: Removing the refrigerant from a sealed system on your own will terminate its warranty.
Question: What to do if my Trane HVAC system suddenly becomes loud?
Answer: Contact an HVAC technician if you notice that your HVAC system is louder than usual because it might be a sign one of its parts isn't working properly.
Please browse through my guide to the best Carrier mini-splits to learn more about these HVAC systems.
My Verdict: Choosing between Daikin and Trane HVAC Systems
I dedicate a lot of time to reading the specifications of each HVAC unit I'm interested in and comparing them to the features of models produced by other brands. The comparison of Trane and Daikin products shows that Trane units have more to offer in terms of efficiency.
Even with their steep price, they provide more value to the user than their Daikin counterparts. I recommend choosing one of the Trane HVAC systems if their prices aren't too high for your budget. Daikin's products are better if you need an affordable medium-performance system.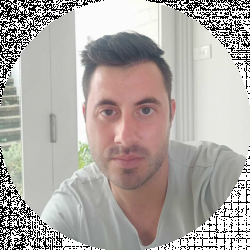 Latest posts by David Borgogni
(see all)