Time is my biggest opponent when I'm on the job, as every second I save makes me more efficient. Having the best HVAC tool bag has allowed me to push my efficiency to another level, as I no longer have to waste time searching for the equipment or tools I need to perform a specific task.
The bag lets me have specialty tools such as leak detectors or psychrometers neatly organized and within reach whenever I need them.
In this guide, I will share my experience with some of the best HVAC tool bags I've ever used and suggest the models that could make you more efficient at your job.
Bottom Line Up Front
Durability and functionality are, in my opinion, the two essential characteristics of an HVAC tool bag. So, the option you choose should be resistant to daily wear and tear and grant you quick access to your tools.
Investing in a model like the Veto Pro Pac Tech Pac is an excellent option if you're an experienced professional who carries a lot of equipment to different sites every day.
But, I think a more affordable model such as Carhartt Legacy Tool Bag or CLC Custom Leathercraft 1537 is a better choice for inexperienced HVAC technicians.
Please read: The best HVAC tools
My Top Picks At a Glance
Types of HVAC tool bags
I suffered back problems for years because I carried heavy equipment in bags that didn't distribute weight evenly. So, I speak from experience when I say that choosing the right HVAC tool bag can have a far-reaching impact on your health.
These are the most common HVAC tool bag types you'll encounter:
Backpack – High level of comfort, good weight distribution, and wide arm movement range are among the benefits of HVAC backpacks I like the most. In addition, these models make organizing tools easy.
Shoulder bag – I recommend getting a shoulder HVAC tool bag if you want to maximize your efficiency, as these bags enable you to quickly find the tool you need for a task you want to perform.
Pouch – Limited tool carrying capacity and low comfort level are the only downsides of HVAC tool pouches. Still, they're an affordable option for technicians who need instant access to their tools.
You may also like: The best AC flush kits
The key properties of HVAC tool bags
One of the first things I did when I started working as an HVAC technician was to obtain a bag that could store all the tools I needed for the job. However, the bag I got wasn't weather-resistant, and I had to replace it within a few months.
Top tip: HVAC technicians often work in humid conditions, which is why I recommend choosing a tool bag made from water-resistant material.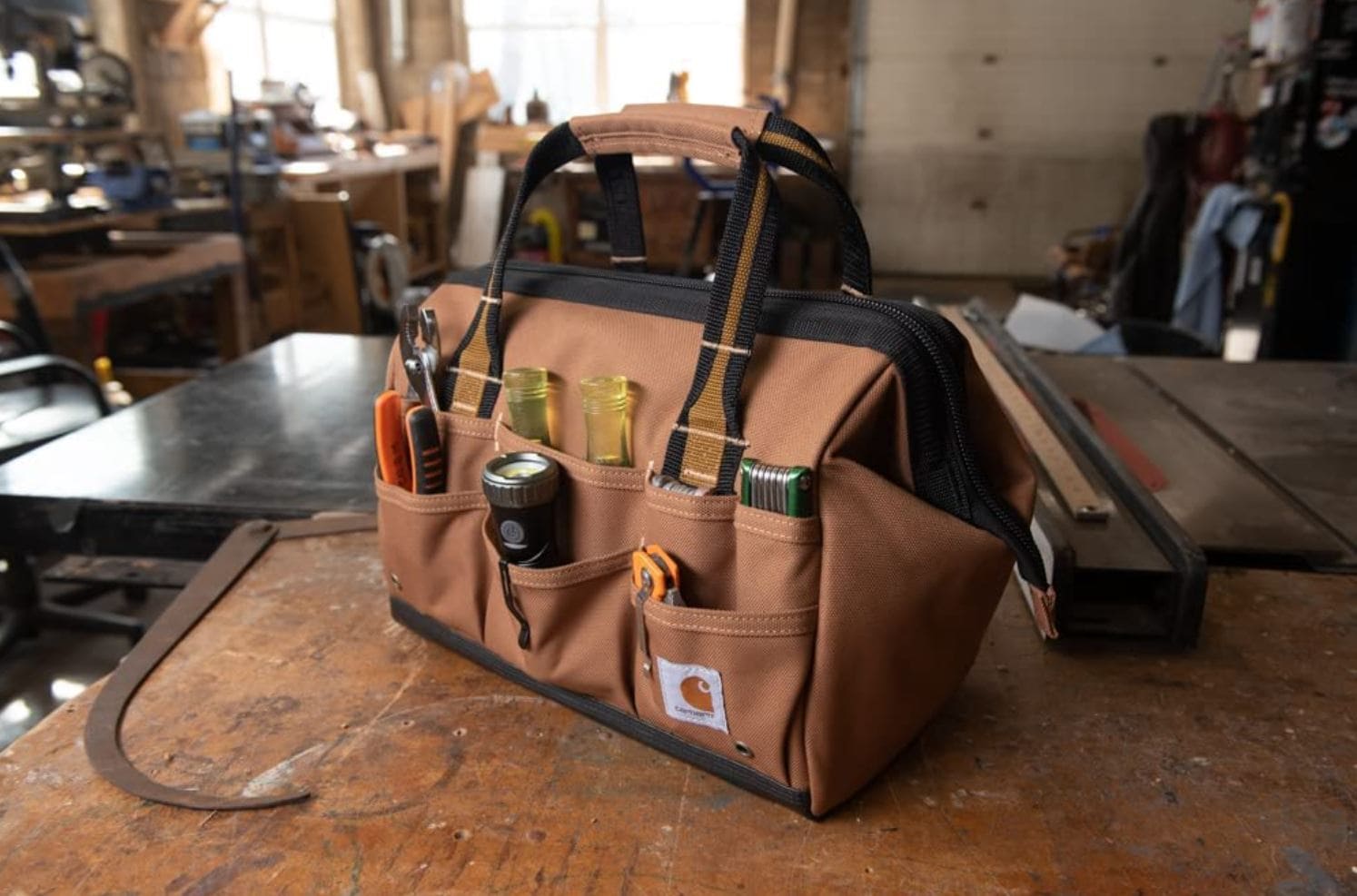 So, I had to learn the hard way that checking the quality of the bag's material is the essential step of the selection process. Besides, models made from sturdy materials enable you to carry saws and similar sharp tools.
Here are some of the properties the HVAC tool bag you choose should have:
Comfortable straps – The equipment you must carry to work daily weighs between 20 and 60lbs. That's why the HVAC tool backpack you select must have straps that can reduce the pressure on your shoulders.
Bag's dimensions – The fastest way to check the bag's storage capacity is to look at its dimensions. I also recommend checking the model's number of compartments or daisy chains that allow you to attach equipment to the bag.
Tool accessibility
Each tool I use to repair an HVAC system has its place in my bag. Organizing my toolkit has helped me be more efficient and reduce the time I need to spend at a location. Also, knowing where my equipment is, allows me to focus on diagnosing the problem and repairing the part that caused it.
The bag's number of interior and exterior pockets indicates how much equipment you can carry with you. But, more importantly, it will help you understand how easy it will be to organize and access your tools.
Most HVAC tool bags have between twenty and fifty pockets, providing you with enough space for essential and specialty tools. I don't recommend opting for inexpensive models with less than ten pockets because you won't be able to store enough tools to complete a simple repair.
I also suggest checking the sizes of the model's pockets and compartments, especially if you have to carry bulky equipment.
Check also:The best HVAC dumper
Maintenance requirements
I had to learn to resist the urge to overstuff my tool bag. Carrying all my equipment to work day after day forced me to change bags often, as they couldn't support the weight of tools I was storing in them.
Removing some of the tools I wasn't using regularly and selecting the ones I plan on using each day allowed me to replace my tool bags less frequently. Besides cleaning the dirt that accumulates over time, these bags don't have high upkeep requirements.
Top tip: I clean each tool before returning it to the bag. 
Zippers are their least durable component because they accumulate dirt that jams them. That's why I clean and lubricate zippers on my tool bag at least once every six months. I also try to keep my bag dry when working in humid conditions.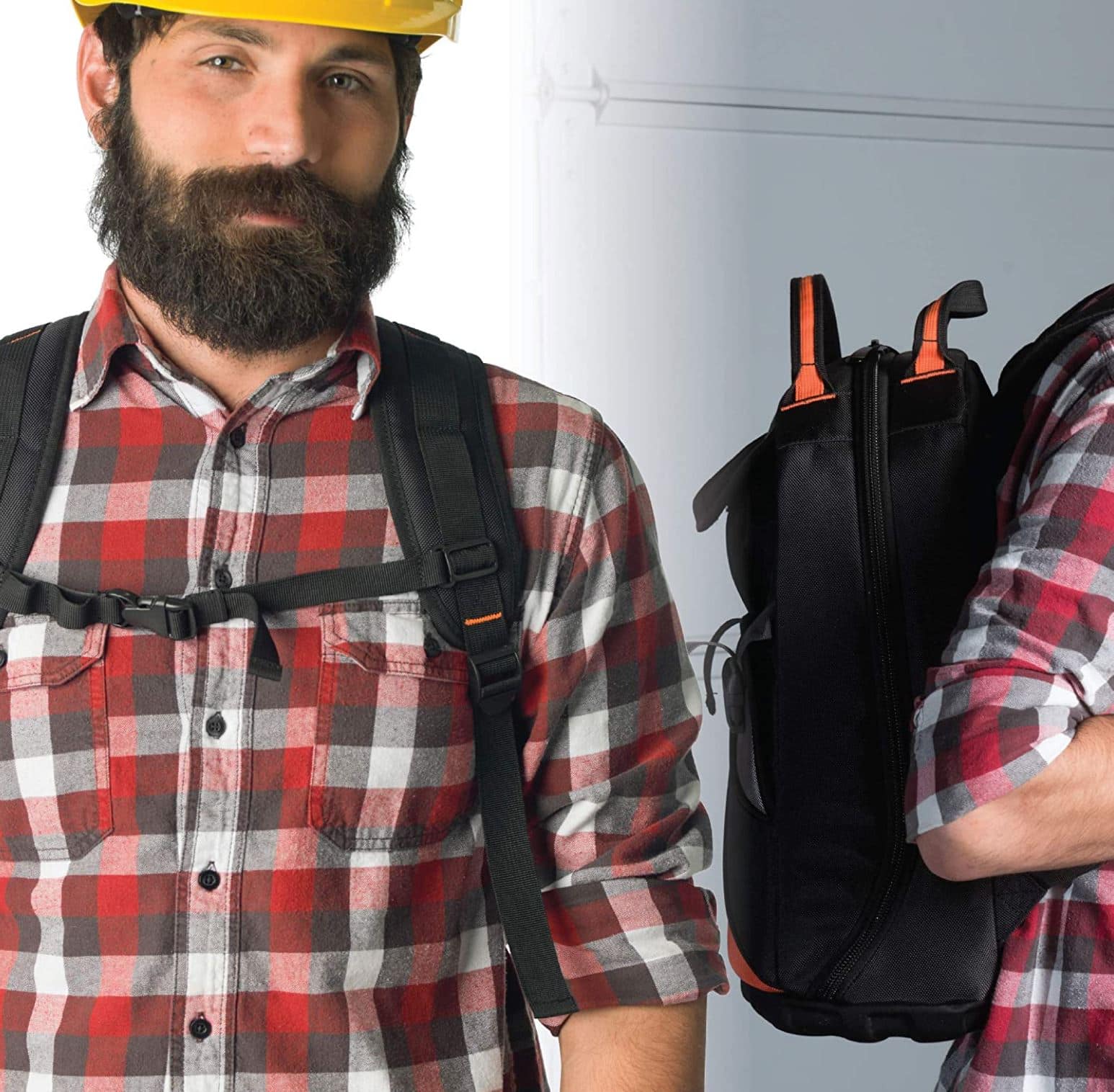 Price and warranties
Spending a substantial amount of money on a high-end HVAC tool bag is unnecessary if you're just starting out. Instead, I suggest getting an affordable model that offers enough storage space to meet your requirements.
However, I advise against buying the least expensive option with a handful of pockets because you won't be able to use it for long.
I recommend choosing one of the models offered by industry-leading brands like Milwaukee or Veto Pro Pac that provide warranties for their HVAC tool bags. Still, you must check if the bag's warranty covers damages resulting from regular wear and tear.
Most models don't wear out quickly, and you'll probably be able to use your HVAC tool bag for several years regardless of the type or brand you choose.
Read also: The best HVAC tape
Selection criteria
Finding a high-quality HVAC tool bag isn't time-consuming since many brands offer sturdy models with excellent storage capacities. I had to rely on strict criteria during the selection process to create an overview of tool bags suitable for novice and seasoned HVAC technicians.
The number of storage compartments, pockets, tool accessibility, or the model's price range were among the parameters I used to select the models featured in this article. Here are a few more parameters I utilized to pick the best HVAC tool bags:
Quality of the material – This criterion has helped me find heavy-duty models that can withstand prolonged exposure to the elements or challenging conditions.
Comfort level – Padded back and shoulder straps, ergonomic handles, and the quality of the bag's bottom were among the features I considered while evaluating the model's comfort level. I then used this information to pick bags that allow a technician to remain comfortable regardless of the conditions on the site.
You might also like: How to get started in HVAC
Top 9 HVAC tool bag options
Milwaukee 48-22-8200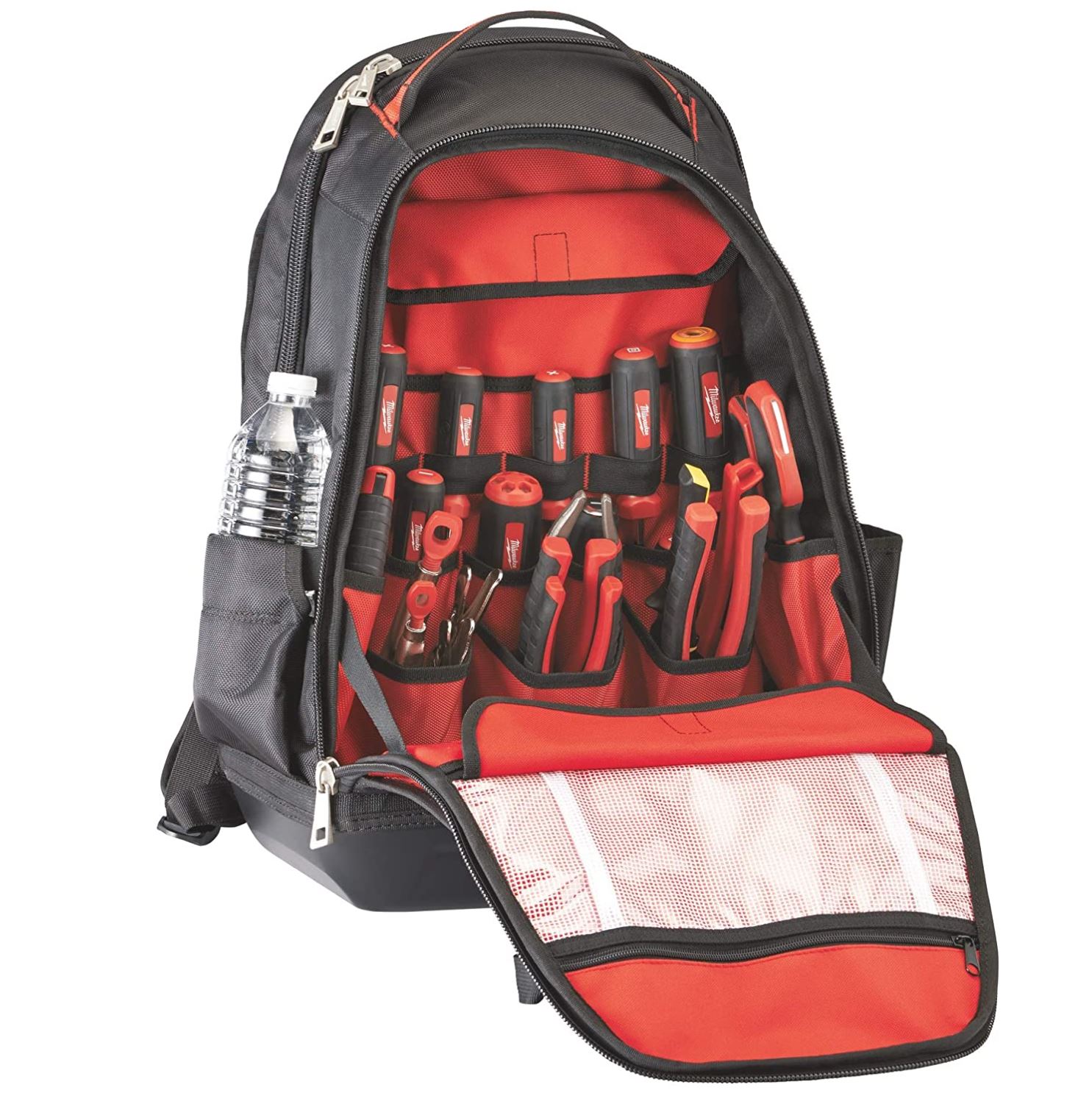 I like the simplicity mixed with the functionality the Milwaukee 48-22-8200 backpack offers. Its plastic-molded base, two side mesh pockets, and agronomic handle are some features that caught my attention when I first saw this backpack.
This Milwaukee's model has 35 pockets that allow you to store screwdrivers, pliers, and all other tools you might need to repair an AC. Its spacious main compartment and laptop sleeve offer enough space to store bulky HVAC equipment, while multiple daisy chains allow you to attach different tools to the backpack.
Pros
The backpack is made of 1680 ballistic material
The manufacturer offers a limited lifetime warranty
Stylish design
It offers a high degree of comfort
Cons
Carhartt Legacy Tool Bag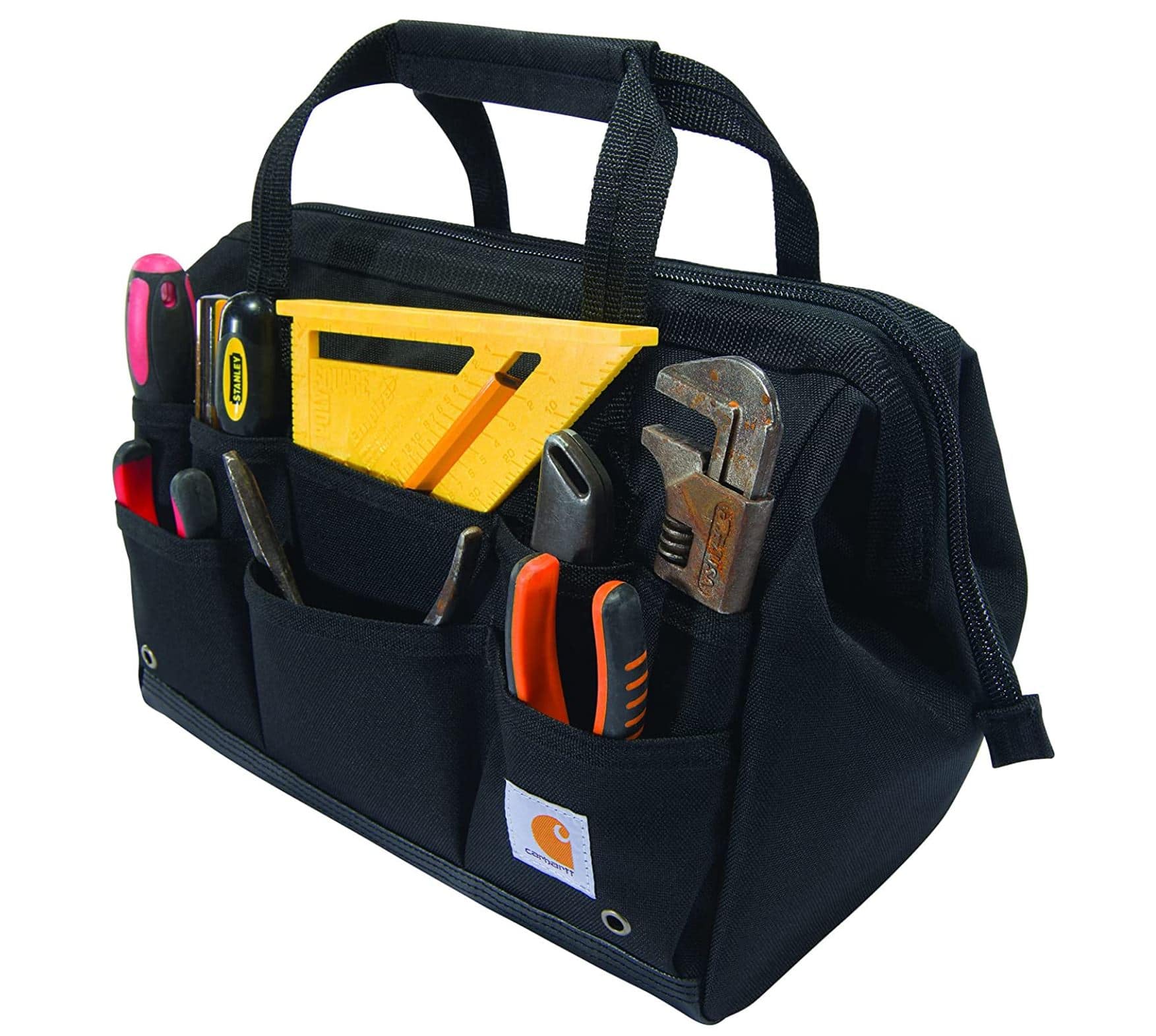 Even though it doesn't offer a high comfort level, the Carhartt Legacy Tool Bag is still an excellent option for HVAC technicians. It has 17 exterior pockets that grant instant access to the tools you need and ten internal pockets where you can store a hammer or documents your clients have to sign.
Also, I suggest considering this Carhartt's model if you need a water-resistant bag that won't get soaked if you leave it on the humid ground. Besides the dual comfort-grip haul handles, this bag also has a shoulder strap.
Pros
The main compartment can hold multiple corded tools
The bag has a metal frame
It is available in multiple sizes
Cons
This bag can only withstand light rain exposure
Rugged Tools Tradesman Tools Backpack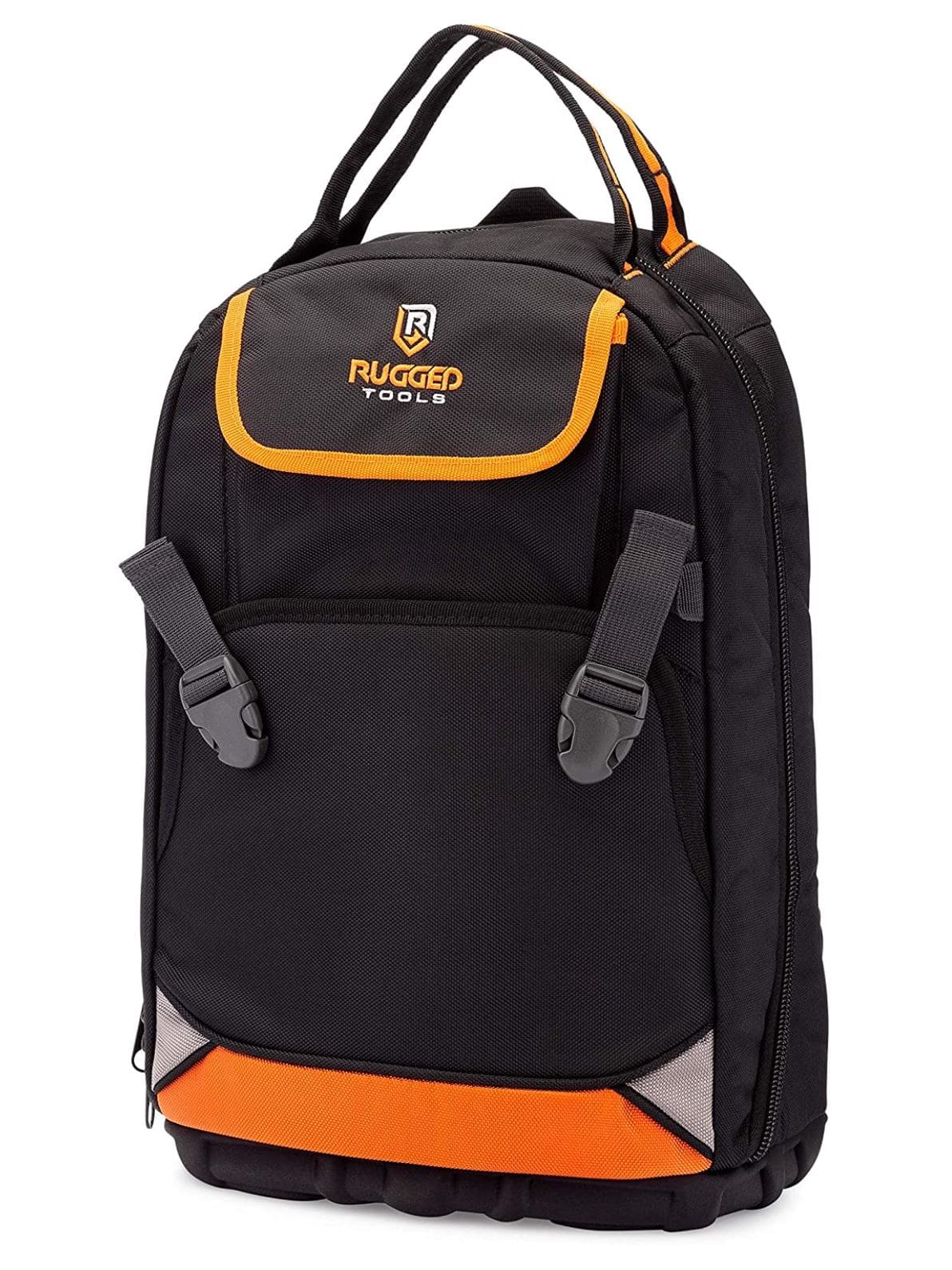 I think that the value for money of the Rugged Tools Tradesman Tools Backpack is through the roof. This relatively inexpensive model is spacious enough to keep all your equipment organized. The backpack is made of 1680D denier polyester, so daily wear and tear is unlikely to damage it quickly.
Moreover, its molded bottom enables you to leave the backpack in snow or rain without worrying about your equipment. Moreover, the centrally positioned zipper grants easy access to the tools you store in the backpack's internal pockets.
Pros
It distributes weight evenly and provides lumbar support
Durable zippers aren't prone to corrosion
The backpack has two external pockets
Low upkeep requirements
Cons
It doesn't have a lot of daisy chains
DeWalt DG5597 Open Tool Carrier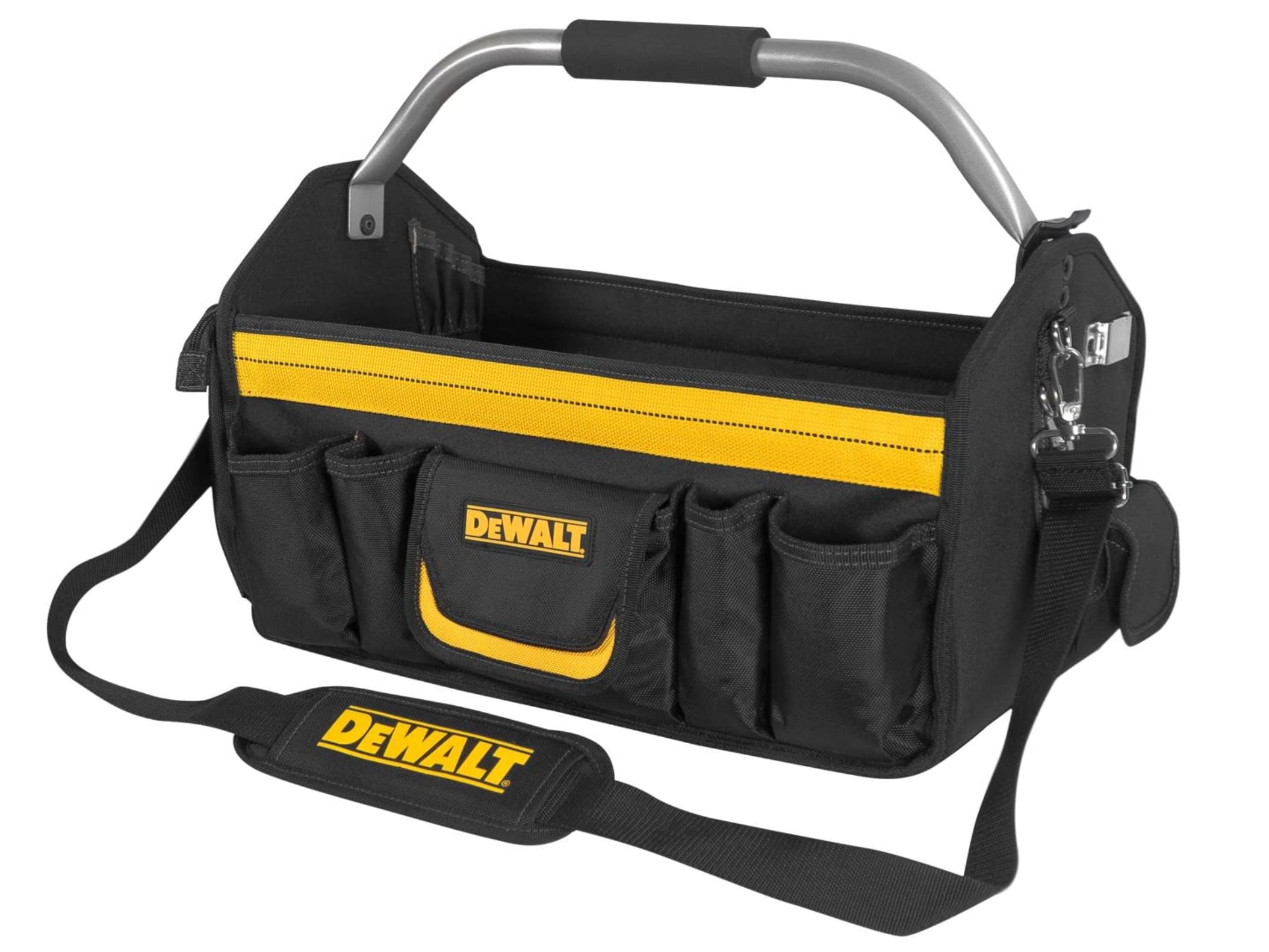 I use DeWalt's tools religiously because of their superior performance capabilities, so it's hardly surprising that DeWalt DG5597 Open Tool Carrier is one of my favorite HVAC tool bags.
Its collapsible bar handle lets you move it from one place to another effortlessly, while the padded shoulder strap offers maximum comfort when you're carrying it to the job site. The bag's open-top design lets you arrange tools as you see fit and access them whenever necessary.
Pros
The bag's bottom contains plastic pads
It's made from a ballistic poly fabric
It offers multiple tool attachment options
The bag has 33 tool pockets
Cons
Hilmor HVAC Tote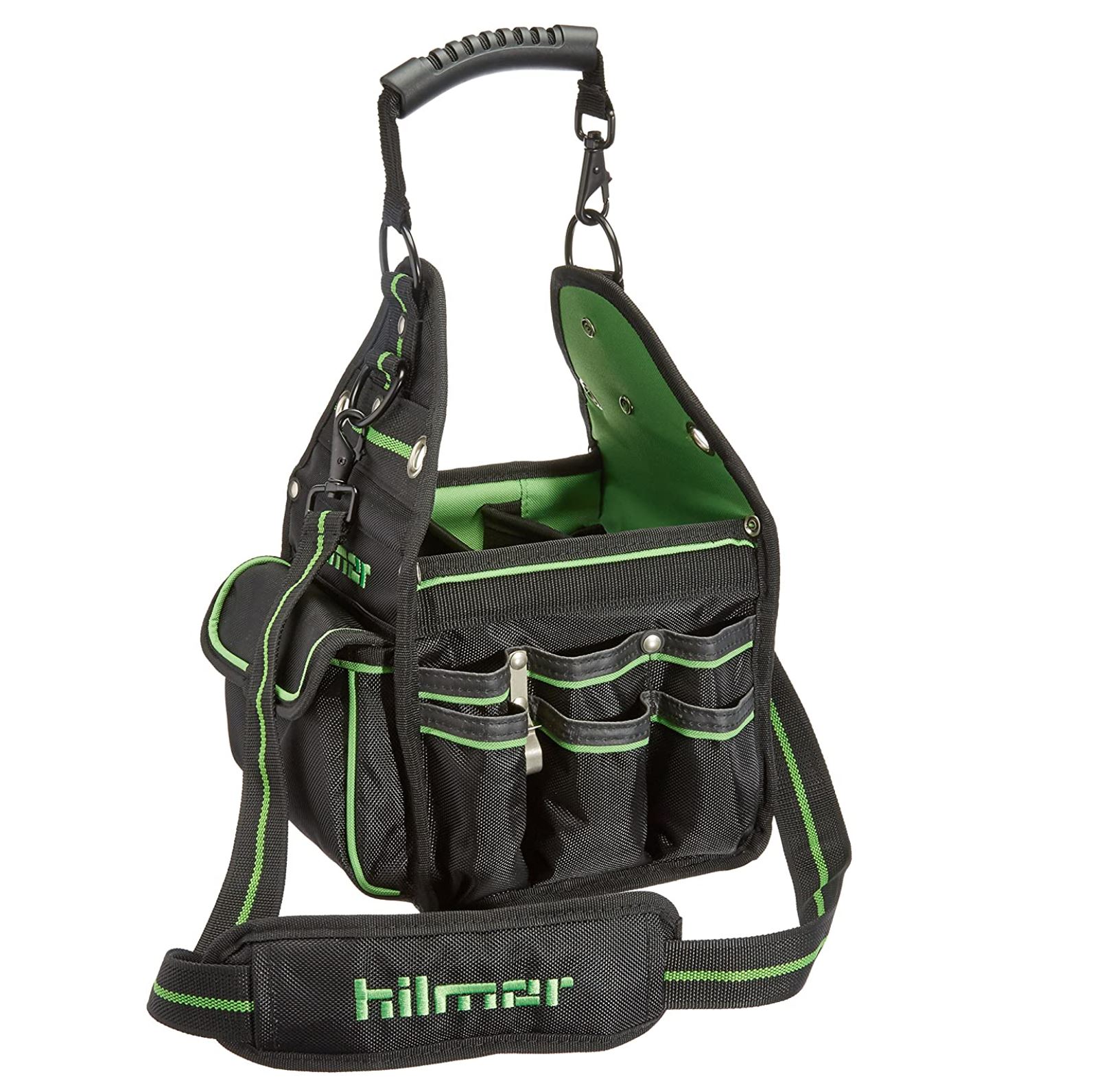 I suggest exploring other options if you're looking for an HVAC tool bag that can store all your equipment because the Hilmor HVAC Tote can only hold essential items you might need while cleaning an outdoor compressor or checking the system for refrigerant leaks.
However, the model's modest dimensions can be misleading since this HVAC tote can carry up to 50lbs of weight and features a tape loop, key clip, and other attachment options. This tote isn't water-proof, but exposing it to rain or snow briefly won't damage it.
Pros
It has a padded shoulder strap
It weighs just 3.3lbs when empty
Functional design and quick tool access
It's an excellent option for novice HVAC technicians
Cons
It can't store large HVAC tools
Klein Tools 55421BP-14 Tool Backpack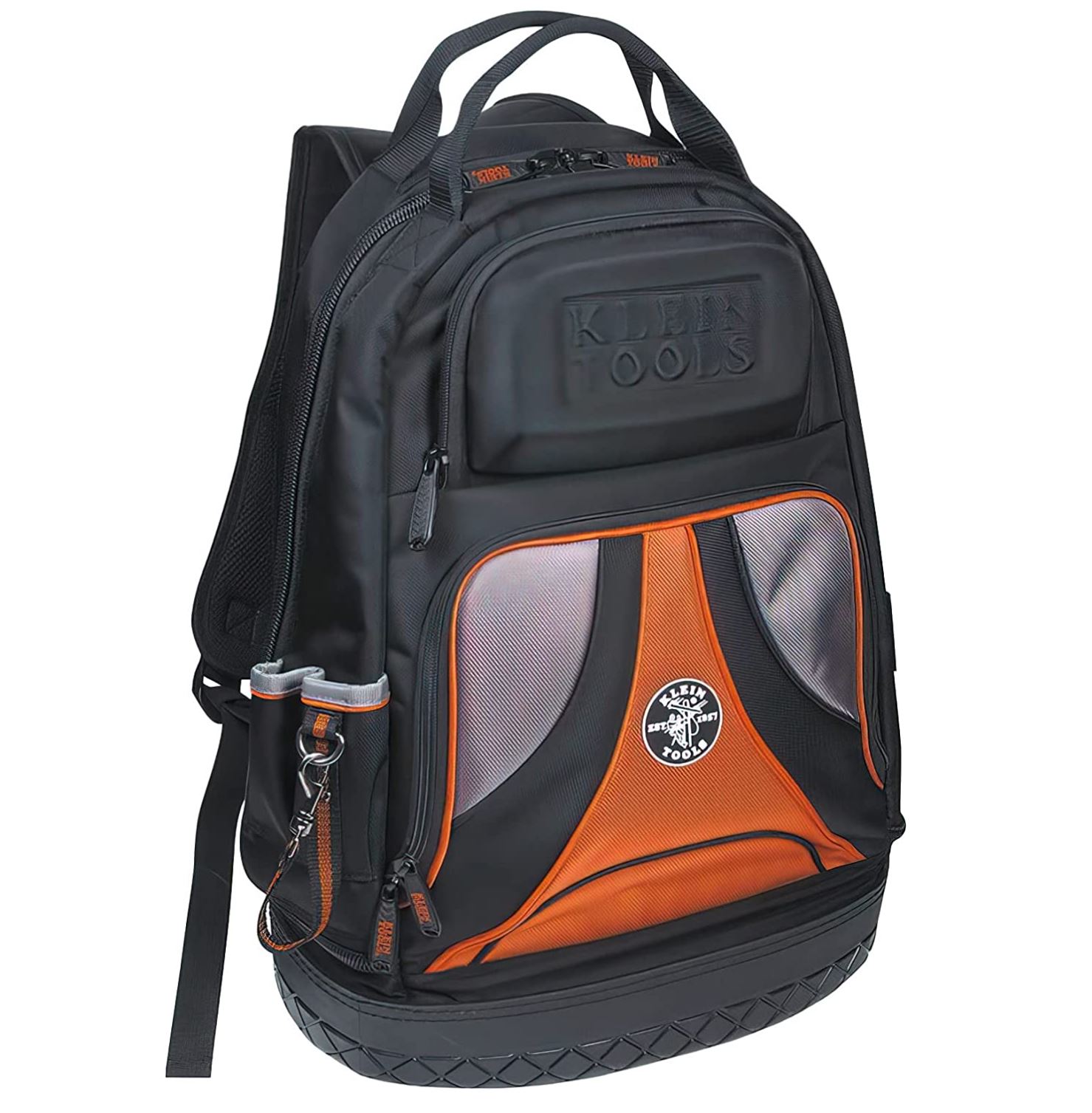 I think the Klein Tools 55421BP-14 Tool Backpack looks better in person than in photos. This heavy-duty backpack has a black, orange, and gray exterior made of water-resistant 1680D denier material. Its padded back and shoulder straps keep you comfortable while carrying heavy loads.
The backpack has two zippers granting you access to its front pocket and main compartment. The model's interior has more than thirty pockets in different sizes, and you can use them to store long screwdrivers or tiny parts you might need while repairing an AC.
Pros
It has a rubber molded bottom
The bag has a large weight-carrying capacity
Sturdy construction and spacious interior
Cons
CLC Custom Leathercraft 1537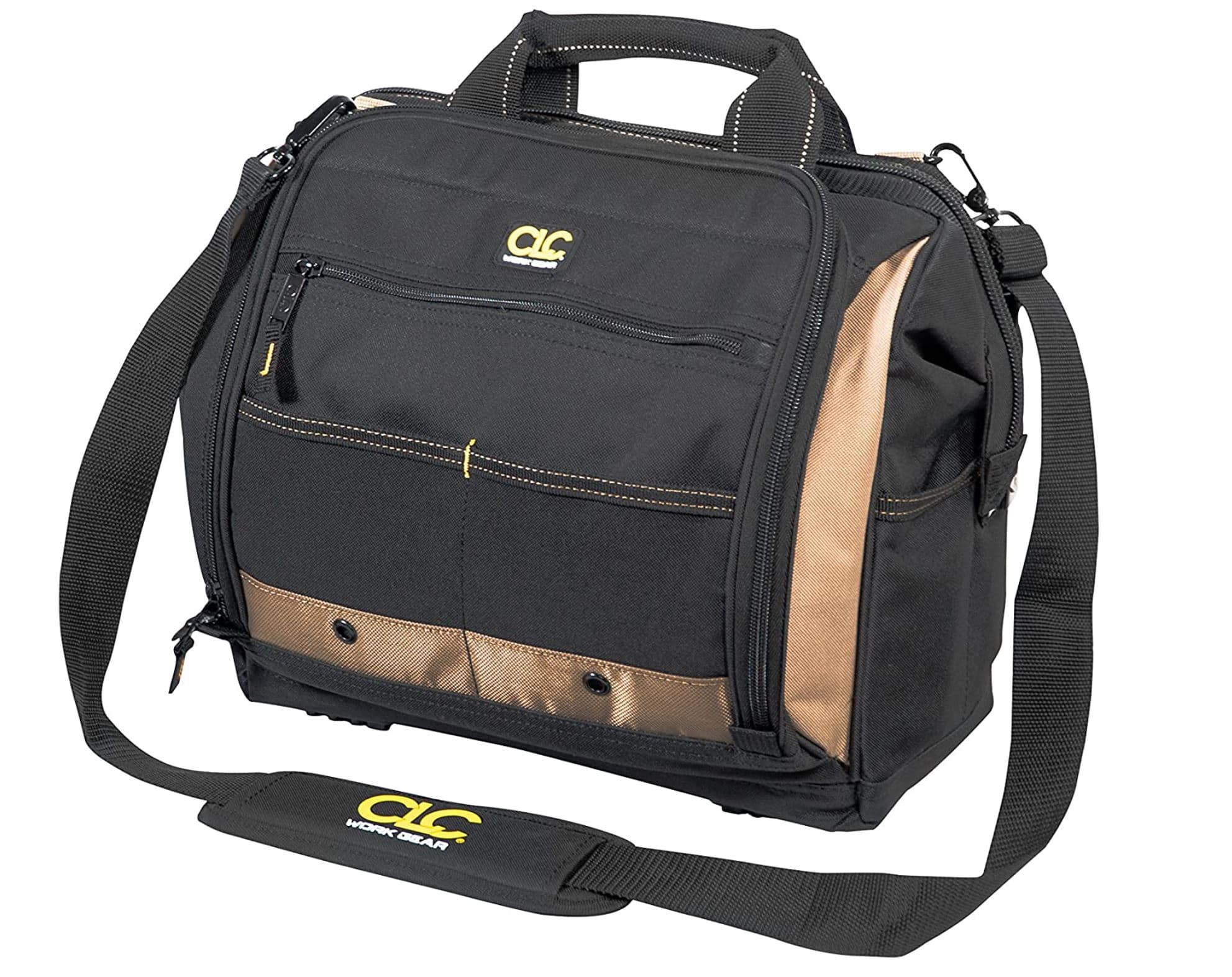 Compact dimensions, excellent storage capacity, and high-quality materials are some of the things I like the most about the CLC Custom Leathercraft 1537 tool carrier. This bag has thirty pockets for tools in different sizes, while its side panel grants you quick access to the tools you use often.
The main compartment isn't big enough to hold a vacuum pump, but you can still use it to carry a nitrogen regulator, a core removal tool, or similar specialty equipment.
Pros
The tool carrier is lightweight
The shoulder strap is adjustable
Suitable for use in challenging conditions
Cons
Carrying this bag for several hours can get uncomfortable
Veto Pro Pac Tech Pac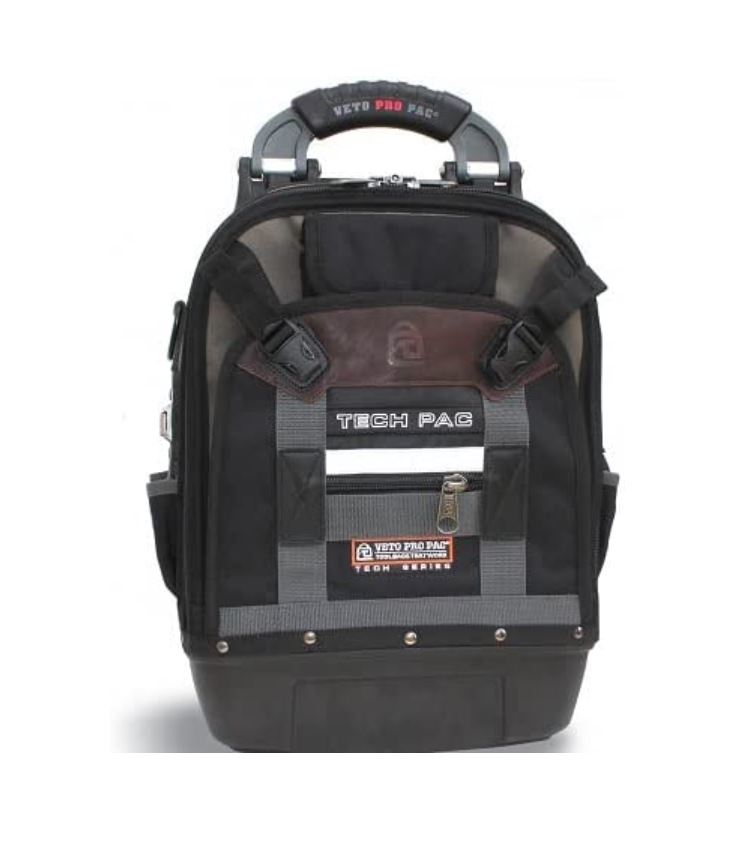 Despite its prohibitively high price, the Veto Pro Pac Tech Pac is, in my opinion, one of the most reliable options for experienced HVAC technicians. The 950 and 1250 denier impregnated nylon materials make this backpack almost indestructible.
The Veto Pro Pac's model has 46 pockets and nine D-rings, so you won't have too much trouble fitting your entire HVAC toolkit into this tool bag. Moreover, the laptop sleeve is designed to keep electronic devices safe even if you drop the backpack.
Pros
It has a non-tripping platform at the bottom
Its back and shoulder straps are padded
The backpack arrives with a five-year warranty
It's made from sturdy materials
Cons
It's more expensive than most HVAC tool bags
Pnochoo Tool Bag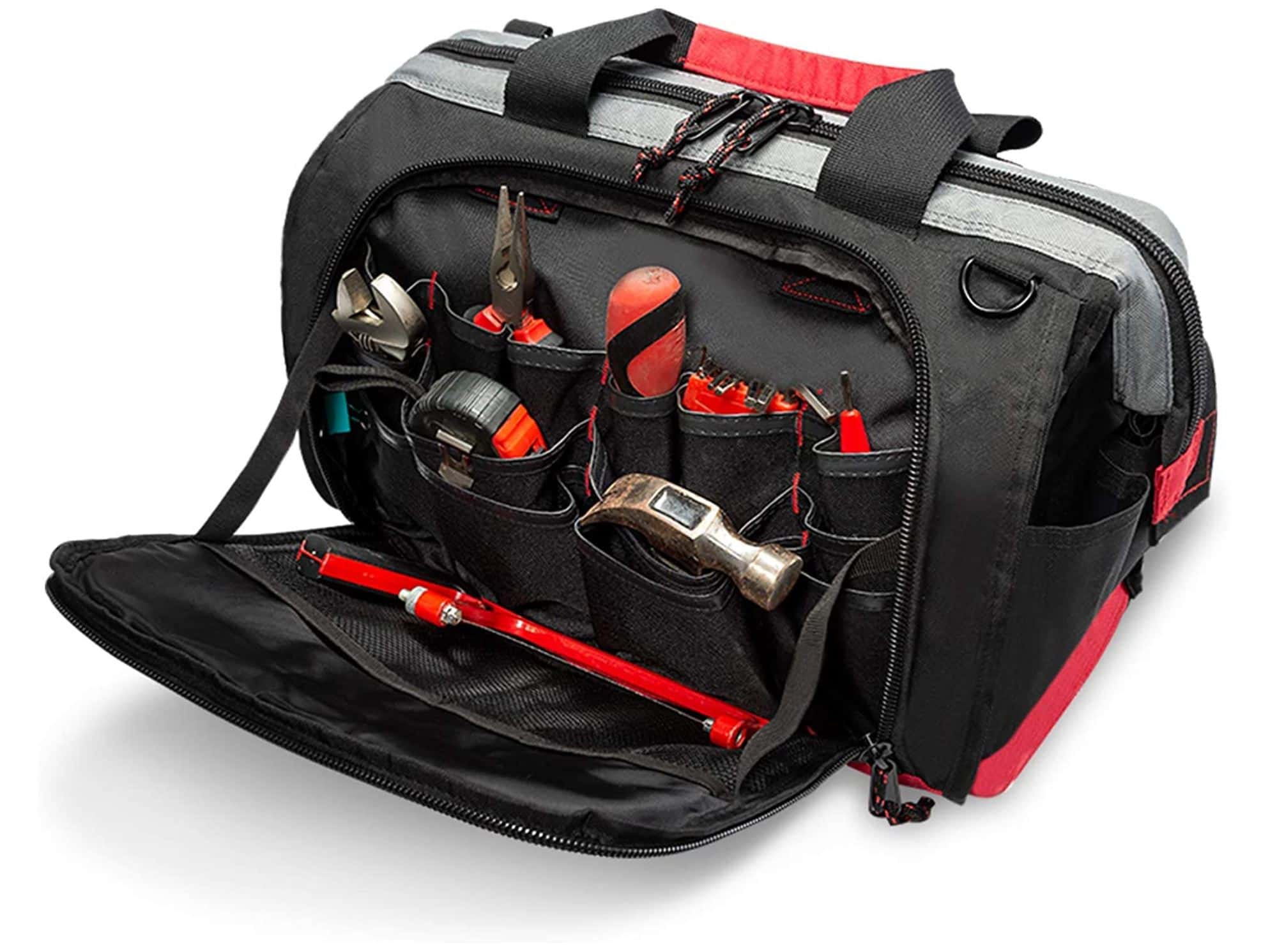 I think that the Pnochoo Tool Bag could be the right option for you if you're searching for your first HVAC tool bag. The bag is made of 600D polyester and isn't as durable as some of the models I've covered in this article.
Still, its excellent storage capacity, easy access to the side panel that contains a variety of vertical pockets, or spacious interior that can hold multiple corded tools enable you to carry the equipment you need to do your job.
Pros
This tool bag is water-resistant
It has an internal metal frame
600D polyester material is scratch-resistant
An affordable price
Cons
It cannot accommodate long screwdrivers
Frequently asked questions about HVAC tool bags
Question: How heavy are HVAC tool bags?
Answer: The load-free weight of HVAC tool bags varies from 3 to 10lbs.
Question: Do all HVAC tool bags have warranties?
Answer: Most brands offer lifetime or five-year warranties for their HVAC tool bags
Question: How long do HVAC tool bags last?
Answer: Even the high-end models made from sturdy materials can get damaged after a few months. On the other hand, an inexpensive model can remain in perfect condition for a few years.
I know that finding the right HVAC tool bag isn't always a simple task, so I hope that this article has made this process easier for you. Please go through our guide on how to get started in HVAC if you're considering this career path.
My verdict: How to choose the best HVAC tool bag?
After so many years in the HVAC industry, I never had a stylish HVAC tool bag. Instead, I always focus on the model's material quality, comfort level, and tool storage capacity.
I think that a Veto Pro Pac Tech Pac offers the best of both worlds because it's beautifully designed, and it provides plenty of space for the equipment HVAC technicians use daily.
Its price is its only downside, so I suggest considering durable but less expensive options like Carhartt Legacy Tool Bag or CLC Custom Leathercraft 1537.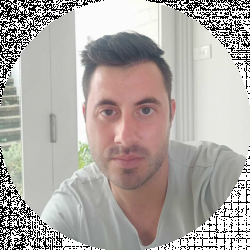 Latest posts by David Borgogni
(see all)