Central HVAC systems use approximately 3500W per hour, which means that you'll be spending around $4 every day to heat or cool your home. The best HVAC dampers enable you to lower the daily power consumption by choosing the zones you want to regulate the room temperature.
These components of HVAC systems play a vital role in the airflow distribution throughout the system's ducting, but their shape, size, and type depend on the HVAC system you have.
In this article, we're going to provide you with the information you need to find an HVAC damper that is compatible with your HVAC system. You should go through our guide to cooling systems to learn more about how they work.
At a Glance – The 5 Best HVAC Dampers
What is an HVAC Damper?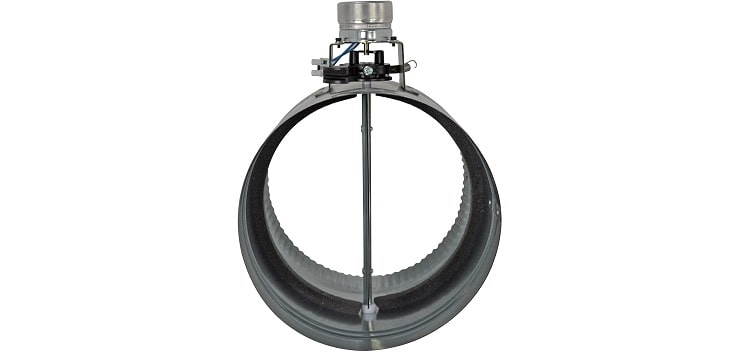 The cool or hot air generated by the outdoor compressor spreads through the ducting until it reaches the indoor air handler that distributes it throughout the room. The air will spread to all parts of the system unless it faces a barrier, resulting in high power consumption of the HVAC system.
A zone damper or volume control damper regulates the amount of air that can reach a particular zone or prevents the airflow from reaching a zone you don't want to heat or cool. This enables you to choose which parts of a home or building you want to regulate the room temperature.
Zone dampers are installed at different points of the ducting, and most HVAC systems have more than one damper.
You can limit the airflow that reaches an apartment if the tenants are overusing the HVAC system or switch of the heating and cooling in an unoccupied apartment without having to shut down the entire system.
Read our guide to the best HVAC capacitors if your HVAC system is struggling to maintain a constant airflow volume.
Operating an HVAC Damper
Dampers aren't complex devices as their purpose is to seal the junction where they're installed and prevent the air from going around them. One or more blades located inside the damper are used to determine how much air will go through.
The blades can be adjusted in two different ways:
Manually –

Manual dampers feature a lever that allows you to change the position of the blades.

Locating these dampers can be difficult as they're installed at different parts of the ducting, and it is nearly impossible to know where they are if you're not familiar with the ducting layout.

Also, reaching the lever isn't always easy since some ducts are installed close to the ceiling.

Automatically –

Zone dampers equipped with a motor can be operated remotely, so there's no need to know their exact location in the ducting.

You can control the blade position through the system's thermostat or even program them to open or close once the room temperature in a specific zone reaches the level you selected.
Check out our guide to HVAC thermostat systems to learn more about different types of thermostat systems.
Types of HVAC Dampers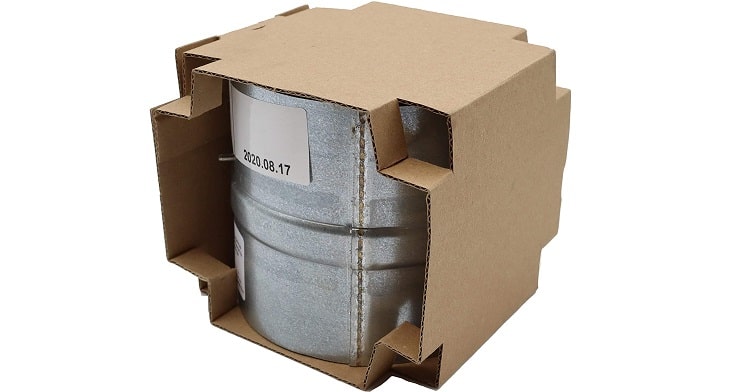 Manually and automatically operated dampers can have different designs and sets of features. Consequently, the damper's ability to direct or stop the airflow depends on the number of blades and numerous other properties. Let's take a look at some of the most common HVAC dampers.
Blade dampers –

Composed of one or more metal plates, these dampers commonly allow the air to flow in both directions.

Most models have excellent sealing capabilities, and they grant the operator complete control over the airflow volume.

Praise dampers –

Their ability to block or lower the airflow that goes into a certain zone makes them a popular choice for homes or venues that are only partially used.

Louver dampers are compatible with most types of HVAC systems.

Butterfly Flat Dish Dampers –

The ability to allow air to flow in just one direction makes these dampers effective at preventing backflow.

Butterfly flat dish dampers can have one or more blades.

Guillotine dampers –

Due to their excellent sealing abilities, these dampers are commonly used to stop the airflow in a section of the ducting.
Browse through our guide to the best HVAC tools to find the tools you need to install a damper.
Common Shapes and Sizes of HVAC Dampers
Zone dampers are not universal, as they're designed for ducts with different diameters. Generally speaking, a damper should have a slightly smaller diameter than the duct.
That's why you have to measure the diameter of the duct and then find a proportional damper that is large enough to seal or restrict the airflow. The diameter of most zone dampers ranges between 4 and 8 inches, but you can also find models with a 16-inch diameter.
Also, the shape of the zone damper has to match the shape of the duct since you can't use the circular damper on a square duct. You can also get a rectangular or square damper if it matches the shape of the duct.
To zone an HVAC system properly, you will need to install several dampers at different points of the ducting, and each damper you add to the system must have the correct size and shape for the location you want to install it.
Read our guide to heating systems if you need a new heating solution for your home.
HVAC System Compatibility
An automatic damper is controlled through a thermostat or a zone control panel that allows you to choose how much air you're letting into each zone. However, these two components have to be compatible to establish a connection.
Some dampers are compatible with all standard thermostats and zone control panels, but you need to check if you can pair a specific model with your HVAC system. That's why you should consult with an HVAC technician before you decide to add more zones to your HVAC system.
Check out our guide to best millivolt thermostats in case you need a thermostat for a millivolt system.
The Most Important Factors to Consider while Choosing an HVAC Damper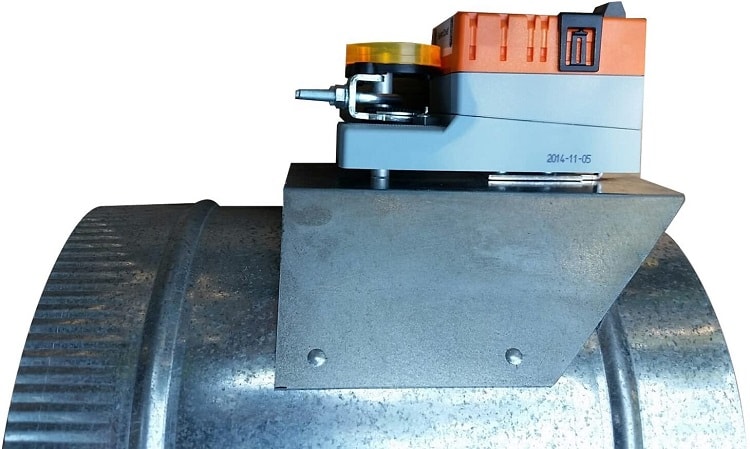 The search for a new damper that will enable you to add a new zone to your HVAC system starts with measuring the size of the ducting. Once you know the shape and size of the damper you're looking for, you'll need to decide if you want to get a manual or an automatic model.
Each of these factors narrows down your search criteria and makes it easier to find a damper you can use with your HVAC system. Let's take a look at some of the most important factors that can assist you in your search for a new zone damper.
Match the Duct and Damper Size
Most ducts already have multiple dampers, and you should search for an identical model if you have to replace an old damper. If you're searching for a damper that will control the airflow in a new zone, you must measure the ducting's diameter and get a similarly sized damper.
The diameters of standard rectangular and circular ducting range between 4 and 47 inches, and you have to measure the duct just to avoid getting a damper that is too small or too big.
Choose the Right Damper Type
Knowing why you want to add a new damper to your HVAC system will help you determine which damper type you need.
For instance, if you want to stop the airflow completely in a particular zone, you should opt for a guillotine damper, while a butterfly dish damper should be your go-to option if you want to eliminate the backdraft.
Blade dampers are by far the most common because they offer a great level of control over the air volume that passes through them.
Airflow Rate Control Options
A damper's air flow rate depends on its diameter, and a 6-inch damper can handle a maximum of 200CFM of airflow. On the other hand, a 16-inch damper can let through 2000CFM of airflow when it is open.
Besides the volume, you should also pay attention to the damper's maximum air velocity. Most models offer between 600CFM and 800CFM of air velocity, which provide sufficient throw to heat or cool a particular zone.
The damper's pressure relief capabilities need to be adjusted to the system to minimize the amount of noise the air generates while moving through the ducting.
Damper's Durability
The installation process of a zone damper is complicated and time-consuming because it involves cutting out ducting pieces and putting them back in the same spot. Getting a sturdy damper made of high-quality components will eliminate the need to replace these components of HVAC systems often.
Models made of stainless steel or aluminum alloy resist the daily wear and tear well, and they're corrosion-resistant. PVC dampers lose their sealing capabilities quickly, and you have to replace them frequently.
Price
You don't have to spend a lot of money on a new zone damper since most models cost around $20. Models designed for use with specific HVAC systems can cost more than $100, and you'll have to spend a bit more if you're looking to replace a damper.
Most brands offer warranties for these components of HVAC systems that last between one and five years, but some dampers don't have a warranty at all, which is why you need to check the duration and coverage of the model's warranty.
The Advantages of HVAC Dampers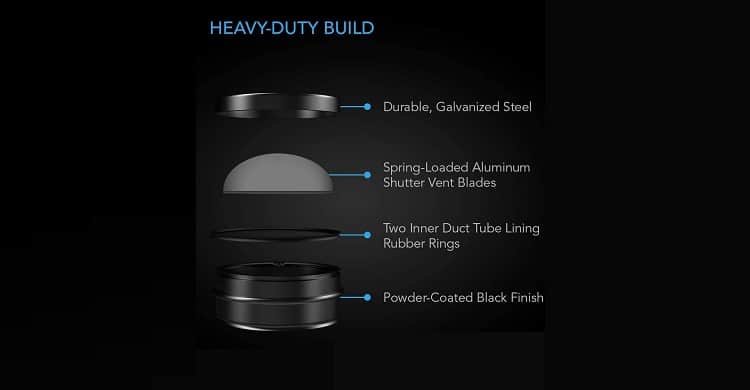 Efficient Airflow Control
These components allow the HVAC system operator to control the volume of airflow that goes into different zones. Dampers can also prevent the backdraft or entirely stop the airflow to a chosen zone.
Addition of New Zones
Adding new dampers to the HVAC system enables you to create more cooling and heating zones. Breaking down an HVAC system into multiple zones allows you to regulate the temperature in just one segment of your home or to stop heating or cooling rooms you don't use.
Lower Power Consumption
Dampers allow you to direct the airflow to the selected zone while blocking the airflow in the zones you're not using. They reduce the power consumption since the system does not have to provide heating or cooling for the entire space.
The Disadvantages of HVAC Dampers
Limited Airflow Capacity
The airflow volume that can move through a damper and the air's maximum speed depends on the model's diameter. That's why installing a damper in a relatively narrow duct can affect the system's ability to cool a space quickly.
Top 5 HVAC Dampers
Vent Systems Damper – The Best Backflow Shutter HVAC Damper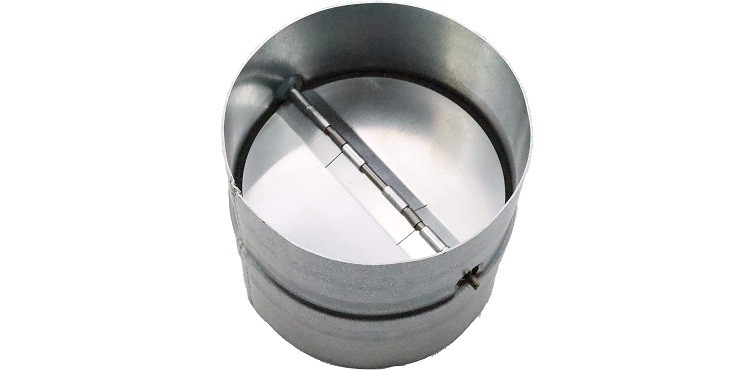 Home and business owners searching for an efficient way to deal with backdraft in 6-inch ducts should consider getting the Vent Systems Damper . The model's body is made of corrosion-resistant steel, while its flap blades are made of aluminum.
You can install this damper backflow horizontally and vertically, but you must ensure that its spring is set correctly regardless of the installation position you choose.
The damper opens and closes automatically, and it features a rubber seal that stops the airflow completely when the flap blades are closed.
Pros
Prevents wind from entering ducts

Built from durable materials

Suitable for residential and commercial HVAC systems

Affordable price
Cons
Springs could be stronger

Limited airflow control capabilities
Suncourt ZoneMaster ZO208 – The Best-motorized HVAC Damper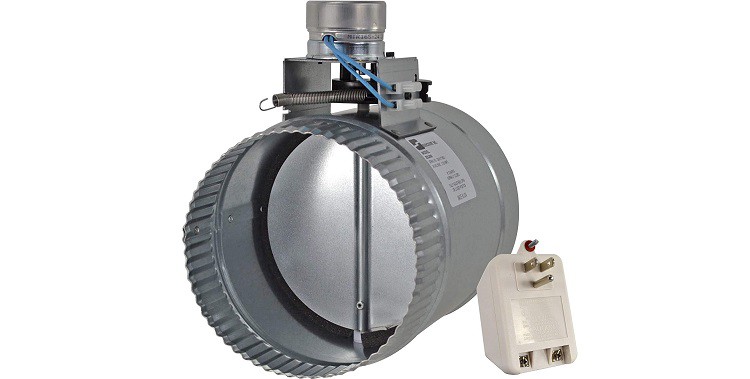 You can set the position of the Suncourt ZoneMaster ZO208 to blades anywhere within a 0 to 90-degree radius, depending on your current needs. This inline damper can be used with the system's current zone controller or any other controller capable of supplying 24V AC.
Moreover, you can opt to use the Suncourt's damper as an independent unit powered by a transformer. The damper also lets you shut down an entire zone by preventing the airflow from circulating through a specific part of your 8-inch duct.
Pros
Quiet and durable engine

Sturdy metal construction

Compatible with a wide range of zone system controllers

3-year warranty
Cons
Some modification might be necessary

Complicated installation process
Honeywell ARD6TZ – The Best Automatic HVAC Damper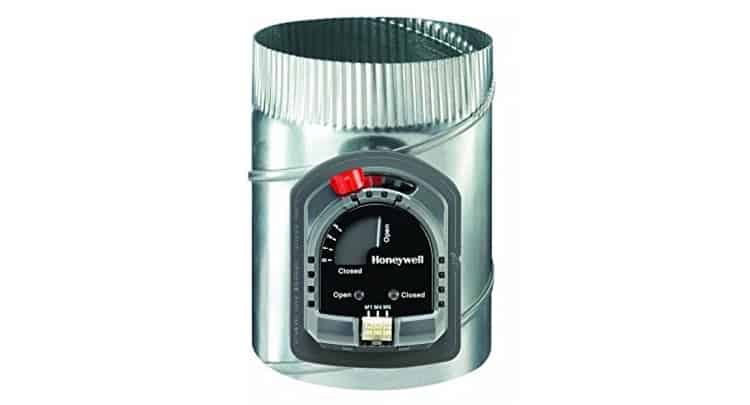 In case you want to add a new zone to a Honeywell HVAC system equipped with a circular 6-inch duct, then the Honeywell ARD6TZ could be the right solution for you. This single-blade damper lets you choose how much air you want to let into a zone, while you can also use it as a fresh-air intake.
The blade creates a tight seal when closed, making Honeywell's model a great option if you want to stop heating or cool a specific area in your home.
Pros
easy and accurate airflow control

Compatible with thermostats on Honeywell HVAC systems

The frame is made of galvanized steel

Multiple mounting positions
Cons
The brand has a no return policy

The blade is slow to open
SmartZone Round Damper – The Most Flexible HVAC Damper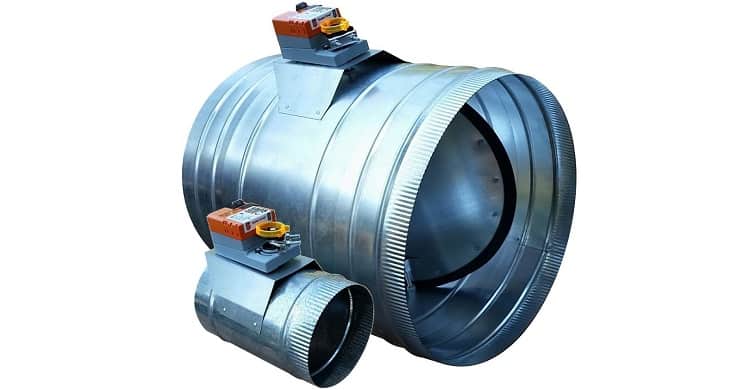 You can choose between versions of the SmartZone Round Damper with different diameters and get a model that matches the size of the HVAC's ducting. The diameter ranges from 6 to 16 inches, but keep in mind that the damper's price changes as the diameter increases.
The blade makes a complete seal when it is closed and prevents air leakage into the zone that was shut down. You can use this SmartZone's damper to replace dampers featured on EWC's, Durozone's, or Honeywell's HVAC systems.
Pros
Available in different sizes

Highly efficient engine

Compatible with different thermostats and zone controllers

5-year warranty
Cons
very expensive

Complicated wire setup
AC Infinity – The Best HVAC Damper for Horizontal and Vertical Installation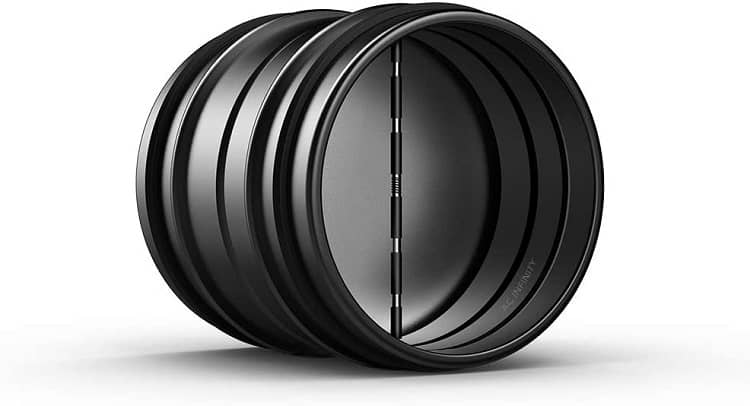 You can adjust the AC Infinity to the duct's orientation and decide if you want to install it in a vertical or horizontal position. A rubber outer gasket creates an airtight seal once the damper is inserted into the duct.
This model is designed to eliminate backdraft and to prevent the wind or dirt from reaching the ducting. The shutter vent blades open and close automatically, allowing you to control the volume of airflow that goes through the damper.
Pros
Suitable for different parts of the HVAC system

Efficient backdraft control

The body is made of galvanized steel

Multiple mounting options
Cons
Only compatible with 8-inch ducts

Short warranty period
Frequently Asked Questions about HVAC Dampers
Question: Do I have to Hire a Technician to Install an HVAC Damper?
Answer: The installation of HVAC dampers involves interfering with ducts, which is why it is advisable to hire a technician to install this component for you.
Question:

How to Know Where to Install an HVAC Damper?
Answer: Determining the perfect location for an HVAC damper can be Difficult since you have to know the ducting layout.Consulting an HVAC technician is probably the easiest way to find a good position for a new damper.
Question:

Are HVAC Dampers Loud?
Answer: HVAC dampers aren't loud, and adding a new damper to the system isn't going to make it louder.
Question:

Do All HVAC Systems have Dampers?
Answer: Some HVAC systems don't have dampers. However, even if the ducting of your HVAC system doesn't contain dampers, you can add these components if you want to divide the system into zones and lower the power consumption.
Our Verdict: Deciding which HVAC Damper is the Best
You don't necessarily have to use the full capacity of your HVAC system if you want to heat or cool just one room in your home. Dampers allow you to control how the airflow moves through the ducting and how much air reaches the indoor air handler.
Besides, you can use a damper to close a segment of the ducting if you don't want to control the room temperature in that part of your house.
We recommend getting the Suncourt ZoneMaster ZO208 because it is compatible with a wide range of HVAC systems, and it allows you to choose the airflow volume that goes into a particular zone. The Honeywell ARD6TZ zone damper can be a good option if you have a Honeywell HVAC system.
Which HVAC damper are you going to choose? Let us know in the comments or continue reading our guide to the best HVAC tapes that can help you repair ducting.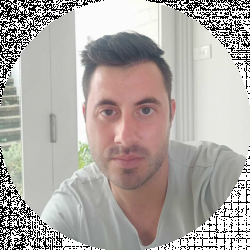 Latest posts by David Borgogni
(see all)