Home and car cooling systems absorb particles that can prevent the refrigerant and oil from moving freely through the system. The best AC flush kits enable you to deal with this issue promptly and avoid potential damage these contaminants can cause to the AC's key components.
Eliminating the presence of dust or debris in a cooling system is impossible, as a small amount of these particles will enter the AC system every time you switch it on. These particles accumulate over time and hamper the system's performance, while in some cases, they may even cause the compressor to fail.
Flushing the system regularly is the most effective way to keep it in optimal condition, so in this article, we're going to take you through some of the best kits that will enable you to perform this task with ease.
Go through our guide to the best portable GE conditioners if you're looking for a reliable home ventilation system.
At a Glance – The 5 Best AC Flush Kits
What is an AC Flush Kit?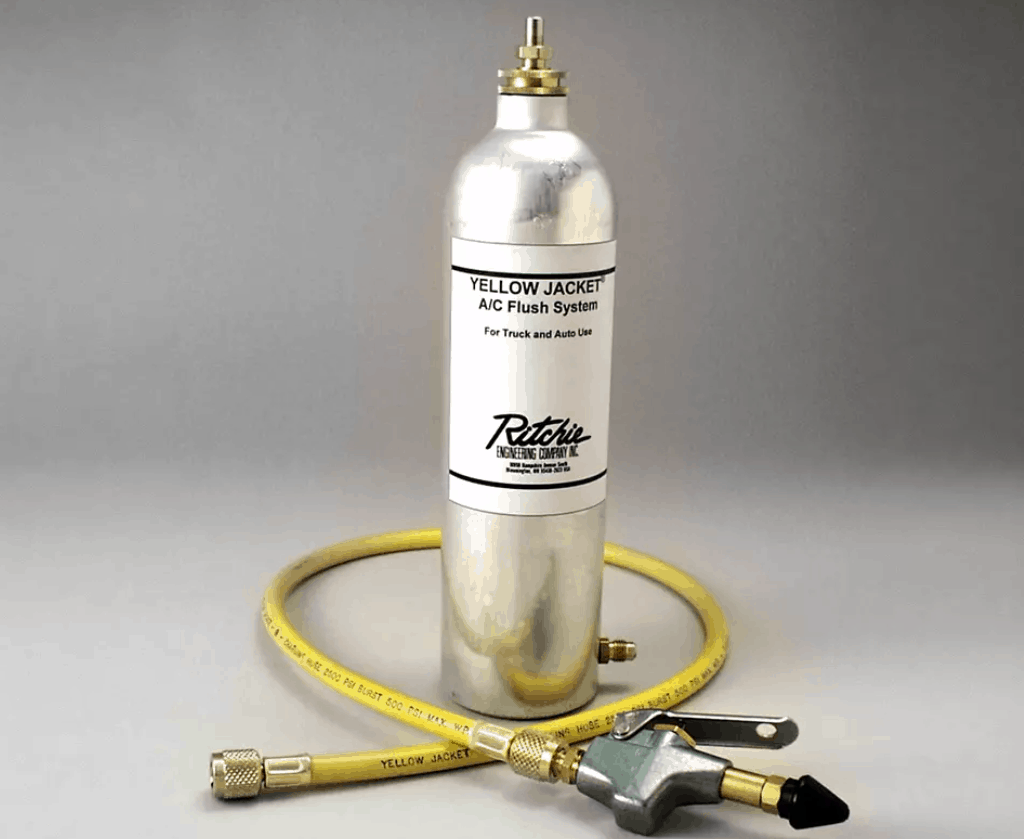 The contents of these kits usually include a rechargeable canister and a matching hose that may or may not have an AC flush nozzle. However, the solvent is not featured, so besides the kit, you'll also need a flush that is suitable for the refrigerant your cooling system is using.
In addition, these kits are usually used to clean car AC systems, but some models can be utilized to flush home HVACs or refrigerators.
Pressure gauges that enable you to monitor the pressure inside the canister are also among the standard features of AC flush kits, but you must bear in mind that you can't use these gauges to measure the AC system's pressure.
Consequently, you will need more equipment than most AC flush kits include to clean the cooling system properly. Read our guide to mini-split systems to learn more about the advantages of ductless air conditioning systems.
Determining when to flush the AC system
Figuring out when is the right moment to flush an AC system will reduce the chances of the system component failure and prolong their life. You should flush the system every time you open it to ensure that all debris is pushed out of the condenser, evaporator, and all other parts of the system.
Declining cooling capacities of your car's AC are also a sure sign that the system contains debris or dust that needs to be flushed out.
Although an experienced DIYer might be up to the task of flushing an AC system, choosing the right moment to go through with this procedure can be tricky. Taking your car to a mechanic is probably the safest way to evaluate the current condition of your AC system and decide if flushing it is necessary.
Check out our guide to the best 4-ton heat pumps if you're looking for a cooling system for an entire home.
Choosing the right solvent for the flush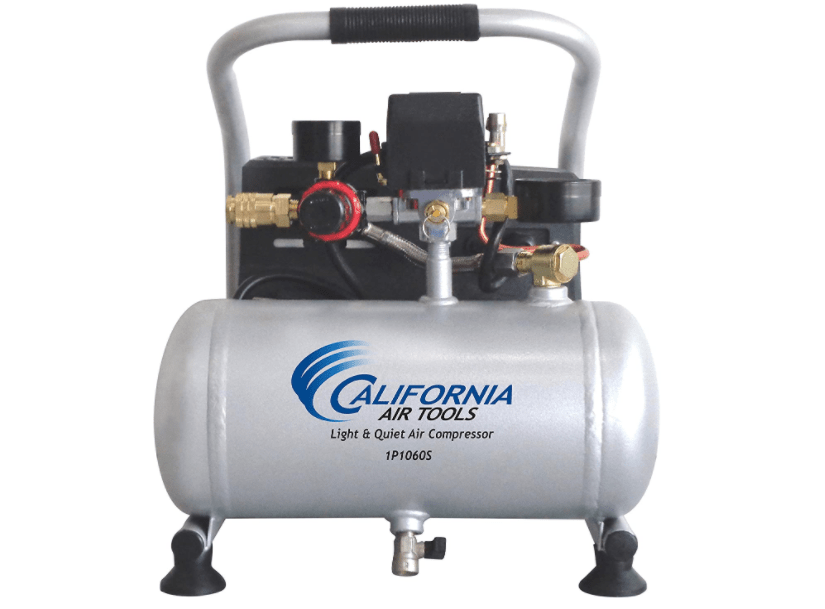 Flushing an AC system without a solvent and an air compressor is impossible, but these items are usually not included in AC flushing kits. What's more, the refrigerant the system is using determines which solvent you can use.
So, before you start searching for the right kit for the job, you must first find out which type of refrigerant is in the system. This information will enable you to choose a solvent capable of removing moisture, acids, and contaminants from the system's components.
The R134, R12, R22, or R404, R410 are some of the most common types of refrigerants, and you should choose the solvent recommended for the refrigerant your AC system uses. You should avoid using solvent alternatives such as mineral spirits or alcohol because they're highly flammable.
Go through our guide to cooling systems for more information on how these systems work.
Gathering the tools
As we already noted, an AC flush kit isn't the only piece of equipment you're going to need to restore your AC's functionality.
So, once you get the correct solvent, you must add it to the canister that comes with the kit and mix it with pressurized air. Make sure to check the canister's pressure limitation because exceeding it may cause an accident.
You're also going to need the tools required to evacuate the system, as you must remove the refrigerant before you can introduce a pressurized solvent to the system. Afterward, you must disconnect the inlet and the system's outlet to ensure the free flow of the solvent.
It is advisable to wear eye and hand protection because the liquid you're using to flush the system may behave unpredictably once it is released under high pressure.
Read our guide to the best HVAC tools you can use to maintain different types of AC systems.
Flushing a vehicle's AC system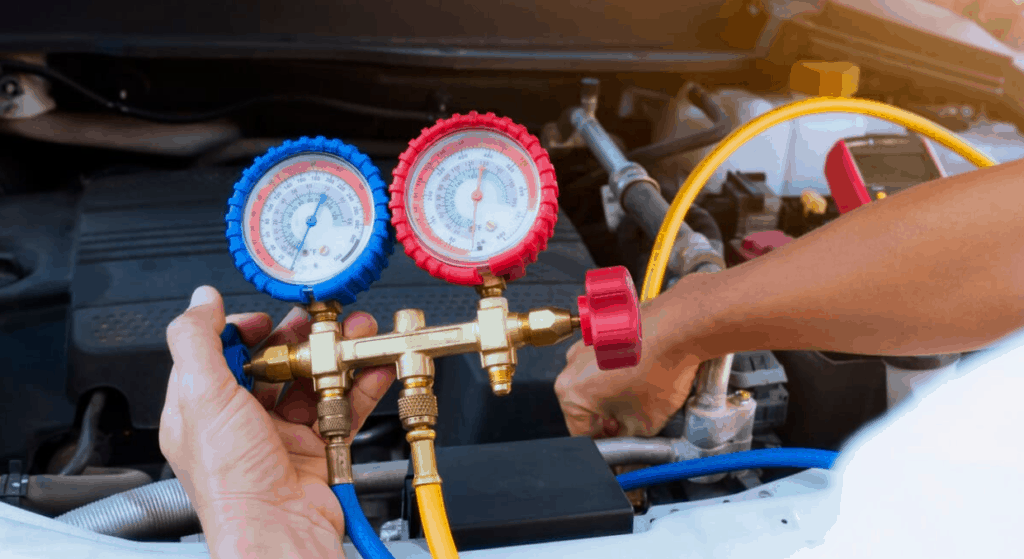 Once you have all the tools in place and you've prepared the AC for flushing, you should position a bucket underneath the system's outlet to catch the solvent that goes through the system.
When ready, simply press the spray gun, and the solvent will run through the evaporator and the condenser collecting the contaminants in the process. These kits usually include 16oz or 32oz canisters, and you should pick the option that is best suited for the system you're flushing.
Continue flushing the system until you empty the container, and then remove the dish you used to catch the solvent. After the flushing procedure is completed, you should reconnect all the components and charge the system with the refrigerant.
Switch on the AC, and let it run for ten to twenty minutes to ensure the refrigerant is properly circulated and check if its cooling capacity is restored. Go through our guide to furnace types if you need a new heating system for your home.
The most important factors to consider while choosing an AC flush kit
Even though these kits are inexpensive and easily replaceable, you should still examine their features closely as the model you're interested in might not be suited for the refrigerant you'd like to flush.
You should also pay attention to the kit's components to avoid having to purchase a pressure gauge or some other part separately. Finally, if you're planning on storing the kit in the trunk of your car, you should check its dimensions to find out how much storage space you're going to need.
Let's take a look at some of the most important aspects you should consider while selecting an AC flush kit.
Canister's features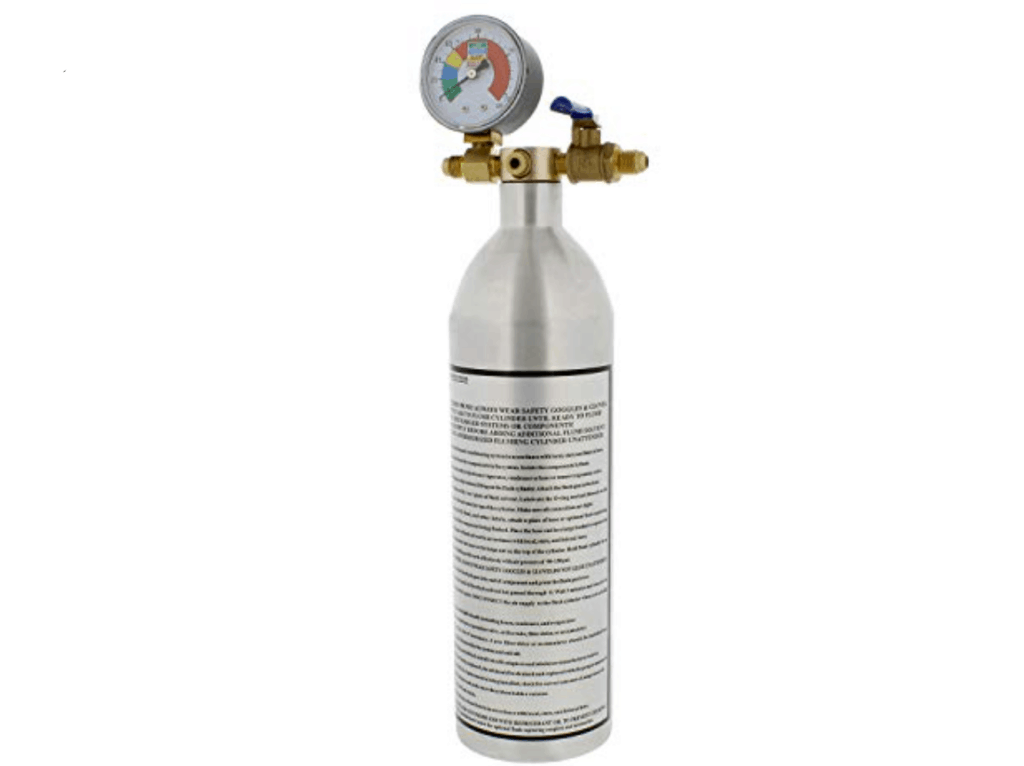 The vast majority of AC flush canisters are rechargeable, and with proper care, you can use them for a long time. However, some models are not made of sturdy materials, which makes them susceptible to physical damage.
Canisters made of aluminum can withstand high-velocity impacts, so you won't have to worry about causing an accident if you drop them by accident. Features like a pressure gauge or the pressure relief valve make flushing an AC system safer and easier, but they're not included in all kits.
You should also check the canister's compatibility with the system you want to flush.
The maximum pressure
Pressurizing the solvent is one of the key steps you'll need to take during the flushing process, but exceeding the canister's pressure limit can cause an explosion.
Most manufacturers include this information in the kit's description, and they provide detailed instructions on how to add pressurized air to the canister, so you won't have too much trouble finding this information.
Choosing a kit that includes a pressure valve will make it easier to monitor the current pressure level in the canister. On the other hand, a pressure relief valve starts lowering the pressure in the canister as soon as you exceed the limit.
The length of the hose
Your ability to reach all parts of the system will depend on how long the hose is, and you should avoid kits that come with a shorter hose than 30 inches. Besides, it's much easier to maintain control over a long hose and keep it at the system's intake point while releasing pressurized solvent.
A long hose will enable you to place the canister further away from your vehicle or home cooling system and provide you with enough room to operate. Also, you should check how flexible the hose is.
The cost and warranty
You don't have to spend a fortune on a new AC flush kit as most models cost less than a hundred dollars. Models that feature 16oz canisters are usually more affordable than the kits containing 32oz canisters, enabling you to pick a kit that best fits your needs.
Only a handful of manufacturers offers 1-year limited warranties for their kits, so finding a warranty-backed model might be difficult.
The advantages of AC flush kits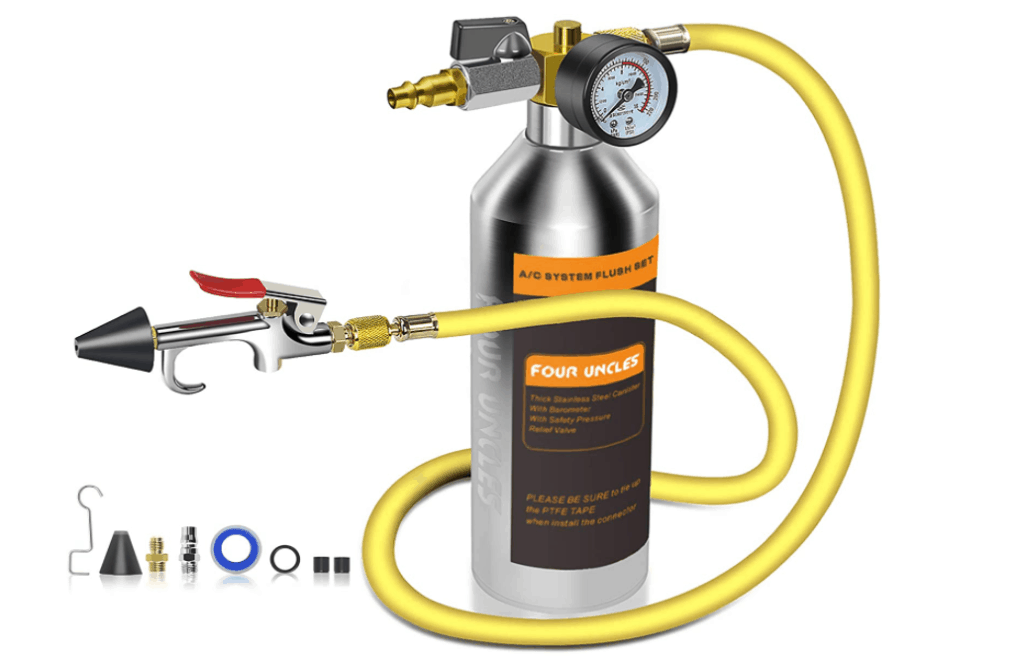 All kits are reusable
It is improbable you'll have to replace these kits often because their canisters are designed to be used more than once. Moreover, an AC system flush shouldn't be performed more frequently than once per year, suggesting that you can use a kit you choose for a long time.
Minimal storage requirements
All of the kit's components are compact, so finding a place to store them shouldn't take too much effort. In addition, these kits are highly portable as they rarely weigh more than 3lbs, which enables you to carry them with you whenever you go on a long journey.
Easy to use
Even though flushing contaminants from an AC system isn't necessarily the job for DIYers, using the AC flush kit doesn't require advanced car servicing skills. Nearly all models come with a manual that guides you through each step of assembling and using the kit.
The disadvantages of AC flush kits
Limited compatibility with AC systems
Only a handful of these kits can be used to flush all types of AC systems. Most models you can find on the market are designed for specific systems, which is why you need to check the kit's compatibility with the kit you want to flush.
Top 5 AC flush kits
BISupply AC Flush Kit – The most versatile AC flush kits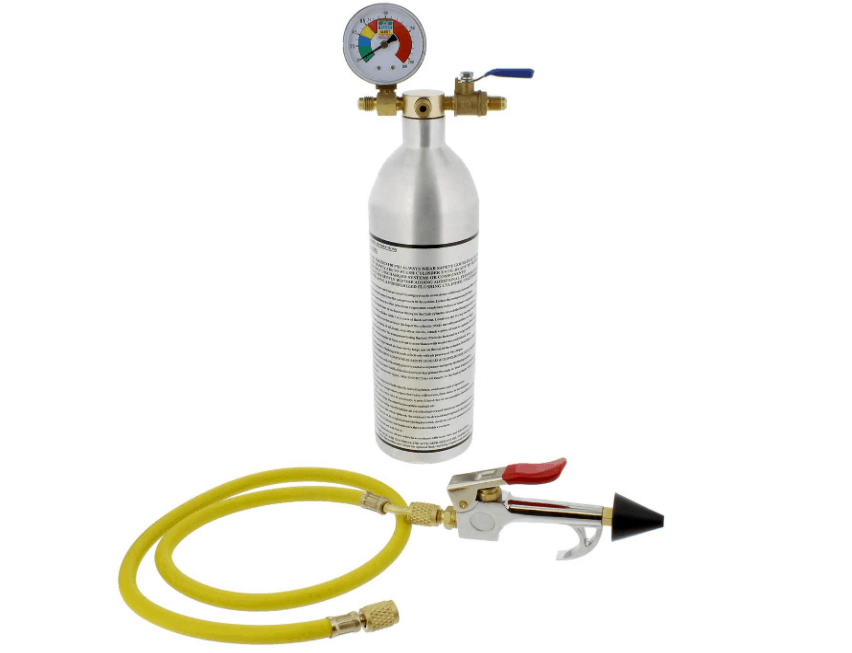 Flushing oil or debris produced by a broken compressor with the BISupply AC Flush Kit doesn't require much effort. The kit features an aluminum alloy canister that has a 150PSI pressure limit, as well as a pressure gauge that lets you monitor the canister's current pressure level.
You can use this kit to flush all types of AC systems, but you should remember that the canister's storage capacity is limited to just 18oz. In addition, the flexible 33-inch rubber hose has a tipped nozzle that prevents the spillage of the solvent.
Pros
All components are made of durable materials
Compatible with different types of AC systems
Highly portable
Flexible hose
Cons
The pressure limit is at 150PSI
The canister can hold just 18oz of solvent
JIFETOR AC Flush Kit – The AC flush kits with the highest pressure capacity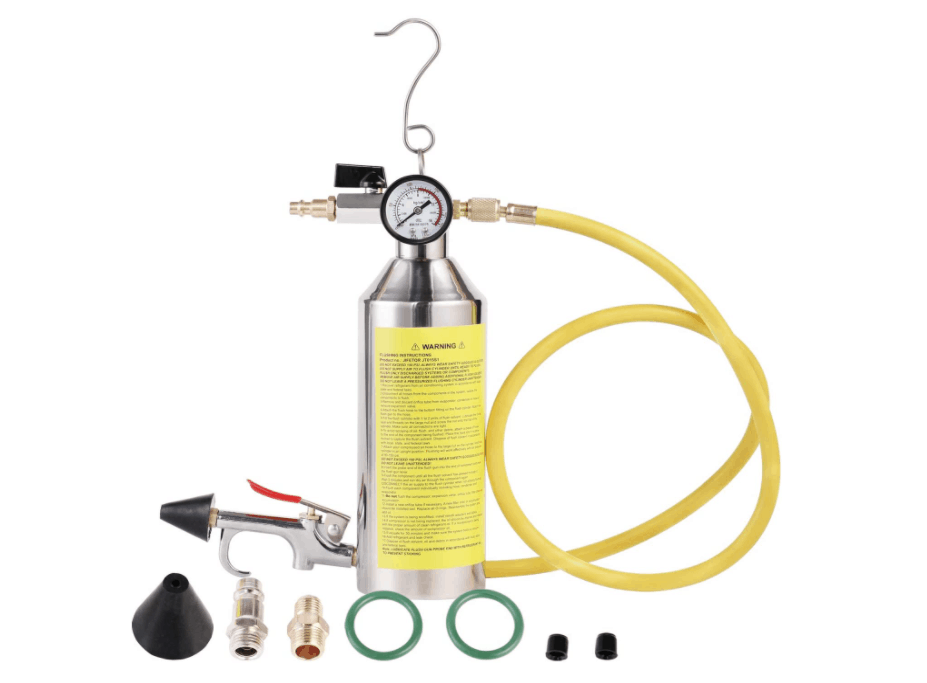 You should take a closer look at the JIFETOR AC Flush Kit if you want to flush AC systems on different types of vehicles. This model can provide you with 600PSI of working pressure and 3000 PSI of burst pressure.
Its stainless steel canister can hold up to 32oz of solvent, while the 3.5 feet long rubber nylon hose easily adjusts to different work environments. The kit also includes a European air plug, brass nozzle, an aluminum gun, and a hook that lets you hang the canister wherever you want.
Pros
Suitable for all types of refrigerants
High-pressure output
Durable metal trigger
30-day money-back guarantee and one-year warranty
Cons
More expensive than most AC flush kits
No pressure relief valve
GoPlus AC Flush Kit – The most portable AC flush kit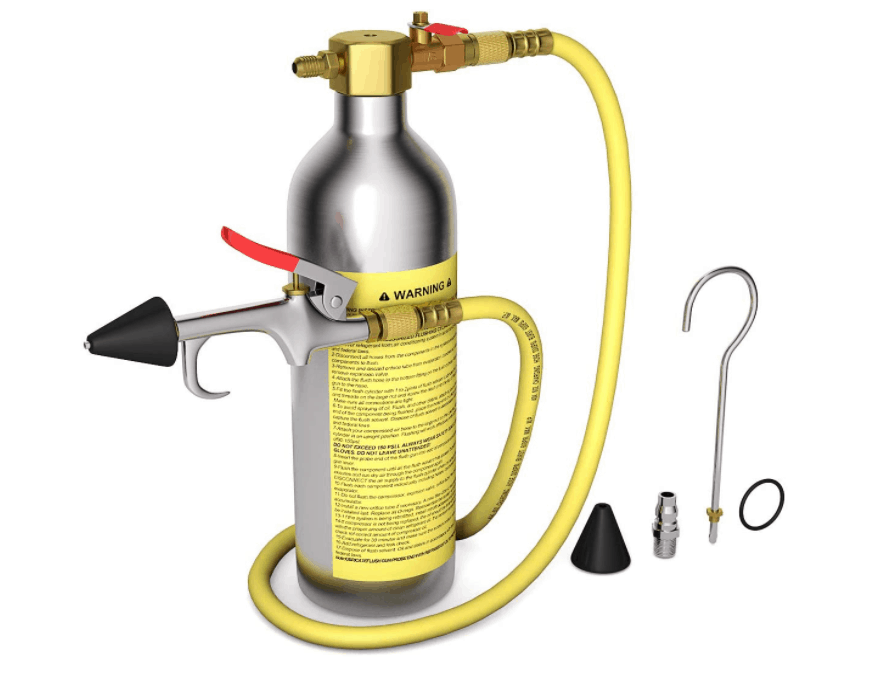 The lightweight and compact design enable you to take the GoPlus AC Flush Kit with you whenever you plan to spend a long time on the road without sacrificing too much storage space.
This model features a 32oz aluminum canister that can hold solvents compatible with R404, R12, and R134 refrigerants, among others. In addition, the canister has a pressure relief valve that prevents you from exceeding its pressure limit.
The kit comes with a 3-foot hose and numerous accessories that allow you to perform different flushing tasks.
Pros
Works with all types of refrigerants
Excellent safety features
The kit weighs just 2lbs
Reasonable price
Cons
No warranty
The kit should be used with FJC solvents
FJC 2710 AC Flush Kit – The most affordable AC flush kit
Despite having a limited number of components, the FJC 2710 AC Flush Kit still provides you with the tools you need to remove contaminants from an AC system. The canister can only hold 18oz of solvent compatible with systems that utilize R12, R22, and R134A refrigerants.
The maximum pressure the canister can withstand is limited to 125 PSI, but pressurizing the solvent can be complicated because the kit doesn't include a pressure gauge. Moreover, the rubber hose is very short, making it difficult to reach remote parts of the AC system.
Pros
Great for flushing the evaporator
Low storage requirements
Suitable for fridges and home cooling systems
Easy to use
Cons
No pressure gauge
The kit doesn't include accessories
XtremepowerUS AC Flush Kit – The most effective AC flush kit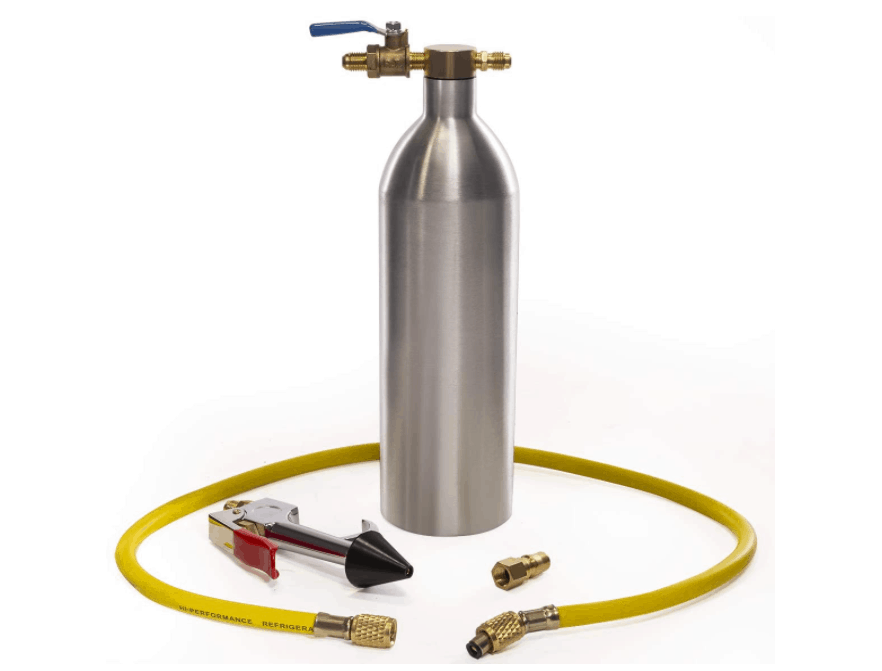 If you're searching for a kit you can use to flush different types of AC and cooling systems, you should consider getting the XtremepowerUS AC Flush Kit. The corrosion-resistant canister can withstand up to 170 PSI of pressure, and it can hold 32oz of solvent.
This enables you to use this kit for most flushing tasks, and you don't have to worry about compatibility, as the kit can be used with nearly all cooling systems regardless of the refrigerant they're using.
The rubber-tipped nozzle lets you direct the solvent through the system's inlet, minimizing the spillage.
Pros
Works with most cooling systems
Assembling the kit is easy
Made from sturdy materials
High working pressure
Cons
The kit doesn't include a pressure gauge
The hose could be longer
Frequently asked questions about AC flush kits
Question: Can I use an AC flush kit on my own?
Answer: These kits are easy to use, making them a great choice for DIY mechanics who service their cars by themselves.
Question: How long do AC flush kits last?
Answer: Unless they're used daily, these kits can last for years to maintain a vehicle's AC system.
Question: Are AC flush kits prone to explosions?
Answer: The kit's canister isn't going to explode unless you exceed its pressure limit.
Our verdict: How to know which AC flush kit is the best?
Instead of waiting for a cooling system to break down entirely, you can try flushing the debris, oil, and other contaminants from the system. An AC flush kit can help you restore the AC's cooling capacity without hiring a professional.
However, if you decide to use these kits on your own, you should keep in mind that even a slight mistake can damage the entire system you're flushing. We recommend the GoPlus AC Flush Kit because of its safety features that ensure you cannot exceed the pressure limit.
The JIFETOR AC Flush Kit might be a good option if you need a kit that can operate at high pressure. Hopefully, this article has helped you discover the best AC flush kit for your needs. Which model are you going to choose?
Let us know in the comments or continue reading our guide to humidity control systems if you're struggling to keep the air humidity in your home at a constant level.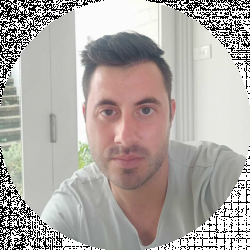 Latest posts by David Borgogni
(see all)