Finding an optimal cooling and heating solution for residential and commercial properties is not a simple task, as many factors can affect your decision.
In this guide to the best 4-ton heat pump, we'll help you determine if this type of heat pump is a suitable solution for the structure you want to cool or heat.
Broadly speaking, the 4-ton heat pump is powerful enough to cool or heat at 2000sq/ft area.
Still, you must bear in mind that the layout of the rooms, insulation, or number of doors and windows can affect the pump's ability to maintain the temperature at a comfortable level in an area of ​​​​​​this size.
Our guide will take you through all of the most important aspects of choosing a 4-ton heat pump and some of the best models you can find on the market. Read our guide to the heating systems for more information about the available options.
The 5 Top 4-Ton Heat Pumps – Comparison
How Does a 4-ton Heat Pump Work?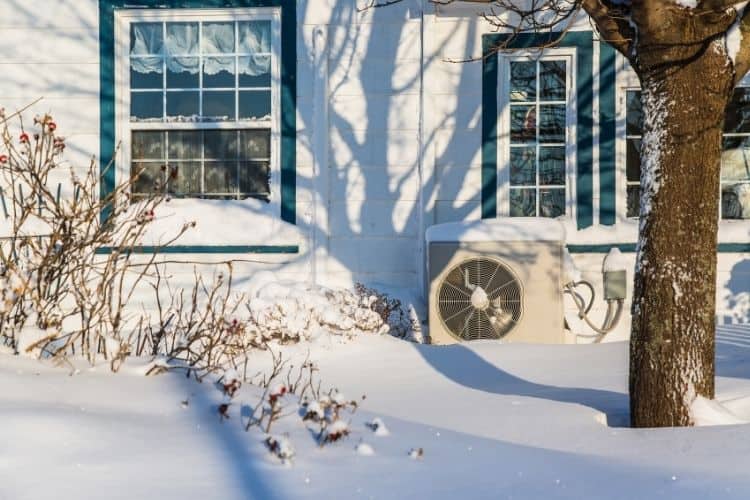 4-ton heat pumps can serve as the primary cooling or heating system in your household, as they have the capacity to both lower and increase the air temperature.
These systems feature an outdoor unit known as a heat pump and an indoor unit or air handler. These components are responsible for absorbing the heat from the air or bringing in the cold air from the outside.
It's worth pointing out that a heat pump has a limited capacity to heat the air unless it is connected to a furnace that helps the system generate warm air at low temperatures.
All heat pumps are charged with a refrigerant that circulates through the system and cools the air.
In addition, these systems use a compressor that moves the refrigerant between the condensing unit located in the heat pump and the indoor evaporator placed within the air handler.
Powering a 4-ton Heat Pump
To start using a 4-ton heat pump, you must ensure that the entire system is properly wired and connected to electricity.
The system's efficiency is measured through the CoP or the coefficient of performance calculated by dividing the Q value that denotes the useful heat generated by the system and W value or the work that the system needs to put in to produce useful heat.
What's more, the CoP for cooling and heating isn't the same, as the Qc (heat removed from the cold reservoir) and Qh (heat supplied to the cold reservoir) must be added to the equation. Consequently, the power consumption of a heat pump depends on the purpose it is used for.
Even so, most heat pumps have a CoP between 3 and 4, which indicates that they'll spend around 4,000kW of electricity per year.
Optionally, you can use renewable energy sources gathered from solar panels to power to heat pump. Still, solar-assisted systems usually involve the integration of solar panels and the heat pump.
Heat Sources

A heat pump can use air, water, geothermal energy, or gas as a heat source, but the vast majority of models on the market use air as a heat source.
An air-source heat pump can be connected to a duct system, while structures that don't have ductwork can be cooled or heated with ductless mini-splits. Water-to-air or water-to-water systems Use forced-air systems to generate warm or cold air.
The geothermal systems are the most complex to install as they feature a network of pipes that relies on the thermal properties of the ground or a natural water source.
The so-called absorption heat pumps use their heat source as the power source, making them more energy-efficient than other types of heat pump systems.
They operate on the same principle as air-source heat pumps, but instead of electricity, they use natural gas or water heated by the power harvested with solar panels as a source of heat and power.
Go through our guide to mini-split systems to learn more about how they work.
Refrigerant Types
The cooling capabilities of a heat pump system partially depend on the refrigerant it uses to regulate the air temperature.
In the past, the most common type of refrigerant in these systems has been the chlorofluorocarbon (CFC), and even though this type of Freon went out of production in 2010, the conversion of the equipment has not been completed yet.
Despite this, the vast majority of heat pumps today use the hydrofluorocarbon (HFC) refrigerants labeled R410A or R-134a. Unfortunately, the substance still has a Global Warming Potential that is a thousand times larger than the GWP of CO2.
This feature makes the heat pump systems charged with the R410A refrigerant an uncertain long-term solution, as this type of Freon may be withdrawn from mass consumption in the future.
Heat pump models released in the last several years feature the difluoromethane R32 and isobutane R(600A) refrigerants that don't contain ozone-depleting substances.
Single-stage or Two-stage Compressor
The amount of money you'll have to spend on the heat pump depends on the type of compressor the unit has. Single-stage compressors can only operate at their maximum capacity, and you can't control or lower the output of cool or warm air.
Two-stage compressors are equipped with compressors that allow you to operate the unit at full capacity or reduce its airflow output depending on your needs.
As a result, two-stage compressors are more energy efficient as they don't start and stop as often as single-stage compressors.
Units fitted with both single-stage and two-stage compressors can run either at fixed speed or preset speeds.
Variable-speed models are the most energy-efficient type of heat pumps because they enable you to gradually increase or lower the output. You can adjust their output to your current needs.
Aspects Worth Considering While Searching for a 4-ton Heat Pump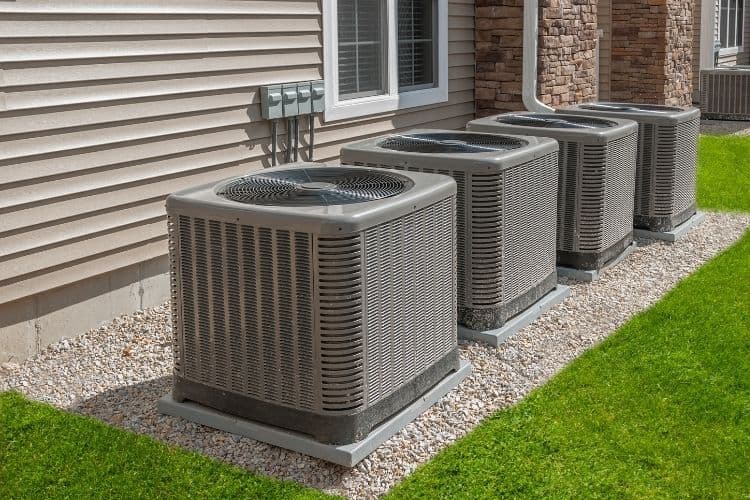 A single 4-ton heat pump should be powerful enough to cool or heat an average house in the United States. However, this is not always the case because of the climate and numerous other factors that can lower the unit's effectiveness.
On the other hand, getting a 4-ton heat pump for a considerably smaller space than the unit's coverage area can be counterproductive, as it will be using vast amounts of power to maintain the room temperature at the same level.
We've highlighted several aspects you should consider while looking for a 4-ton heat pump, so let's take a closer look at them.
HSPF and SEER Ratings
Nearly all heat pump manufacturers are highly transparent about the energy efficiency of their products. Seasonal Energy Efficiency Ratio and Heating Seasonal Performance Factor are the two most important metrics you need to pay attention to.
reliable and energy-efficient 4-ton heat pump should have a SEER rating than 14, preferably around 20, while its HSPF rating should be between 9 and 14. Keep in mind that the models with high SEER and HSPF ratings are usually expensive .
Quiet Operation Features
The noise generated by internal components of heat pumps can be disturbing, especially if they're installed in a living room or near a bedroom. That's why you should pick a model that has a soundproofing enclosure as well as several quiet operation modes.
Brands usually include the information regarding the unit's noise level in the list of specifications, so it shouldn't be too difficult to determine if the model you're interested in generating more than 70dB of noise or how loud it is at different distances.
4-ton Heat Pump's Coverage Range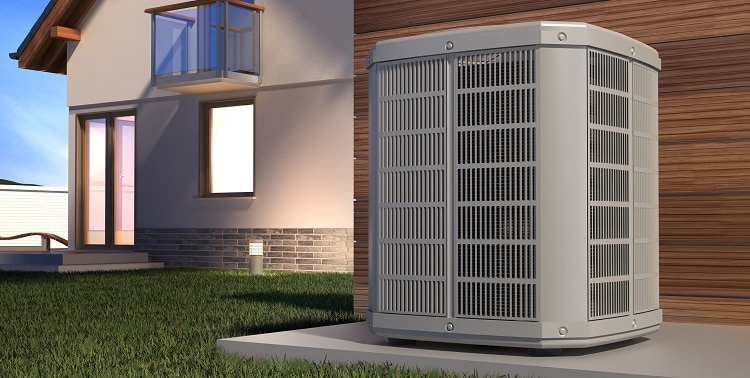 Determining the 48,000BTU or 4-ton heat pump's range requires you to factor in several variables, such as the average yearly temperature in your region or the size of the area you'd like to cover.
In most cases, you'll be able to control the temperature in spaces that have up to 2400sq/ft, with a 4-ton heat pump. Again, doing thorough research on the unit's cover range will help you avoid getting a model that is too small or too large for your home.
Speed ​​​​​​Adjustment Settings
The most affordable heat pumps can operate at a single speed, which means that you'll always get the unit's maximum output.
Although they are the least expensive option, it is also the least energy-efficient option as multi-speed, and variable unit speed offer a variety of ways in which you can control their power consumption.
Variable-speed models allow the user to adjust the output in small increments, while multi-speed heat pumps have preset speeds or gears that can't be fine-tuned.
Costs and Reliability
A broad spectrum of factors such as the type of heat pump, its SEER rating, or the number of features available affects the cost of heat pumps. Consequently, you can spend anywhere between $1,000 and $10,000 on a new heat pump.
The installation costs aren't included in the system's price, so you should expect to pay an additional $500 to $6,000 to install the heat pump you purchased.
Also, geothermal heat pumps are much more difficult to install than any other type of heat pump, which is why the installation costs for this type of heat pump can reach $30,000.
Once installed, these systems can last for decades, while most manufacturers offer 10-year warranties for their models.
The Advantages of 4-ton Heat Pumps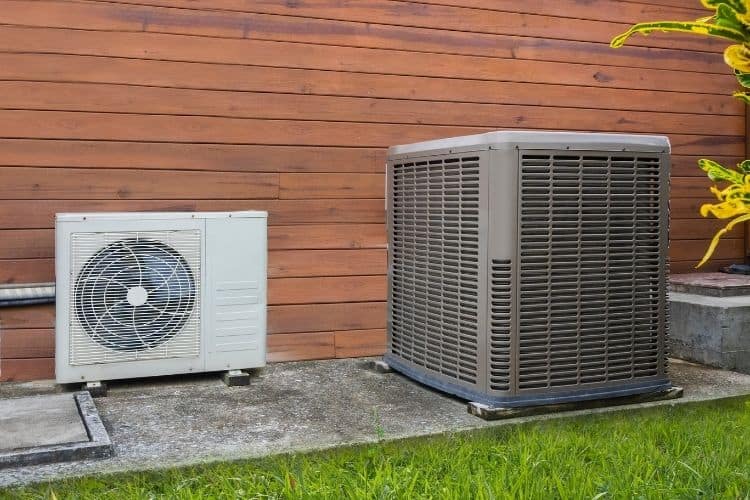 Large Coverage Area
4-ton heat pumps can regulate temperatures in spaces that have well over 2000 sq/ft, making them a suitable cooling or heating solution for residential and commercial settings.
You should keep in mind that the coverage area of ​​​​4-ton heat pumps is not constant because it depends on the climate.
Lower Utility Bills
On average, the heat pump will use around 4,000kW of electricity every year, which is considerably lower than what you'd have to spend if you were using a conventional HVAC system. Besides, some models are Energy Star rated, which vouches for their energy-saving capabilities.
Adjustable Speed
Multi-speed and variable speed heat pumps let you decide how much cool or hot air you want the unit to generate. This enables you to control a room temperature with utmost precision, and it can potentially reduce the amount of electricity the unit is using.
The Disadvantages of 4-ton Heat Pumps
Some Sodas are not Environmentally Friendly
Most heat pumps you'll find on the market will still use R410A or R-134a refrigerants that contribute to global warming a thousand times more than CO2. In addition, every time you recharge a heat pump with these refrigerants, a certain amount of the refrigerant is released into the atmosphere.
5 Best 4-ton Heat Pumps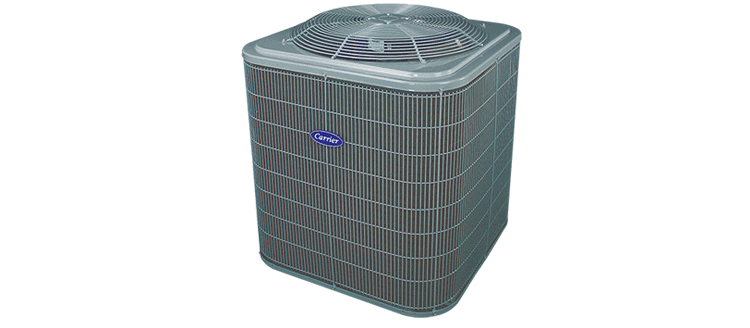 Although inexpensive, the Carrier Comfort™ 25HCE4 heat pump is still a reliable option for anyone looking to cut monthly power consumption.
In addition to excellent SEER and HSPF ratings, this 4-ton heat pump is capable of switching between electricity and gas power sources for additional power efficiency in case you decide to pair it with a furnace.
This Carrier's model is equipped with a single-stage compressor, and it generates more than 69dB of noise while operational because it doesn't have a sound blanket.
What's more, the 25HCE4 isn't Energy Star rated despite its remarkable power-saving performances.
Pros
Features a WiFi-enabled thermostat

The hybrid 4-ton heat pump lets you switch between electricity and gas

Equipped with a built-in humidifier

The outdoor unit has the WeatherArmor™ cabinet protection
Cons
Generates a lot of noise

The 25HCE4 isn't Energy Star rated
Carrier Comfort™ 14 Heat Pump | Amazon
Comfort series heat pumps are designed simply to be reliable, efficient and affordable. As a heat pump they give you the benefit of summer cooling along with cooler season heating.
Buy at Amazon
We earn a commission if you make a purchase, at no additional cost to you.
11/28/2023 06:41 pm GMT
Trane XV19 – The Quietest 4-ton Heat Pump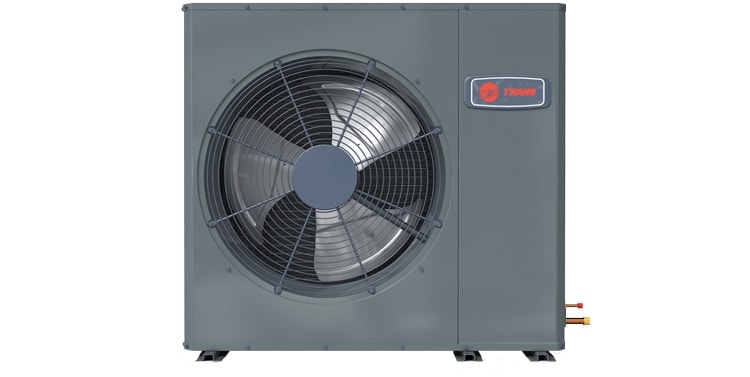 The ability to switch between 700 speeds is just one of the advantages offered by the Trane XV19 variable speed heat pump.
In addition, the unit's thermostat lets you make adjustments within 1/10 of 1%, which gives you complete control over the room temperature in your home.
The system uses the TruComfort™ technology to regulate the air temperature automatically, and it has a SEER rating of up to 19.5.
But, arguably, the XV19's most appealing feature is its quiet operation, as the system generates between 43dB and 57dB of noise.
Pros
Energy Star Qualified

The system includes an air filtration system

Produces a minimum amount of noise

Compact design
Cons
Steep price

The refrigerant has a high global warming potential
Goodman GVZC20 – The Most Energy-Efficient 4-ton Heat Pump

Produced by an industry-leading brand, the Goodman GVZC20 4-ton heat pump is one of the most reliable models on the market.
This unit comes with the ComfortBridge technology that lets you monitor the system's performance whether you're using a compatible furnace or air handler.
The GVZC20 uses SmartSpeed ​​technology to control the compressor's speed and the fan so you don't have to make speed adjustments manually.
This unit has an accumulator that keeps the refrigerant circulating even at extremely low temperatures, enabling you to use this variable-speed heat pump in all climates.
Pros
Allows users to use between 0 and 100% of airflow output

High SEER rating

Employs short-cycle protection during defrosting

Operates without difficulty at low temperatures
Cons
Complicated installation process

short warranty duration
Bryant Evolution™ Extreme Variable Speed ​​​​284ANV – The Best Variable Speed ​​​​4-ton Heat Pump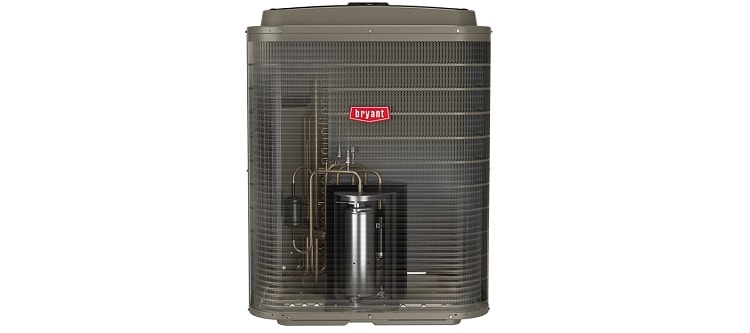 As the winner of the Energy Star's 2020 logo, the Bryant Evolution™ Extreme Variable Speed ​​​​284ANV 4-ton heat pump is one of the most obvious choices for all homeowners looking for a more efficient way of managing temperatures in their households.
The unit's impressive list of features offers a glimpse into its performance capabilities. For example, the 284ANV's have a 24SEER rating and a variable compressor that lets you use between 25% and 100% of the heat pump's airflow capabilities.
What's more, this Bryant's model from the Evolution™ series uses the Puron, a non-ozone depleting refrigerant.
Pros
Excellent humidity control options

The air purifier eliminates 99% of bacteria and viruses from the air

High level of energy efficiency

The unit comes with a 10-year warranty
Cons
Users can't reduce the compressor's output below 25%

Not a budget-friendly option
Coleman Echelon™ HC19 Two-Stage Heat Pump – The Best two-stage 4-ton Heat Pump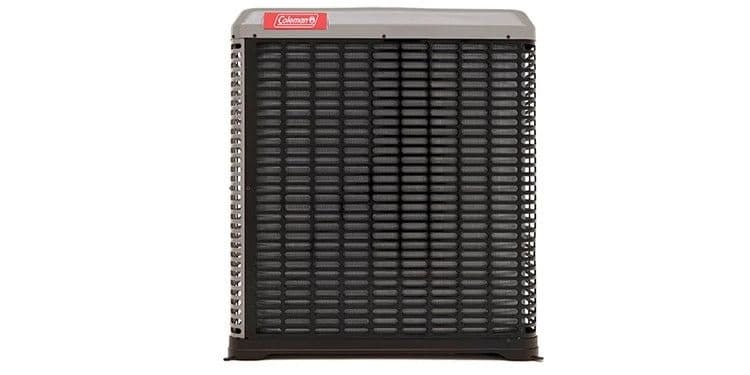 Coleman Echelon™ HC19 is a two-stage heat pump that grants you complete control over temperatures in your home throughout the year.
This unit is compatible with the brand's residential gas furnaces, enabling you to automatically create a dual fuel system capable of switching between power sources.
In addition, both outdoor and indoor units have corrosion and impact-resistant casings that can withstand prolonged exposure to the elements.
This heat pump system can be controlled through the Echelon™ Hx™3 touch-screen thermostat that puts all of the unit's features at your fingertips.
Pros
Good SEER and HSPF ratings

The WiFi-enabled thermostat makes monitoring the system easy

A two-stage scroll compressor allows for quick and simple speed adjustments

All components of the system come with a 10-year warranty
Cons
Louder than its competitors

Air filtering properties could be better
Frequently Asked Questions about 4-ton Heat Pumps
Question: How Much Does the Installation of a 4-ton Heat Pump Cost?
Answer: Installing an air-source heat pump can cost more than $2000, making the installation process almost as expensive as the heat pump.
Question: Can a 4-ton Heat Pump Heat Air Without a Gas Furnace?
Answer: Yes, it can, but its heating capabilities are limited. In most cases, you'll be able to use the 4-ton heat pump to heat the space until temperatures drop below 40F.
Question: How Loud is a 4-ton Heat Pump that Makes 70dB of Noise?
Answer: A 4-ton heat pump that produces around 70dB of noise is as loud as a dishwasher is.
Question: How Often Do I Have to Recharge the Refrigerant in a 4-ton Heat Pump?
Answer: As long as the system is functioning properly, you won't have to add a fresh refrigerant to the system. However, if there is a leak, the 4-ton heat pump's refrigerant level will drop, resulting in noticeably lower cooling or heating performance.
Our Verdict: Which 4-ton Heat Pump is the Best?
A 4-tone home pump system offers an easy way to control the temperature, humidity, and even the air quality in your home. These systems were commonly used in warm and moderate climates in which temperatures rarely drop below 30F.
Today, nearly all industry-leading manufactures offer models that can be paired with gas furnaces.
So, opting for a model such as the Goodman GVZC20 or the Trane XV19 will enable you to maintain a constant temperature in your home throughout the year, even if you live in a cold climate region.
If you're searching for a more affordable model, we recommend the Carrier Comfort™ 25HCE4 heat pump . Which of the best 4-ton heat pumps are you going to choose?
Let us know in the comments or continue reading out guide to the best HVAC tapes you can use to fix a leaking HVAC system or see how to find the best: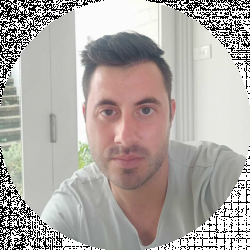 Latest posts by David Borgogni
(see all)