My primary concern when comparing brands like Lennox vs American Standard HVAC Systems isn't the quality of their products, (as they both do a stellar job in this department in my opinion), but how a specific unit fits the context in which I intend to use it.
These brands have impressive product lines that include heat pumps, furnaces, air conditioners, and mini-splits. However, most homeowners favor American Standard over Lennox and similar brands because it has a stronger reputation for making dependable and efficient units that don't break down as often.
In this article, I'll take a closer look at these HVAC system manufacturers to help you determine if American Standard is the better option than Lennox.
Bottom Line Up Front
Buying the most expensive heat pump or air conditioner on the market doesn't always mean you'll get a high-efficiency unit that can last for decades. That's why I prefer to focus on the unit's features instead of its manufacturer when selecting a new HVAC system.
All American Standard models are reliable, but their prices and installation costs are often the limiting factors since brands like Lennox offer much more affordable units.
You might also like: How to find the best window heat pump
Main Differences between Lennox vs American Standard HVAC Systems
The main differences between Lennox vs American Standard are:
American Standard brand is owned by the Ingersoll Rand Company, whereas the Lennox International Company owns the Lennox brand
Lennox's most energy-efficient mini-split has a 28 SEER rating, whereas the most energy-efficient mini-split model in American Standard's portfolio has a 38 SEER rating
American Standard HVAC systems aren't prone to refrigerant leaks, whereas refrigerant leaks are common on some of Lennox's units
Lennox offers ten-year warranties for all of its HVAC systems, whereas American Standard's units come with a 12-year warranty
Check also: The best 3-ton heat pumps
Key Specifications
| | | |
| --- | --- | --- |
| Brand | Lennox  | American Standard  |
| Efficiency ratings | Medium or high | Medium or high |
| Noise levels | Low | Low |
| Refrigerant types | R-32, R-410a | R-410a |
| Indoor unit mounting options | Ceiling, wall mount, low-wall mount | Ceiling, wall mount, low-wall mount |
| Estimated life expectancy | 15 to 20 years | 25 years |
| Length of the warranty period | Ten years | Twelve years |
| Latest prices | Check the latest price here | Check the latest price here |
Evaluating the Features of Lennox and American Standard HVAC Systems
Lennox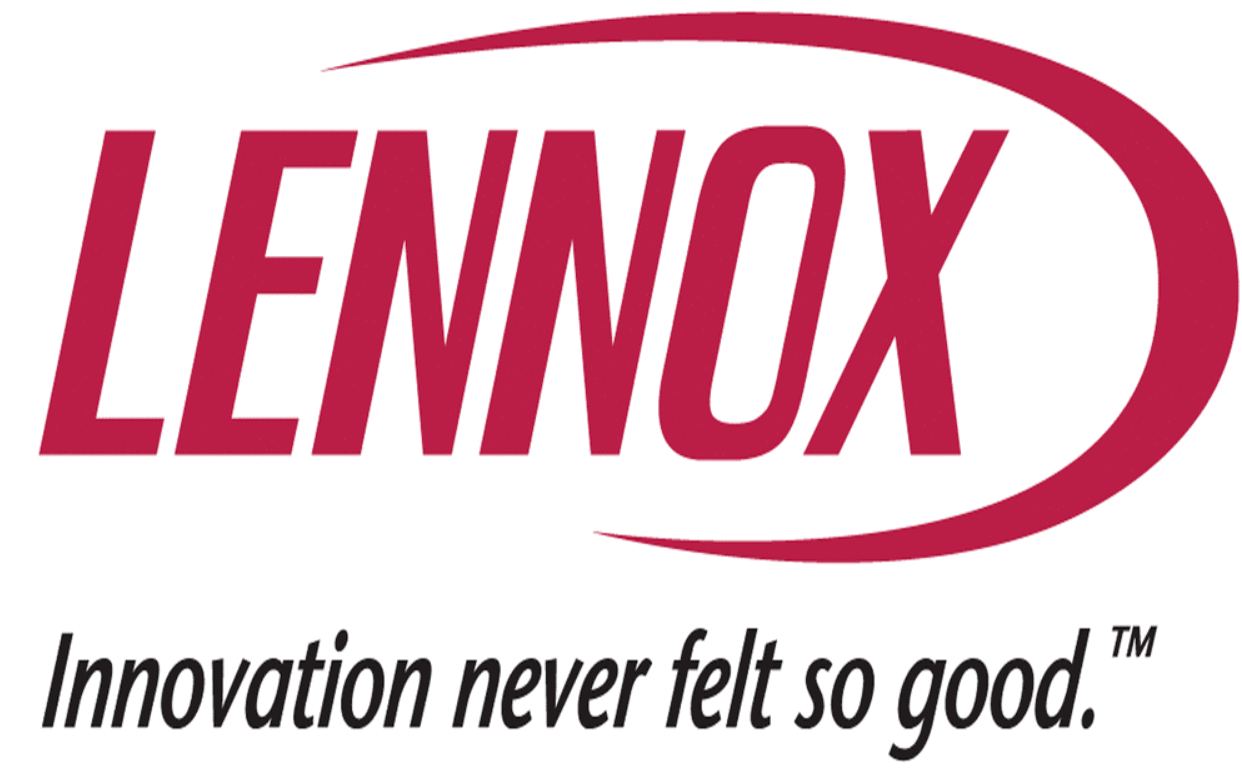 I find it incredible that the Lennox International Company is family-owned businesses more than a hundred years after it was founded.
One of the world's largest privately owned companies that generates over a billion dollars in annual sales and has dealerships in seventy countries, belongs to the Norris family for over a century.
This brand produces some of the most efficient furnaces and heat pumps on the market, but its product line also features affordable models designed for modest budgets.
Units from the Dave Lennox Signature Collection are famous for their performance capabilities, while the Elite and Merit Series contain models with lower SEER and HSPF ratings.
Although they're generally considered durable, you shouldn't expect to use the Lennox HVAC system for more than ten years without repairing or replacing any of its components. However, replacement parts for these units are inexpensive and easy to find.
Please read: The best 2-ton heat pump
Key Features
Most Lennox's HVAC systems make less than 60dB of noise
Lennox produces some of the industry's most energy-efficient units
Nearly all Lennox HVAC systems are Energy Star qualified
Brand's iComfort thermostats are compatible with several mobile apps
Complex installation process
Whole-house HVAC systems usually have ten-year warranties
Lennox furnaces can have AFUE ratings up to 99%
This brand currently offers only six mini-split models
HVAC System Types
Lennox is at the top of my list whenever I need a new HVAC system. Their products aren't absurdly expensive, and they deliver equally impressive performances throughout the year.
The company's product line features all standard HVAC system options, which enables me to choose a unit that is suitable for one room or a large house. Let's go through the characteristics of the HVAC system types Lennox makes:
Ductless systems – The brand produces mini-split systems with SEER ratings up to 28 that function normally at freezing temperatures. However, you can choose from just six models.
Air conditioners and heat pumps – Weather-resistant outdoor unit cabinets, high efficiency, and durable Quantum coils are some of the first things that come to mind when Lennox heat pumps and air conditioners are mentioned. All units from these two categories meet the highest industry standards
Furnaces – Lennox currently offers 17 gas and oil furnace models with AFUE ratings ranging from 80 to 99%.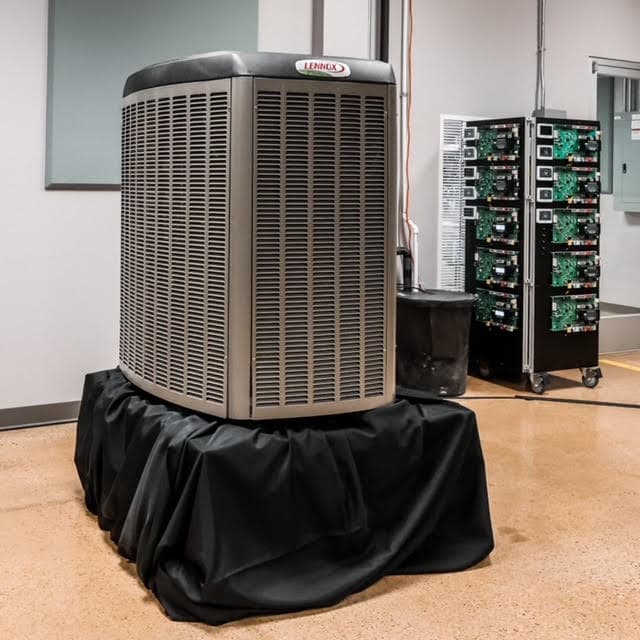 See also: How to find the best furnace blower
Outputs and a Coverage Range of Lennox HVAC Systems
All Lennox's models are available in standard sizes, but I don't think this brand is ideal if you need a system designed for spaces under 1,000sq/ft. Also, I don't like that the manufacturer's website offers little information about sizing options for specific heat pump or mini-split models.
Contacting a local contractor is the easiest way to determine if a unit you're interested in is available in a specific size. Each heat pump or air conditioner model can have between 1.5 and 5 tons, which allows you to pick the right size for your home or any other space.
The coverage range of these HVAC systems doesn't depend only on their maximum BTU outputs, which is why I think that consulting a licensed contractor is the safest way to select the right unit size for the area you'd like to heat or cool.
Energy Efficiency and Power Draw
Even though Lennox produces some of the most energy-efficient heat pumps, mini-splits, and air conditioners on the market, I still think that the brand's selection of high-efficiency models is narrow.
For example, only six heat pump and air conditioner models have SEER ratings over 20, while all other units have SEER ratings between 13 and 18.
Each of these models meets or exceeds Energy Star requirements, and they can save you thousands of dollars of heating and cooling expenses during their lifespan.
The amount of power these units need to run for an hour ranges from less than 1kW to more than 5kW, depending on the model's maximum output. Lennox offers nine furnace models with 93% to 99% AFUE ratings, so finding a model that converts nearly all fuel into heating energy shouldn't be hard.
Please check: The best Pioneer mini-splits
Dependability of Lennox HVAC Systems
Almost all Lennox HVAC systems I've ever used had high maintenance requirements. Also, none of the models I owned had durable parts, and I had to repair them often.
Still, I've never had to replace compressor or evaporator coils on any Lennox HVAC systems I've used. Spare parts for Lennox units aren't hard to find, but some components can be expensive.
Regular maintenance can extend the lifetime of Lennox's models up to twenty years, but you should expect that their parts would break down more often as the system ages. The company's ten-year warranty includes free replacement of faulty components, but you'll have to cover the labor costs.
Climate and extreme weather conditions can shorten the unit's lifespan. So, I recommend checking if the Lennox model you'd like to buy is suitable for the climate in the region where you live.
You might also like: How to find the best heat exchanger
American Standard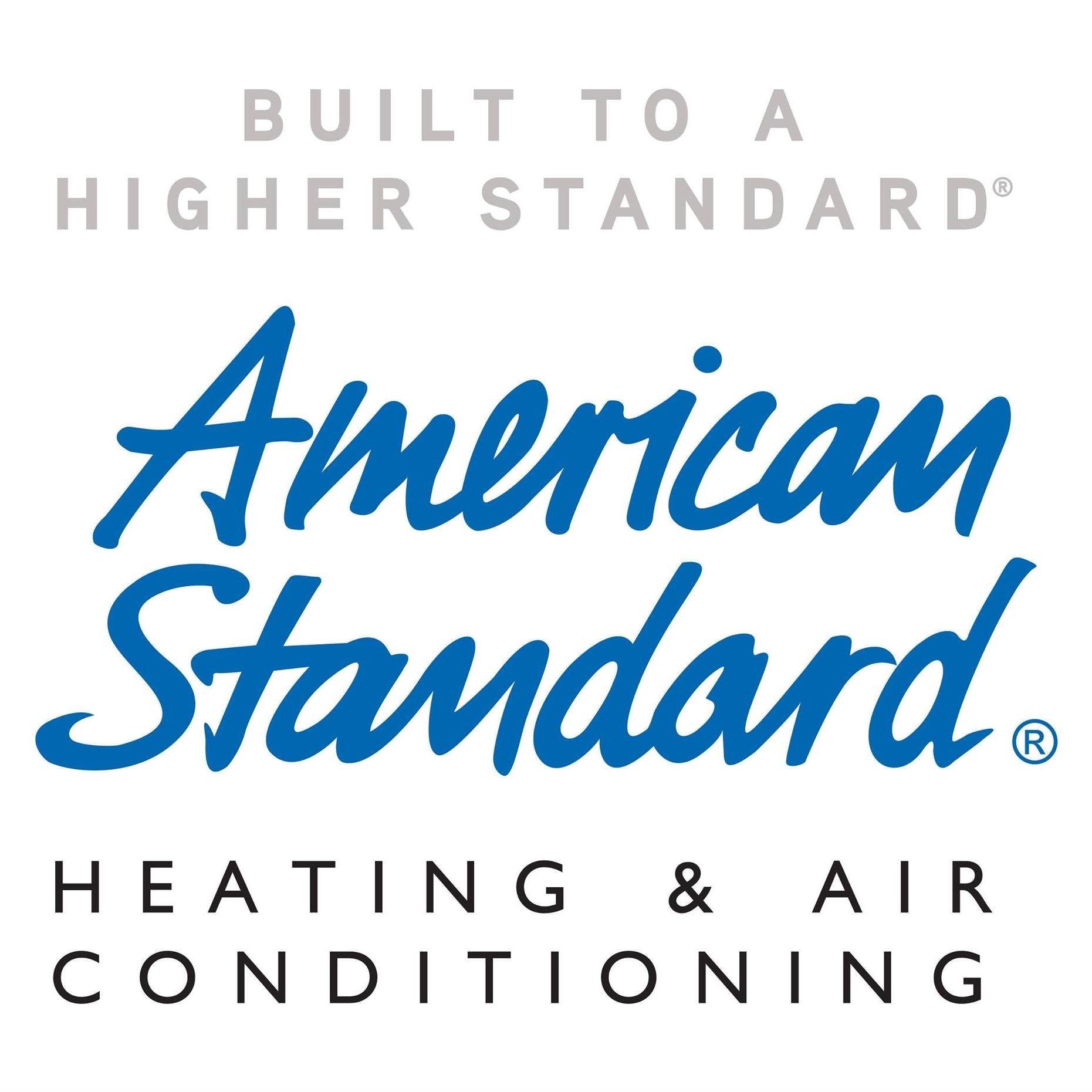 Trane and American Standard brands have been affiliates of the Ingersoll Rand company since 2008. The products these two HVAC brands offer have become increasingly similar in the last few decades, and they're widely regarded as producers of some of the best heat pumps, furnaces, and air conditioners on the market.
Although they're slightly cheaper than Trane models, American Standard's HVAC systems are considerably more expensive than Lennox's units. American Standard has a limited selection of whole-house heating and cooling solutions that are as energy-efficient as units Lennox offers.
American Standard systems have sturdy components that don't wear out after a few years and usually last for more than twenty years. The company offers one of the industry's longest warranties that covers all defects of the unit's components.
I think the American Standard is one of the premier HVAC system manufacturers, and its models are always at the top of my list if I'm searching for a high-efficiency furnace.
Please read: The best RV furnace options
Key Features
All American Standard HVAC systems are quiet
The highest SEER rating of an American Standard unit is 38
Some American Standard products are unavailable outside of the United States
All models have an advanced temperature, air quality, and humidity control features
Installation costs of American Standard HVAC systems can exceed $5,000
American Standard has an excellent selection of furnace models that have AFUE ratings higher than 95%
Excellent warranty coverage
Some models are compatible with the American Standard Home app
HVAC System Types
I think the American Standard's range of heat pump and air conditioner products is surprisingly small for a luxury brand. Both product categories include around fifteen models released within the Silver, Gold, and Platinum series, and each series can contain single-stage, two-stage, and variable cooling/heating stages models.
Also, you can purchase the All-Weather Top Accessory Kit that protects the air conditioner's or heat pump's outdoor compressor from extreme weather conditions. These units are equipped with American Standard's Duration compressors and Spine fins.
In contrast, I like the versatility of American Standard's furnace product line, which contains various models with different AFUE ratings.
Some furnace models are compatible with American Standard's heat pump and AC units, which enables you to combine them into a highly-efficient whole-house cooling and heating system. Even though the brand produces mini-split units, most models are only sold in the United States.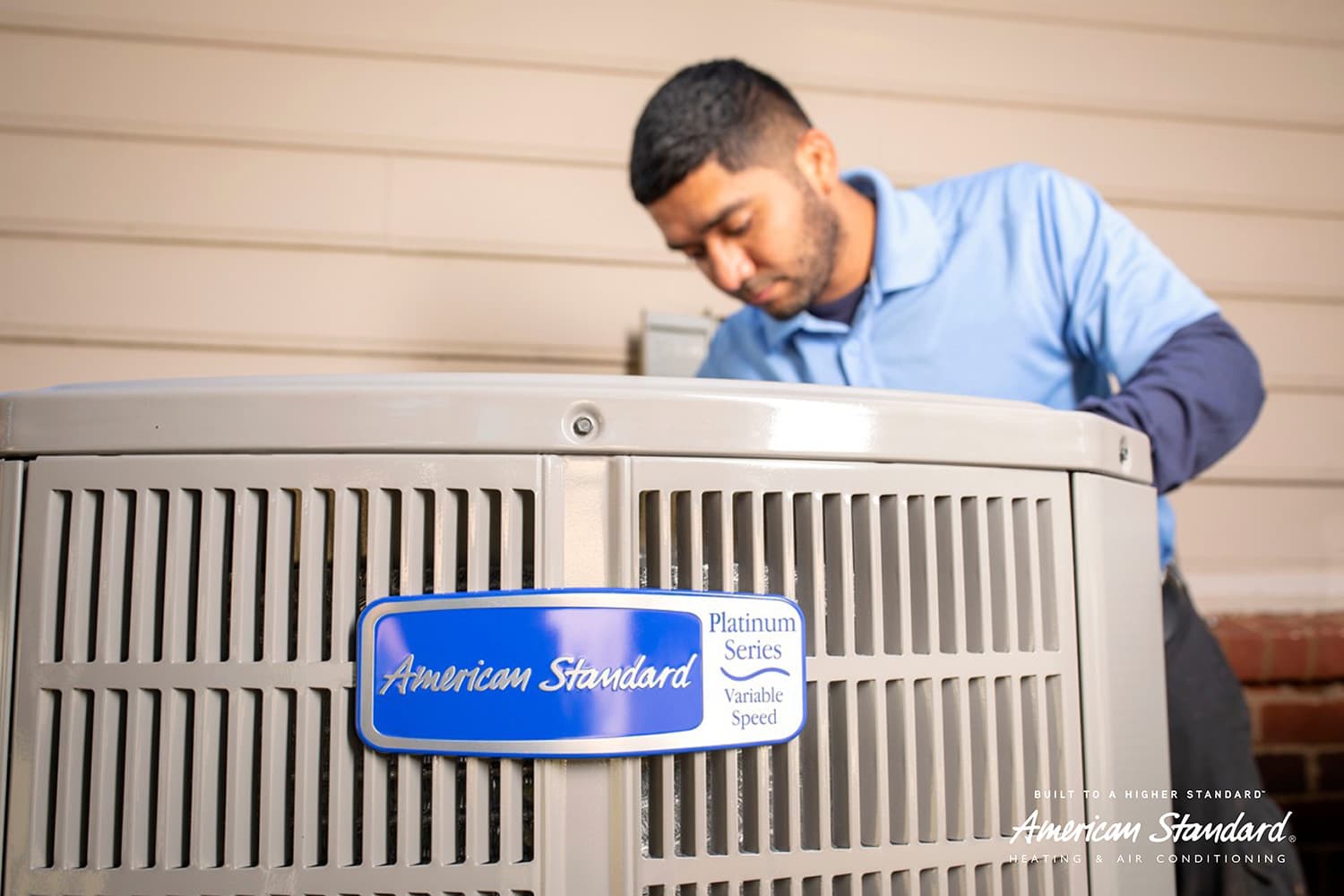 Outputs and a Coverage Range of American Standard HVAC Systems
Lennox and American Standards produce units for spaces of all sizes, and the capacities of their systems span from 9,000 BTU to 80,000 BTU.
The company has a vast contractor network you can use to find a licensed technician that can help you estimate the unit size that fits the requirements of the area you'd like to cool or heat.
The maximum coverage of a five-tone air conditioner is approximately 2,500sq/ft, while a furnace with the same output can only heat around 1,320sq/ft in a moderate climate. So, the coverage of an American Standard HVAC system you choose will also depend on its type and climate in your region.
In addition, some American Standard mini-split models aren't available in sizes above the 2-ton mark, which makes checking the unit's sizing options necessary.
What I like the most about American Standard products is that they provide even heating or cooling throughout their coverage area, so their owners don't have to look for ways to eliminate cold and hot spots.
Energy Efficiency and Power Draw
Although it may seem like Lennox offers more efficient HVAC systems than American Standard, it is quite the opposite. Lennox has a single heat pump model with SEER 28 rating, while American Standard offers a variety of air heat pumps and air conditioners with SEER 20 or lower ratings.
According to the manufacturer, some of these models use up to 50% less power than the similarly sized units produced by competing brands.
However, their power consumption depends on their maximum output, so a 50,000 BTU version of an American Standard heat pump will draw more power than a 24,000 BTU version of the same model.
Both brands offer various high-efficiency furnace models, but American Standard has a slightly better selection of Energy Star qualified models.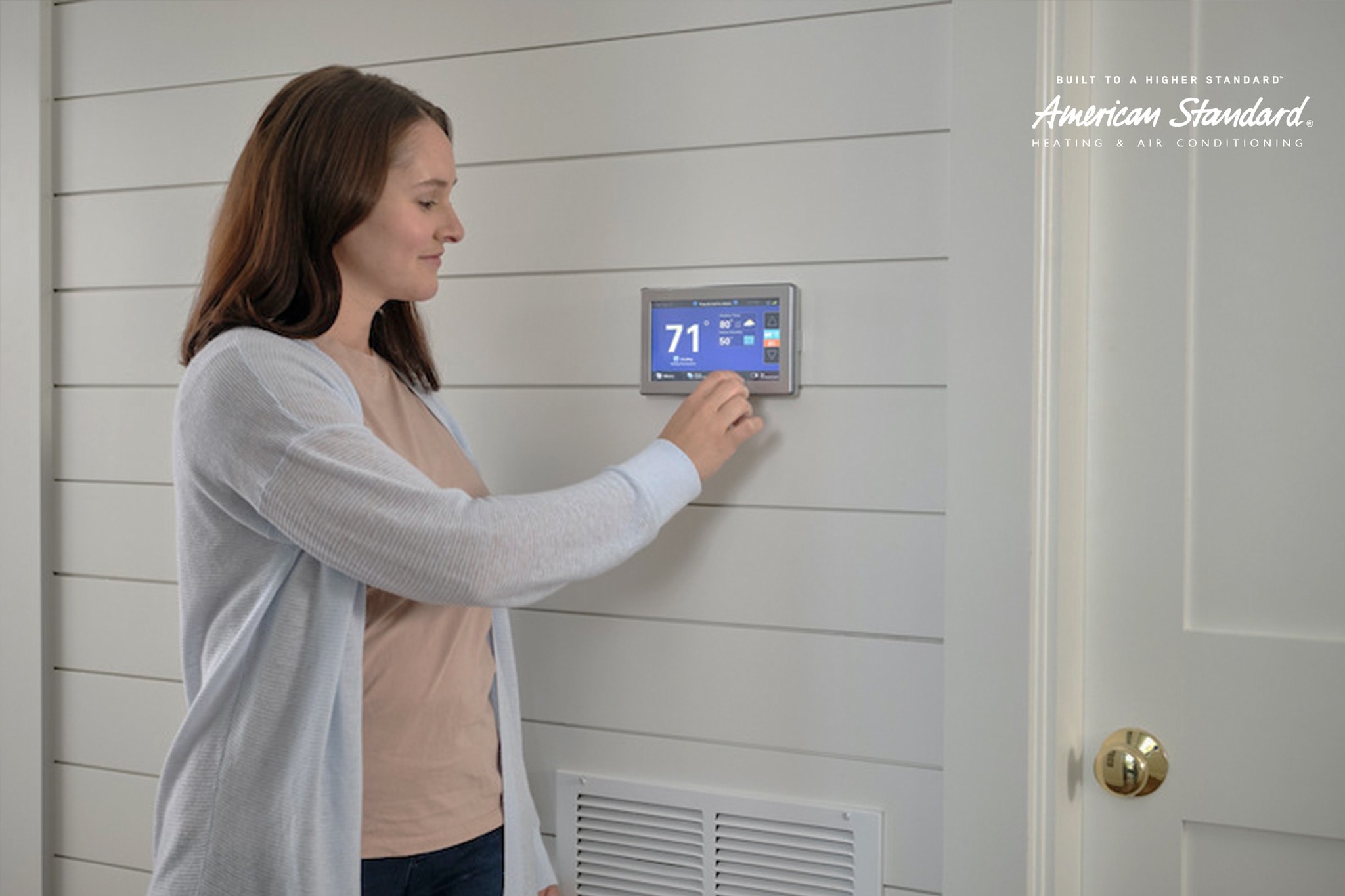 Dependability of American Standard HVAC Systems
You'll have to look hard to find a more reliable HVAC brand than American Standard. Aside from its sister company Trane, American Standard doesn't have much competition when it comes to the durability of its HVAC systems.
Each unit has high-quality parts designed to withstand daily wear and tear. However, finding a replacement for a faulty component on an American Standard HVAC system was one of the hardest things I had to do, even though I had the part's serial number.
The availability of the brand's OEM parts is limited, especially outside of the United States, which is why I recommend obtaining replacement parts for your American Standard unit through a licensed dealer.
Prices of the company's HVAC systems range from $3,500 to $12,000, but installation costs are included in the price.
Lennox vs. American Standard – Pros and Cons
Lennox
Pros
Most Lennox HVAC systems are Energy Star qualified
All models are available in multiple sizes
Some Lennox units can reduce heating and cooling costs by 60%
Almost all models have Smart features
Cons
Lennox HVAC systems are prone to refrigerant leaks
Most models have high upkeep requirements
American Standard
Pros
The company offers a weather-proof cabinet accessory
American Standard units usually last for more than two decades
The brand offers a wide selection of high-efficiency furnaces
All American Standard products have excellent warranty coverage
Cons
High installation costs
Some company's products are unavailable outside of the United States

The Best Alternatives to Lennox and American Standard HVAC Systems
I like to keep my options open and contact several dealerships of my favorite HVAC brands to compare their offers for the space where I want to install a new heating or cooling system. This also allows me to learn more about the features of heat pumps, central ACs, or furnaces made by industry-leading brands.
So, if you're not sure that Lennox or American Standard brands are the right options, I recommend exploring alternatives to these brands. Here are some of my favorite HVAC brands: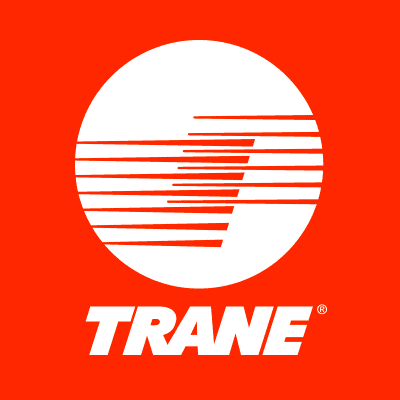 American Standard and Trane are premium brands that offer a broad spectrum of high-efficiency models. Most of their units use the same parts and technologies, so the differences between their heat pumps or furnaces are often miniscule.
Trane's portfolio features slightly more high-end models than American Standard's product portfolio. Their warranty is two years shorter than the one you'd get if you opt for an American Standard whole-house model. The price difference between American Standard and Trane is marginal, but Trane is still a more expensive brand.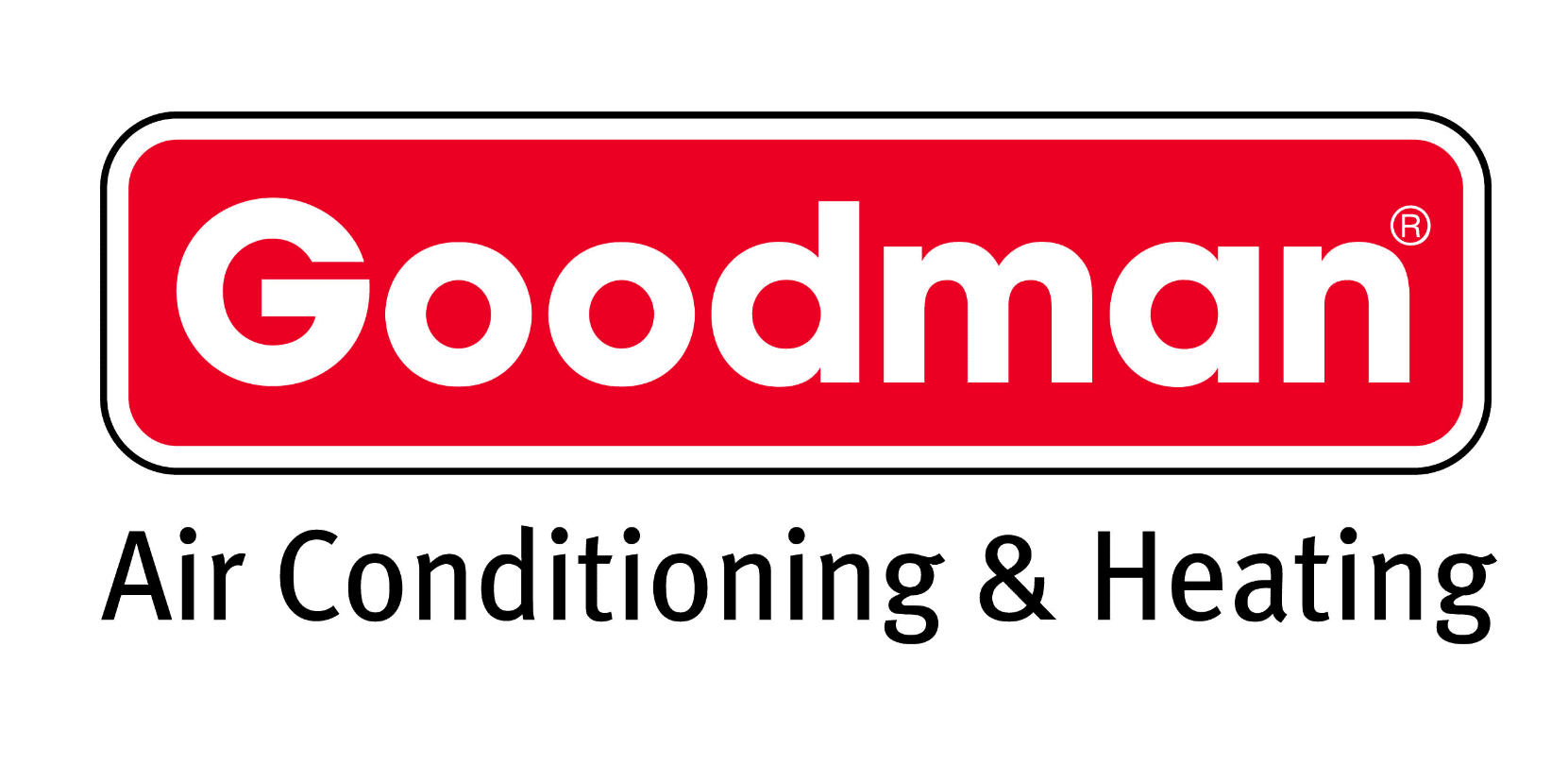 It's hard to exclude Goodman from a discussion about the best HVAC brands. The brand belongs to the Daikin Group, and its products are similar to those released under the Daikin brand.
Most Goodman's central air conditioners and heat pumps have excellent HSPR and SEER ratings, but the brand also offers entry-level units with SEER 13 ratings. The company offers HVAC systems in a similar price range as Lennox, and it can be a good option if you're looking for a reasonably priced unit.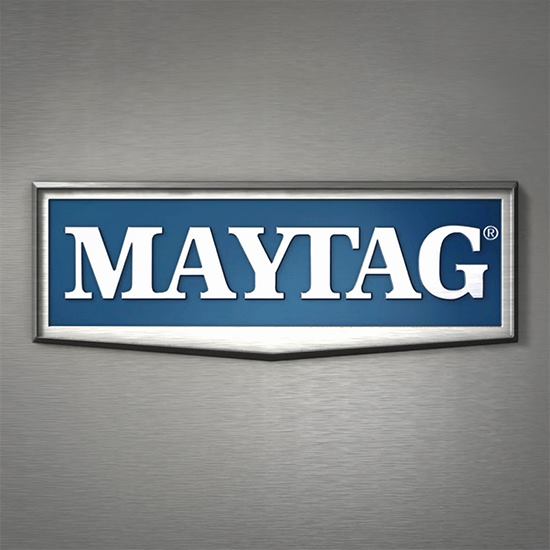 I think Maytag is an excellent alternative to Lennox and American Standard brands because its products aren't expensive. The brand doesn't manufacture mini-split systems, so you should only consider it if you need a heat pump, furnace, or central AC.
Maytag's 12-year warranty covers the system's parts and labor and isn't limited to the outdoor component. However, its AC and heat pump models don't have high SEER ratings, but most models have SEER ratings over 15.
Frequently Asked Questions about American Standard and Lennox HVAC systems
Question: Does Lennox offer tech support?
Answer: Yes, reaching tech support is easy, and you can contact them through the company's website.
Question: Is American Standard offering financing options for its HVAC systems?
Answer: Yes, all company's dealerships offer multiple monthly payment options.
Question: Why do Lennox HVAC systems leak so often?
Answer: Some systems utilize copper tubing that corrodes over time and causes refrigerant leakages.
Please check our guide to the best Fujitsu mini-splits if you want to learn more about the company's ductless systems.
My Verdict: Which Brand to Choose, American Standard or Lennox?
Whenever I search for a new HVAC system, my ultimate goal is to get a unit I can use for a long time. So, following this line of thought, I would pick American Standard over Lennox every time, as the company produces energy-efficient units that don't break down often.
However, my budget is usually limited, and in most situations, American Standard units are simply out of my price range. I consider Lennox's models an excellent alternative to American Standard because they're almost equally efficient and considerably less expensive.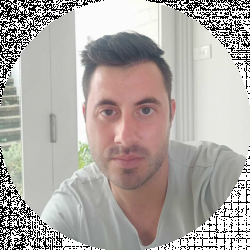 Latest posts by David Borgogni
(see all)