I believe all homeowners should have the same mission when searching for a new HVAC system. Their goal should be, at least in my opinion, to find a unit that delivers a perfect balance between value and comfort.
Most people think buying a Trane HVAC unit is a safe solution because the brand name vouches for the system's longevity and quality. The brand's residential heating and cooling systems are among the best market, even though some models come with hefty price tags.
Investing in an efficient Trane HVAC system pays off because it lowers the household's cooling and heating expenses for the next fifteen years.
In this Trane XR14 vs XR16 comparison, I'll examine the features and performance capabilities of these units to help you decide which one better fits your home and budget.
You might also like: Trane vs. Carrier HVAC Systems
Bottom Line Up Front
I'd like to clarify that Trane XR14 and XR16 models can be air conditioners or heat pumps, and their features depend on the system type. I'll focus on heat pump versions of these units in this article.
Comparing these units shows that the Trane XR16 is the more efficient option that draws less power throughout the year and provides a higher level of comfort. The XR14 is the brand's entry-level heat pump best suited for limited budgets.
Main Differences between Trane XR14 vs XR16
The main differences between Trane XR14 and XR16 heat pumps are:
Trane XR14 has a single-stage compressor, whereas the XR16 model can have a single-stage or two-stage compressor
The XR16 heat pump is Energy Star Qualified, whereas the XR14 unit doesn't meet the Energy Star standards
The XR14 doesn't have WeatherGuard fasteners, whereas the Trane XR16's outdoor cabinet is equipped with these rust-proof fasteners
Trane XR16 delivers up to 38% of annual energy savings, whereas the XR14 model can reduce a household's annual power consumption by 28%
Read also: Rheem vs Trane HVAC systems
Key Specifications
The Essential Characteristics of Trane XR16 and XR14 Systems
Trane XR14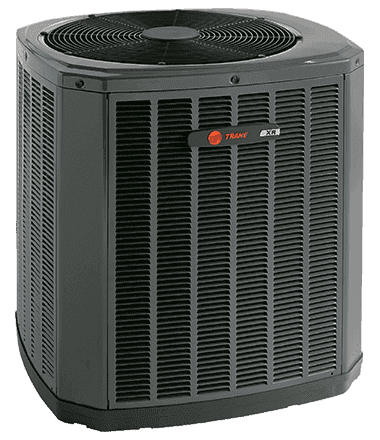 All products in Trane's portfolio are reliable. So, even an entry-level unit like the XR14 can last for more than 15 years if properly maintained.
This model isn't ideal for all spaces because it cannot effectively tackle hot spots and prevent temperature spikes. Most importantly, this unit doesn't have the Energy Star label, and its seasonal heating and cooling ratings are somewhat disappointing.
The XR14 cannot heat a home when outdoor temperatures drop below 30F, which makes it only suitable for moderate climates. However, dual-fuel compatibility allows you to pair it with a Trane furnace and create a hybrid system that can keep your home warm throughout the winter.
Consequently, I don't think the Trane XR14 should be your go-to option if you're located in a region with a cold climate.
Please check: Bryant vs Trane HVAC systems
Key Features
Trane XR14 has a Climatuff compressor
The unit's noise level ranges from 71dB to 76 dB
The outdoor cabinet has baked-on powder paint
The model's size varies from 1.5 to 5 tons
The unit has up to SEER 14 and 8.2 HSPF
Trane XR14 utilizes the SpineFin outdoor coil
The heat pump has one fan stage
It's compatible with select Trane air handlers and furnaces
Main Components
The compressor and coil are the most important parts of any heat pump system. Like all other ACs and heat pumps in the brand's portfolio, the Trane XR14 utilizes a Climatuff compressor and SpineFin outdoor coil.
These components are efficient and long-lasting, so you won't have to worry about refrigerant leaks or repair the unit often.
This model has a single-stage compressor that can only operate at maximum capacity, which prevents it from neutralizing temperature differences between floors or hot spots.
It's also worth adding that the compressor doesn't have sound insulation and is slightly louder than the XR16 model. The XR14's outdoor cabinet is weather-resistant because it has steel louvers and powder coating.
Even so, prolonged exposure to the elements might cause corrosion and damage the cabinet. The unit's dimensions depend on the system configuration and vary from 33x30x29 inches for a 1.5-ton model to 37x34x47 inches on a 5-ton version of this heat pump.
Check also: York vs Trane HVAC systems
Tonnage and Coverage
All Trane's heat pump models are available in different sizes, and you can select from six variants of the XR14 unit. Each version of this system has a model number that also contains its tonnage.
For instance, the 024 section of the 4TWR4024N100A model number indicates the system's maximum output is 2 tons or 24,000BTUs. The XR14 heat pump's size spans from 1.5 to 5 tons, which makes this model suitable for 600 to 2.500sq/ft spaces.
Still, you shouldn't estimate the heat pump size alone because their coverage depends on countless contextual factors. A licensed Trane contractor can help you select the correct size of the XR14 system for your home.
I'd like to remind you that the 5-ton variant of this heat pump is more expensive than its 1.5-ton version.
Energy Efficiency and Savings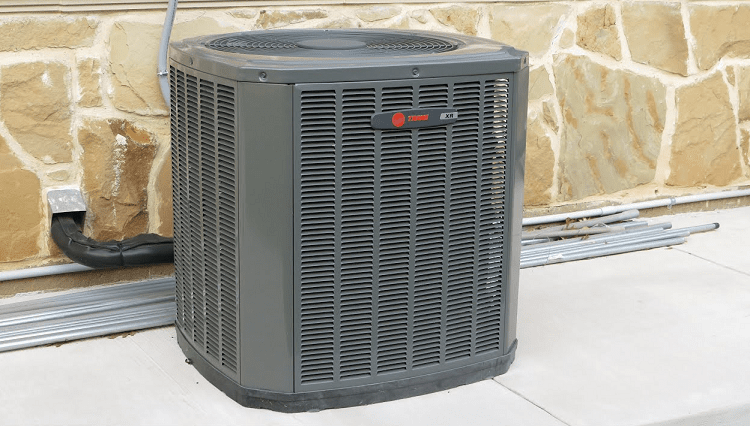 The manufacturer claims that the XR14 heat pump can lower a household's annual power consumption by 28%. Trane conducts testing under specific conditions, so this stat doesn't indicate the unit's performance in all climates and weather conditions.
Focusing on the XR14's SEER and HSPF ratings offers a much more realistic picture of its performance capacities. The model's maximum energy efficiency rating during summer is 14, which makes it one of the brand's least efficient heat pumps.
The 8.2 HSPF ratings suggest that XR14 needs a lot of power to heat a home. Don't forget that both of these values represent the heat pump's highest efficiency and that its efficiency can be much lower under unfavorable conditions.
This model is one of the rare Trane heat pump systems that aren't Energy Star qualified. So, you shouldn't expect massive energy savings if you choose the XR14 unit.
Price and Warranty
Trane produces some of the most expensive HVAC systems on the market, and even a low-end model like the XR14 can cost over $5,000 after installation. The only way to determine the unit's price is to contact the local contractor because the brand doesn't include pricing on its website.
How much you'll have to spend on the XR14 heat pump depends on the quality of your home's ductwork, unit size, and the complexity of the installation process, among other factors. The model's average price varies from $5,000 to $7,500 with installation.
All Trane products are covered by the Base Limit Warranty for five years. Still, you can extend the warranty period to ten years by registering the unit within two months after installation.
Base and Registered warranties don't include labor costs, but you can inquire at a local dealership about Extended Warranty options that cover the costs of repairing and replacing faulty parts.
Trane XR16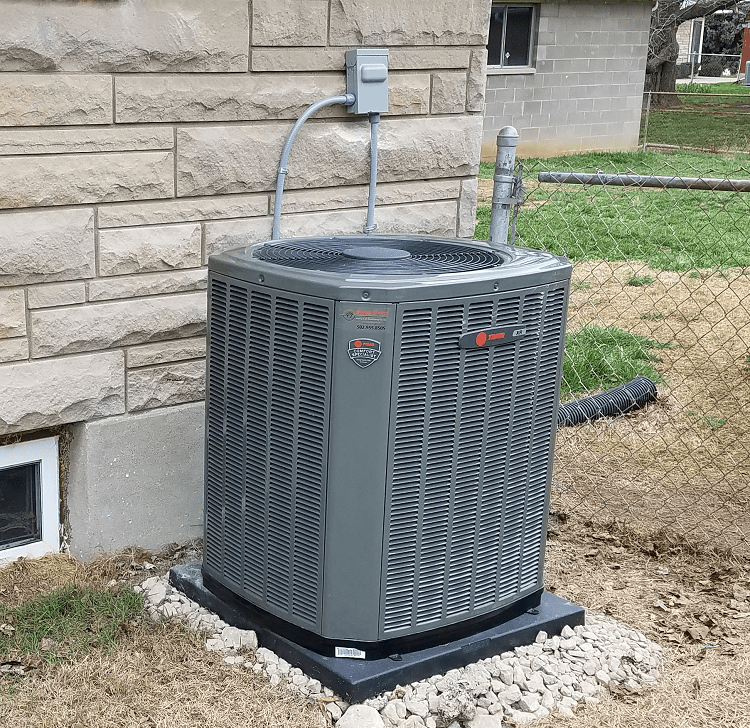 Trane's best heat pump models have variable compressors and seasonal efficiency ratings in the 18 to 20 range. So, the single-stage and two-stage versions of the XR16 unit aren't among the brand's top models because they're moderately efficient.
Still, these units are considerably more efficient than the XR14 model, as their estimated yearly energy savings are between 38% and 42%, at least 10% more than what the XR14 unit offers.
The XR16's two-stage compressor enables it to operate at 60% to 65% of its maximum capacity 80% of the time, which is why it draws less power than a unit like the XR14, which always operates at full capacity.
These units have the same operating temperature range, and you must consult a contractor if you want to use them in cold climates. Both versions of the XR16 heat pump are Energy Star qualified.
Key Features
The XR16 heat pump can have a single-stage or two-stage Climatuff compressor
Some versions of this unit have sound insulation
The outdoor cabinet has the DuraTuff base pan
The model's maximum efficiency is 17 SEER and 9.5 HSPF
The unit makes between 71 and 75 dB of noise
Dual-fuel compatibility
This heat pump uses Spine Fin coils
Cabinet dimensions depend on the unit's tonnage
Main Components
The compressor is the only notable difference between the single-stage and two-stage versions of the XR16 heat pump. All other components of these systems are identical except for the sound insulator on the compressor of the two-stage model.
Their outdoor cabinets have WeatherGuard fasteners and DuraTuff base pans that aren't included on the XR14 unit.
Moreover, XR14 and XR16 have Spine Fin aluminum coils that aren't prone to rust and deliver higher efficiency than conventional copper coils.
The dimensions of the single-stage XR16 heat pump are the same as the dimensions of the XR14 unit, while all versions of the two-stage XR16 are bigger than either single-stage model. Their noise levels are nearly identical, as XR14 is marginally louder than XR16.
All versions of the XR16 utilize the Vortica II Blower and the multi-port in-shot burners.
Tonnage and Coverage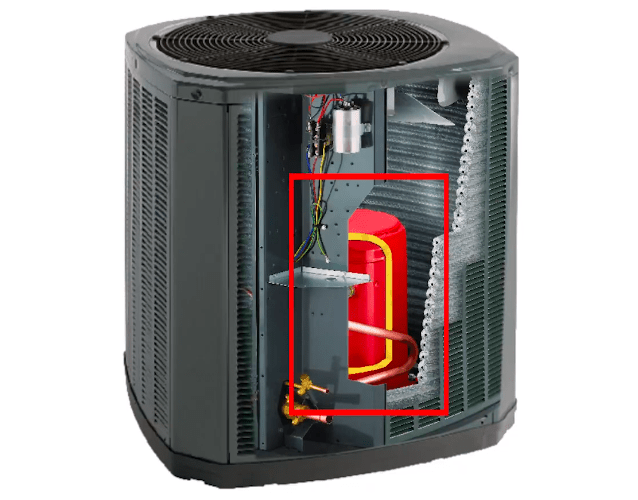 The XR14 and the single-stage version of the XR16 model have the same sizes. These units come in seven different sizes, and their outputs span from 18,000 BTUs to 60,000 BTUs.
The two-stage XR16 unit isn't available in sizes under three tons, and it's only suitable for 1,500sq/ft or larger spaces. The highest output of a two-stage XR16 heat pump is 5 tons.
So, if you're searching for a heat pump that can control the temperature in a relatively small home, you may want to consider buying the XR14 or the single-stage version of the XR16 unit, while the two-stage XR16 model is a great fit for large homes or commercial venues.
Also, a two-stage heat pump can help you reach an even temperature in all parts of your home and eliminate sudden temperature oscillations.
Efficiency and Energy Savings
A brief look at the XR16's and XR14's spec sheets reveals which model has higher efficiency ratings. The XR16 model has SEER 17, and HSPF 9.6 ratings, which indicates it draws less energy during summer and winter than the XR14.
The comparison of single-stage and two-stage versions of the XR16 heat pump shows that both variants have similar cooling efficiency. However, the two-stage XR16 model has a considerably lower HSPF ratio than the single-stage model.
Despite this, the manufacturer claims that all XR16 units equipped with two-stage compressors can reduce the household's cooling and heating expenses by more than 40% per year. On the other hand, a single-stage XR16 unit's average annual energy savings are around 38%.
Trane's two-stage compressors are more durable and provide more comfort than single-stage compressors.
Price and Warranty
It's difficult to estimate the exact cost of a 4-ton or 3-ton XR16 heat pump, but its seasonal efficiency and features indicate it is more expensive than the XR14 model. Its price should be similar to other Trane mid-range heat pumps and vary from $6,000 to $10,000.
The XR16 unit with the single-stage compressor is more affordable than the two-stage version.
I want to point out that the offer you might get for an XR16 system also depends on the contractor. So, contacting several Trane dealerships will enable you to compare the prices and choose the best quote. Reaching out to local dealers will allow you to learn more about the available guarantee options.
Trane XR14 vs XR16 – Pros and Cons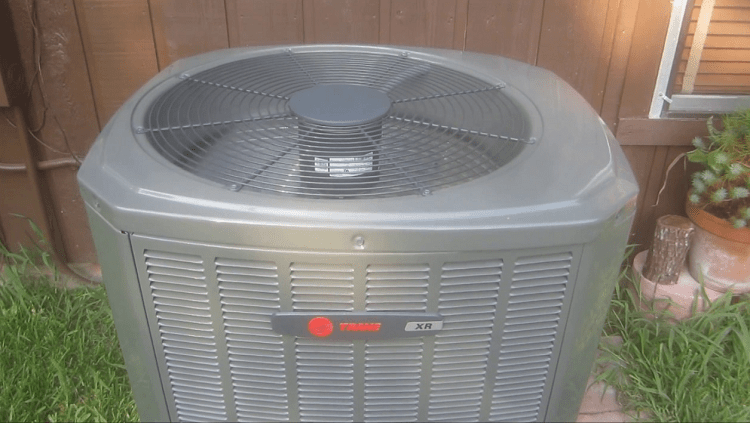 Trane XR16 Pros
The unit has a rugged, weather-resistant cabinet
This heat pump isn't prone to refrigerant leaks
It has a high energy-saving potential
The system functions quietly
Trane XR16 Cons
Learning to replace the air filter takes some practice
The unit's efficiency decreases in freezing temperatures
Trane XR14 Pros
An affordable cooling and heating option for smaller homes
All parts undergo rigorous testing
The XR14 can last for 15 years or more
Compact outdoor cabinet dimensions
Trane XR14 Cons
The XR14 is one of Trane's least efficient heat pump models
The outdoor cabinet doesn't have WeatherGuard fasteners
The Best Alternatives to XR14 and XR16 HVAC Systems
Trane has only ten heat pump models in its product portfolio. Your options will be even more limited if you're searching for a variable speed or two-stage unit.
Still, each brand's heat pump system offers excellent value for money. You'll get a powerful unit capable of excellent heating or cooling performances even if you choose a single-stage model. Here are a few Trane heat pump units that can be excellent alternatives to the XR16 and XR14 systems.
Trane XV20i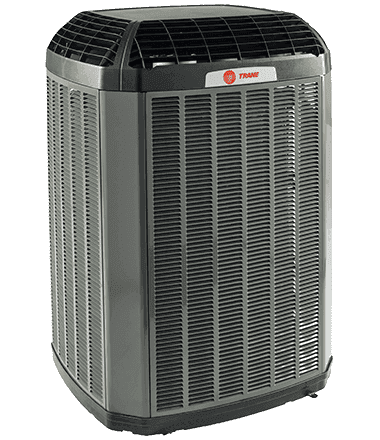 Understanding why the Trane XV20i is the brand's best model doesn't take long. This variable-speed heat pump maintains high efficiency in hot and cold weather and can slash your monthly electric bill by 50%.
The unit is compatible with ComfortLink technology, which enables it to communicate with the thermostat and optimizes its power consumption. The XV20 heat pump has the Energy Star label and was voted the most efficient heat pump in 2019.
Trane XR15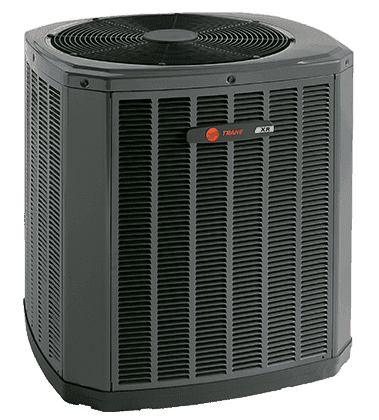 The XR16 and Trane XR15 models are almost identical. Their SEER and HSPF ratings are the same, and both models have single-stage Climatuff compressors. However, the brand doesn't offer a two-stage version of the XR15 heat pump.
The unit's cabinet doesn't corrode quickly and protects the system's components from the elements. Some configurations of this system have sound-insulated compressors that lower their noise levels.
Trane XL17i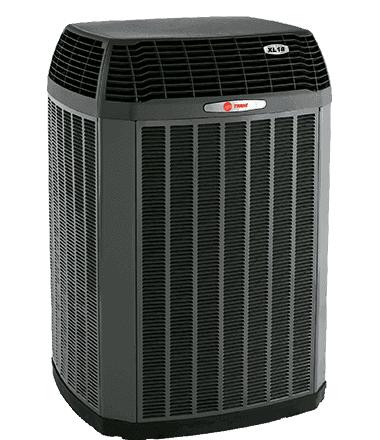 If you'd like to buy a two-stage Trane heat pump, the XL17i and XR16 are your only options. Even though both units have the same SEER and HSPF ratings, the XL17i model has a slightly higher energy-saving capacity.
This heat pump has a variable-speed fan motor and low airflow resistance which maximizes its efficiency. The minimum size of this system is two tons, so you should only consider it if you need a heat pump for a space larger than 800sq/ft.
Frequently Asked Questions about XR14 and XR16 Heat Pumps
Question: Can I Buy the Trane XR14 Heat Pump From the Manufacturer?
Answer: All Trane products, including the XR14 heat pump, can only be purchased from authorized dealers.
Question: How Long Do I Have to Wait After I Oder the XR16 Heat Pump?
Answer: Waiting times depend on the contractor, and you may have to wait more than a month to install the XR16 heat pump.
Question: Can I Connect the Trane XR14 Heat Pump to a Smart Thermostat?
Answer: This model isn't compatible with a Smart thermostat, and you can use it with the brand's conventional thermostats.
Looking to find out more about the heat pumps Trane's competitors offer? Our guide to the best Bryant heat pumps can help you discover powerful and affordable systems.
Final Thoughts
I know how confusing heat pump spec sheets can seem to someone who's not familiar with the HVAC industry lingo. Still, determining if the XR14 heat pump is better than the XR16 model is easy, even if you're new to the HVAC market.
The XR14 is a single-stage heat pump with low-efficiency ratings and basic features. This doesn't make it unreliable, and I think this unit can be an excellent choice if you don't have the budget for one of Trane's more advanced models.
The XR16 system can have a single-stage or a two-stage compressor. Both versions are more efficient than the XR14 model and are a solid choice if you want to reduce your electricity bill on heating and cooling.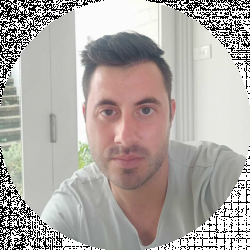 Latest posts by David Borgogni
(see all)