I avoid generalizations, both in my personal and professional life. I suggest doing the same when approaching the HVAC market because brand names won't tell you much about the quality of products.
The truth is that top brands like Trane, Lennox, or Carrier also offer affordable HVAC systems, while some models produced by mid-range or entry-level brands such as Goodman, York, or Rheem can be costly.
You might be wondering then, how to know which brand to choose? My advice is to do the following:
Have a professional assess your home's heating or cooling needs 
Shortlist several Carrier and Rheem models in your price range
Inquire about warranty details
Compare quotes offered by different contractors
Picking the right whole-house cooling or heat system can be complicated, even if you follow these steps. In this Rheem vs Carrier comparison, I'll cover all aspects of their products that could help you pick the HVAC manufacturer that meets your demands.
Related article: Trane vs Carrier HVAC systems
Bottom Line Up Front
You don't have to be a seasoned professional to understand why Carrier is one of the world's best HVAC manufacturers. Its systems are among the most energy efficient in the industry, meet EPA standards and last for decades.
Rheem's models don't provide the same quality level as Carrier's. Still, you won't always get better value for money by choosing Carrier over Rheem.
Buying Rheem's affordable but efficient model might be a good move if you don't have the budget for a Carrier system.
Main Differences between Rheem vs Carrier HVAC Systems
The main differences between Carrier and Rheem HVAC systems are:
Carrier systems can have cooling energy efficiency up to 26 SEER, whereas the best Rheem HVAC system has 21.95 SEER
Rheem HVAC units have evaporator and condenser coils with aluminum fins and copper tubing, whereas Carrier's system utilizes all-aluminum coils
Carrier's best models utilize the Greenspeed Intelligence technology, whereas Rheem's top units use the EcoNet Smart Monitoring System
Rheem furnaces have a PlusOne ignition system, whereas Carrier furnaces use standard electronic ignition systems
You might also like: Bryant vs Rheem HVAC systems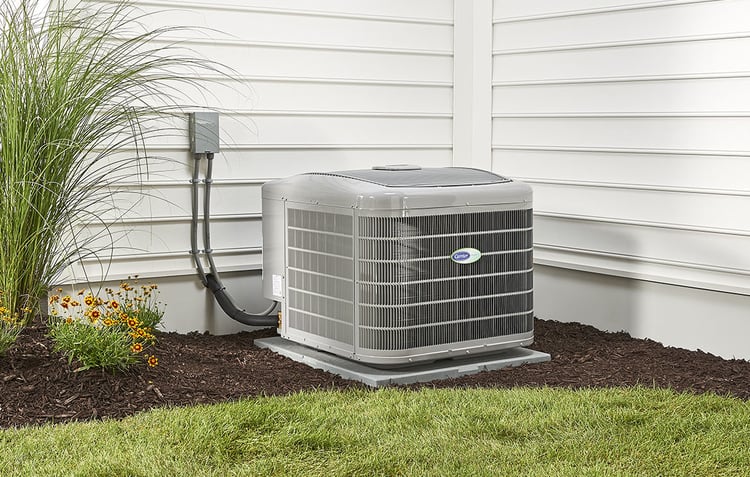 Key Specifications
| | | |
| --- | --- | --- |
| Brand  | Carrier | Rheem  |
| Average Product Life | Up to 25 years | Up to 15 years |
| System Efficiency | High or medium | Medium |
| Refrigerant Types | Puron | R-410a |
| Noise Level | 50 dB to 75dB | 65dB to 75 dB |
| Warranty Coverage | Ten-year parts and limited lifetime warranty | 20-year warranty for main system components and ten-year parts warranty |
| Latest Price | Check the latest prices here | Check the latest prices here |
The Main Features of Rheem and Carrier HVAC Systems
Rheem
Although the brand's annual revenue in 2021 was $5 billion, Rheem's HVAC market share is lower than Carrier's or Trane's.
Rheem is among the world's most successful HVAC companies, with manufacturing facilities and distribution centers in over twenty countries.
Even though its history began in the mid-1920s, the company didn't start producing HVAC systems until the 1970s, which makes its success even more impressive. Rheem was purchased by the Japanese company Paloma Industries in the late 1980s and remains its subsidiary more than three decades later.
Shortly after the acquisition, Rheem became the first brand to use a scroll compressor in a residential HVAC system, and years later, its units have some of the highest-quality compressors in the industry.
Its products aren't as long-lasting as those offered by top HVAC brands, as their lifespan rarely exceeds fifteen years.
See also: The best Rheem heat pump guide
Key Features
Rheem offers two EcoNet thermostat models
Most heat pump and AC units have single-stage compressors
The brand offers multiple warranty coverage options
Several Rheem gas furnaces have fuel efficiency ratings higher than 96% AFUE
A large assortment of mini-split models
Most products are eligible for rebates
Outdoor cabinets are weather-resistant
All units have built-in defrost function

Product Lines
The scope of Rheem's products can be overwhelming if you're don't know exactly what you're looking for. The brand's residential HVAC cooling and heating models come from these categories:
Furnaces
Mini-splits
Air Handlers
Heat Pumps
Air Conditioners
These categories contain ten or more units with different features and energy efficiency ratings. So the fastest way to determine a model's performance capacity is to check in which series it was released. All Rheem products come from these collections.
Prestige series models have the most advanced features and the highest SEER and HSPF the brand can offer. However, this product line features only a few units, so you'll have more options if you consider a Classic or Select series model.
These systems are moderately efficient and don't have all the bells and whistles that come with the brand's premium units.
Check also: Ruud vs Rheem HVAC systems
Coverage Area and Tonnage
I advise against choosing the system size on your own, even if you're in the process of replacing an old HVAC system and already have an idea of the unit tonnage you're searching for.
Units released in the last five years are more powerful and efficient than the ones you want to replace. Hence, one of the latest Rheem models might have a wider coverage area even though it has the same tonnage as your old unit.
Rheem heat pumps are available in 1.5-ton to 5-ton sizes, but some system configurations only come in the 1.5-ton to 3-ton range. The maximum output of the brand's gas furnaces is 150,000 kBTU, and their maximum coverage area is around 2,500 sq/ft.
Multiple contextual factors that range from the home's ceiling height to the region's weather averages can affect the scope of the HVAC system's coverage area. This is another reason you should consult a Rheem technician before selecting the unit size.
Related article: Rheem vs Trane HVAC systems
Seasonal Energy Efficiency
Focusing solely on SEER might misguide you and make you think that Rheem heat pumps are considerably less efficient than Carrier's.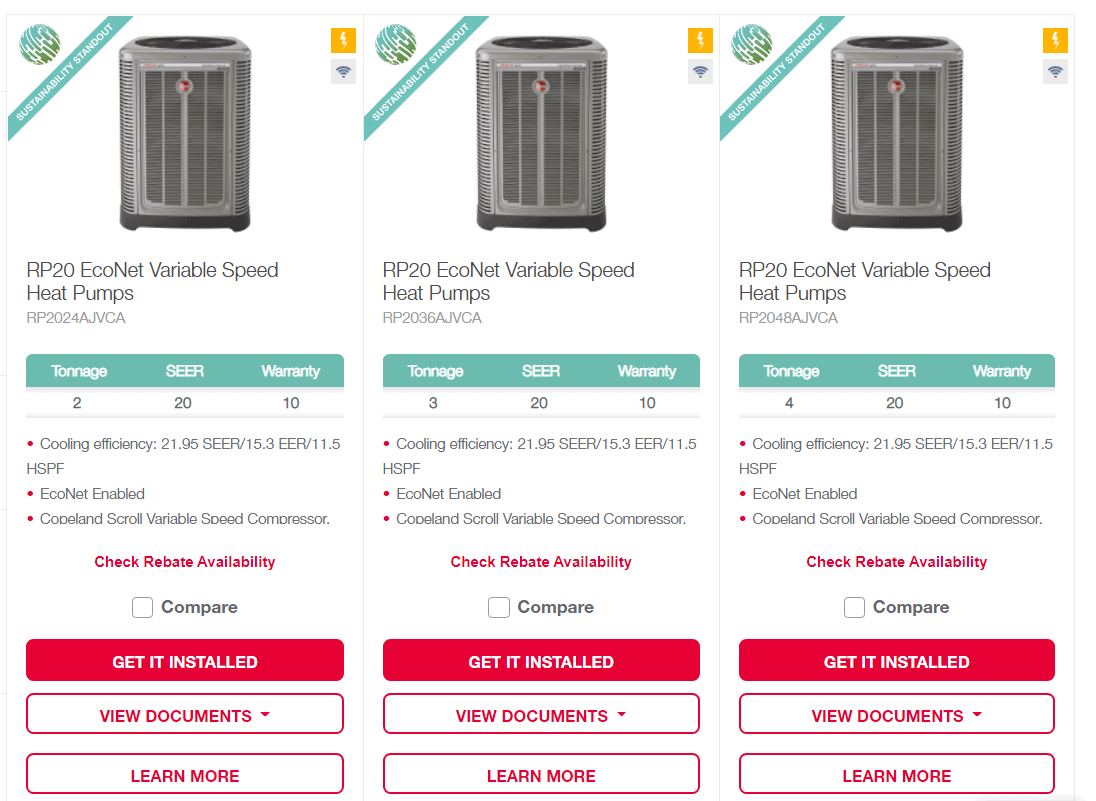 After all, the Prestige RP20, the brand's best model in this category, has SEER 21.95, while the Carrier 25VNA4 Infinity heat pump has an impressive SEER 24. The Carrier's unit also has better heating efficiency than the Rheem's model.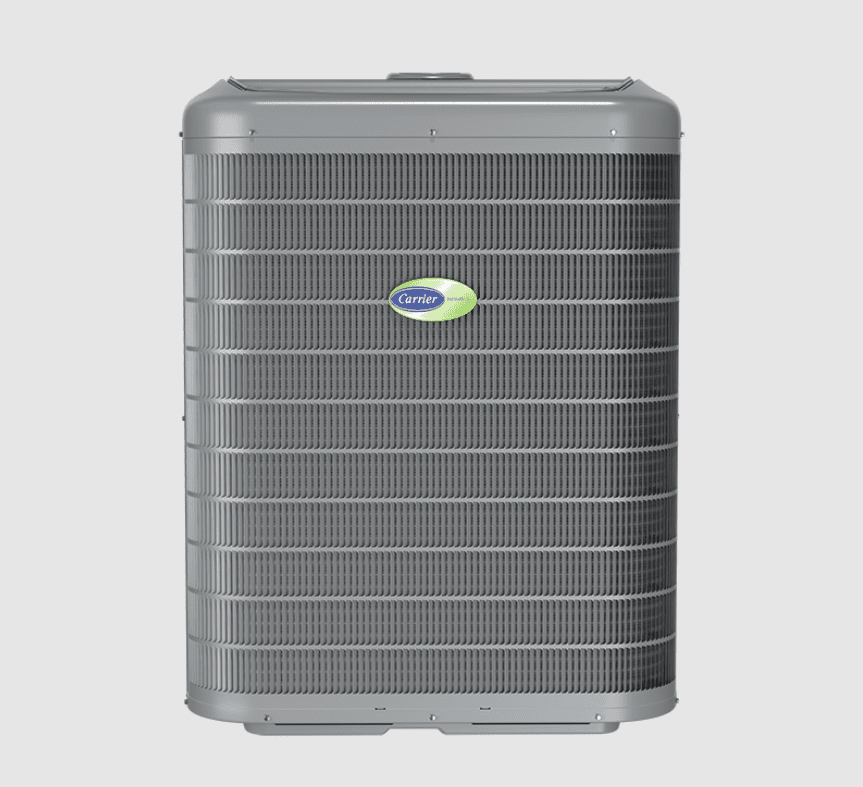 However, other Rheem and Carrier have similar HSPF and SEER, with the latter having a slight advantage due to a more versatile assortment of medium-efficiency models.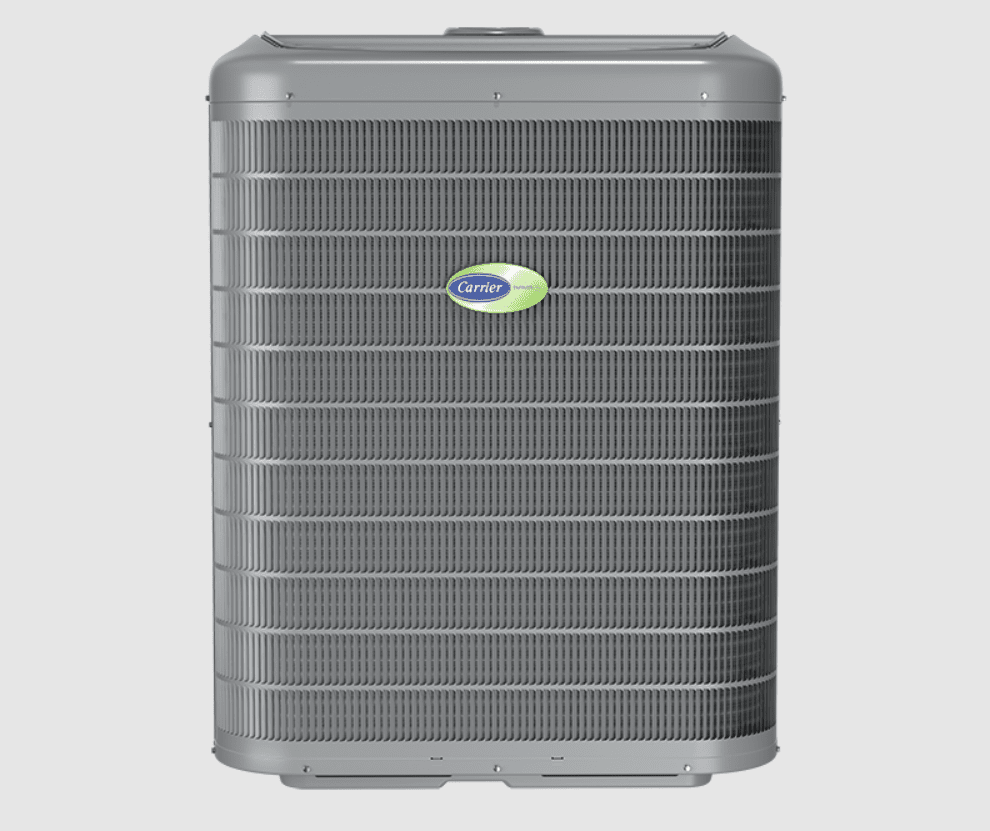 The comparison of their best air conditioners shows a wider efficiency gap because the Carrier 24VNA6 model has 26SEER. The Rheem RA20 model has SEER 20.5. Still, both brands offer entry-level ACs with low seasonal cooling coefficients.
Rheem's and Carrier's gas furnaces stand toe to toe, as their most fuel-efficient models have 98% AFUE ratings. Nonetheless, I think that Carrier offers more efficiency than Rheem.
Brand Reputation
Most HVAC brands don't stack well against Carrier, and Rheem isn't an exception. Still, this doesn't mean Rheem is an unreliable brand that offers low-quality products.
On the contrary, the brand's units are among the best in their price range and cost between $3,000 and $6,000. However, installation costs will almost double their price. Despite this, Rheem units are still more affordable than Carrier's.
These brands have similar warranties that protect all registered products for ten years. However, Rheem's ACs, furnaces and heat pumps are eligible for limited-lifetime compressor or heat exchanger warranties.
You should inquire about the Protection Plus warranty that includes labor costs and other perks at the Rheem dealership if you'd like to lower your unit's upkeep costs.
Carrier
The company has over fifty production sites worldwide and offices in almost 200 countries, which makes it one of the biggest HVAC producers in the business.
Moreover, Carrier Global Corporation controls several reputable HVAC brands, like Payne or Arcoaire. Carrier residential HVAC units are well-known for their longevity, as they retain efficiency even after decades of service.
The brand's heat pumps and ACs are equipped with compressors and evaporator coils that often remain fully functional throughout the unit's lifetime.
Hence, the upkeep costs of these systems are usually low since you don't have to replace their main components.
I believe that the affordability of Rheem's models is their only true advantage over the models in the Carrier's product portfolio.
The brand will launch the EcoHome program in 2023 that helps families find the right financing option, while its current rebate programs can help you save up to $8,000 on Carrier electric heat pumps.
Related Article: Payne vs Carrier HVAC systems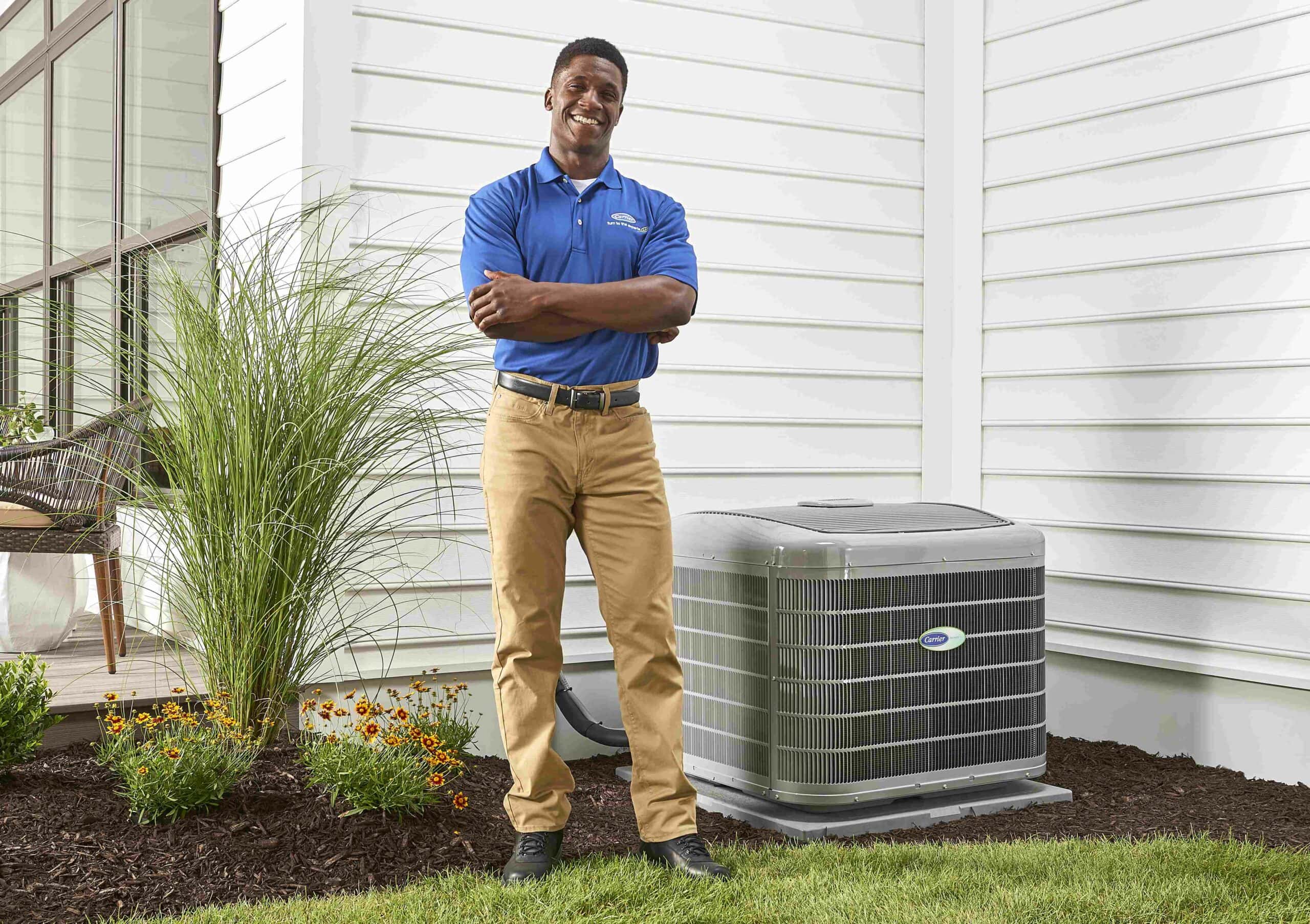 Key Features
Infinity Series ACs and heat pump have a built-in Ideal Humidity System
Carrier's mini-split are among the industry's best
All furnaces have low emission rates
Carrier systems can withstand prolonged exposure to high air salinity levels
The brand has a broad assortment of air-quality products
Almost noiseless operation
All registered system configurations are covered by a ten-year parts warranty
Infinity thermostats have voice controls
Product Lines
Rheem and Carrier are similar because both brands release products in series. The difference is that Carrier has a better selection of premium models. The brand's portfolio features products from these series:
Infinity
Performance
Comfort
Infinity units utilize the Greenspeed Intelligence software to control air humidity levels efficiently or inform the distributor they need servicing.
Performance series models also have impressive features, including welded aluminum coil technology, the WeatherArmor outdoor cabinet, and ecobee thermostats. The brand releases its low-end systems within the Comfort series.
Still, most Carrier Comfort models have Energy Stars, galvanized steel cabinets, and corrosion-resistant coils. These and other features make units from this series as durable as Infinity or Performance units.
Carrier's product line contains more models than Rheem's, which allows you to shortlist several units in the same price tier.
See also: Heil vs Carrier HVAC Systems

Coverage Area and Tonnage
Unit sizing is the most important step you'll have to take when selecting an HVAC unit. Like all other brands, Carrier offers its models in different sizes, so depending on what you need, you can pick a 2-ton or 4-ton version of the same system.
The maximum coverage area of the brand's residential ACs and heat pumps is around 2,500sq/ft since none of the models have more than 5 tons.
However, figuring out which sizes are available for a specific model might take time since you must browse through the product literature to find this information.
Carrier furnaces have outputs in the 60,000 to 120,000 BTU per hour range, but they have the same coverage range as ACs or heat pumps.
The brand network of contractors is vast, so finding a professional who can recommend the correct system size for your house isn't difficult.
You might also like: Tempstar vs Carrier HVAC systems
Seasonal Energy Efficiency
I'd like to focus on the lower end of the product lineup since I've already established that Carrier's best models are more efficient than Rheem's.
The Comfort 25HCE4 is among Carrier's least efficient heat pumps, and it is one of the brand's two models that don't have an Energy Star label.

Its SEER 14 and HSPF 8.2 ratings suggest the heat pump is as efficient as Rheem's Select WP14**F model. So, both brands might be a good choice if you're shopping for a low-end heat pump.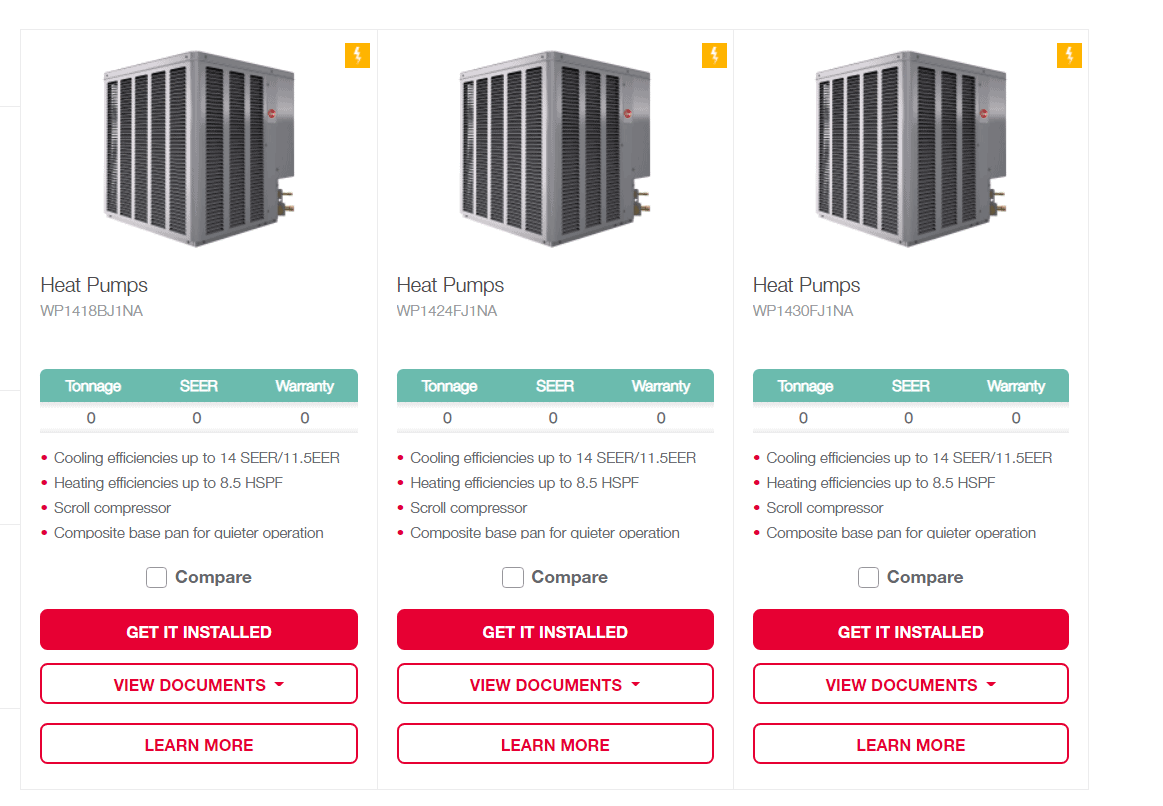 Examining other systems in this category shows that Carrier has more models in the SEER 16 to 19 range than Rheem, which makes it better for homeowners who want to buy a medium-efficiency unit.
Both brands offer a single SEER 13 AC unit. Neither model is suitable for use in the Southeast and Southwest regions of the US due to their low efficiencies.
Please read: Carrier mini-split model guide
Brand Reputation
You won't have to worry about high cooling and heating costs for the next couple of decades if you buy a Carrier HVAC unit.
The initial cost is high since you may have to invest between $5,000 and $15,000 to install one of the brand's models. Don't forget that costs can be higher if the installation is complicated or your home's ducting needs to be repaired.
However, there are plenty of financing options that can help ease the financial burden of buying one of Carrier's whole-house systems. All AC and heat pump models have ten-year part and compressor warranties.
Brand's furnaces come with ten-year warranties for all system parts and 20-year or limited lifetime heat exchanger warranties. Licensed Carrier distributors offer extended warranties that add 10-year labor on top of standard coverage.
You might also like: Goodman vs Carrier HVAC systems
Rheem vs Carrier – Pros and Cons
Carrier
Pros
The brand offers units designed for coastal climates
Some models utilize 'Captures and Kills' air purification technology
Carrier residential ACs and heat pumps prevent sudden temperature swings
All outdoor components have low noise levels
Cons
Carrier doesn't approve all warranty claims
Rheem
Pros
Rheem warranties are transferable to new owners
Most models meet DOE standards
Some units can be controlled with the EcoNet app
Rheem furnaces have excellent AFUE ratings
Cons
Cleaning coils is difficult
Some systems are prone to leaks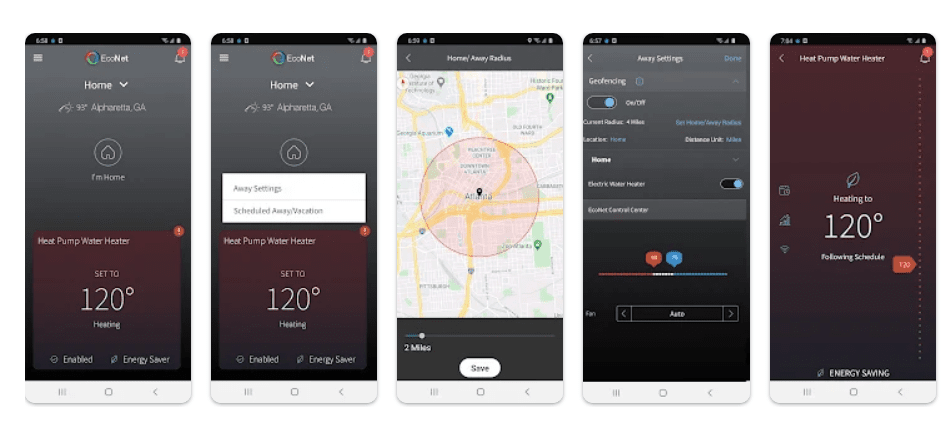 The Best Alternatives to Carrier and Rheem Brands
It's not the end of the world if none of the Rheem or Carrier HVAC systems meet your requirements. You can always explore the products offered by their sister companies or consider systems produced by their competitors.
Finding a good alternative to Carrier is more difficult because only a few brands can match the performance level of its systems. Still, brands like Trane or Lennox have an excellent selection of high-efficiency models. Let's look at alternatives to Rheem and Carrier brands.
Amana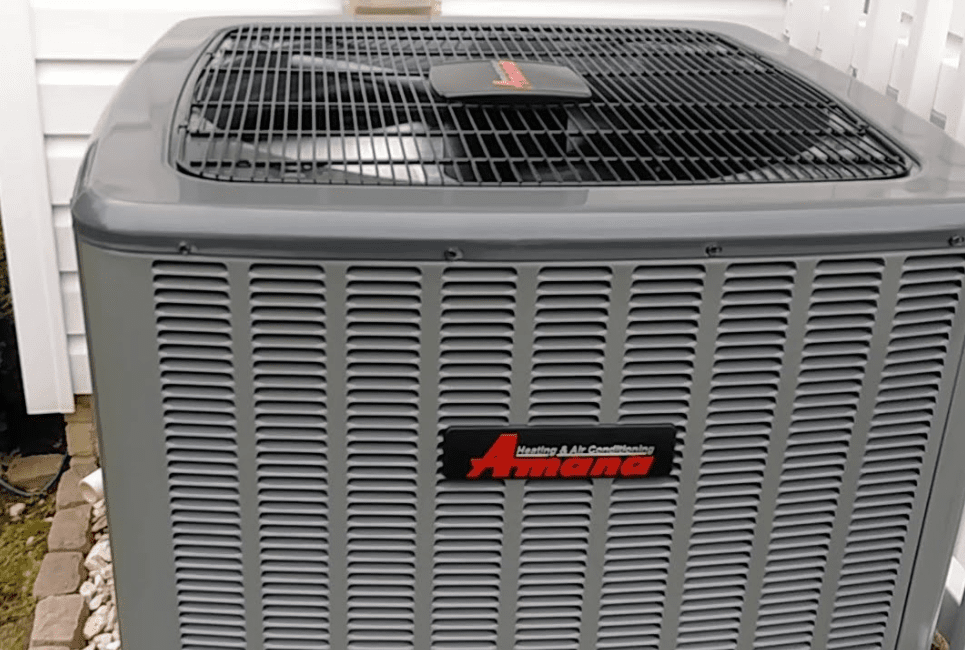 You'll get a lot of bang for your buck if you purchase one of Amana's units. The brand's models have impressive seasonal energy ratios for their price tier, which makes them perfect for homeowners that can't afford a luxury HVAC brand.
Most importantly, the components of these units last long, so you won't have to spend money on fixing them.
American Standard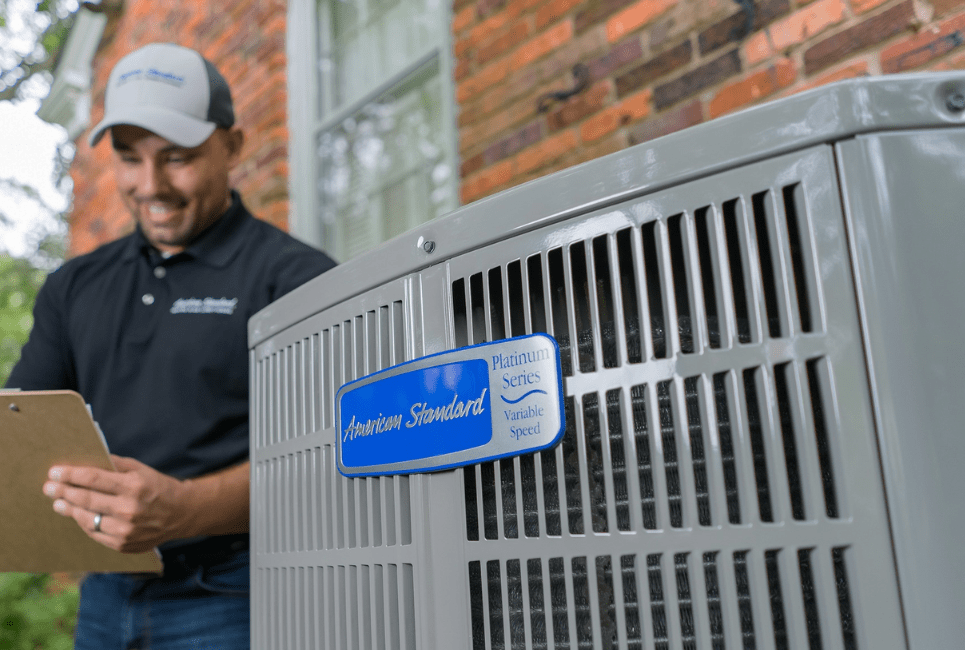 Effortless temperature adjustments, advanced communication technologies, and exceptional air quality are among the advantages of buying an American Standard HVAC system. Most heat pump and AC models are efficient, but their SEER doesn't exceed 22.
Even so, American Standard's units can lower your heating and cooling expenses and save you hundreds of dollars every year of their service life. Also, you should explore the brand's gas furnace category if you're in the market for a powerful unit with an impressive AFUE rating.
Maytag
I think one of Maytag's models might be worth considering if you're looking for an affordable and moderately efficient AC or heat pump.
These systems aren't as durable as Carrier's or Rheem's, but their 12-warranty indicates you can rely on them for over a decade. However, Maytag is less than perfect for homeowners shopping for a furnace because it offers fewer than ten models.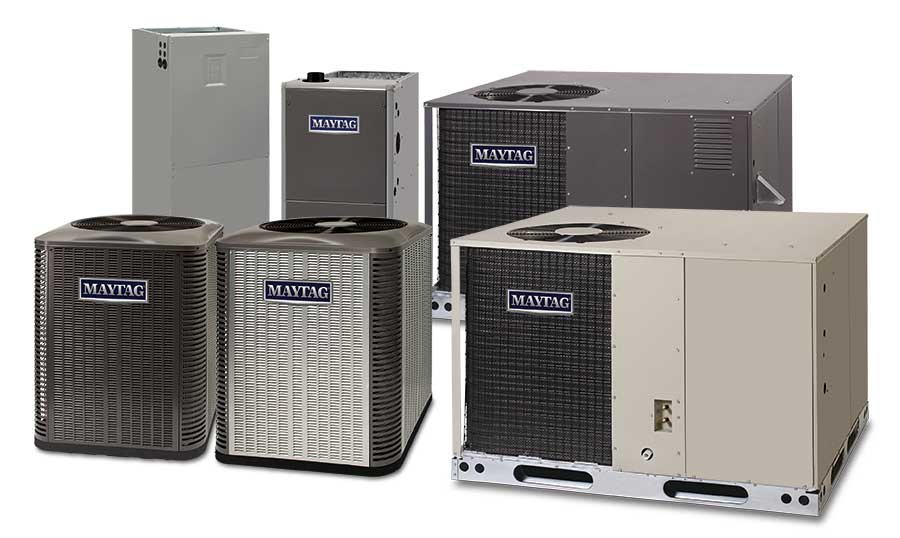 Frequently Asked Questions
Question: How Long Do I Have to Register a Carrier HVAC System?
Answer: Homeowners can register their Carrier systems up to three months after installation.
Question: Do Rheem HVAC Systems Have Built-in Air Filter Driers?
Answer: Yes, all models have air filter driers that prevent mold accumulation.
Question: Is Finding a Spare Part for a Carrier HVAC System Difficult?
Answer: Replacement parts for Carrier units aren't hard to find, but in some cases, you'll have to wait several weeks for the part to arrive.
Are you struggling to remove mold from your HVAC system? Our guide to the best HVAC mold inhibitors can help you find the right solution
Final Thoughts
All factors indicate that Carrier has more efficient systems than Rheem. Even so, I wouldn't say Carrier is better than Rheem because some of their units have similar energy efficiency ratios.
I think that Carrier's models have sturdy parts that can withstand daily wear and tear for decades, but most units are expensive. Rheem's pricing is more moderate, which makes it suitable for homeowners that don't want to spend more than $10,000 on a home comfort system.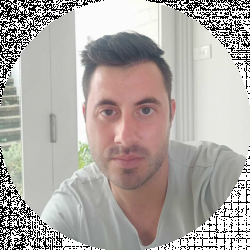 Latest posts by David Borgogni
(see all)