I believe there are no right or wrong choices when choosing between the top HVAC brands. Lennox, Goodman, and other brands have earned their spot as industry leaders because they offer high-quality products.
These brands manufacture systems for different types of buyers since luxury HVAC manufacturers like Lennox appeal to home and business owners looking for a system that offers maximum comfort.
Goodman is a value brand suitable for families that want to cut down on the costs of building their first home. Comparing individual products will reveal major differences and indicate that Lennox delivers more value at a higher price.
In this Goodman vs Lennox HVAC Systems comparison, I'll take a closer look at these brands to help you decide which one is the right option for you.
Related article: Goodman vs Carrier HVAC systems
Bottom Line Up Front
I can't imagine any scenario where Goodman is a better choice than Lennox, provided you're on an unlimited budget. What's more, I think Lennox's products are worth exceeding your budget because they'll generate massive energy savings over their lifespans.
Goodman's models will deliver excellent value for their price range, but they're significantly less efficient than Lennox's products. Hence, the lower price is the only benefit of choosing Goodman over Lennox.
Main Differences between Goodman vs Lennox HVAC Systems
The main differences between Goodman vs Lennox HVAC Systems are:
Lennox heat pumps have SEER ratings over 16, whereas some Goodman heat pumps have lower seasonal efficiency ratings
Goodman doesn't offer ductless systems under its brand name, whereas Lennox has six mini-split models in its product portfolio
Lennox releases its products in three series, whereas Goodman doesn't have product collections
Goodman's units usually cost less than $5,000, whereas most Lennox HVAC systems have higher price tags
You might also like: Lennox vs American Standard HVAC systems
Key Specifications
| | | |
| --- | --- | --- |
| Brand  | Goodman  | Lennox  |
| Average product lifespan | Up to 15 years | Twenty years or more |
| System efficiency | Low to medium | High |
| Refrigerant types | R-410A, R-32 | R-410A, R-32 |
| Noise level | Up to 75dB | Under 70dB |
| Warranty coverage | Limited lifetime and ten-year parts warranties | Up to twelve years of parts warranty coverage |
| Latest Price | Check the latest prices here | Check the latest prices here |
The Vital Characteristics of Lennox and Goodman Brands
Lennox
Three out of four of Lennox's manufacturing facilities are located in the United States. All products are made at its factory in Marshalltown, Iowa, except Merit series models that are assembled in Mexico.
Although most of its systems are manufactured domestically, Lennox is a global brand with over 6,000 dealerships in Latin America, Australia, and EMEA regions.
Despite generating billions in annual revenue, Lenox International is owned by the members of the Norris family, which acquired the company in 1904. Over the last century, the company positioned itself as one of the HVAC industry premiere brands whose focus is on innovation and quality.
Hence, nearly all systems you'll find in Lennox's portfolio have hard-wearing parts and features that give you control over every aspect of your home's room temperature, air quality, and humidity levels. Besides offering excellent products, the company also provides unparalleled service to its customers.
Please check: Rheem vs Trane HVAC Systems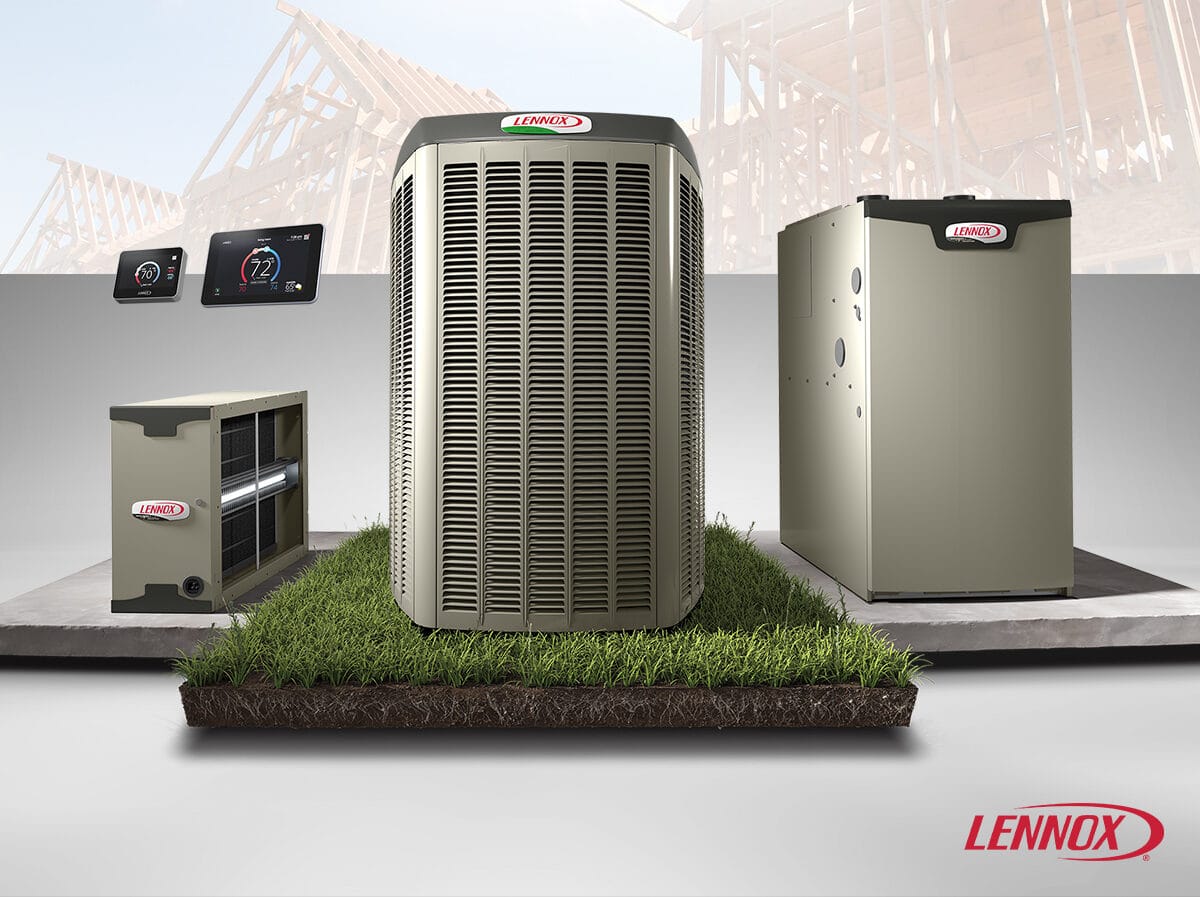 Key Features
Multiple zoning system and thermostat options
All systems have high energy efficiency
Lennox heat pumps and ACs are equipped with Copeland scroll compressors
Most models qualify for tax rebates
All gas furnaces are fuel-efficient
The brand offers only a few mini-split options
Warranty coverage depends on the product collection
Some HVAC units have Lennox Quantum Coils
Product Categories
Lennox produces a wide array of residential climate control solutions, including garage heaters, whole-home dehumidification systems, and air purifiers. Still, the majority of the brand's products come from the heat pump, furnace, and air conditioner categories.
All products are released in Dave Lennox Signature Collection, Elite Series, or Merit Series. So, you should explore the Dave Lennox Signature Collection units if you're interested in the brand's premier models.
The Elite series features mid-range systems, while the brand releases its entry-level units within the Merit series. A heat pump model like the Elite Series EL18PV has almost identical efficiency ratings as the Goodman's flagship heat pump system.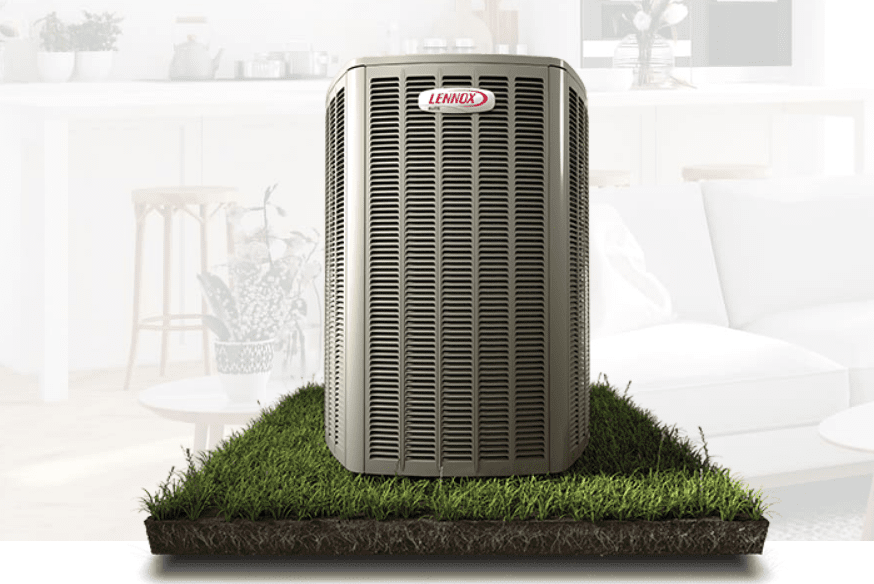 I also think Lennox offers a greater variety in most product categories than Goodman, which enables you to avoid making compromises when choosing a new heating or cooling system for your home. Still, Goodman gives you more options if you're looking for a gas or oil furnace.
Coverage Range and Tonnage
You won't find the unit size guide for any of Lennox's products online because the brand doesn't include information about the tonnage in its product brochures. I like this decision because it prevents homeowners from attempting to calculate the cooling or heating load on their own.
What's important to know is that each of the brand's models is available in different sizes. Hence, most ACs and heat pumps will have between 18,000BTU and 60,000BTU, while gas furnaces can have outputs up to 135,000BTUs.
Lennox contractors help customers choose the best HVAC system by calculating the load based on their home's size, window heat transfer coefficient, and other parameters.
It's important to note that units with Quantum coils perform better at cold temperatures because aluminum coils resist corrosion and they aren't prone to freezing. The maximum coverage area of residential HVAC systems is around 3,000sq.ft.
Check also: Bryant vs Trane HVAC systems
Seasonal Efficiency
Instead of comparing Lennox's and Goodman's top models, I looked at their least efficient systems to determine which brand has more energy-saving potential.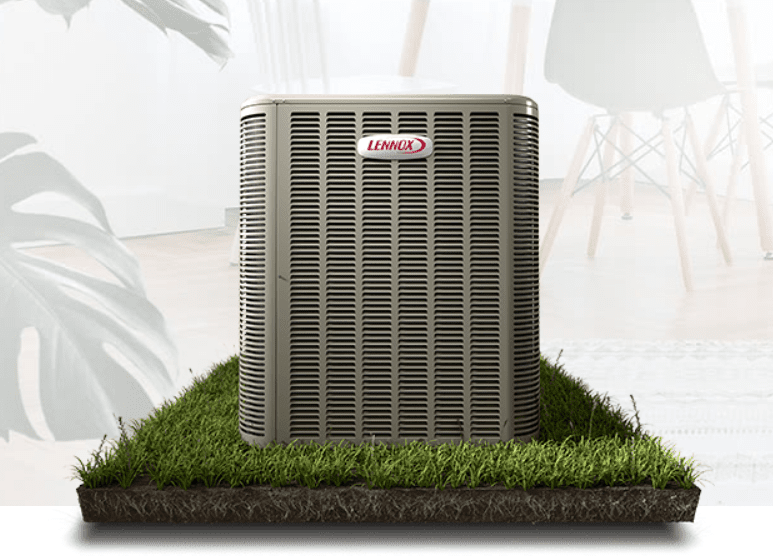 Lennox is dominant in the heat pump and air conditioner categories since its models can deliver 30% more energy savings than Goodman's systems. With SEER 16 and 8.2 HSPF, the Merit Series ML14XP1 is Lennox's least efficient heat pump.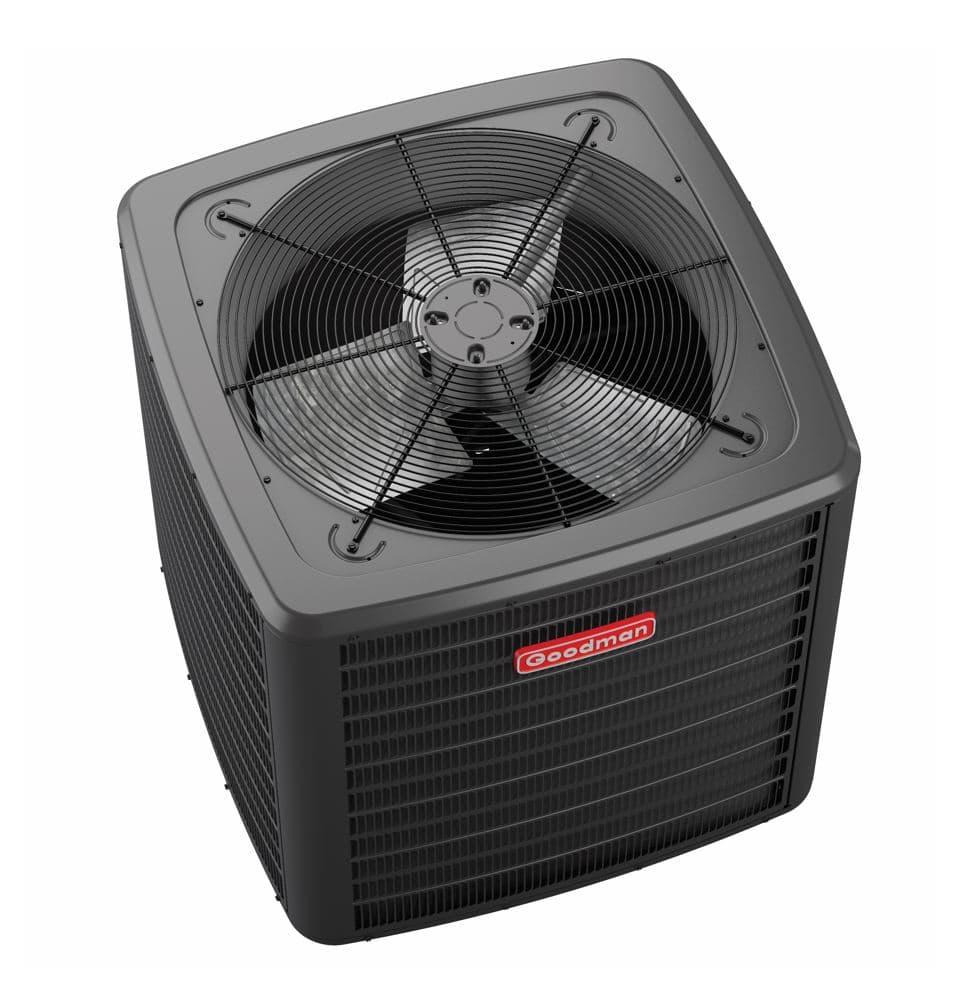 Still, Goodman GSZB4 has SEER 14.3 and 7.3 HSPF, which is considerably lower than what Lennox's entry-level option offers. In addition, Lennox has more high-efficiency models than Goodman does since the brand has several models with SEER over 20.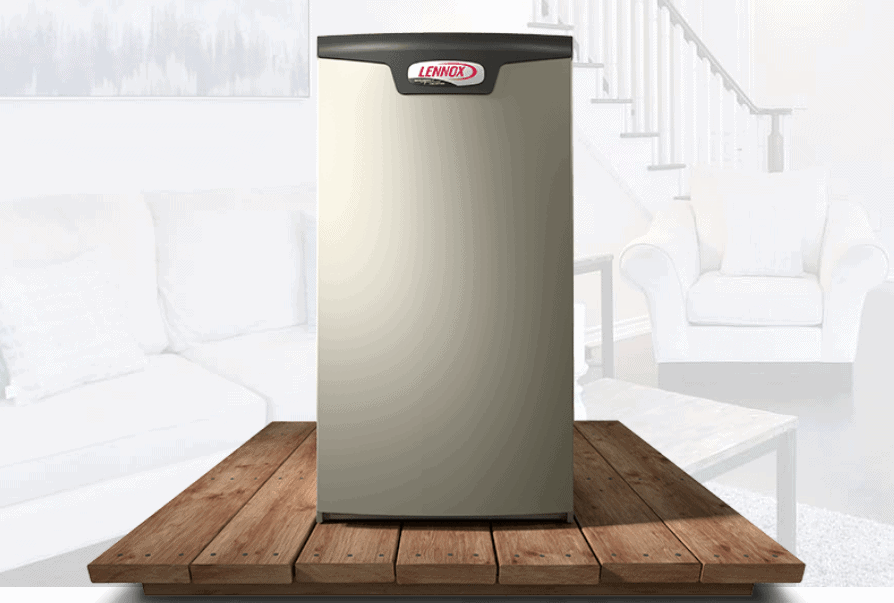 The efficiency differences are less evident in the furnace category since neither brand offers models with AFUE ratings under 80%. The SLP99V is Lennox's most fuel-efficient furnace, and its AFUE rating is 99%. On the other hand, Goodman's GMVM97 has 98% AFUE.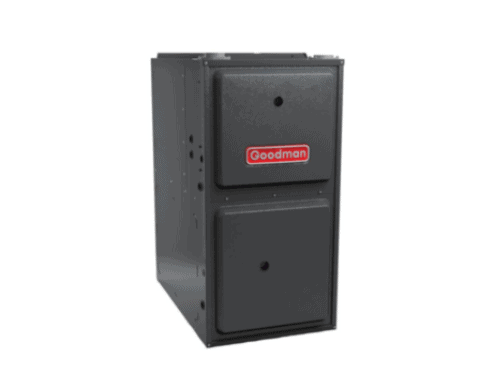 Brand Reputation
HVAC systems break, so even if you get a model produced by a luxury brand, you'll still have to occasionally replace some of its components. Buying a Lennox AC or heat pump doesn't mean you'll never have to change its parts. Still, it's improbable you'll have to deal with system repairs often.
I like the fact that registering a product isn't necessary to activate the brand's basic warranty. Unregistered Dave Lennox Signature Collection models have ten-year part and twenty-year compressor warranties.
Elite and Merit products have five-year warranties, but the coverage period extends to ten years after registration. Brand's authorized dealers also offer the Comfort Shield plan that covers labor costs for three to twelve years.
Goodman
Unlike Lennox, Goodman doesn't have a long corporate history. The company was founded in 1975, and soon after, it focused on producing inexpensive HVAC units for residential use.
Daikin purchased Goodman in 2012. Most of their products are identical, although Daikin has a better selection of high-end models. On the other hand, Goodman is widely regarded as a value brand with an excellent price-performance ratio.
I think the 'value brand' tag is misleading because you may still have to spend a substantial sum to purchase and install a Goodman HVAC system that should last between ten and fifteen years. Almost all Lennox units wear out after two decades, which in my eyes, justifies the higher price.
Affordability, medium-energy efficiency, and durable parts are the benefits of picking one of Goodman's home climate control options. Also, the brand offers excellent warranty coverage for all models.
Related article: Goodman 3-ton heat pump review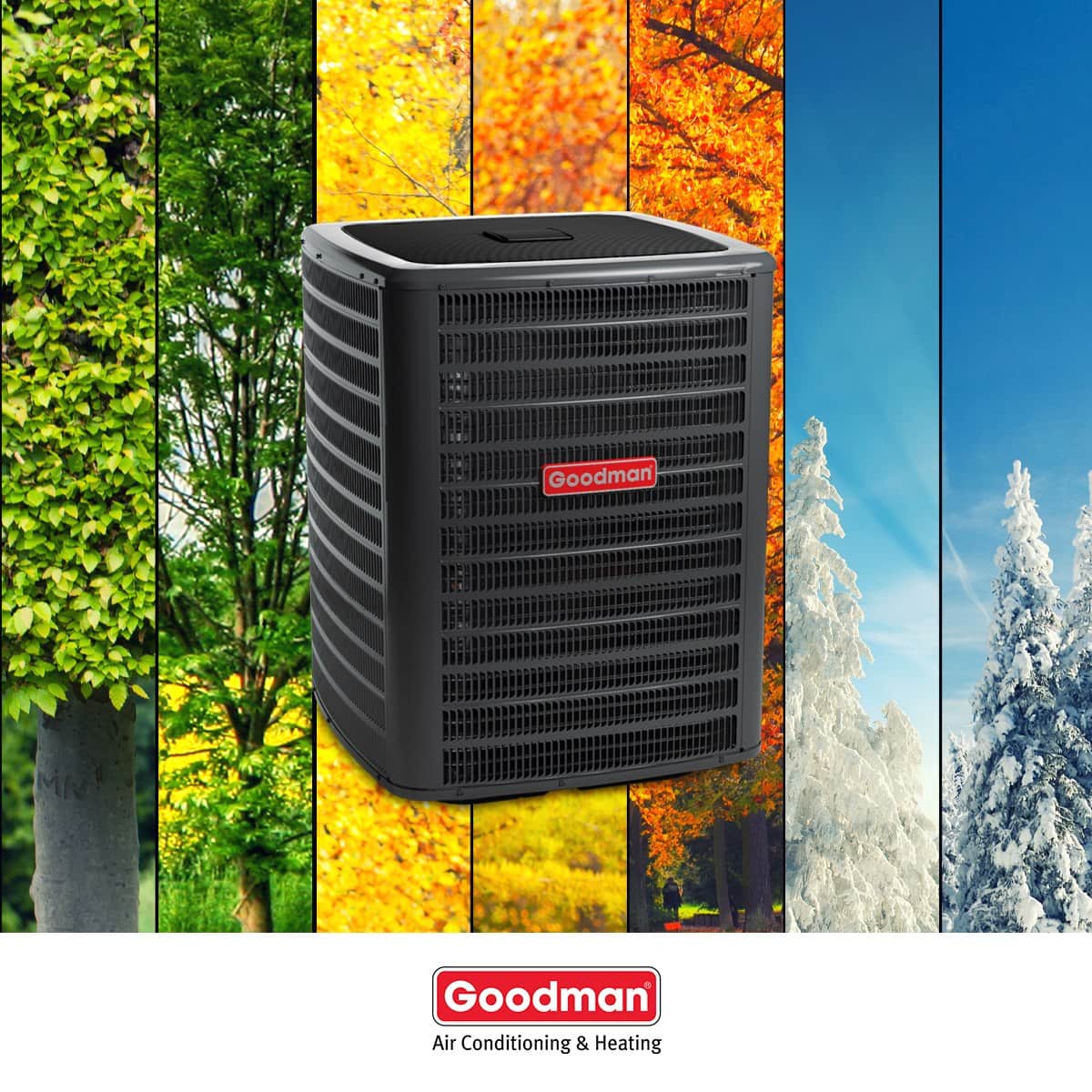 Key Features
Dakin Industries doesn't release ductless systems under the Goodman brand
All models are compatible with NEST thermostats
Goodman gas furnaces are fuel-efficient
Industry-standard noise levels
ComfortNet technology is available with select models
Five-year basic warranty
Favorable financing terms
Several Goodman models have variable-speed compressors
Product Categories
Goodman's product assortment isn't as wide as Lennox's because the brand doesn't produce mini-splits, garage heaters, or indoor air quality products. Their portfolios overlap in the heat pump, packaged unit, furnace, and air conditioner categories.
Currently, Goodman has eight models in the heat pump category, two fewer than Lennox. Both HVAC manufacturers have diverse air conditioner collections, so you won't lack options regardless of the brand you choose.
Goodman offers twelve furnaces with AFUE ratings over 90% and sixteen models with 80% AFUE ratings. This is the only product category where Goodman offers more versatility than Lennox.
However, a closer inspection shows that both companies produce furnaces with similar features and performance capacities. Goodman's premium units are compatible with the ComfortNet communicating system and have tubular heat exchangers.
Its mid-range and entry-level models lack advanced temperature control features and generate over 70db of noise.
Coverage Range and Tonnage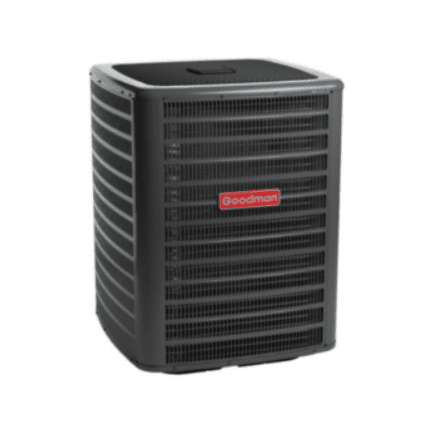 Residential HVAC systems have standardized loads, and all manufacturers let you choose the version of the unit that matches your requirements. Goodman includes the tonnage options available for each model in product descriptions.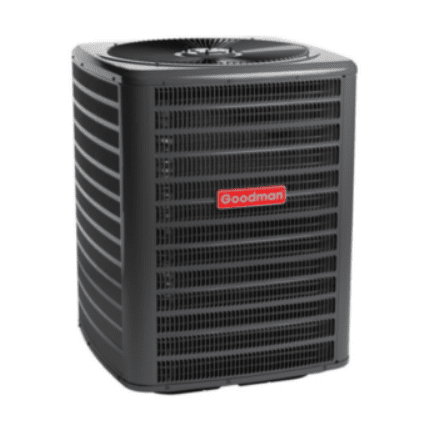 For instance, the GSZC18, one of the brand's best heat pump models, can have 2-ton to 5-ton outputs, which makes it suitable for 1,000sq/ft to 3,000sq/ft homes. However, units like GSZ14 and GSZH5 are available in the 1.5-ton to 5-ton range.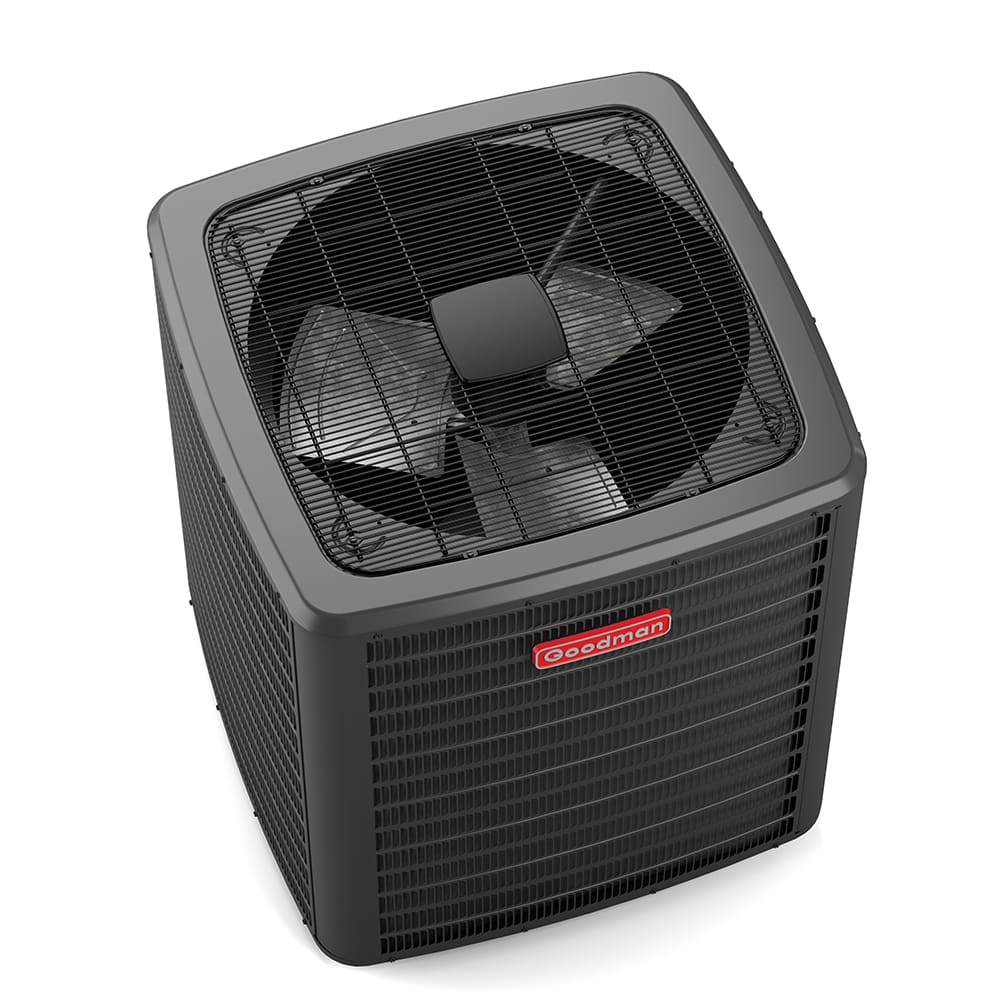 I'd like to add that outputs over 3.5-tons are unavailable on some Goodman air conditioners and heat pumps. The maximum size of Goodman gas furnaces is 140,000 BTUs, but their coverage is the same as the coverage of a 5-ton heat pump.
Brand's HVAC systems don't perform well in cold climates, so you're going to need a larger unit if you live in a region with harsh winters.
Seasonal Efficiency
A side-by-side comparison of Lennox and Goodman products shows that Lennox offers more energy-efficient models. Only one Goodman hear pump has SEER higher than 20, while Lennox offers four models with SEER 20 or higher.
The situation is similar in the air conditioner category, where Goodman has one high-efficiency option, and Lennox has three.
Even though they're not as efficient as Lennox's models, most Goodman ACs and heat pumps have Energy Star labels. Still, Goodman's units will need up to 30% more power than Lennox's models to cool or heat the same size area.
Goodman furnaces offer remarkable efficiency for their price range, as their average price after installation is around $3,000. You may have to spend close to $7,500 to install a model from the Lennox Elite series.
Still, the difference between AFUE ratings of their premier models is just 1%, which makes Goodman a budget-friendly alternative to Lennox's gas furnace models.
Brand Reputation
Estimating the lifespan of any HVAC system is tricky because there are so many variables you must factor in. On average, Goodman products last for ten to fifteen years, which, in theory, makes them moderately durable.
However, the unit you choose may deteriorate in five years if you don't take proper care of it or last for two decades. Besides maintenance, climate can also be a factor that affects the unit's service life, as high air salinity levels may cause problems with key system components.
Goodman has excellent warranty coverage for products registered sixty days after installation that includes lifetime compressor or heat exchanger protection, as well as a ten-year part warranty. The brand's base warranty expires after five years.
Authorized dealerships offer Assure Service plans that cover labor costs and extend compressor warranties for up to 99 years.
Goodman vs Lennox – Pros and Cons
Lennox
Pros
Premium product quality
Immense energy savings
Lennox HVAC systems last for two decades
Part warranties are extendable to twelve years
Cons
Goodman
Pros
All systems have high-quality parts
Goodman offers excellent value for money
Durable evaporator coils
Moderate pricing
Cons
Somewhat noisy outdoor components
Installation costs depend on the contractor
The Best Alternatives to Lennox and Goodman Systems
I'm not sure that narrowing down your options to Goodman and Lennox brands will make finding the right system for your home any easier. Their products represent only a fraction of available options in each price tier.
Hence, if your budget allows you to shop for a high-end HVAC system, then there isn't much sense in exploring the offers of low-end and mid-range brands.
Conversely, if you're on a tight budget looking at units produced by luxury brands won't bring you closer to finding the model that fits your criteria. Here are a few alternatives to these brands you should add to your watch list.
Daikin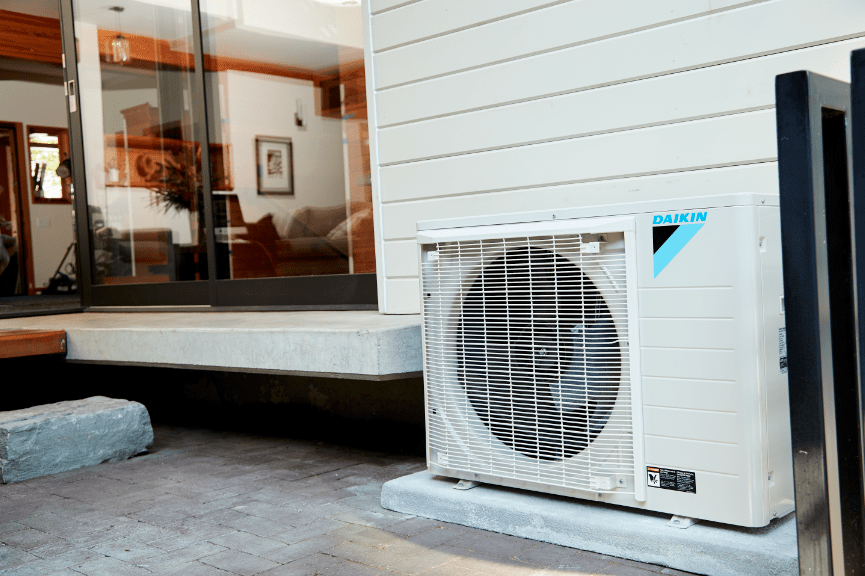 It might be a good idea to look at the models released under the Daikin brand when considering Goodman's unit. Their portfolios are similar but not identical, so you might be able to find a more efficient option, although at a higher price.
Daikin isn't as expensive as Lennox, but both brand manufacture equally durable products. Moreover, most Daikin systems have twelve-year part and limited lifetime compressor or heat exchanger warranties. Still, Lennox is a better option if you need a high-efficiency system.
You might also like: Daikin vs Carrier HVAC systems
Ruud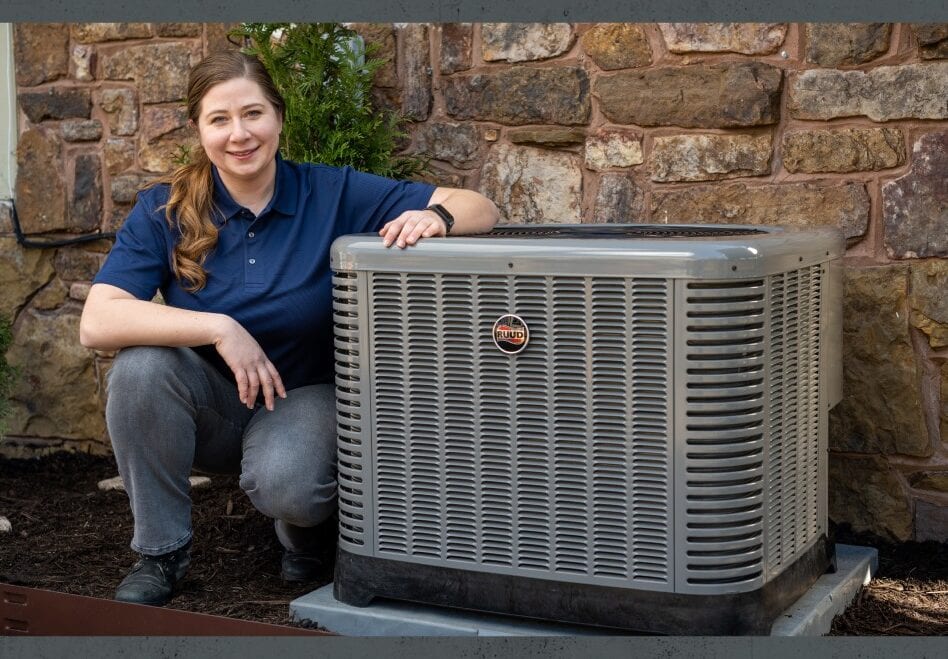 A good balance between price and quality is what makes the Ruud brand stand out. Its products are in the same price range as Goodman's, and their efficiency levels are similar. Ruud's best heat pump has 21.95 SEER and 11 HSPF, which makes it slightly more efficient than Goodman's top model.
All units are reliable as they don't lose their efficiency over time. Ruud products have excellent warranty coverage that protects owners from unexpected repair costs.
Check also: Ruud vs Rheem HVAC systems
York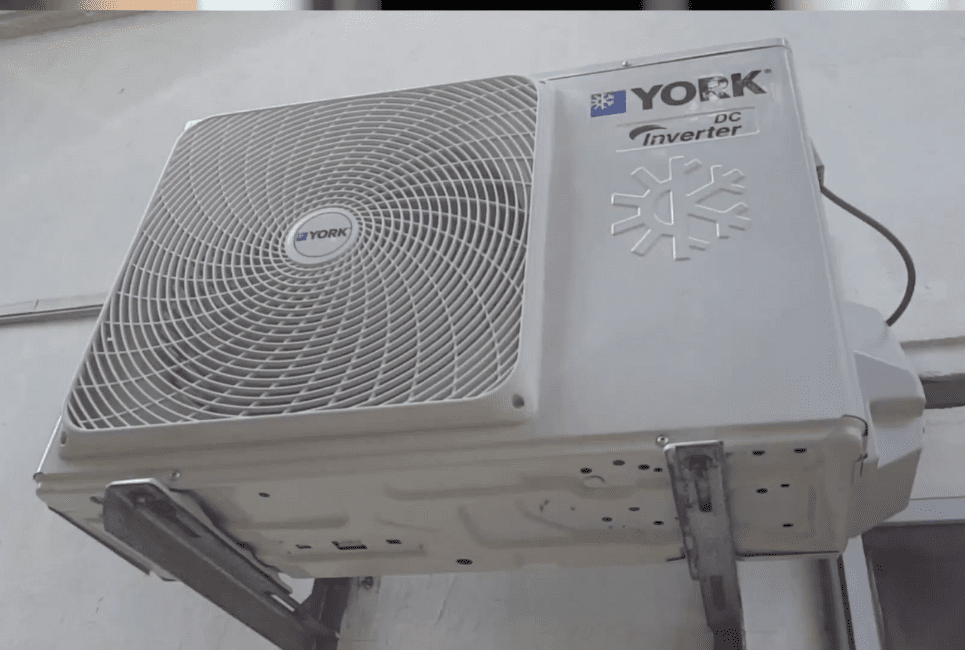 A budget brand like York might give you additional options if none of Goodman's models fit the bill. The brand's product assortment isn't huge, and only a few models have high SEER and HSPF ratings. Still, a York gas furnace or heat pump can generate sizeable energy savings over its lifespan.
The brand offers a one-year limited labor warranty for all its models, so you won't have to cover the unit's repair cost if any of its parts fail within twelve months after installation.
Frequently Asked Questions about Goodman and Lennox HVAC Systems
Question: How Quickly Do I Have to Register a Lennox HVAC system?
Answer: You must register a Lennox product two months after installation to activate its full warranty coverage.
Question: Can I Buy a Goodman HVAC System Online?
Answer: Buying any of the brand's products through its website isn't an option, and you can only buy a Goodman system from an authorized distributor.
Question: Does Lennox Provide Technical Support?
Answer: Lennox doesn't provide tech support to homeowners directly since all problems are reported to the company by its contractors.
Do you need a single-room cooling or heating solution? Our guide to the best Amana window air conditioners might help you find the right option.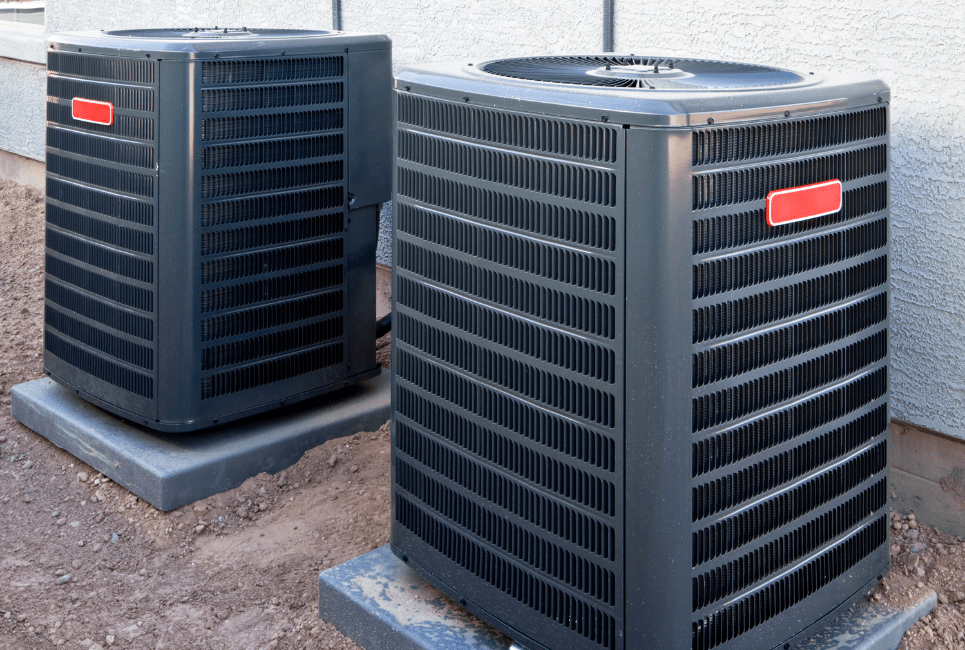 Final Thoughts
My advice is to postpone deciding between Goodman and Lennox brands until you receive several offers. So, instead of comparing brands, I recommend comparing quotes you'll get for their systems.
On paper, Goodman is the more affordable option that will generate moderate energy savings. Lennox is expensive, but its models have high SEER and features that keep their power consumption at a minimum.
I think spending several thousand dollars more on a highly efficient system is better than buying an inexpensive model that will inflate your monthly utility bill.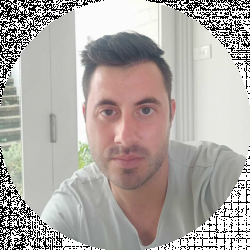 Latest posts by David Borgogni
(see all)