Established brand names like Trane and Goodman are likely to pop up as soon as you start exploring AC or heat pump solutions for your home.
Browsing through their product portfolios won't bring you closer to choosing one or the other because both brands offer systems with similar efficiency ratings, and sizes.
So, how do you know which one is better?
In my experience, Goodman vs Trane comparisons is mostly about pricing since the former is considerably less expensive. Trane is widely accepted as one of the top HVAC brands in the United States and worldwide that manufactures durable units equipped with high-quality components.
In this Goodman vs Trane comparison, I'll help you decide if spending that extra buck on a Trane system is really worth it.

Bottom Line Up Front
Even though their price tags suggest otherwise, Trane's products aren't more energy efficient than Goodman's models. The quality of components and the level of comfort they offer are the reasons Trane units are so expensive.
Goodman is a relatively affordable alternative to Trane, as its systems have high heating and cooling efficiency ratings, and they're fairly durable. Still, you may get a quote for the Goodman unit that will make your head spin if you're not patient enough to contact multiple contractors.
You might also like: Goodman vs Carrier systems
Main Differences Between Goodman vs Trane HVAC Systems
The main differences between Trane vs Goodman HVAC Systems are:
Trane systems utilize the ComfortLink technology, whereas Goodman equips its Smart units with ComfortBridge Control Systems
Goodman systems usually have Copeland scroll compressors, whereas most Trane models come with Climatuff compressors.
Trane central ACs don't have an efficiency rating over SEER 22, whereas Goodman's most efficient AC model has 24.5 SEER
Goodman offers sixteen gas furnaces with AFUE ratings over 90%, whereas only seven Trane gas furnaces have AFUE ratings higher than 90%
Please read: Daikin vs Trane systems
Key Specifications
| | | |
| --- | --- | --- |
| Brand | Trane | Goodman  |
| Average product lifespan | 20 years | 15 years |
| System efficiency | Medium | High |
| Refrigerant types | R-410A | R-410A, R-32 |
| Noise level | Under 60dB | Under 75dB |
| Warranty coverage | Limited lifetime and ten-year warranty | Limited lifetime and ten-year warranty |
| Latest prices | Check the latest prices here | Check the latest prices here |
The Main Characteristics of Trane and Goodman Brands
Trane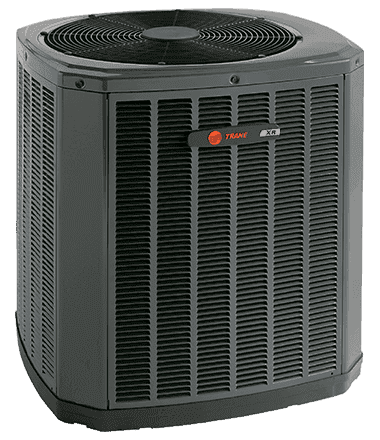 The brand changed ownership a few times since the 1980s. It currently operates under the governorship of the Trane Technologies holding company that also owns the American Standard brand.
The annual income is perhaps the best indicator of the brand's popularity since Trane Technologies' revenue in 2021 was $14.1 billion. On the other hand, Daikin, the brand that owns Goodman, generates around $22.09 million in revenue per year.
These numbers show that Trane's position as one of the most dominant HVAC manufacturers isn't set in stone, as its competitors still control a large portion of the global market share.
Still, Trane is one of the most popular HVAC brands in the US, mostly because of its strong reputation for manufacturing durable systems. Trane units can last for two decades, and they're famous for the quality of their components that stay in perfect condition for a long time.
Related article: Bryant vs
Key Features
Trane systems provide superior air quality
All units perform well in extreme weather conditions
Residential systems have Climatuff compressors
Some models are compatible with the Trane Home app
Trane compressors and heat exchangers are protected by a lifetime warranty
Most gas furnaces have high fuel efficiency
The company offers financing options through its partnership with the Wells Fargo Bank
All Trane thermostats are programmable
Product Categories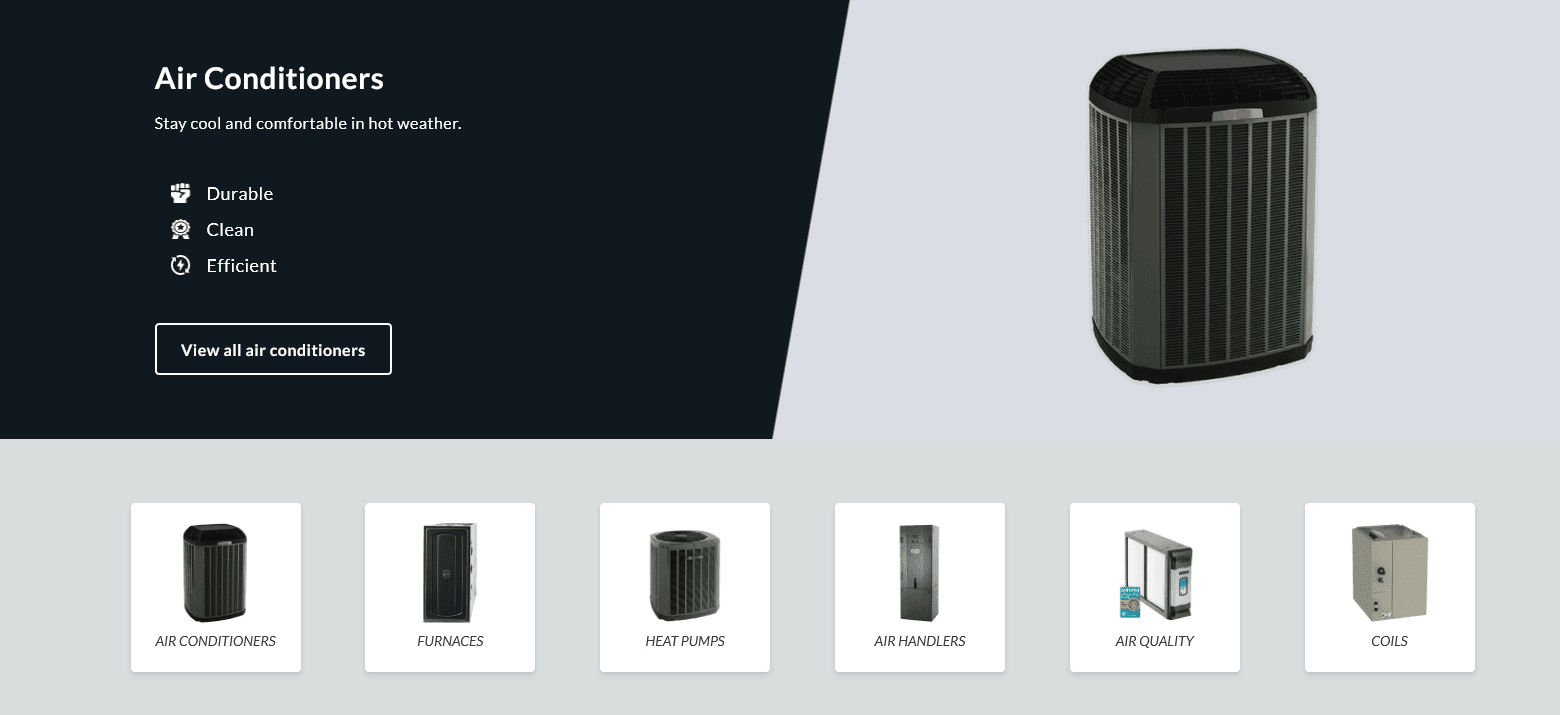 Navigating through Trane's product catalog will take time if you don't have a specific system in mind. The company doesn't release its products in series, so the only way to differentiate between entry-level and high-end models is to look at the specifications.
The heat pump category currently features ten single-stage, two-speed, and variable-speed models. However, you'll have just three options at your disposal if you want to get a Trane multi-speed heat pump.
The company's assortment of central ACs is also limited to just eleven models, while only XV20i and XV18 units have variable-speed compressors. The brand's collection of furnaces features a broad spectrum of units with AFUE ratings in the 80% to 97.3% range.
Trane can also be a good choice if you need a ductless system because it offers different multi-zone and single-zone options. The brand also produces humidity control products you can combine with its HVAC systems.
Please check: Rheem vs.Trane systems
Tonnage and Coverage Area
All HVAC brands use British Thermal Units (BTU), a universal measurement, to indicate the amount of energy a system needs to absorb heat in an hour. Hence, all Trane heat pumps and central air conditioners have outputs in the 24,000 to 60,000 BTU or 2 to 5-ton range.
The trouble is that the size of an area a 4-ton heat pump can cool or heat isn't the same in hot and cold climates. Weather is just one among countless factors that affect the unit's coverage range.
That's why you shouldn't choose the system size alone, especially if you have never had a Trane unit before. I'd also like to remind you that even though furnaces have higher tonnage than heat pumps or ACs, their maximum coverage range is similar.
All Trane ductless systems come in different sizes, but the maximum output of some single-zone models is limited to 2 to 2.5 tons.
You might also like: York vs Trane systems
Seasonal Efficiency and Power Draw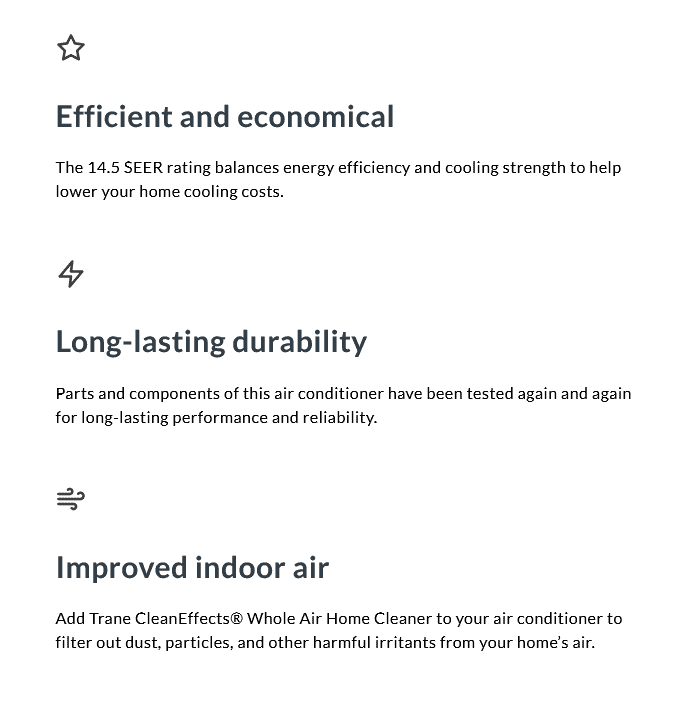 Efficiency ratings can be seductive. I understand that all homeowners want to minimize their monthly power consumption, but SEER, EER, and HSPF ratings are only indicators of the unit's best power-saving performance.
Still, units with high SEER are generally less expensive to run, but they can still inflate your utility bill if they're not used properly. Trane doesn't offer AC units with SEER higher than 22. In addition, none of the brand's heat pumps has SEER over 20.
This doesn't automatically make Goodman a better option for shoppers searching for an energy-efficient HVAC system because only two models have higher SEER than any of Trane's products.
So, you won't have trouble finding Trane central ACs or heat pumps with SEER in the 14 to 19 range. AFUE ratings of the brand's gas furnaces range from 80% to 97.3%. The amount of electricity a Trane system draws in an hour depends on its size.
Brand Reliability
I don't advocate pinching pennies when buying a new HVAC system, but I am aware that the prices of Trane's models exceed most budgets. Despite this, I think that buying a Trane system is a far better option than settling for one of the lower-priced Goodman units.
Let me elaborate. With the exception of a few high-end units, Goodman and Trane systems have similar efficiency ratings. All Trane systems have high-quality components that last for years, which means you won't be spending much on repairs over the years.
In addition, compressors and heat exchangers are covered by limited lifetime warranties, and you'll get a free replacement if this system's part breaks down. All products registered more than sixty days after the purchase are covered by a 5-year base limited warranty.
Goodman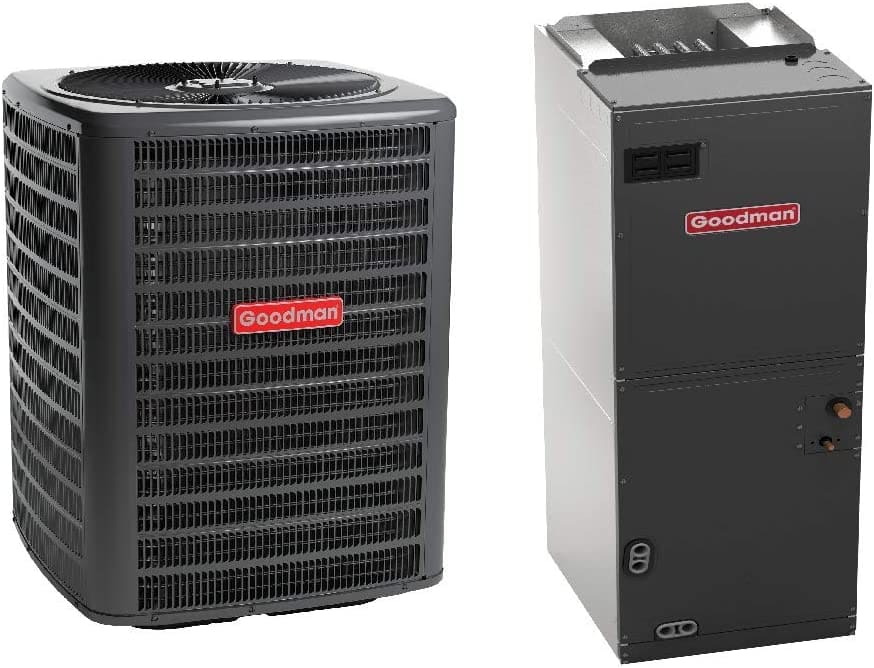 The company changed its name ten years after joining the Daikin family. Goodman Global Group became Daikin Comfort Technologies North America, but despite the change, there's still no mention of discontinuing the brand.
All Goodman models have the same parts as systems marketed under the Daikin brand. You won't be able to find a Goodman ductless system, as all models are released under the Daikin brand name.
Goodman isn't a luxury brand, but its products deliver good value for their price because they usually last for fifteen years. However, you shouldn't expect to go through the unit's entire lifespan without replacing some of its parts.
In my opinion, Trane is a superior option to Goodman in almost every aspect except perhaps the warranty coverage. Still, the brand's heat pumps and air conditioners are a good secondary option if you're looking for a system in the medium price range.
Key Features
Some units are compatible with the ComfortNet and ComfortBridge technologies
The most energy-efficient Goodman AC has 24.5 SEER
Goodman thermostats have touchscreens and WiFi connectivity
Most systems have Energy Star labels
Gas furnaces have multi-speed ECM blowers
Goodman offers lifetime warranties for heat exchangers and compressors
All upcoming Goodman models are compliant with 2023 DOE regulations
Product registration is quick and easy
Product Categories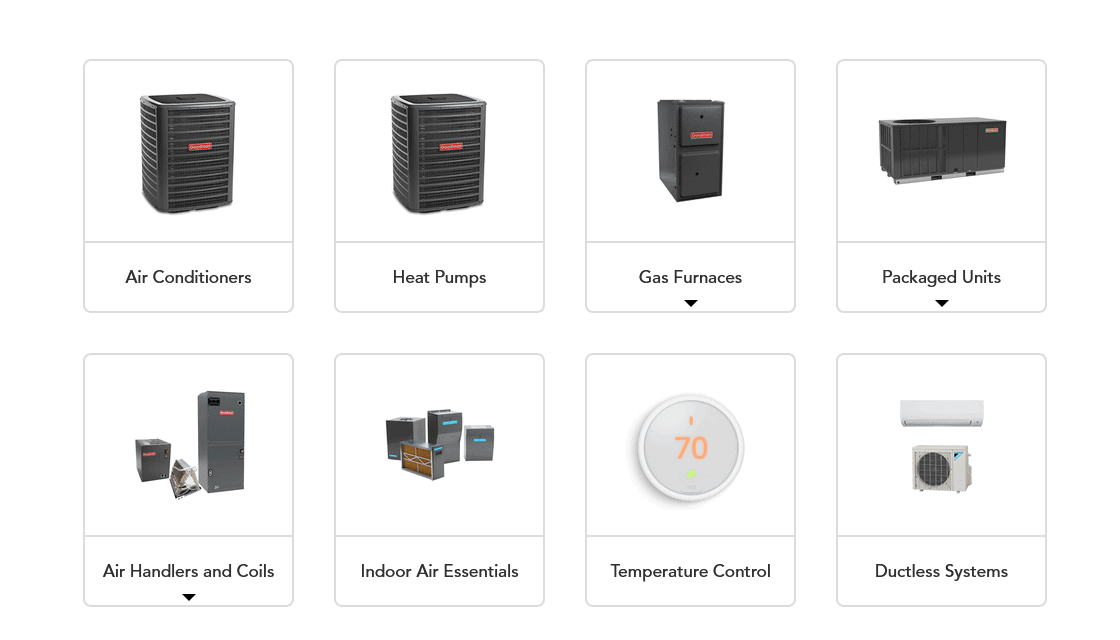 Aside from mini-splits, Trane and Goodman offer the same HVAC system types. Their selection of heat pump and AC models is also similar, but in either case, you'll have plenty of options to choose from.
SmartShift technology, variable-speed fan motors, or Copeland ComfortAlert diagnostics system are some of the features you'll find on Goodman's best systems.
These features aren't included on mid-range and entry-level units, which is why you must study each model's spec sheet carefully to determine which functionalities it offers.
Although useful, the SmartShift technology that detects when the unit needs to go into the Defrost mode is only available with selected models. Comparing Trane's and Goodman's entry-level systems reveals the fundamental differences between these brands.
Even the least powerful Trane units still have a variety of advanced features that improve their efficiency and extend their lifespan. Unfortunately, the same cannot be said about Goodman's entry-level models.
Tonnage and Coverage Area
Sizing options are included in descriptions of all Goodman products, which makes it easier to eliminate the models that don't have sufficient output to regulate the temperature in your home.
Goodman isn't a good option if you need a unit suitable for a single room because you'll have to explore Daikin's ductless systems. ACs and heat pumps come in standard sizes, but I recommend checking the available sizes for each model since the unit you'd like to get may only be available in one size.
Goodman heat pumps don't perform well in cold climates, as their efficiency decreases at temperatures below 32F. Gas furnaces can have outputs up to 140,000BTUs, and you can use them in 1,000sq/ft or a 3,000sq/ft space. Don't forget that the coverage area of gas furnaces also depends on the climate.
Seasonal Efficiency and Power Draw
Judging solely by SEER and HSPF ratings, Goodman is the more energy-efficient option than Trane. Its best heat pump model has a 21 SEER and 10 HSPF, while the most efficient Trane heat pump has 20 SEER and 10 HSPF.
Trane's XV20i has 22 SEER, which is slightly lower than Goodman's GVXC20's 24.5 seasonal efficiency rating.
I don't think these differences are sufficient to declare Goodman a clear winner in this category because the rest of its AC and heat pump lineup has the same SEER or HSPF ratings as Trane's models.
Both brands manufacture high-efficiency furnaces. The best Goodman unit has a 98% AFUE rating. Trane, on the other hand, doesn't offer models with AFUE ratings over 97%. Once again, choosing Goodman over Trane will bring minimal, if any, energy savings.
Brand Reliability
You shouldn't waste time trying to determine if Goodman is a trustworthy brand. The real question is whether it is more reliable than Trane. I don't think so because Trane offers more in terms of quality.
However, the efficiency of Goodman's systems makes them a good alternative to Trane's units with high price tags. Their cost after installation varies from $3,000 to $8,000, but their prices will depend on the quality of ductwork and other factors.
So, I recommend reaching out to several contractors and comparing their quotes before accepting the best offer.
Also, you should inquire at the local brand dealership about the Asure Extended Service Plan that includes labor costs because the brand's standard 10-year warranty only covers the replacement of faulty parts.
Goodman vs Trane – Pros and Cons
Trane
Pros
Multi-speed systems allow for incremental temperature adjustments
Trane has some of the best compressors in the industry
Most models are compatible with ComfortLink thermostats
Some Trane systems qualify buyers for federal tax credits
Cons
Trane isn't a budget-friendly brand
Unregistered units have 5-year warranties
Goodman
Pros
Goodman units have AlumaFin7 evaporator coils
Excellent diagnostic
Ground lug connections simplify the installation process
Limited lifetime warranty for compressors and heat exchangers
Cons
Goodman systems lose their efficiency over time
High repair costs
The Best Alternatives to Trane and Goodman Systems
I don't think limiting your options to just two brands is a good idea because you'll eliminate hundreds of excellent systems without even looking at their features. Goodman and Trane should definitely be on your radar, but you should also explore the options other brands offer.
So, you should check Daikin's models if you're considering a Goodman heat pump. Also, taking the time to browse through American Standard's systems might help you find a good replacement for Trane's unit that's above your budget. Let's go through some more alternatives to these brands.
York

Reaching out to a York contractor may be a good decision if you don't want to spend a lot of money on an HVAC system but still want to get a high-quality unit. The brand's most efficient heat pump has 21 SEER, and it can help you lower your annual cooling and heating costs.
York's models aren't as durable as Trane's, but you can still use them for at least fifteen years. In addition, York offers limited lifetime heat exchanger and compressor warranties as well as ten-year part warranties.
Lennox

As one of the most popular HVAC brands in the United States, Lennox is arguably the most obvious alternative to Trane systems. Its products are expensive, but they deliver plenty of value for the money.
The Dave Lennox Signature Collection models are famous for their high-performance capacities, as each unit has impressive SEER and HSPF ratings. Moreover, the brand's Elite series features high-efficiency models with excellent compressors and powerful features.
Amana

Like Goodman, Amana is also among the brands that belong to the Daikin Industries. Their products are similar, so you won't find a unit with a higher SEER or a different compressor.
Goodman is generally less expensive than Amana, but the price difference isn't significant. Hence, Amana can be an excellent backup option if one of Goodman's systems doesn't have all the features you need.
Also, some Amana models have lifetime warranties, and if their compressors stop working, the brand replaces the entire unit.
Frequently Asked Questions about Goodman and Trane Systems
Question: What are Eco-Rebates?
Answer: Rebates are programs offered by power companies that reward buyers of energy-efficient systems. Several Trane products qualify for these programs.
Question: Do I Have to Register my Goodman System?
Answer: Product registration isn't mandatory, but you won't be able to activate the additional warranty covers before completing this step unless you live in California or Quebec.
Question: How Often Should I Service a Trane Unit?
Answer: All Trane units should be inspected by a licensed technician twice a year.
Are you interested in buying a heat pump? Our 3-ton Goodman heat pump review can help you find the right model.
Final Thoughts
There's not much doubt that Trane produces better HVAC systems than Goodman. High-quality compressors, built-in diagnostics, and the long service life of Trane models make them a more attractive option for homeowners that aren't concerned about their cost.
So, I only recommend considering Goodman if you're looking for an inexpensive unit that doesn't need much energy to keep the temperature in your home at a comfortable level.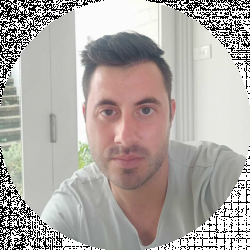 Latest posts by David Borgogni
(see all)