Watching flames in a fireplace is undeniably mesmerizing, but recent studies have revealed that burning wood can increase the chances of heart attacks and strokes. In this Dimplex electric fireplace model guide, you'll find a unit that allows you to enjoy the benefits of a fireplace without the associated health risks.
Unlike window heat pumps or ductless air conditioning systems, electric fireplaces don't only have a utilitarian purpose. In fact, their aesthetic is a part of their appeal, and it plays a large role in the model selection process.
These heating devices manufactured by Dimplex are meant to be used as a secondary heating source because their outputs don't exceed 10,000 BTUs.
Our guide will take you through the most important characteristics of some of the brand's best models and help you choose the one that fits best in your home. You should take a look at our guide to the best electric fireplaces if you need more information about their properties.
At a Glance – The 4 Best Dimplex Electric Fireplace Models
Key Factors to Consider Before Getting a Dimplex Electric Fireplace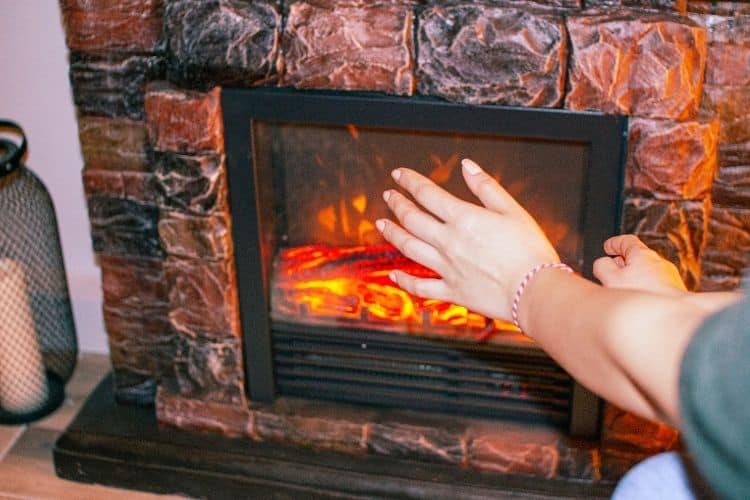 Despite the fact that the process of choosing an electric fireplace often comes down to the question of taste, there are still several factors that can make the process shorter and more efficient.
Dimplex is arguably one of the most reliable brands on the market, but you should also explore electric fireplace options offered by brands like Touchstone, Napoleon, or Duraflame.
These devices are available in a wide range of shapes and sizes, and you can choose from heating and heatless models. Unfortunately, the realism of their flames also varies from model to model, and you need to check if the electric fireplace you'd like to get is capable of rendering a realistic illusion of fire.
Most units utilize LED lighting to simulate the flames, and unlike wood stoves, they don't lose the heat. Read our heat pump guide if you're searching for an energy-efficient heating and cooling solution for your home.
Learn More About the Brand
Dimplex offers 58 electric fireplace products that are divided into different categories and series. Navigating through such a vast amount of options might be overwhelming if you're unsure what you're looking for. That's why we're going to take you through some of the brand's major electric fireplace categories.
TV stands and mantels – You can use the models from these two categories to add a decorative element to a living room. Both mantels and TV stands contain a firebox compartment where the fireplace is located.
Linear fireplaces – Designed for both outdoor and indoor spaces, these fireplaces should be installed into wall recesses. Their heating output depends on the model.
Built-in fireboxes – Models from this category can be a good option for you if you want to connect the firebox directly to your home electrical system. They also offer a lot of versatility in terms of where they can be installed.
Fireplace inserts – In case you already have a fireplace in your home but no longer want to burn wood, fireplace inserts might be the right choice for you.
The brand also offers two wall-mounted electric fireplace models that are easy to install and incredibly realistic. Our Goodman 3-ton heat pump review can help you find a heating system that has a wide coverage range.
Room Size and Home Décor Style
Placing an electric fireplace in a room that's either too big or too small for its heating output will lower its energy efficiency.
The vast majority of Dimplex's models as a maximum heating capacity of 5,000 BTUs, which makes them suitable for spaces that have 100sq/ft to 150sq/ft, or you can use them in 500sq/ft spaces as a secondary heating source. Only a handful of brand models that can offer close to 10,000 BTUs of heating power can be installed in rooms that have up to 1,000sq/ft if they're not used as a primary heating option.
These devices work best as a supplementary source of heat because they struggle to maintain the temperature at the same level in cold weather conditions. Besides the functionality of an electric fireplace, you should also pay attention to its aesthetics. Dimplex electric fireplaces have a sleek contemporary look that blends perfectly with different home décor styles.
Go through our Blueridge mini-split review if you're searching for an elegantly designed air conditioning system you can use during cooling and heating seasons.
Estimate Your Heating Needs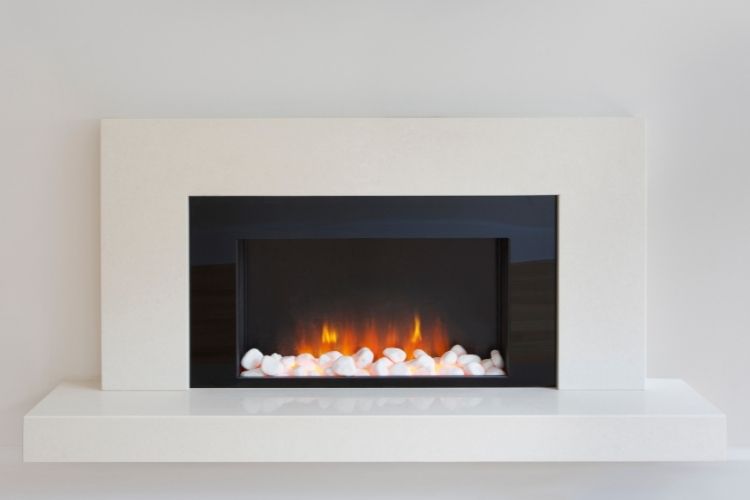 Besides the size of the room in which they're installed, the coverage area of electric fireplaces also depends on the number of doors and windows in that room and the quality of the wall insulation.
Dimplex offers units that are equipped with the heating function and those that are purely decorative. Hence, knowing if you want to use your electric fireplace as an additional heat source will help you narrow down your options.
The maximum coverage range of the brand's models doesn't exceed 300sq/ft, so you shouldn't expect too much in terms of their heating output. However, despite converting 100% of the power they consume into electricity, these devices can still inflate your utility bill if you're using them excessively.
Check out our Napoleon Wood Stove review if you're searching for a heating system with a vast coverage area.
Decide Where You Want to Install an Electric Fireplace
Deciding on the location of your electric fireplace before you start exploring Dimplex's models will make your search easier.
Doing so will enable you to target a specific category of electric fireplaces since there's no need to go through all of the brand's fireplace inserts if you're searching for a model that can fit in a TV stand. Opting for a built-in firebox, linear, or fireplace insert requires you to prepare the wall recesses in which the units are going to be installed.
Models that cannot be wired directly to your home's electrical system need to be positioned near a power outlet because plugging an electric fireplace into an extension cord isn't advisable. Browse through our guide to fireplace systems to learn more about their installation requirements.
Calculate Your Costs
The price of Dimplex electric fireplaces spans from $300 to $8,500, depending on the fireplace type and the features a specific model offers. Opting for the brand's most expensive model doesn't mean you'll get the unit with the highest heating output.
In fact, Dimplex's priciest electric fireplace can offer only 218 BTU of heating power, while units that cost less than $500 can provide you with more than 4,000 BTUs of heat. However, the difference in the quality of the flame simulation between the brand's entry-level and high-end models is huge.
Professional installation is only required for models that are installed in wall recesses, but in most cases, you can install an electric fireplace without anyone's assistance. Hence, you won't have to include the installation costs in your budget.
Our guide to furnace types can help you find a heating system for your home.
Selecting a Dimplex Electric Fireplace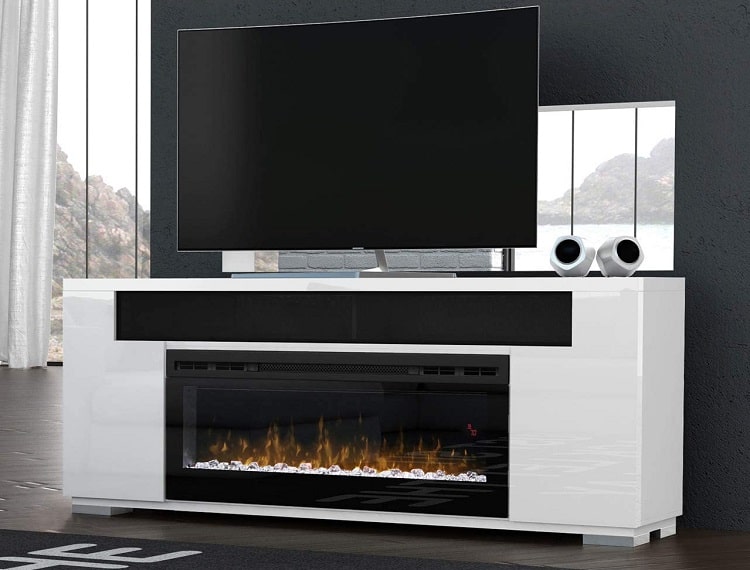 The Dimplex electric fireplace selection process can seem intimidating because there are so many models to choose from. But, if you define your search criteria before you start looking at different models, this process is going to be quick and easy.
Setting the price range or knowing which type of electric fireplace you're looking for are among the things that can help you narrow down your search criteria and find the model that matches your expectations.
Let's take a look at more factors that might make finding the right Dimplex electric fireplace easier.
Check the Model's Heating Output
Twelve units have heating outputs in the range between 4,200 BTUs and 9,200 BTUs, while only eight models allow you to adjust their heating output. So, finding an electric fireplace you can use as an additional heating source in spaces that have up to 1,000sq/ft shouldn't be too difficult.
On the other hand, only two brands' models have less the 300 BTUs of heating power, which means that you're not going to have a lot of choices if you're searching for a heatless model. Most of the brand's electric fireplaces have a heating output that spans from 4,000 to 5,000 BTUs.
Explore Different Media Options
Choosing the type of media that is going to be displayed on your electric fireplace isn't always possible, but some models let you choose between the log, fresh-cut log, and birch log sets.
Also, some models are equipped with the Thruview technology that allows you to see the firebox behind flames and heightens the illusion of realism. Brand's high-end units also utilize the Opti-myst ultrasonic technology that generates the smoke and blends it seamlessly with the flames.
The flames are generated with LED technology that simulates the movements of a real fire. Besides different types of wood media, Dimplex's electric fireplaces can have an ice ember bed.
Find Out More About the Model's Thermostat
Only five units don't have a built-in thermostat, while all other models either have an electric or mechanical thermostat, but the manufacturer doesn't offer a lot of information about their properties.
Besides using the thermostat to adjust the settings of Dimplex electric fireplaces, you can also change the unit's flame speed or its heating output with a remote. These fireplaces aren't WiFi-enabled, and you can't control them from a smart device.
Go Through the Flame Control Options
Changing the flame speed isn't possible on all of the brand's models. This feature allows you to create a dramatic effect in a room with rapidly moving flames or set a more intimate atmosphere by slowing down their speed.
You can adjust this setting from the remote or directly on the unit's control panel. Also, most models allow you to change the brightness of their flames and set different types of moods in a room.
Check the Warranty Duration
The warranty length depends on the model you choose, and it spans from 1 to 5 years. Also, some units come with a limited warranty and taking the time to read it will let you know what it covers.
The majority of Dimplex's electric fireplaces have warranties that guarantee free replacement of the defective parts. However, you must register your product within one month from the purchase to activate its warranty period.
Top 4 Dimplex Electric Fireplace Models
Dimplex GDS50G5-1671W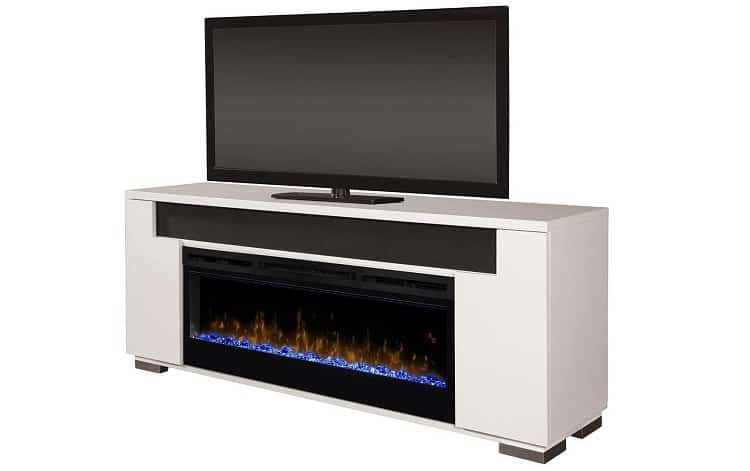 The contemporary and minimalistic design of the Dimplex GDS50G5-1671W makes it an excellent match for rooms with modern or industrial looks. This electric mantel fireplace features an adjustable interior shelf as well as a removable speaker grille.
The unit lets you switch between 4180 BTU and 8290 BTU heat outputs, and it features a heat-forced fan. In addition, you can adjust the speed and brightness of the flames generated by the Dimplex flame technology.
This Dimplex's model has a built-in electronic thermostat and a remote that grants you complete control over the unit's settings.
Pros
Suitable for spaces that have up to 1,000sq/ft
Stunning flame realism
Functionally designed mantel
Quick and easy set up
Cons
1-year limited warranty
High price tag
Dimplex VF2927L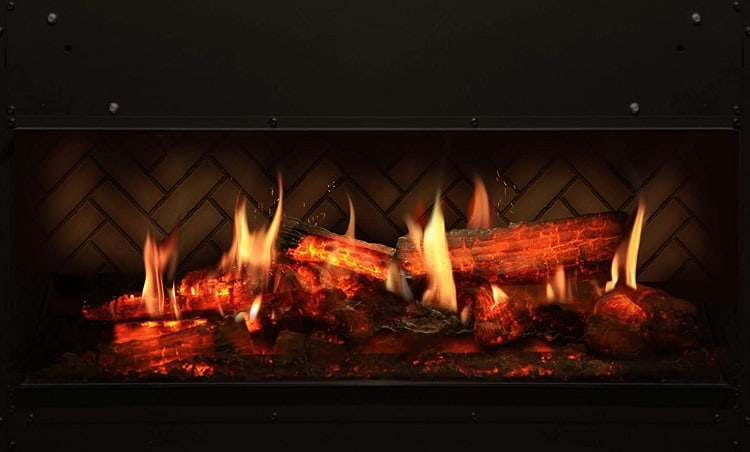 The Dimplex LED technology is the reason why the Dimplex VF2927L can render an incredibly realistic depiction of fire. Its media depicts logs that crackle occasionally and flickering flames. You can control the fire's sound level and flame speed with a remote.
This 34-inches wide and 18-inches line fireplace is designed to be installed in-wall recesses, and you can wire it directly to 120V and 240V circuits. This virtual fireplace doesn't emit heat, and its function is purely aesthetic. It also doesn't have an automatic shut-off function, and you have to turn it off whenever you want to stop using it.
Pros
Low power consumption
Creates the illusion of a real fire
Adjustable flame speed and noise level
Intuitive controls
Cons
No heating function
The product weighs more than 60lbs
Dimplex RBF30-GP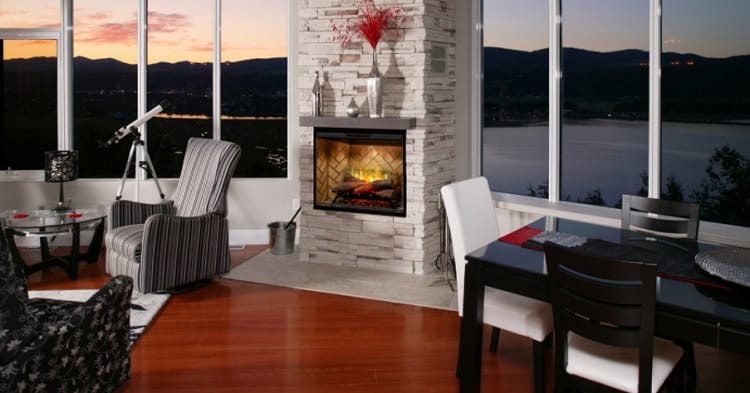 You can choose between 30-inch, 36-inch, and 42-inch versions of the Dimplex RBF30-GP built-in firebox. The model features the log set media, and it generates random flame patterns that contribute to the visual effect it creates.
This electric fireplace comes with the partially frosted Mirage Flame panel that accentuates the flames and eliminates reflections. It features a built-in electronic thermostat that allows you to adjust its heating output in the range between 0 and 4,400BTUs.
The timer feature lets you program when and for how long the electric fireplace is going to run.
Pros
Directional heating
Flames can have warm and cold hues
Available in multiple sizes
Simple installation process
Cons
Media selection is limited
The remote has a limited range
Dimplex RLG25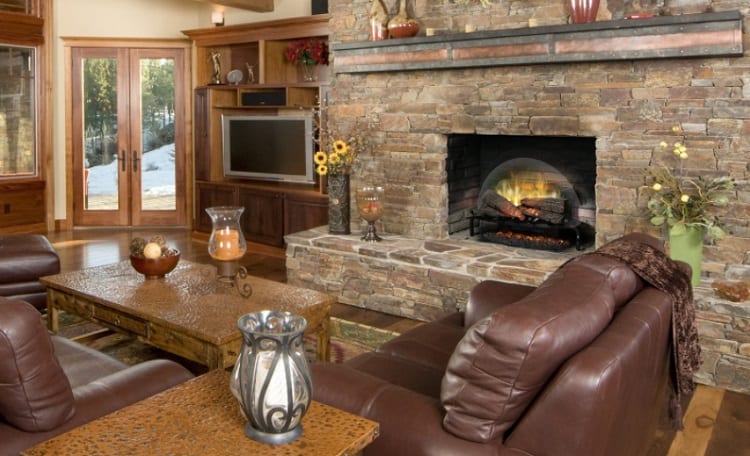 You should consider getting the Dimplex RLG25 if you're looking for a fireplace insert. The unit is 28 inches wide and 18 inches long, so its compact dimensions might limit the scope of suitable installation spots.
You can choose between log, birch log, and fresh cut log media sets, and each version of this electric fireplace comes with a Mirage Flame Panel that heightens the flame illusion. The unit utilizes the forced fan heating method, and it can generate up to 5,118 BTUs of heat.
However, it doesn't have a built-in thermostat which prevents it from adjusting the heat output to the current room temperature.
Pros
Affordable price
Simple setting adjustments
Multiple media options
The limited warranty includes a 1-year free service
Cons
No built-in thermostat
Compact dimensions
FAQs
Question: Can I Use the Heating Function Without the Flames on Dimplex Electric Fireplaces?
Answer: You don't have to use these two functions simultaneously, and you can use a Dimplex electric fireplace to heat a room without activating the flames.
Question: Do Dimplex Electric Fireplaces Have High Upkeep Requirements?
Answer: Besides dusting, these devices don't have any other upkeep requirements.
Question: Are Dimplex Electric Fireplaces Expensive to Use?
Answer: The average monthly cost of using Dimplex electric fireplaces is around $45 if you use them for four to five hours every day, which means that they consume less power than most heating devices, but their coverage range is limited.
Question: How Long Do Dimplex Electric Fireplaces Last?
Answer: Although their warranties expire after a maximum of 5 years, the lifespan of Dimplex electric fireplaces is usually between ten and twenty years.
Our Verdict: How to Know Which Dimplex Electric Fireplace Model is the Best Choice for You?
Dimplex company invented the flame effect in 1995 that was perfected over the course of the last couple of decades. The brand's latest models are equipped with unpredictable flame patterns and advanced LED technologies that control the behavior of the ash, logs, and amber.
Their heating capacities, however, cannot mimic the heating outputs of real fireplaces, but most models can still be used as a secondary heating source. We recommend the Dimplex RBF30-GP electric fireplace because of its exceptional flame realism and good heating capabilities.
You should consider getting a model like the Dimplex GDS50G5-1671W that comes with a mantel if you don't already have a place for an electric fireplace.
Was this Dimplex electric fireplace model guide useful? Let us know in the comments or continue reading our guide to water heater systems to learn more about different options you can use to heat water in your home.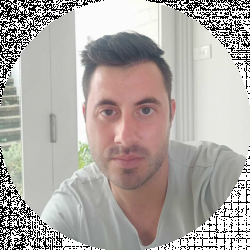 Latest posts by David Borgogni
(see all)