Achieving a stylistic unity while furnishing a room can be a daunting process for cooling solutions. The best chandelier ceiling fans might make this process easier because they're both visually appealing and functional.
These fans are produced in a wide range of styles, which enables you to opt for a traditional conventional piece or a minimalistic, modernly designed model.
Unlike advanced cooling systems that can regulate the temperature in the entire home, chandelier ceiling fans are a single-room cooling option.
So, in this article, we're going to take a closer look at the properties of these fans and assist you in choosing a model that matches the style of the room you want to cool. You should go through our guide to the best 72-inch ceiling fans if you need an efficient cooling solution for a room larger than 350sq/ft.
At a Glance – The 5 Best Chandelier Ceiling Fans
Selection Criteria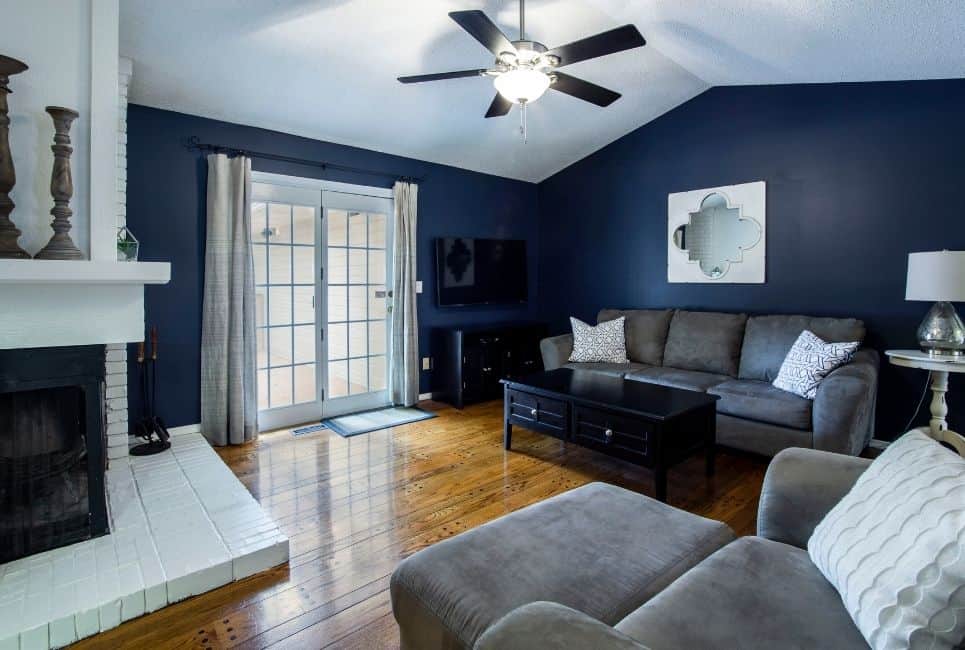 Besides the cooling functionality, these ceiling fans also serve as a light source in the space where they're installed. Hence, the airflow volume and blade size aren't the only factors that determine their performance.
The parameters we used to choose the models featured in this article cover the cooling and lighting performance and the unit's visual appeal. Here are some of the most important factors we considered while selecting the chandelier ceiling fans for this article.
Blade diameter – The maximum airflow output and its cooling range largely depend on the size of the fan's blades. Our selection includes models with blade diameters in the range between 42 and 52 inches.
Lighting capacity – All chandelier ceiling fans we selected for this article can serve as a primary light source in rooms that have up to 250sq/ft. In addition, some models allow their users to switch between different light warmth options.
Fan's style – Besides cooling and light, these fans also have an aesthetic function. The chandelier ceiling fans we shortlisted are manufactured in both traditional, retro, and contemporary styles that match with different home décor styles.
Explore our guide to the best helicopter fans if you're considering adding this decorative element to your home.
Cooling Capacities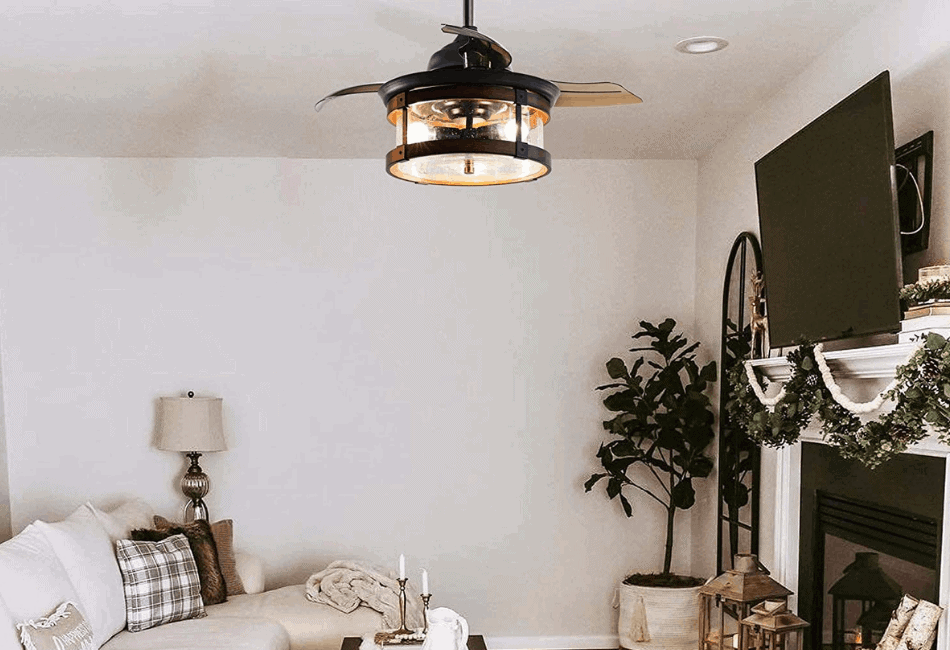 A ceiling fan doesn't actually lower the air temperature. Instead, it creates a breeze that cools the people rather than the air. The coverage range of a chandelier ceiling fan depends on the maximum speed at which its blades can rotate and their size.
Most units have motors that can operate at three speeds, but some fans can have up to 6 different speeds.
The blade diameter of these fans spans from 30 to 52 inches, and they're capable of generating between 2,000 and 5,000 CFM of airflow. Also, chandelier ceiling fans can be equipped with retractable blades that have different diameters when they're folded and fully extended.
Like windmill ceiling fans, they're usually designed for small and medium-sized spaces that have up to 250sq/ft. Besides cooling, chandelier ceiling fans with reversible functions can make a home's heating system more efficient by lifting the air and circulating it through the room.
Check out our guide to the best enclosed ceiling fans if you're looking for a way to cool a small space.
Lighting Range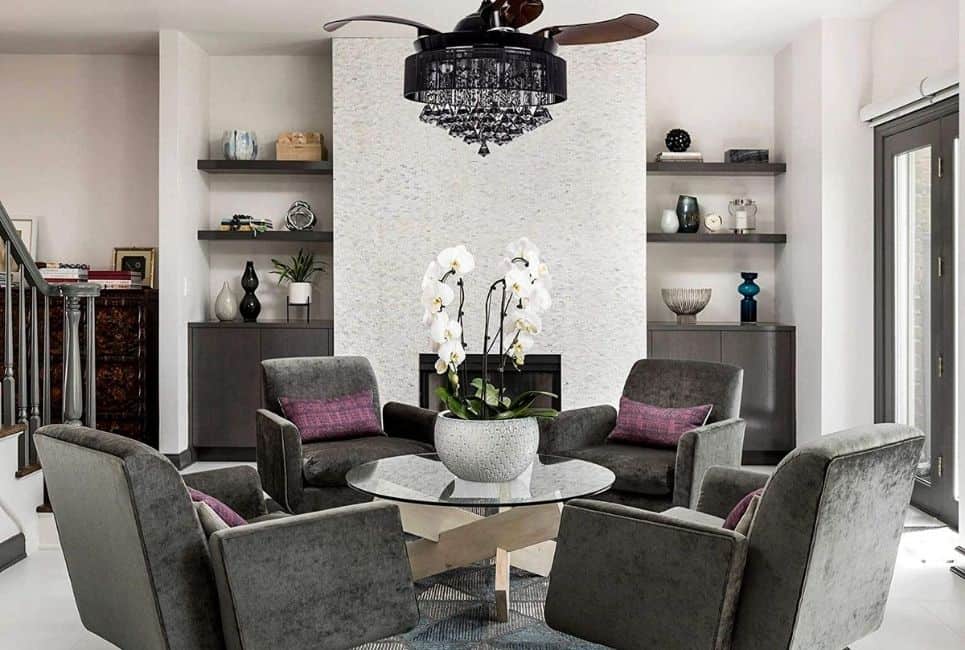 Finding information about how much light a chandelier ceiling fan can provide isn't always easy because some manufacturers don't include this information in the product description. However, most models utilize one or more halogen or LED light bulbs with brightness levels between 400 and 3000 lumens.
Although you can control the chandelier ceiling fan's lighting and cooling functions separately, only a handful of units have the dimming feature. Adjusting the light warmth is a standard feature as almost all chandelier ceiling fans let you switch between cold, neutral, and warm light options.
It is worth adding that the light bulbs don't always come with a chandelier ceiling fan, which gives you the freedom to choose how bright you want the light bulbs to be.
The lights on these ceiling fans are usually powerful enough to illuminate the area approximately the size of the unit's coverage range. Our guide to the best wall exhaust fans might help you find a suitable ventilation solution for your bathroom or kitchen.
Mounting Methods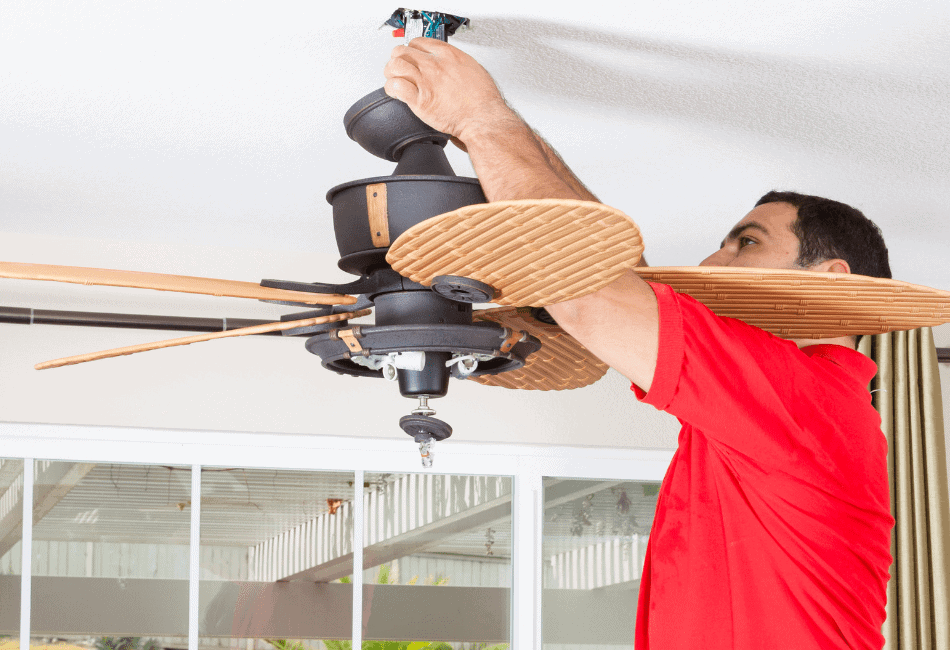 The blades of a chandelier ceiling fan need to be safe from the floor to avoid potential injuries. On the other hand, they also have to be at least 10 inches away from the ceiling to ensure proper air circulation.
A mounting bracket is the one element all chandelier ceiling fans need regardless of the mount type they use. Consequently, these fans rarely utilize the flush mount method because it cannot provide sufficient spacing between the blades and the ceiling.
Let's take a look at the most common mounting methods of chandelier ceiling fans.
Downrod mount – This mounting option works best in rooms with ceilings higher than 8 feet because it lets you position the fan at a safe distance from the floor while providing enough separation from the ceiling. The length of the downrod usually varies from 7 to 12 inches.
Semi-flush mount – Although it is more common on chandelier ceiling fans with retractable blades, this mounting method is sometimes used on standard versions of these fans. A semi-flush mount is a good option for rooms with relatively low ceilings.
Check out our guide to the best window fans if you need a cooling solution for a space with a low ceiling.
Safety Concerns
The weight of a chandelier ceiling fan is one of the primary concerns since some models can weigh more than 30lbs. That's why they shouldn't rely solely on the electrical box for support, as the lack of proper support can make the fan wobbly and unstable.
In case you're installing a chandelier ceiling fan in place of an old light fixture, you need to check if the electrical box is attached to a ceiling joist and provide the necessary weight support if it isn't.
Besides stability, the height at which a chandelier ceiling fan will be installed is another major safety concern. The blades of these fans rotate at high speeds, and they can be more than 25-inches long.
That's why you should make sure that a chandelier ceiling fan is at least 7 feet above the floor. You should also go through our fan electricity usage guide to estimate how much power a chandelier ceiling fan will use.
The Most Important Factors to Consider While Choosing a Chandelier Ceiling Fan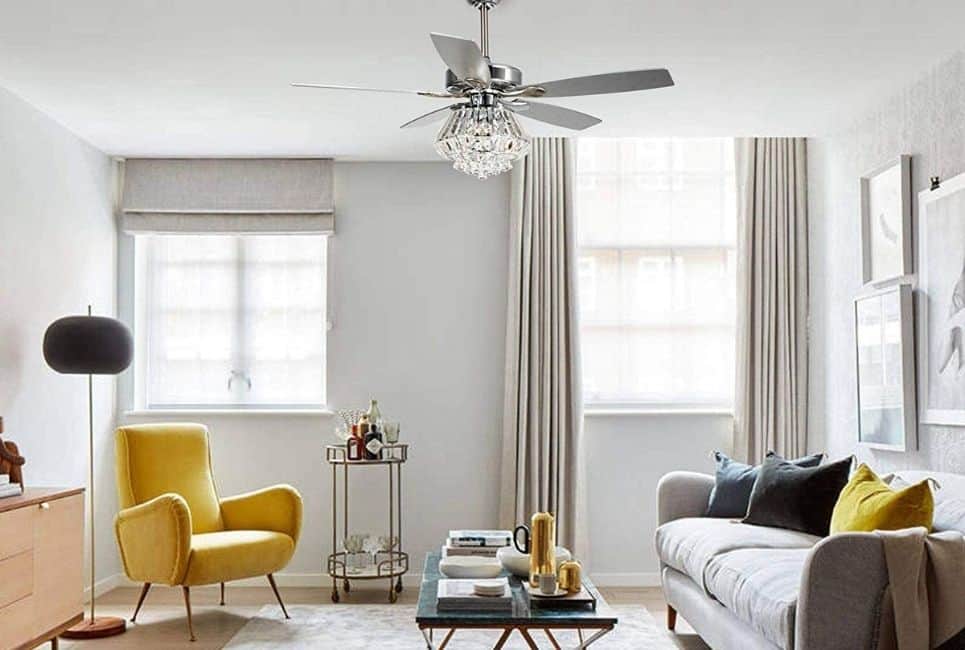 The properties of chandelier ceiling fans aren't much different than the properties of conventional ceiling fans. Arguably, the biggest difference is the light fixture that isn't always included on standard versions of ceiling fans.
Even so, the process of choosing a chandelier ceiling fan is fairly similar to the process of choosing any other type of ceiling fan. Let's go through some of the most important aspects of this process that might help you find a model that meets all your needs.
Blade Diameter and Maximum Airflow Volume
The length rather than the number of blades determines how much airflow a chandelier ceiling fan can generate. Models with a 52-inch blade diameter can produce anywhere between 2,000CFM and 7,000CFM, depending on how powerful their motor is.
A chandelier ceiling fan can help you cool a 75sq/ft or 400sq/ft room depending on how long its blades are. That's why you need to know how big the space you want to cool is to choose a suitable unit for that space.
Reversible Rotation Direction
Ceiling fans are usually viewed as seasonal devices that supply cooling during the hot summer month. This is partially true since some models have reversible motors that can rotate the blades in both directions.
This feature enables you to use a chandelier ceiling fan throughout the year because it pushes the air down when you want to cool a room or lifts it when you want to circulate warm air through the room.
Features and Control Options
A pull chain, wall switch, and remote are standard control options these fans offer. A unit can have just one or more control options, so a model you choose might feature a pull chain and a remote. This enables you to choose the preferred control method.
Chandelier ceiling fans don't have many features, as most models let you switch between three blade speeds and three light options. Some models are equipped with a Timer that allows you to choose if you want the fan to run for one, two, four, or eight hours.
Fan's Weight and Upkeep Requirements
On average, a chandelier ceiling fan weighs between 15lbs and 30lbs, although models with blades made of wood might be even heavier. Checking the weight of the model you'd like to get will let you know how much weight support it needs so that it can be installed safely.
Cleaning the blades isn't difficult, provided that you have a way of reaching them because they need to be at least 7 feet away from the floor.
Maintaining the chandelier portion of these fans can be more challenging because removing dust or dirt from crystal bids and similar decorative elements isn't always easy.
Cost and Durability
A chandelier ceiling fan can last more than a decade if it is properly installed. Aside from changing the light bulbs occasionally, you won't have to do much else to keep these fans in good condition. The blades are commonly made of ABS plastic or processed wood, and they cannot be damaged easily.
The price of these fans varies from $100 to $300 depending on the model and the features it offers. Manufacturers don't always offer warranties for their chandelier ceiling fans. Those models that have a warranty are usually under warranty for just one year.
The Advantages of Chandelier Ceiling Fans
Compatible With Different Furniture Styles
Modern, traditional, industrial, or contemporary chandelier ceiling fans can match a wide range of home décor styles. Rather than being just a functional cooling device, these ceiling fans can complement the rest of the furniture in a room.
A Powerful Source of Light
Instead of installing a chandelier and a ceiling fan separately, you can choose a unit that combines these two features. Chandelier ceiling fans allow you to adjust their light settings and change the room's atmosphere per your needs.
Excellent Cooling Capabilities
The blade diameter of these fans spans from 40 to more than 50 inches, suggesting that they can generate enough airflow to cool rooms larger than 300sq/ft. In addition, you can control how much of the fan's power you want to use by selecting the speed at which its blade rotates.
The Disadvantages of Chandelier Ceiling Fans
Not a Perfect Choice for Rooms With Low Ceilings
Installing these fans too close to the floor can be potentially dangerous because their long blades might injure someone. That's why they're not an ideal cooling solution for rooms with ceilings lower than 7 feet.
Top 5 Chandelier Ceiling Fans
Andersonlight Palm Chandelier Ceiling Fan – The Best Living Room Chandelier Ceiling Fan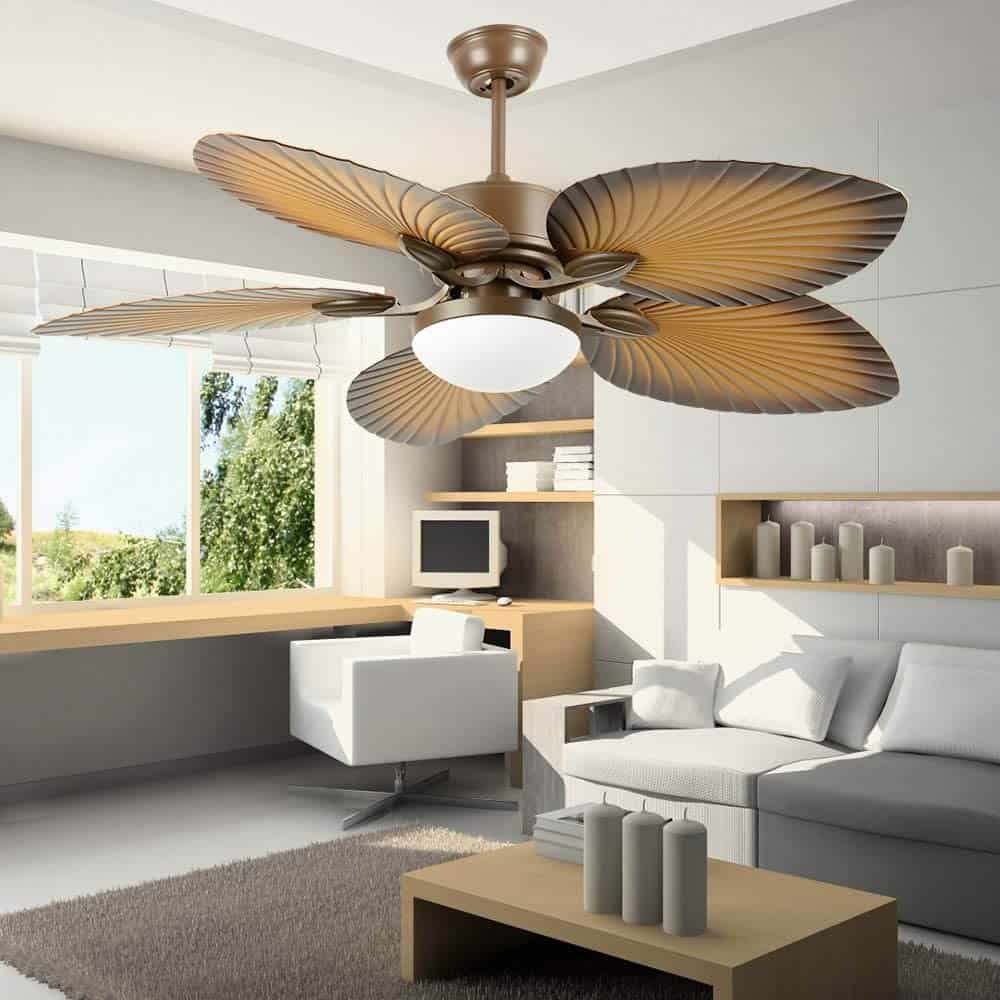 The leaf-shaped blades and a modernly designed chandelier make Anderson Palm Chandelier Ceiling Fan a great fit for a dining or living room. Its blade diameter is 52-inches, and the unit can supply you with 5023 CFM of airflow while operating at maximum capacity.
Its reversible motor is equipped with a technology that reduces its noise level and enables you to use the fan during cooling and heating seasons. The fan ships with an LED light bulb, and you can easily control its light warmth with the remote.
Pros
Multiple downrod lengths are available
Elegant design
Low noise level
High airflow volume capacity
Cons
The fan weighs almost 28lbs
No warranty
Tropicalfan Chandelier Ceiling Fan – The Most Affordable Chandelier Ceiling Fan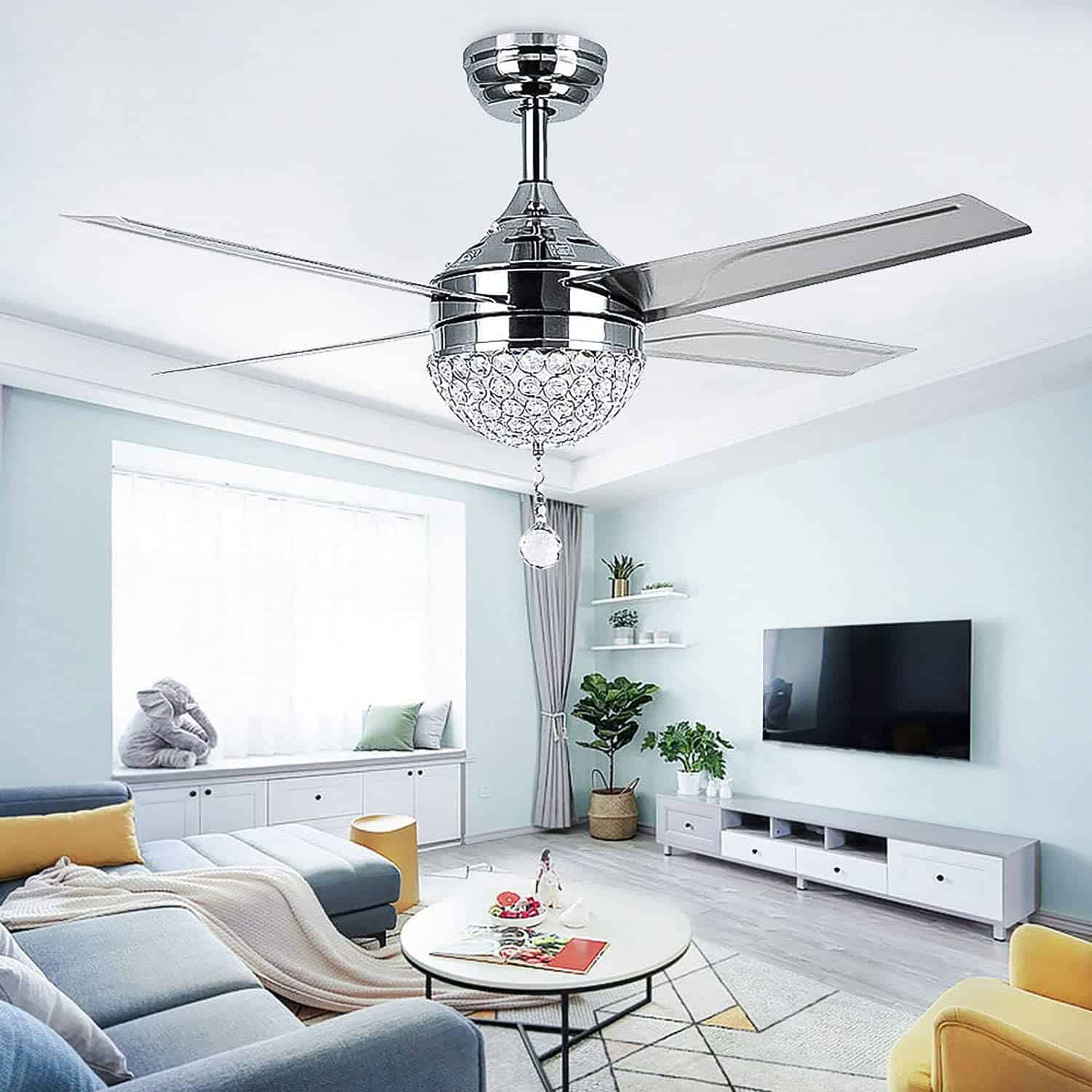 Even though it isn't very expensive, the Tropicalfan Chandelier Ceiling Fan can still generate 4500 CFM airflow. Even so, this 44-inch ceiling fan is best suited for rooms that have up to 140sq/ft. Its blades are 18.8 inches long, and they're made of stainless steel.
The K9 crystal chandelier is equipped with built-in LED chips to illuminate the entire room but replacing these lights can be difficult. This fan comes with two downrods with different lengths so that you can choose the one that allows you to create the most separation between the floor and the fan.
Pros
Adjustable blade rotating speed
Low power consumption
Durable shell
Heat sink prevents the overheating of the motor
Cons
Limited coverage range
Difficult installation process
YITAHOME Chandelier Ceiling Fan – The Best Reversible Chandelier Ceiling Fan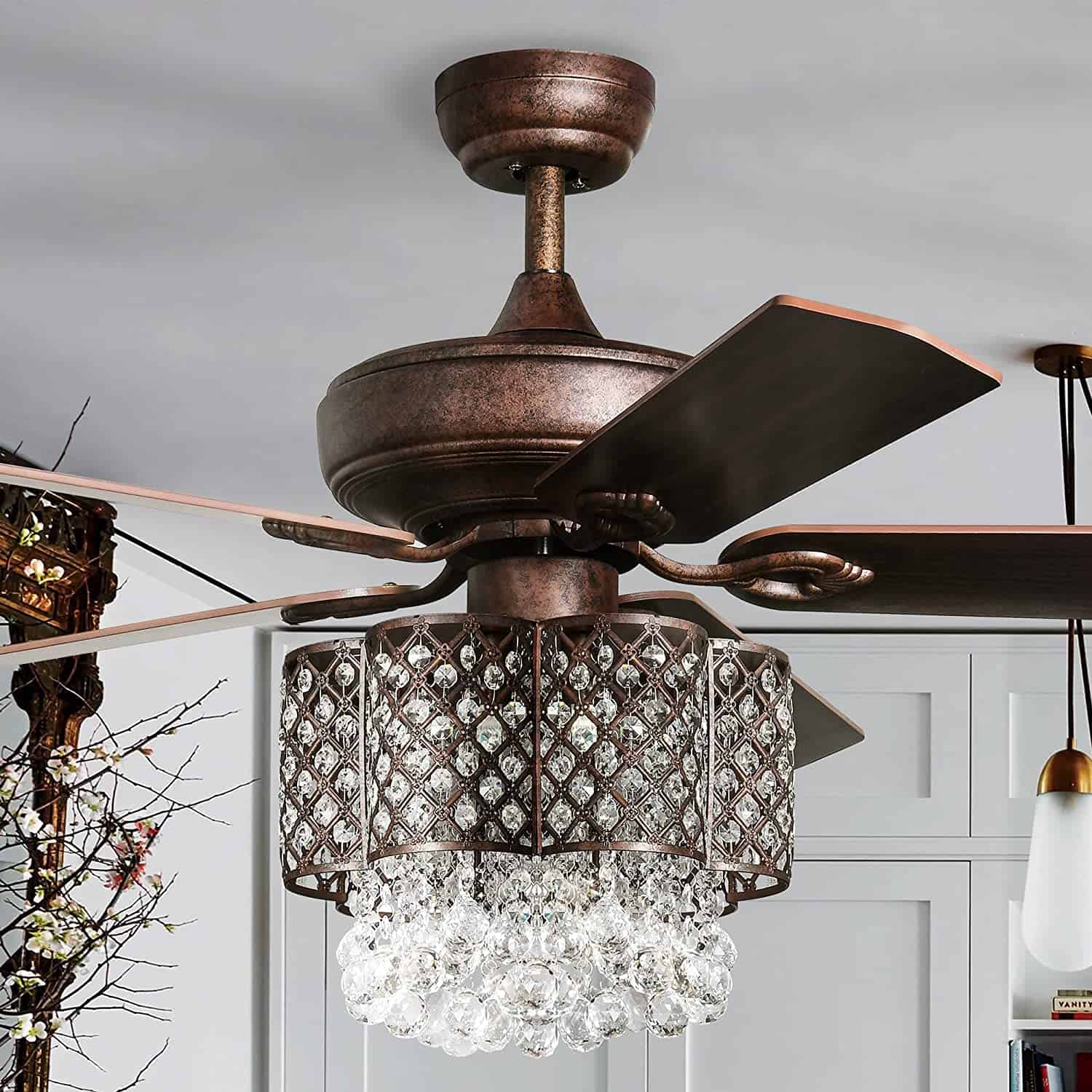 Despite having a 52-inch blade diameter, the YITAHOME Chandelier Ceiling Fan makes only 35dB while operating at its maximum speed. The fan can generate enough airflow to cool a 225sq/ft room, and the reverse function enables you to use it in all seasons.
The unit has five blades made of plywood, while its chandelier section was made of K9 crystal. The YITAHOME's model has the Timer function that allows you to choose if you want the unit to run for one, two, four, or eight hours.
Pros
Classic design
Compatible with E26 and E12 light bulbs
Quiet operation
The timer feature switches the unit on and off in equal intervals
Cons
The light isn't dimmable
Requires professional installation
Parrot Uncle Chandelier Ceiling Fan – The Best Chandelier Ceiling Fan With Retractable Blades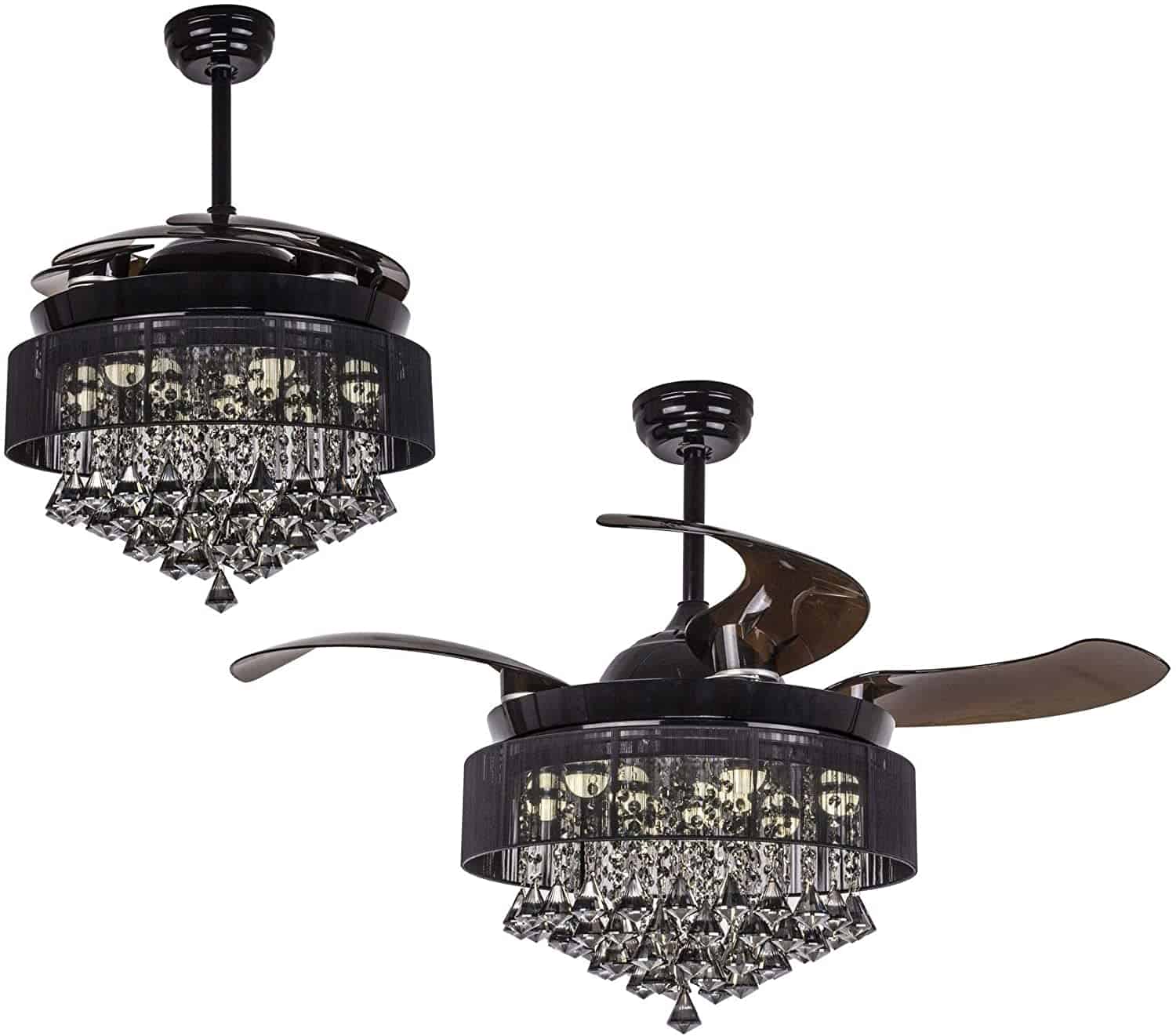 The Parrot Uncle Chandelier Ceiling Fan might be the right choice for you if you need a cooling solution for a room that has a low ceiling. The diameter of its retractable ABS plastic blades is 46 inches when fully extended, enabling the fan to generate up to 2679 CFM of airflow.
The chandelier can hold 9 light bulbs simultaneously and produce up to 4,000 Kelvins of light, but you cannot change the light's warmth or lower its intensity. The unit's remote has a 49-foot range so that you can adjust the fan's settings from anywhere within the room.
Pros
Multiple color options are available
Ships with a 32W LED kit
Programmable fan
Suitable for angled ceilings (up to 15 degrees)
Cons
No light adjustment options
More expensive than its competitors
Siljoy Chandelier Ceiling Fan – The Most Stylish Chandelier Ceiling Fan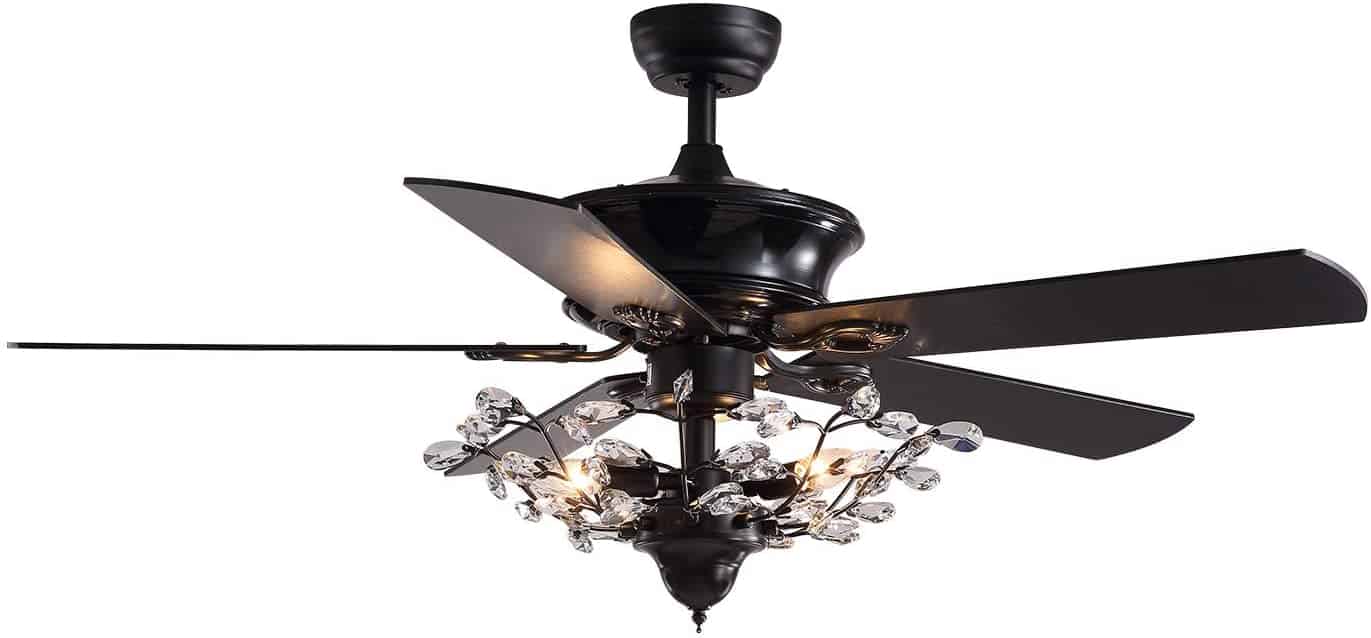 A modern and elegant light fixture and sturdy wooden blades make the Siljoy Chandelier Ceiling Fan a perfect fit for stylishly furnished spaces. The model's cooling and lighting functions are separated, and you can use it only as a light source or a fan.
Siljoy's model has three bulb holders compatible with E12 light bulbs, but you cannot reduce their brightness or change their warmth. This 50-inch chandelier ceiling fan has a reversible motor that can move the air in the upward or downward direction.
Pros
Made of sturdy materials
Beautiful design
Low upkeep requirements
3 wind speeds
Cons
Weighs more than 20lbs
Only one color option is available
Frequently Asked Questions About Chandelier Ceiling Fans
Question: Can I install a chandelier ceiling fan alone?
Answer: You shouldn't attempt to install these fans on your own unless you feel comfortable working with electricity.
Question: Are chandelier ceiling fans WiFi-enabled?
Answer: Yes, some models are WiFi-enabled, and you can control them through Google Assistant or Amazon Alexa.
Question: How much noise does a chandelier ceiling fan make?
Answer: Although most manufacturers claim that their chandelier ceiling fans aren't loud, some models can produce more than 50dB of noise while operating at the maximum capacity.
Question: Can I install a chandelier ceiling fan on the patio?
Answer: Yes, but only if the model is rated for outdoor use.
Our Verdict: Which Chandelier Ceiling Fan Should You Choose?
The multi-functionality of chandelier ceiling fans makes them an attractive cooling option for residential and commercial spaces. Aside from having the ability to move vast amounts of air, these fans are also capable of illuminating large rooms.
They're produced in various styles, and you can use them with traditional or contemporary home décors. We recommend the Anderson Palm Chandelier Ceiling Fan because it offers a perfect balance between functionality and aesthetics.
A more affordable model like the Tropicalfan Chandelier Ceiling Fan can fit nicely with the industrial furniture style. Which chandelier ceiling fan are you going to choose?
Let us know in the comment, or continue reading our guide to the best ventless air conditioners if you don't want to go through the trouble of installing a chandelier ceiling fan.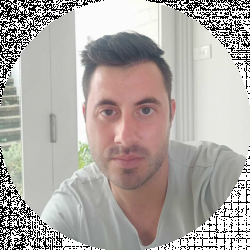 Latest posts by David Borgogni
(see all)