The aesthetic side of ceiling fans is often overlooked in favor of their functionality, which is why achieving stylistic unity in rooms equipped with ceiling fans isn't always easy. In this guide to the best farmhouse ceiling fans, we'll help you discover highly functional models that match rustic, farmhouse, and industrial home décor styles.
The visual appearance of these ceiling fans is often described as traditional, but that doesn't mean they lack the advanced features provided by modernly designed models.
The cooling capacities of fans designed in this style vary from model to model, enabling you to choose the option that best matches the room you want to cool. You should also go through our guide to the best windmill ceiling fans and explore alternatives to farmhouse fans.
At a Glance – The 5 Best Farmhouse Ceiling Fans
Selection criteria
Aside from their visual characteristics, farmhouse ceiling fans have the same features as all other types of ceiling fans. So, from a technical standpoint, there is very little difference between a conventional 72-inch ceiling fan and a farmhouse ceiling fan.

Even though the selection process is guided by your stylistic preferences, you shouldn't overlook the model's performance capabilities. Let's take a closer look at some of the parameters we used to choose farmhouse ceiling fans featured in this article.
Maximum airflow capacity – Instead of selecting the most powerful units, we picked farmhouse ceiling fans that are suitable for rooms of different sizes. So, the airflow volume of the models you can find in this guide is adjusted to spaces that have between 70sq/ft and 400sq/ft.
Reversible motor – Having the ability to change the rotation direction of the blades enables you to use a ceiling fan during cooling and heating seasons. Our selection includes models equipped with single and reversible direction motors so that you can choose the option that best fits your needs.
Stylistic properties – All ceiling fans we selected for this article have the critical characteristics of the farmhouse style.
Please read our guide to the best helicopter ceiling fans to find out how you can use these fans to decorate different rooms in your home.
Characteristics of the farmhouse style
Farmhouse style refers primarily to the practical and simple furniture that gives a space an overall feeling of warmth and comfort. The same can be said about ceiling fans designed in this style as they're highly functional and stripped of decorative elements.
The most common characteristics of this ceiling fan style are:
Natural materials – The blades and housing of these fans are usually made of wood, iron, or steel. Besides contributing to their aesthetics, these materials make farmhouse ceiling fans very durable.
Vintage light fixtures – Nearly all farmhouse ceiling fan models have light fixtures characterized by minimalistic vintage style. Despite their dated look, most contemporary models utilize energy-efficient LED bulbs and allow for incremental brightness adjustments.
Some models might even have wooden blades made to look worn out to accentuate the farmhouse style's visual properties. Check out our guide to the best-enclosed ceiling fans to explore ceiling fan models with a more contemporary look.
Blade size and coverage area
These ceiling fans come in various sizes, so finding the model that can cool a room of a specific size shouldn't be too difficult. The blade diameter is one of the essential features you need to pay attention to because it indicates the model's coverage area.
For instance, a ceiling fan with a 21-inch blade diameter can't cool spaces larger than 75sq/ft, so you'll need to get two or more same model units to cool an average-sized room. On the other hand, a 72-inch ceiling fan is suitable for spaces up to 500sq/ft.
Besides the span of the unit's blades, you must also look into its motor specifications to determine its maximum cooling capacity. In addition, most manufacturers include the unit's maximum airflow volume in the product description, which can also help you calculate its coverage range.
Please go through our guide to the best retractable ceiling fan options that can help you avoid safety issues created by large blades rotating at high speeds.
Lighting options
Farmhouse ceiling fans usually have a light fixture that can hold one or more lightbulbs. However, this feature isn't available on all models, so you can decide if you want to use a ceiling fan as a source of light.
Their lampshades can be made of glass, iron, and other natural materials, and they can have a broad range of shapes. Nonetheless, their design is characterized by simplicity and functionality, which ensures that you can change the lightbulb or clean the lampshade easily.
The light control options depend on the model, as some units only allow you to switch the light off and on, while others let you adjust the intensity and warmth of the light.
Also, you should keep in mind that most farmhouse ceiling fans are compatible with different lightbulbs, and you need to check if the model you want to get uses LED halogen or some other lightbulb type.
Browse through our guide to the best chandelier ceiling fans if you're looking for a model you can use as a primary light source in a room.
Mounting methods
These ceiling fans utilize all standard mounting methods, and you can install them on conventional and sloped ceilings. Each model has a specific angle limit that usually spans from 10 to 25-degrees, so you must check the unit's installation instructions to know if you can install it on a sloped ceiling.
Measuring the height of the ceiling will help you determine which mounting method is best suited for the room you want to cool. The minimum distance between the blades and the floor should be around 7 feet, while the distance between the blades the ceiling should be more than 10-inches.
Let's take a look at the most common mounting methods of farmhouse ceiling fans.
Flush mount – Ideal for spaces with low ceilings, this mounting method maximizes the distance between the floor and the fan. It also minimizes the distance between the blades and the ceiling, which can potentially lower the unit's maximum airflow volume.
Downrod mount – Aimed primarily for spaces with ceilings higher than 8 feet, this mounting method allows you to create enough separation between the blades and the ceiling.
Check out our guide to the best ceiling fan mounting brackets if you need this component to install your farmhouse ceiling fan.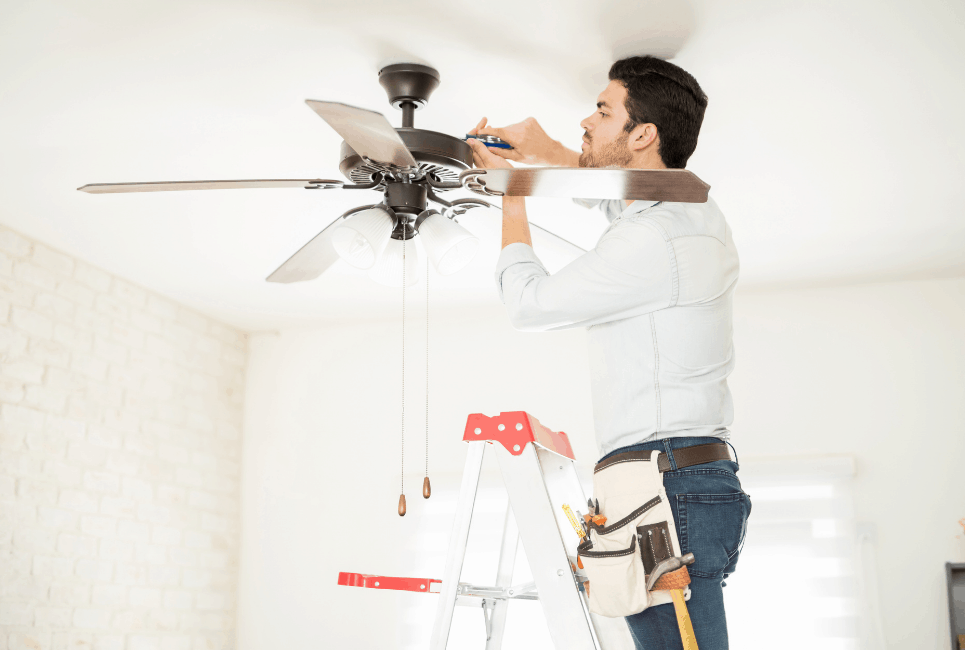 The most important factors to consider while choosing a farmhouse ceiling fan
Style shouldn't be your only guiding principle while searching for a new farmhouse ceiling fan because you might end up with a beautiful unit that doesn't meet your cooling requirements.
That's why you should go through the spec list of every model you consider buying and check its cooling and illumination capacities. We've selected some of the most significant aspects you need to take into account in order to find a farmhouse ceiling fan that matches the rest of the furniture in your home.
Fan's design
The visual appearance is among the fan's key features, as it will enable you to use this appliance to complement the rest of the room's décor. Besides the unit's style, you should also look at the design of its components.
Checking the blade pitch and material, for instance, can help you estimate the model's performance capabilities and its durability. Also, you should find out if the farmhouse ceiling fan you want to get is rated for indoor or outdoor use to know where you can install it.
Blade diameter and the number of speeds
The motor and the size of blades determine how much airflow a ceiling fan can generate. Most models are equipped with copper motors that don't generate high levels of noise while they're operating at their maximum capacity.
Usually, these ceiling fans have three to six speeds, while some units also have a reversible motor that lets you choose the blade rotation directions. The blade diameter varies from model to model, and you should opt for the blade size that best matches the space you want to cool.
Control options
The vast majority of farmhouse ceiling fans are controlled with either a pull chain or a remote. Choosing a model that is controlled with a remote is a more convenient option if the ceiling is higher than 7 feet.
The scope of options you'll have at your disposal depends on whether or not the fan has a light fixture or the type of motor it is using. In case you opt for a ceiling fan that has a lighting fixture, you should check if you can increase and decrease the light intensity or change the warmth of the light.
Ceiling compatibility
The ceiling fan's mounting method needs to be suitable for the ceiling in the room where you want to install the unit. So, for instance, if the height of the ceiling is 9 feet, you can use both standard mounting options, but you should choose a flush mount model if the ceiling is just 7 feet tall.
In case the ceiling in a room is sloped, you need to measure its angle to determine if you can install the model you want to get. It is advisable to check the weight of a farmhouse ceiling fan because that information can help you determine how much support the unit is going to need.
Warranty duration and price
The price range of farmhouse ceiling fans spans from less than $100 to $800. However, the performance capabilities of entry-level models are limited, and you shouldn't expect high airflow volume outputs or advanced light control options you can find on models that cost more than $400.
Although the ceiling fan installation process isn't overly complicated, you shouldn't go through it alone if you don't feel comfortable working with electricity. Professional installation, however, is going to increase your expenses since the average ceiling fan installation cost is around $250.
The warranty duration depends on the manufacturer, and some brands offer a lifetime warranty for their products while others only provide a 12-month quality assurance.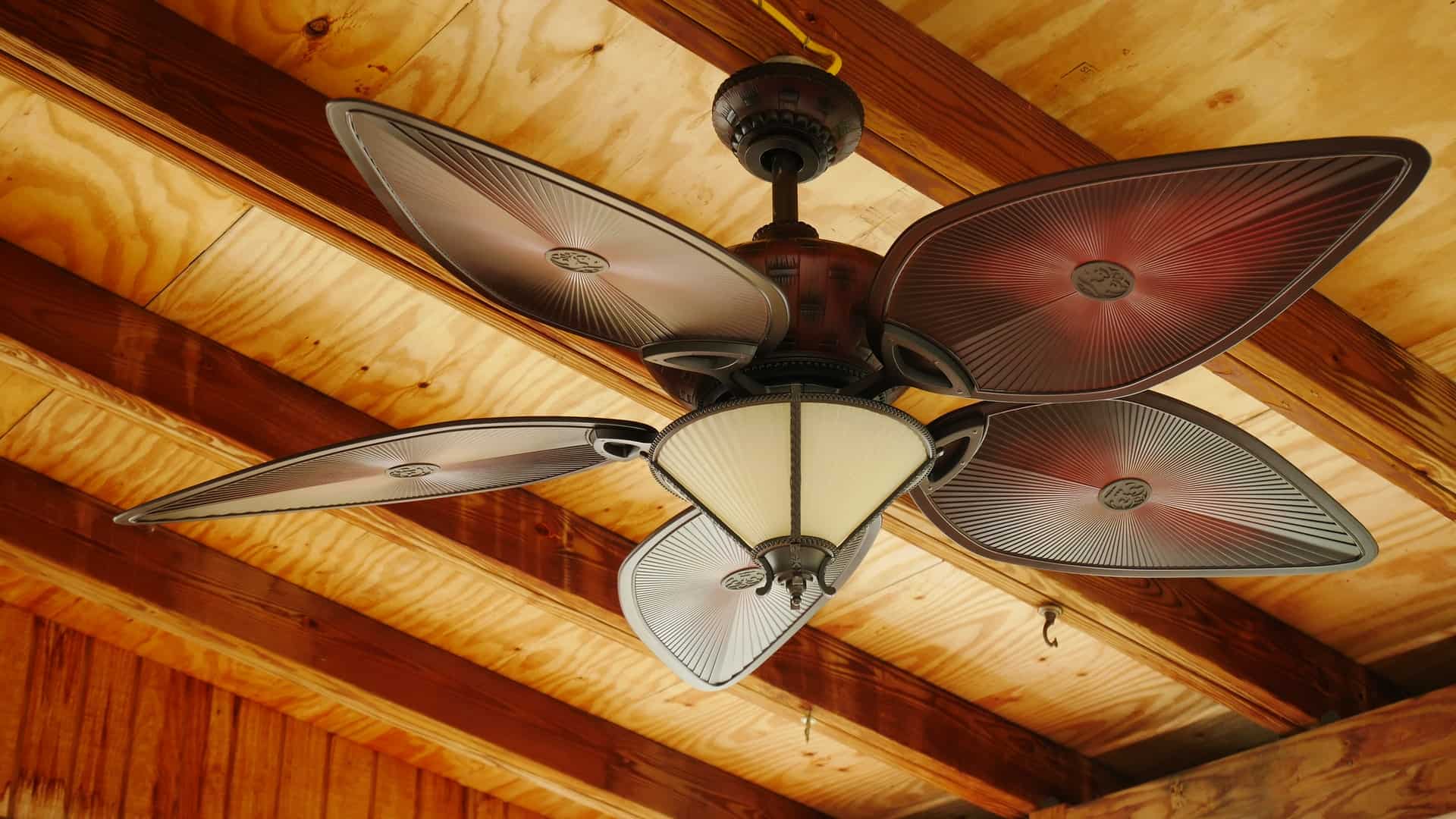 The advantages of farmhouse ceiling fans
Suitable for several home décor styles
You don't necessarily have to pair a farmhouse ceiling fan with furniture designed in this style because these fans match well with industrial and rustic home décors. Some models might even be an excellent fit for modernly furnished spaces.
Great cooling option for patios
Finding a farmhouse ceiling fan rated for outdoor use shouldn't be too tricky as there are so many models to choose from. Installing a ceiling fan on your patio can provide you with an instant source of cooling during hot summer days.
Durable components
Steel, iron, and wood are some materials commonly used to make the components of farmhouse ceiling fans. Each of these materials is durable and capable of withstanding years of heavy usage.
The disadvantages of farmhouse ceiling fans
Some models can be heavy.
The weight of a farmhouse can exceed 20lbs, and you need to provide them with the support they need to stay balanced since failing to do so might lead to accidents.
Top 5 farmhouse ceiling fan ideas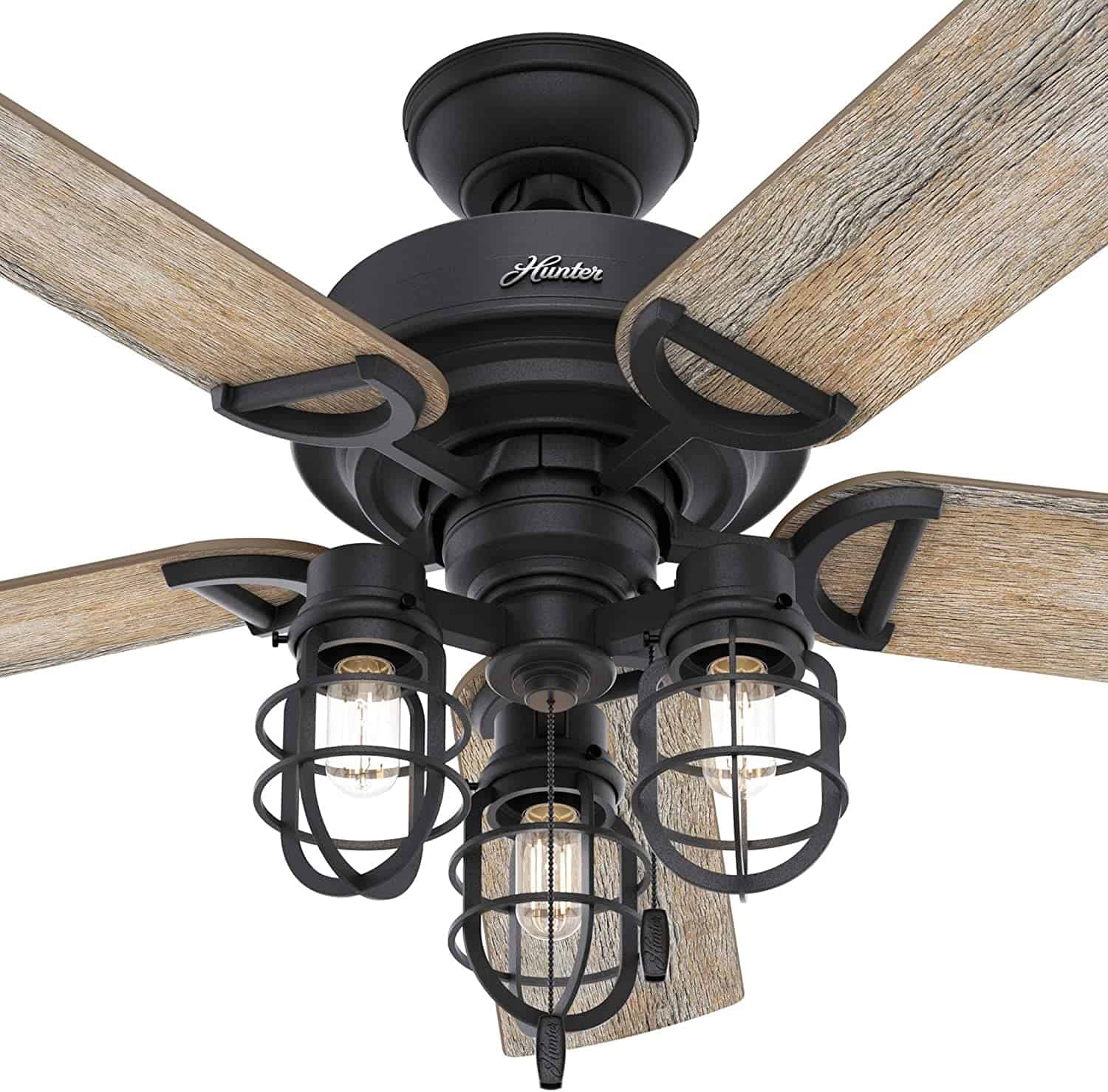 The 2-inch and 3-inch downrods allow you to find the perfect distance between the floor and the blades. Nonetheless, you shouldn't attempt to install the Hunter Fan Company 50409 Starklake on ceilings lower than 8 feet.
This unit is powered by a reversible motor that can operate at three different speeds. The motor's Whisper Wind technology ensures that the fan generates a minimum amount of noise. The Starklake has three light cages, and it is compatible with LED Edison bulbs.
Pros
Blades are made of barn wood and washed walnut
Can supply up to 350 lumens of light
Low noise level
Indoor and outdoor rated
Cons
Pull chain control
Designed for ceilings higher than 8 feet
Casa Veja Predator– The best outdoor farmhouse ceiling fan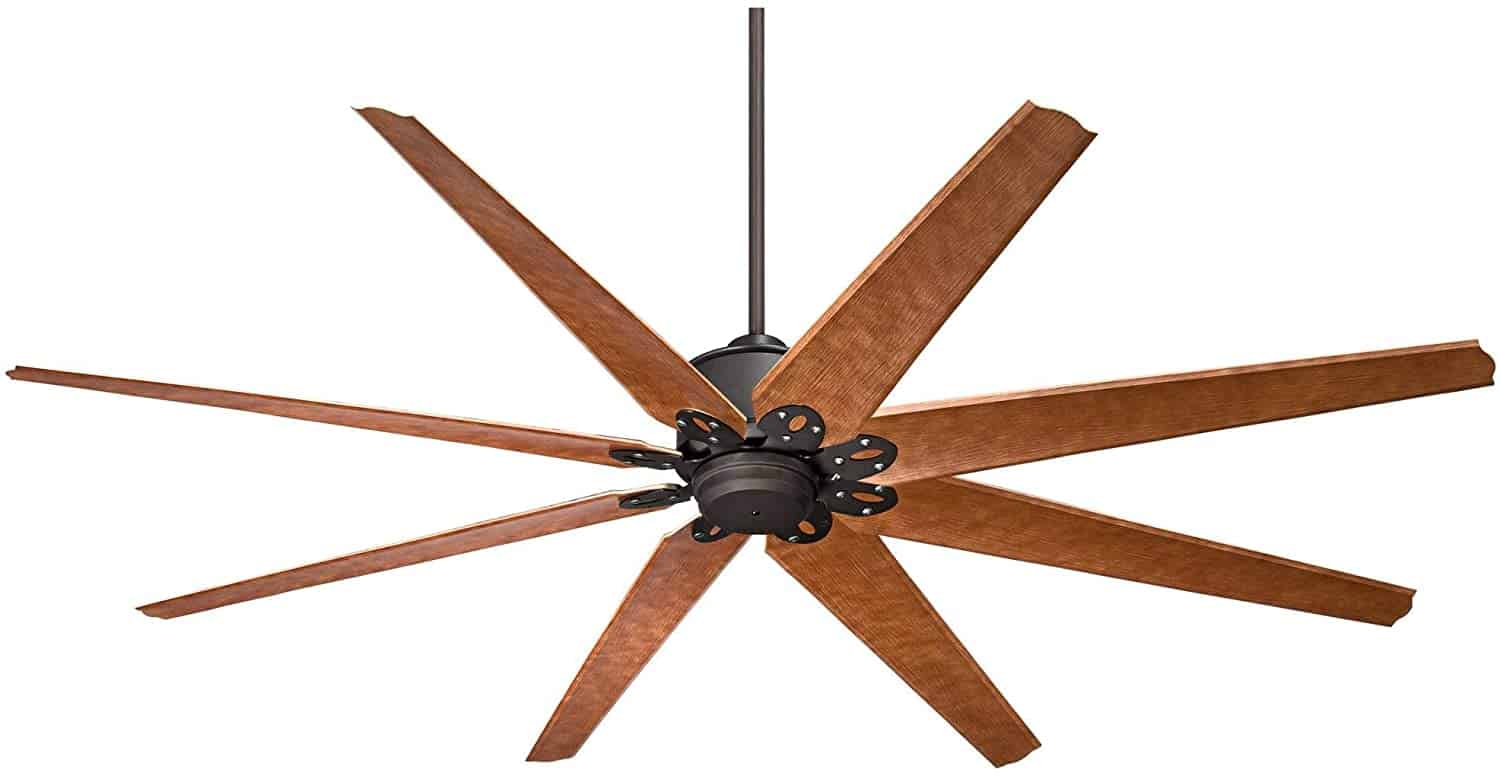 The Casa Veja Predator might be a good option for you if you need a farmhouse ceiling fan that is equally effective in dry and damp conditions. This 72-inch fan can generate up to 6310CFM of airflow, and it features a DC motor that can operate at six different speeds.
Although they look like they're made of natural wood, the blades of this fan are actually made of ABS plastic. The Predator ceiling fan utilizes the downrod mounting method, and its maximum slope angle is limited to 20-degrees.
Pros
Wide coverage range
Excellent performance in humid conditions
Equipped with a remote
Variable blade speed
Cons
No light fixture
Very heavy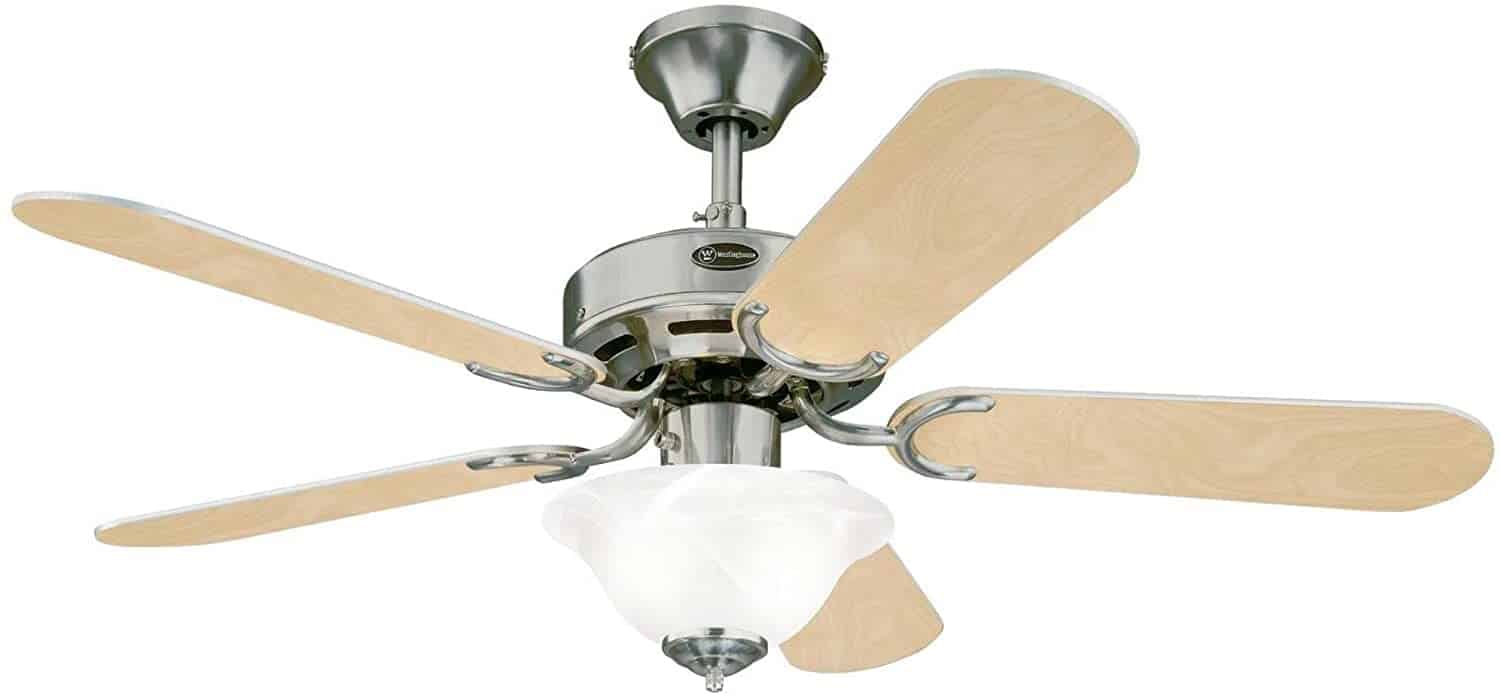 Even though it is one of the least expensive farmhouse ceiling fans on the market, the Westinghouse Lighting 7877265 Richboro still has a lot to offer. This 5-blade fan has a reversible motor that allows you to cool a room during summer and improve its heating during winter.
Its two light sockets are protected by a removable alabaster glass bowl, and they're only compatible with 60W Torpedo or G16 lightbulbs. You can use the remote to switch the light on and off or change the blade rotation speed.
Pros
Lightweight and elegant design
25-year warranty
The fan comes with the lightbulbs
Reversible airflow
Cons
Not for outdoor use
Limited cooling capacity
Vaxcel Humboldt – The most stylish farmhouse ceiling fan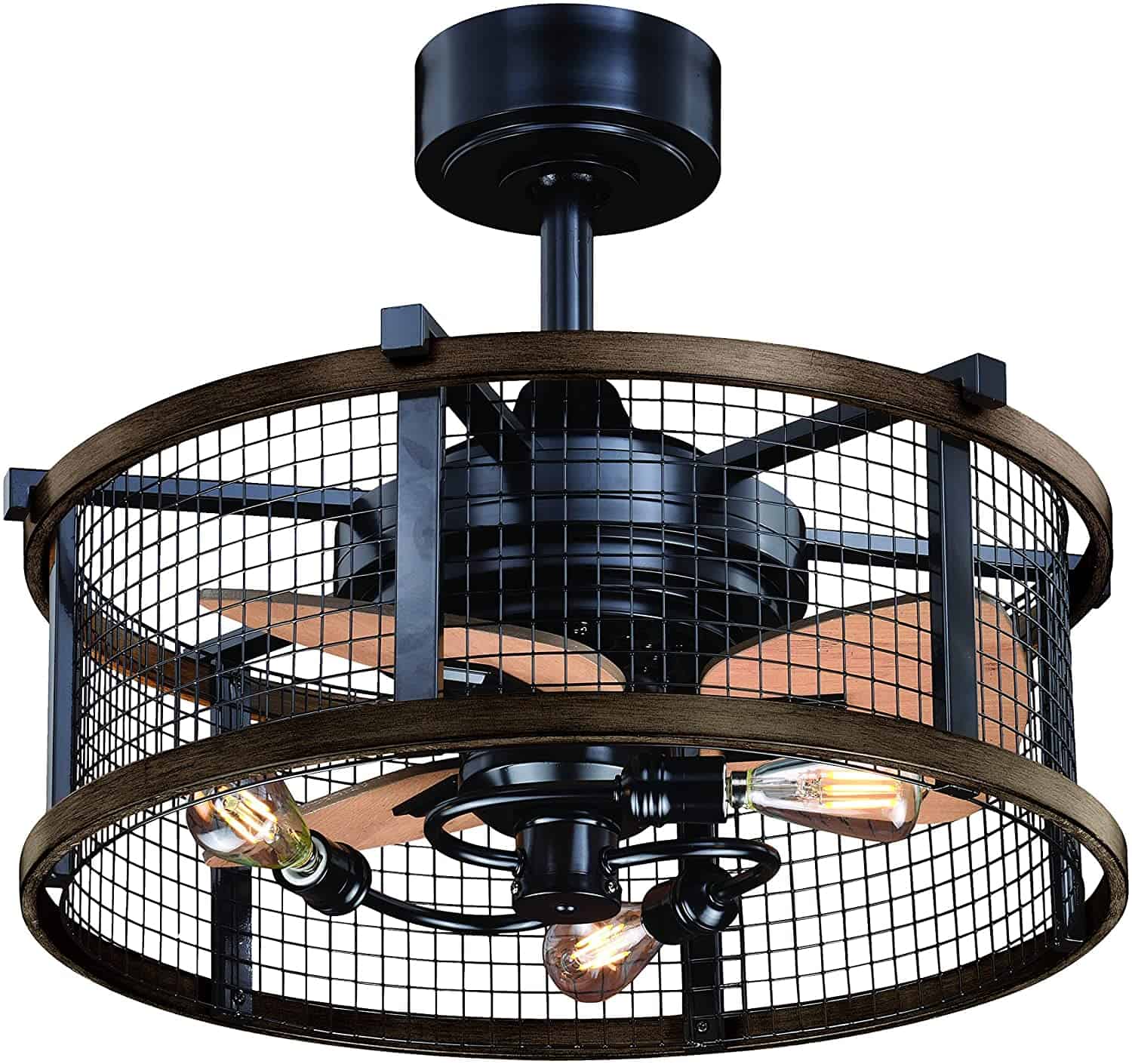 You can choose if you want to use the flush mount or the downrod mount method to install the Vaxcel Humboldt ceiling fan. The diameter of its wooden blades is just 21-inches, and its cooling capacities are limited.
The unit has three LED lights that can produce up to 900 lumens, and you can adjust their brightness level to meet your current needs. The Humboldt doesn't have a lampshade, and instead, it features a steel cage that prevents the blades and bulbs from getting in contact with surrounding objects.
Pros
Combines industrial and farmhouse styles
Multiple installation options
Dimmable lights
Sturdy steel construction
Cons
Narrow coverage range
More expensive than similar models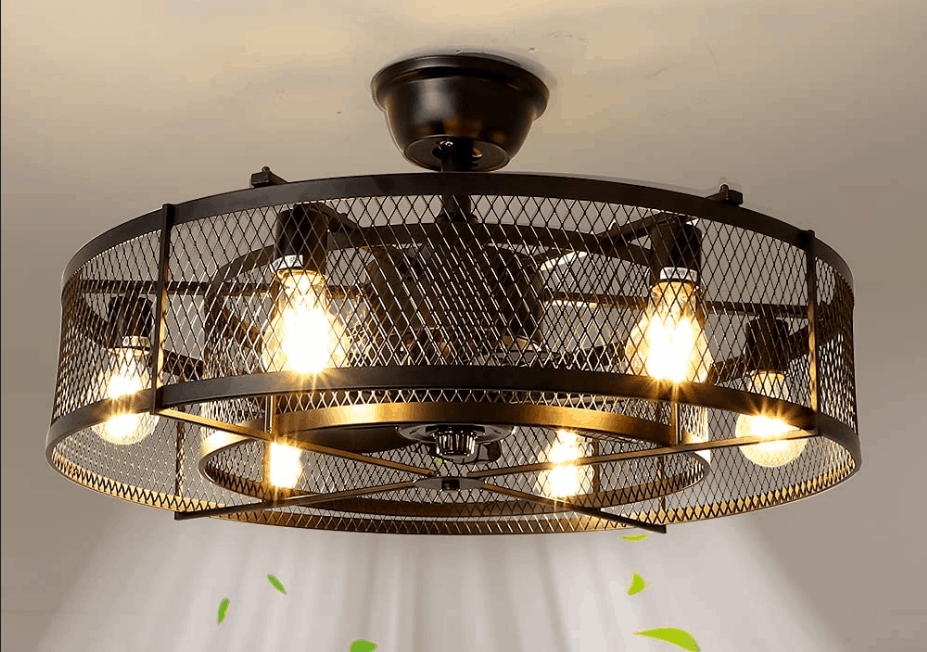 The iron construction makes the Depuley Farmhouse ceiling fan one of the most durable options you have at your disposal. This unit is rated for indoor and outdoor use so that you can install it in your bedroom, bathroom, or on your patio.
The double-layer iron frame separates the model's 26-inch blades from six E26 base sockets. The unit also has the de-noise feature that reduces the amount of noise its blades are making. This Depuley's model can operate at three different speeds, but you can't change its blade rotation direction.
Pros
Made from durable components
Great for low-ceiling spaces
Suitable for outdoor and indoor conditions
Reasonably priced
Cons
Short warranty period
No light adjustment options
Frequently Asked Questions About Farmhouse Ceiling Fans
Question: Are farmhouse ceiling fans noisy?
Answer: These fans are usually quiet, and a sudden increase of the noise level can be a sign that the unit is malfunctioning.
Question: How much power do farmhouse ceiling fans use?
Answer: The power consumption of farmhouse ceiling fans depends on their size, so a 26-inch model will consume less power than a 72-inch model.
Question: Do farmhouse ceiling fans have the timer function?
Answer: The models we included in this article don't have the timer feature, but some units designed in this style do have this feature.
Question: How long does a farmhouse ceiling fan last?
Answer: The durability of these fans depends on the quality of their components and how often you're using them. In most cases, you'll have to replace your farmhouse ceiling fan after five to six years.
Our Verdict: What's the Best Farmhouse Ceiling Fan for Your Home?
Farmhouse style has become immensely popular because of its simplicity and functionality. Ceiling fans designed in this style seem to reflect these values perfectly, as they're capable of excellent cooling performances, and they can be easily paired with different home décor styles.
Their features depend on their price tier, so the least expensive models won't have much to offer, and you'll have to spend $200 or more to get a model that grants you complete control over its wind and light settings.
We recommend the Depuley Farmhouse ceiling fan because of its versatility, but if you need a unit with a higher coverage range, you should consider a model like the Hunter Fan Company 50409 Starklake or the Casa Veja Predator.
Was this farmhouse ceiling fan guide useful? Let us know in the comments, or continue reading our guide to the best bladeless ceiling fans to find out more about what they have to offer.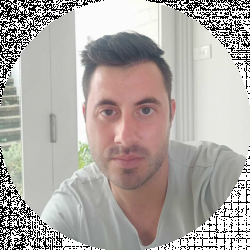 Latest posts by David Borgogni
(see all)