Even though they're designed to operate at high temperatures, components of furnaces deteriorate over time as a consequence of frequent expansions and contractions. Knowing what the best kind of furnace cement is can help you repair cracks in different types of high-temperature appliances.
Temperatures in gas furnaces reach 450F when propane or natural gas is ignited in a combustion chamber, while wood stoves can reach temperatures as high as 1,500F.
That's why the cement you use to fill in the gaps between ceramic and metal parts of an appliance has to be able to withstand exposure to high temperatures.
In this article, we're going to take a closer look at the properties of furnace cement and help you choose the best option for your heating appliance.
Read our guide to heating systems to explore different heating options for your home.
At a Glance – The 5 Best Kinds of Furnace Cement
| | | | |
| --- | --- | --- | --- |
| Model | Compatible materials | Temperature rating | Price range |
| Rutland Furnace Cement | Metal, ceramics, stone, firebricks | 2,000F | $ |
| Mecco's Red Devil Furnace Cement | Brick, mortar, metal, ceramics | 2,000F | $$ |
| GIRTech Contact-40 Furnace Cement | Brick, mortar, ceramics | 3,182F | $$$ |
| Cleanburn Castable Refractory Cement | Bricks | 2,800F | $$$$ |
| Accomon 45 Furnace Cement | Glass, metal, ceramics | 2,822F | $$$ |
Selection Criteria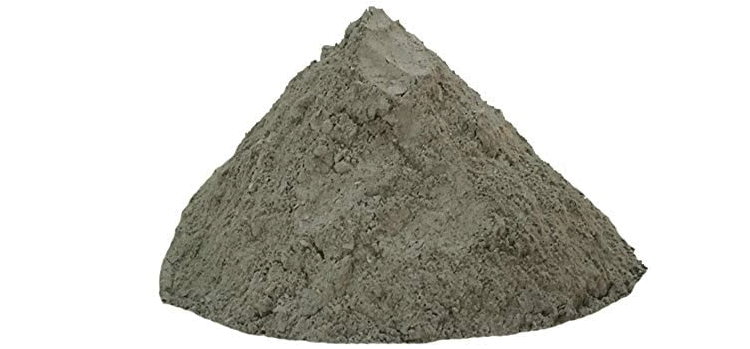 You don't necessarily have to use the furnace or refractory cement to repair a furnace because this type of cement can also be used to repair chimneys, boilers, and various other appliances that operate at high temperatures.
However, assuming that all types of furnace cement are applicable in all contexts would be a mistake since they might not be compatible with a particular material, or their temperature rating may be too low for the device you want to repair.
We used these and various other features of furnace cement as search parameters and to shortlist the best options.
So, here are some of the criteria that helped us select the models we included in this article.
Heat resistance – Exposure to high temperatures can cause the cement to crack and leak noxious gases into the room. That's why all furnace cement we featured in this article can withstand temperatures higher than 2,000F.
Material compatibility – Even though it is versatile, furnace cement doesn't adhere to all materials. All furnace cement we selected for this article is compatible with different materials.
Read our guide to the best rollout switches if you're experiencing problems with your furnace.
What is Furnace Cement?
The regular composition of cement doesn't include elements that react well to exposure to high temperatures. Even though it expands normally when heated, regular cement doesn't contract properly during the cooling process, and as a result, it cracks quickly.
A high concentration of silicate and aluminum oxide enables furnace cement to withstand high amounts of thermodynamic stress. That's why it is a perfect replacement for the cement that holds different components of heating appliances together.
However, some versions of this cement may contain asbestos, and you should avoid using them because this element can release toxic fumes.
The heat resistance rating of furnace or refractory cement is usually between 2,000F and 3,000F, making it suitable for most residential heating appliances.
Regardless of their thermodynamic stress capacities, all versions of this cement prolong the lifespan of furnaces, water heaters, and numerous other appliances by holding their components tightly together.
Check out our motor inducer guide if your furnace is struggling to remove harmful gases from your home.
Uses of Furnace Cement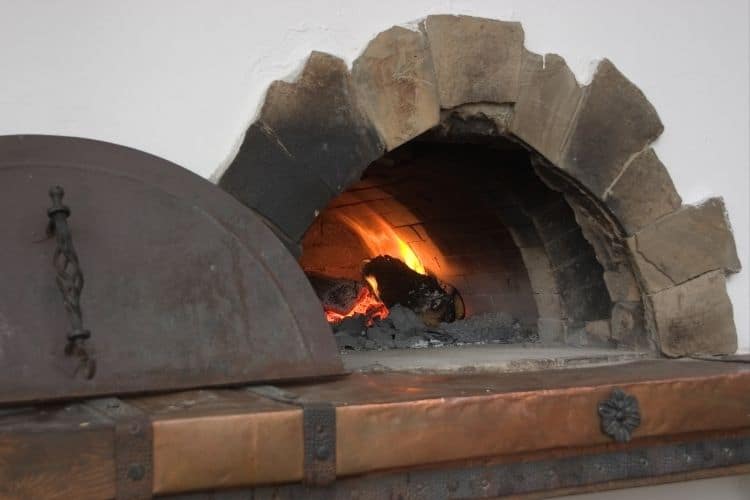 Fireplace systems, wood stoves, and gas furnaces can operate at temperatures that can exceed 1,500F. Consequently, the cement that keeps the ceramic, brick and mortar, or metal parts together starts to crack and chip over time.
The gaps created by damaged cement allow poisonous gases to escape from the appliance into the room. Refractory cement enables you to fill these gaps and prevent the further deterioration of a heating appliance.
Most options available on the market arrive premixed, and you can apply them straight out of the box. However, some versions of furnace cement arrive in the form of a powder, and you need to mix them with water before you can use them.
You should avoid using this type of cement to repair furnaces manufactured before 1980 because they may contain asbestos minerals.
The interaction of these two materials can potentially create a health hazard, and you should conduct asbestos testing before you decide to repair an old furnace with furnace cement.
Our guide to the best HVAC thermostat systems can help you discover efficient ways to control room temperature in your home.
Applying Furnace Cement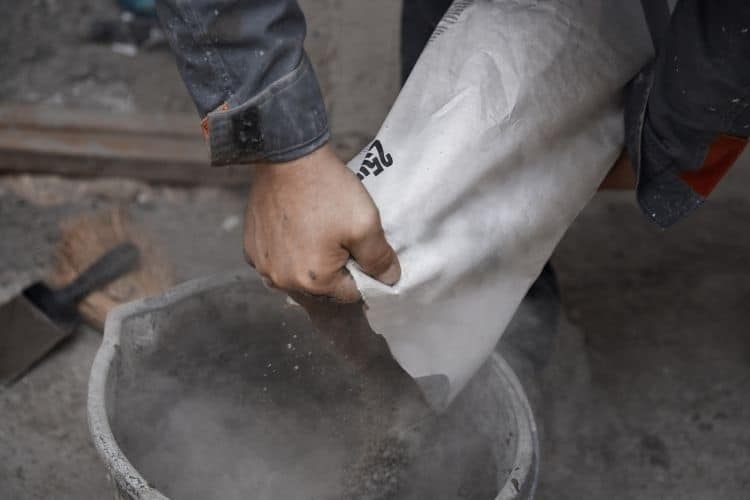 Filling the cracks and gaps on the heating appliance with furnace cement takes place in several stages. Although you don't need a full arsenal of HVAC tools to complete this process, you'll still need a cackling gun or a putty knife to apply the cement.
Also, you should wear protective goggles and gloves while working with this kind of cement to avoid potential injuries.
The Preparation Process
Make sure that the furnace or heating appliance you'd like to repair is cold. The space where the refractory cement is going to be applied needs to be cleaned thoroughly. This involves removing the damaged portion of the old cement and washing the area with water.
It is advisable to avoid using cleaners that contain acids because they may react with the cement and create toxic gases once you switch on the furnace. Also, you should remove all traces of oil, grease, or paint from the surface to which you're applying the cement to avoid contamination.
Furnace Cement Application
Once the surface is cleaned properly, you should use a cackling gun or a putty knife to apply a thin layer of cement to it. Then, add a thicker layer of the cement and spread it evenly over the surface you're treating.
If necessary, you can use a piece of cloth to collect the cement if you applied too much of it, and then leave the treated surface to dry. The furnace cement may need between one and ten hours to harden, depending on the current room temperature.
Browse through our guide to the best furnace blowers if you're heating system is struggling to distribute warm air evenly.
What To Do After the Furnace Cement Dries?
Before you can continue to use your furnace or heating appliance normally, you first need to cure the cement you applied to it. This process involves running a furnace at a specific temperature for a certain amount of time.
The curing temperature depends on the version of furnace cement you're working with, but in most cases, it is set at 500F. It is important to remember that this temperature should be reached gradually, so you should slowly increase the temperature in the furnace throughout the curing process.
The duration of the curing process also varies from one cement type to another, and it can last between three and six hours. Some refractory cement may need up to 24 hours to be fully cured.
Also, you shouldn't exceed the curing temperature because the cement might crack, and you'll have to repeat the entire process. Check out our guide to the best electric fireplaces if you're searching for a new heating system for your home.
The Most Important Factors to Consider While Choosing Furnace Cement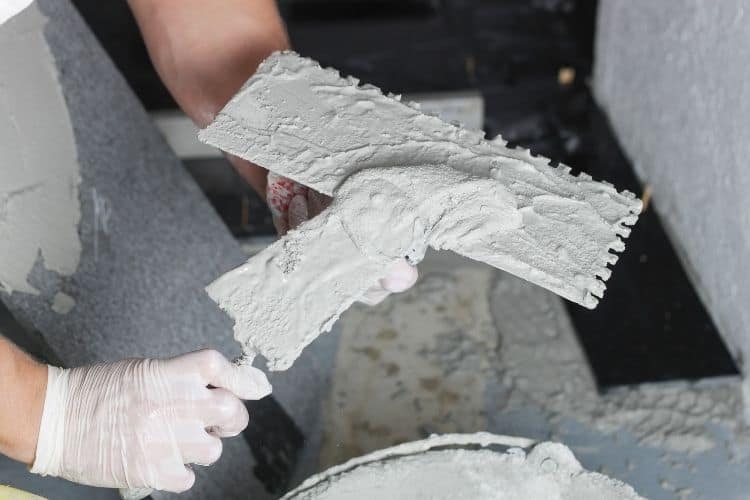 Once you determine that the best way to repair a fireplace, combustion chamber, wood stove, or similar heating appliance is to apply refractory cement to it, finding a suitable model shouldn't be too difficult.
Studying the properties of the cement will provide you with the information you need to decide if the particular model fits the purpose for which you intend to use it. Let's look at some of the factors that can make the furnace cement selection process easier.
Maximum Operating Temperature
The cement's highest operating temperatures indicate a point beyond which the cement starts to deteriorate.
Most models can resist temperatures in the range between 2,000F and 3,000F, so it is unlikely that the heat generated by heating devices designed for residential use can damage them.
Nonetheless, you should check the temperature rating of the appliance you want to repair to find out if it can generate temperatures higher than 3,000F.
Material Compatibility
Although all types of furnace cement adhere to multiple materials, you need to check the material compatibility of the model you want to get. Doing so will enable you to know if you can use it to repair the damaged segment of your heating system.
The vast majority of furnace cement is compatible with metal, ceramics, or bricks, but you still need to check if the model you're interested in adheres to iron, steel, or other types of metals that are frequently used to manufacture furnace components.
Curing Period
To complete the curing process successfully, you need to know how long it should last. This information, as well as the recommended curing temperature, are usually included on the cement's packaging, and obtaining it shouldn't be too hard.
Curing hardens the cement and removes pores, but exceeding the recommended curing temperature may damage the cement. You only need to go through the curing process once before you can start using a furnace normally.
Safety Concerns
Although most manufacturers of refractory cement claim that their products don't contain harmful elements, you should still check the chemical composure of the cement option you want to get.
You should avoid furnace cement that contains asbestos because it may generate noxious gases at high temperatures. Some versions of this cement are not waterproof, and exposure to high humidity levels might lower their effectiveness.
In addition, you should store the leftover cement in a dry location and minimize its exposure to air to increase its shelf life.
Price and Durability
How long the cement you applied will remain intact depends on several factors that include the cement's adhesive power or the conditions in the room where the heating appliance is located.
If the cement is applied properly, the cracks or gaps won't reappear, and you'll be able to continue using your furnace or stove for years without having to worry about this issue. Refractory cement is inexpensive, and you won't have to spend more than $10 on a 16oz bucket of this cement.
The Advantages and Disadvantages
The Advantages of Furnace Cement
Strong Adhesion: Once it is applied and properly cured, furnace cement is extremely difficult to remove. Consequently, it blocks the gases from escaping the heating appliance and keeps the adjacent components in their place.
Simple Application Process: You don't need to hire a professional to apply furnace cement for you because you just need to follow a few simple steps to complete this process. Most versions of this cement arrive premixed and ready to use, so you won't have to go through the trouble of mixing cement.
Affordability: Repairing minor cracks and gaps with this cement won't cost you more than $10, and even a large quantity of refractory cement shouldn't cost more than $50.
The Disadvantages of Furnace Cement
Some Versions of the Cement May Contain Toxic Elements: Checking the chemical components of the furnace cement you want to get is advisable because it might contain asbestos or other toxic elements.
Top 5 Furnace Cement Options
Manufactured by one industry-leading brands, the Rutland Furnace Cement is an equally reliable option for minor and large repairs. This cement adheres to metal and ceramics, and you can use it to connect two metal parts or glue multiple firebricks.
Its maximum operating temperature is 2,000F, while the recommended curing temperature is 500F. The curing process takes approximately 3 hours to complete, and you should increase the temperature gradually until it reaches 500F.
The manufacturer guarantees that a properly cured cement will remain in perfect condition for at least 18 months.
Pros
Simple application process
Short curing period
Strong adhesion
Affordable price
Cons
Not rated for outdoor use
All application tools must be purchased separately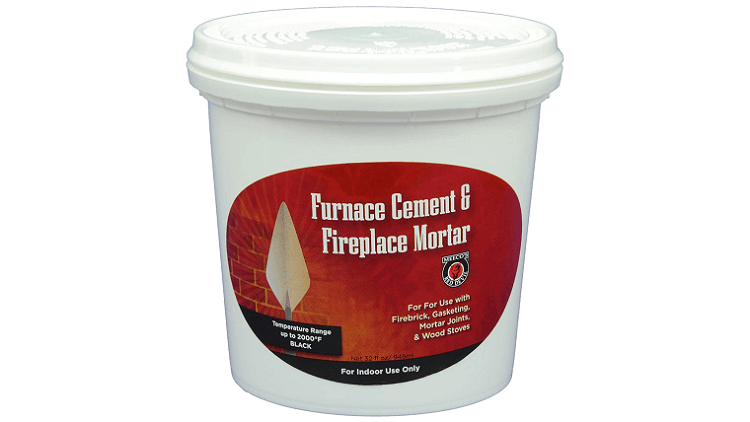 You can use the Mecco's Red Devil Furnace Cement to repair ducting, chimneys or reset furnaces because it easily adheres to metal or bricks. In addition, this refractory cement can help you cover chips or cracks in firebricks or mortar.
The product arrives premixed, so you can apply it directly to the part of the heating system you want to repair. However, the curing process takes 24 hours to complete, and the temperature must remain over 60F during that time.
Pros
The cement's maximum operating temperature is 2,000F
Wide range of applications
It doesn't contain toxic elements
Cement arrives ready to use
Cons
Slow curing process
Not designed for use in humid conditions
Mecco's Red Devil Furnace Cement | Amazon
Multi-purpose cement for bonding and sealing both masonry and metals with working temperatures up to 2000 deg. F. Designed for patching or repairing cracked or chipped firebrick and mortar.
Buy at Amazon
We earn a commission if you make a purchase, at no additional cost to you.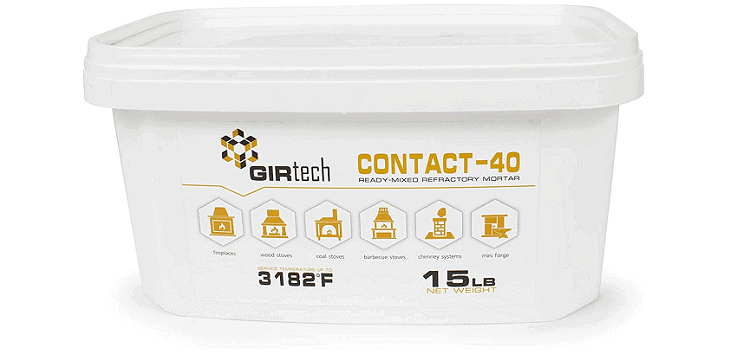 The main component of the GIRTech Contract-40 Furnace Cement is the aluminum silicate powder that ensures high resistance to thermodynamic stress. This cement can withstand prolonged exposure to temperatures up to 3,182F, and it is suitable for use with residential and forging furnaces.
The GIRTech's cement is premixed, and you can apply it to the surface you want to treat directly from the container. The curing process can take up to 48 hours to complete, and it should take place at temperatures between 750F and 1100F.
Pros
Compatible with a wide range of materials
Suitable for residential and industry settings
High operating temperature
Strong and long-lasting adhesion
Cons
Shelf life is just one year
Low water resistance
GIRTech Contact-40 Furnace Cement | Amazon
Universal ready-mixed high-refractory mortar based on aluminosilicate natural materials with a high content of aluminum oxide.
Buy at Amazon
We earn a commission if you make a purchase, at no additional cost to you.
09/24/2023 02:51 pm GMT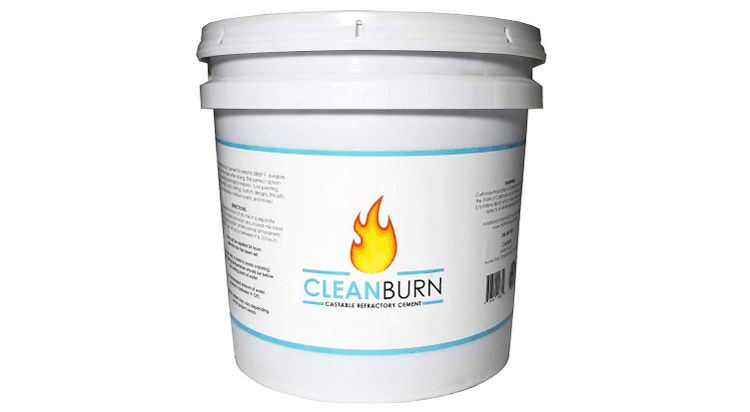 Designed specifically to cover cracks and chips in firebricks, the Cleanburn Castable Refractory Cement can help you restore the functionality of wood stoves, fireplaces, and numerous other heating appliances or build fire pits.
Even though the cement is durable, you may have to apply several layers over the gap to ensure strong adhesion. It is suitable for interior and exterior use, and its maximum operating temperature is 2,800F.
The cement needs between 8 and 9 hours to dry, and you can continue using the appliance normally 24 hours after applying the cement.
Pros
Excellent indoor and outdoor performance
Can withstand 2,800F of heat
Premixed and ready to use
Durable
Cons
Not easy to work with
Limited material compatibility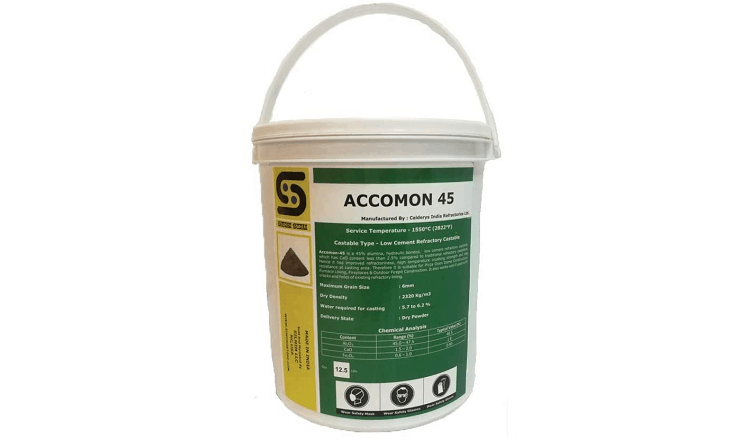 You can repair cracks in glass, metal, or ceramics with the Accomon 45 Furnace Cement. Its maximum operating temperature is 2822F, while the drying process takes place at room temperature over a 24- hour period.
This cement arrives in the form of powder, and you need to mix it with a proportionate amount of water before you can apply it. According to the manufacturer, the cement should have between 5.7% and 6.2% water to be properly mixed. It contains low levels of iron, which increases its adhesive power.
Pros
A broad range of applications
Compatible with different materials
Low thermal conductivity
Safe to use
Cons
Long drying period
Cement might be difficult to spread
Accomon 45 Furnace Cement | Amazon
Accomon-45 is a 45% alumina, hydraulic bonded, low cement refractory castable, which has Cao content less than 2.5% compared with traditional refractory castables.
Buy at Amazon
We earn a commission if you make a purchase, at no additional cost to you.
09/24/2023 07:42 pm GMT
Frequently Asked Questions About Furnace Cement
Question: Do All Furnace Cement Types Require Curing?
Answer: Yes, heat treatment is a necessary process because you have to remove moisture from the cement.
Question: How Long Is The Shelf Life of Furnace Cement?
Answer: The shelf life of furnace cement depends on the manufacturer and the storage conditions. In most cases, the furnace cement will remain usable for at least a year.
Question: Are All Kinds of Furnace Cement Intended for Indoor Use?
Answer: No, some types of furnace cement are suitable for indoor and outdoor use.
Question: Can I Exceed the Furnace Cement's Temperature Rating?
Answer: Residential heating appliances don't often reach temperatures above 2,000F, so it is highly unlikely that you'll be able to exceed the furnace cement's temperature rating.
Our Verdict: How to Know Which Furnace Cement Is the Best?
You don't have to replace your home's entire heating system because of a cracked firebrick or furnace ceramic insulation. Refractory cement allows you to cover the cracks or gaps that may be why a heating appliance is malfunctioning and restore its heating capacities.
Some furnace cement can seal holes in ducting or other metal parts of your heating system. We recommend the Rutland Furnace Cement if you need a way to deal with small cracks in firebricks or seal metal-to-metal joints.
The GIRTech Contract-40 Furnace Cement might be a better option for you if you're searching for refractory cement that can withstand exposure to temperatures over 3,000F. Which furnace cement are you going to choose?
| Product Image | Primary Rating / Price | Primary Button |
| --- | --- | --- |
| | | |
| | | |
| | | |
| | | |
| | | |
09/24/2023 06:47 am GMT
Let us know in the comments, or continue reading our guide to the best washable furnace filters if you're looking for a way to improve the air quality in your home.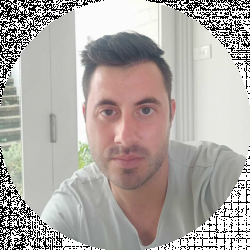 Latest posts by David Borgogni
(see all)