Being able to choose the fuel for the furnace that is at the core of your home's heating system is a luxury that might lower your power consumption needs. Our guide to the best propane conversion kits will help you figure out how to change a furnace's primary fuel.
All gas appliances run either on gasoline, natural gas, or propane, while a handful of models have dual-fuel capacity.
Besides, a large portion of air heating furnace models and combination air conditioning and heating units you can find on the market are designed to work with just one type of fuel, and switching to another fuel type isn't an option.
Connecting a propane tank to a furnace optimized for natural gas is dangerous as two gases burn differently. So, in this article, we're going to take you through some of the best propane conversion kits and help you find the one that fits your furnace or combination air conditioning and heating unit.
Read our guide to heating systems for more information on how these systems work.
Top 5 propane conversion kits
Switching from natural gas to propane
If at all possible, the process of changing the fuel a furnace is using is highly complicated as it involves changing some of the unit's key components.
In some cases, a propane conversion kit can be utilized to add an alternative fuel option, but more commonly, these kits enable you to switch from natural gas to propane.
Moreover, you can use these kits to convert gasoline-powered appliances and increase their engine life as propane burns much cleaner than gasoline. Even though they're fossil fuels, they behave differently during combustion, especially the gasoline option.
Propane generates twice as much energy as natural gas. Hence switching from natural gas to propane will enable you to cut your fuel consumption in half and extend your fuel supply.
On the other hand, natural gas is considerably cheaper than propane, so unless you can get propane in the same price range as natural gas, you won't be able to lower your expenses.
Propane doesn't have a limited shelf life as it keeps its properties for three decades, but storing propane is a challenge you'll have to face. It also makes gas pumps more efficient by reducing their fuel consumption.
Finding space for several 120-gallon tanks isn't always easy, while standard 500-gallon and 1000-gallon tanks that are commonly used for heating purposes can be too large to fit in your backyard. However, making propane the primary fuel you use for heating will enable you to create a larger fuel supply.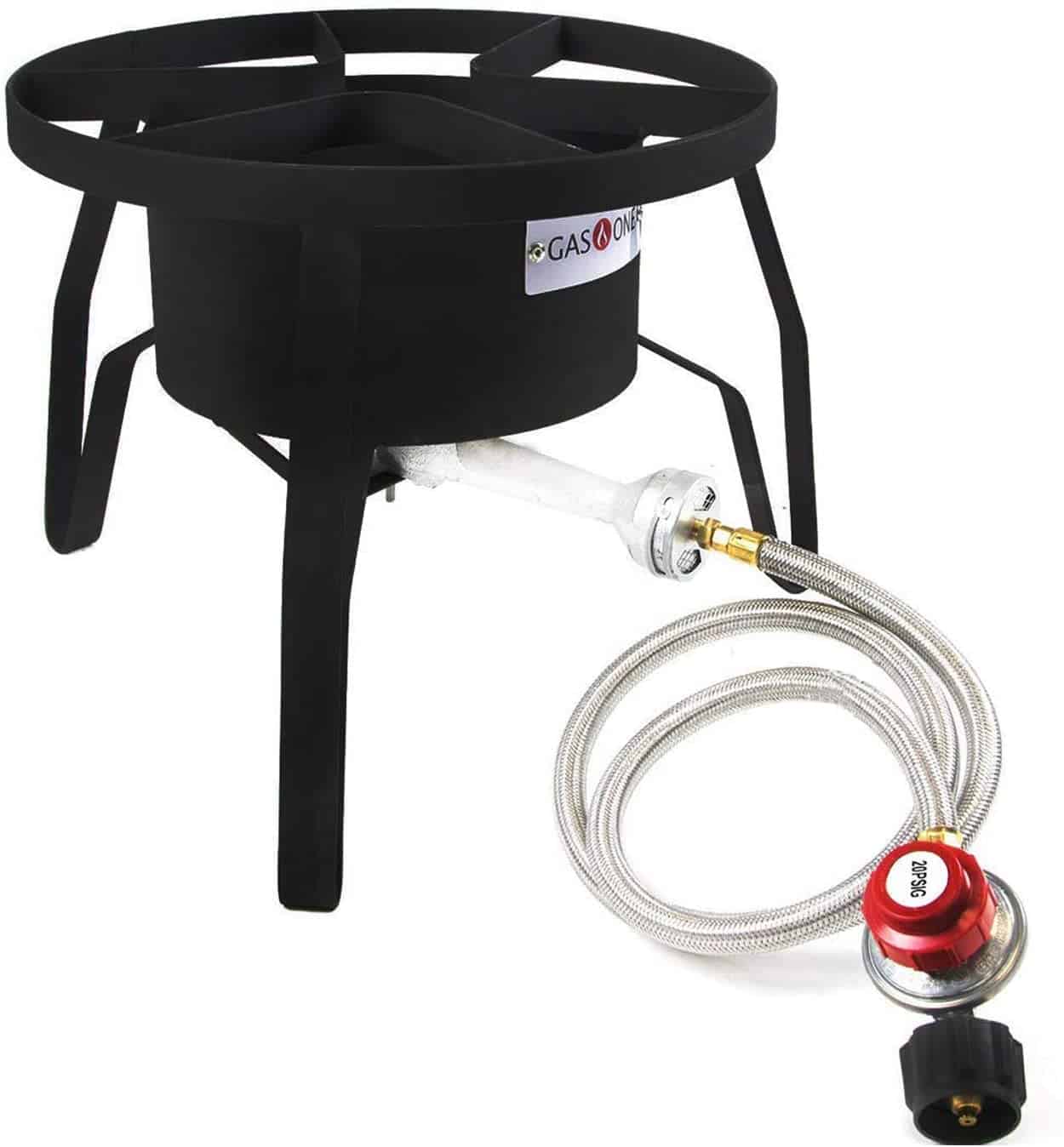 The possibilities of using natural gas and propane interchangeably
The most affordable and common option is to have a propane conversion kit add-on installed when you purchase a furnace. Also, many furnaces have gasoline carburetors and other components required to burn gasoline; if that's like yours, then you may be able to create a dual fuel furnace that runs on both gasoline and propane.
The average rate for installing the propane conversion kit add-on is around a hundred dollars, but you must inquire if the manufacturer or the HVAC installation company provides this service.
In most cases, this option isn't going to be available, and you'll have to decide which type of fuel you want to use. Sticking with the furnace's primary fuel is probably the best choice you can make, as it will save you the trouble of searching for the components that are compatible with the unit.
Conversion capability issues
You'll run into a bunch of challenges if you decide to switch from natural gas or gasoline to propane fuel, even if the furnace you got came with a propane conversion kit.
The vast majority of contemporary air heating furnaces have appliance regulators, burners, and burner air shutters that are designed to work with a specific type of fuel. Changing these components will help you avoid engine failure and prolong the engine life.
Natural gas has lower pressure than propane which means that the unit's gas orifices have to be larger if converted to work with propane. Furthermore, appliance regulators for natural gas and propane furnaces are different as the models designed for propane deliver higher amounts of pressure.
Replacing the burner is also mandatory, as a burner that's inadequate for the type of fuel you're using causes incomplete combustion and almost certain damage to the entire unit.
Changing the unit's vents might also be necessary, as these two types of fuels produce different combustion gases. Also, switching from gasoline to propane will enable you to use a furnace even if your home doesn't have a natural gas pipe.
The challenges of installing propane conversion kits
Appliance regulators are sensitive devices that have to be handled with utmost care. That's why you shouldn't try to change them by yourself unless you're an experienced HVAC technician.
The same can be said for burners and burner air shutters, as even the slightest mistake can compromise the unit's integrity. The appliance conversion process is highly technical, and each step must be completed correctly to start using propane instead of natural gas or gasoline as fuel.
Besides, the costs and the complexity of installing a propane conversion kit outweigh the benefits, and in most cases, it's easier to get a new furnace that runs on propane. Also, the unit should have a label that informs you if you can change its fuel type or not.
The selection of convertible furnaces is shrinking as new models are usually designed to work with just one type of fuel, so your best option is to decide which type of fuel you want to use before purchasing a heating or cooling system.
The difficulties of finding the matching propane conversion kits
Each propane conversion kit is designed for specific appliances, so the models designed for stoves won't fit on furnaces. The furnace propane conversion kits aren't universal, as they are made to fit furnace models produced by specific manufacturers.
So, the first thing you need to find out is which kits are compatible with the unit you're trying to convert. The manufacturers don't provide extensive information about furnace compatibility, as they usually include brands rather than particular models in the list of specifications.
However, the fact that a kit is compatible with Lennox furnaces doesn't necessarily mean that it is compatible with all furnace models the brand produces.
That's why you need to know the serial number of the kit models that are compatible with the unit you're upgrading.
Probably the easiest way to accomplish this is to compare the serial number of the kit that came with the unit with the serial number of the kit you'd like to get.
You should also keep in mind that a kit might not include all components you need to change the type of fuel you're using to power your heating or cooling system.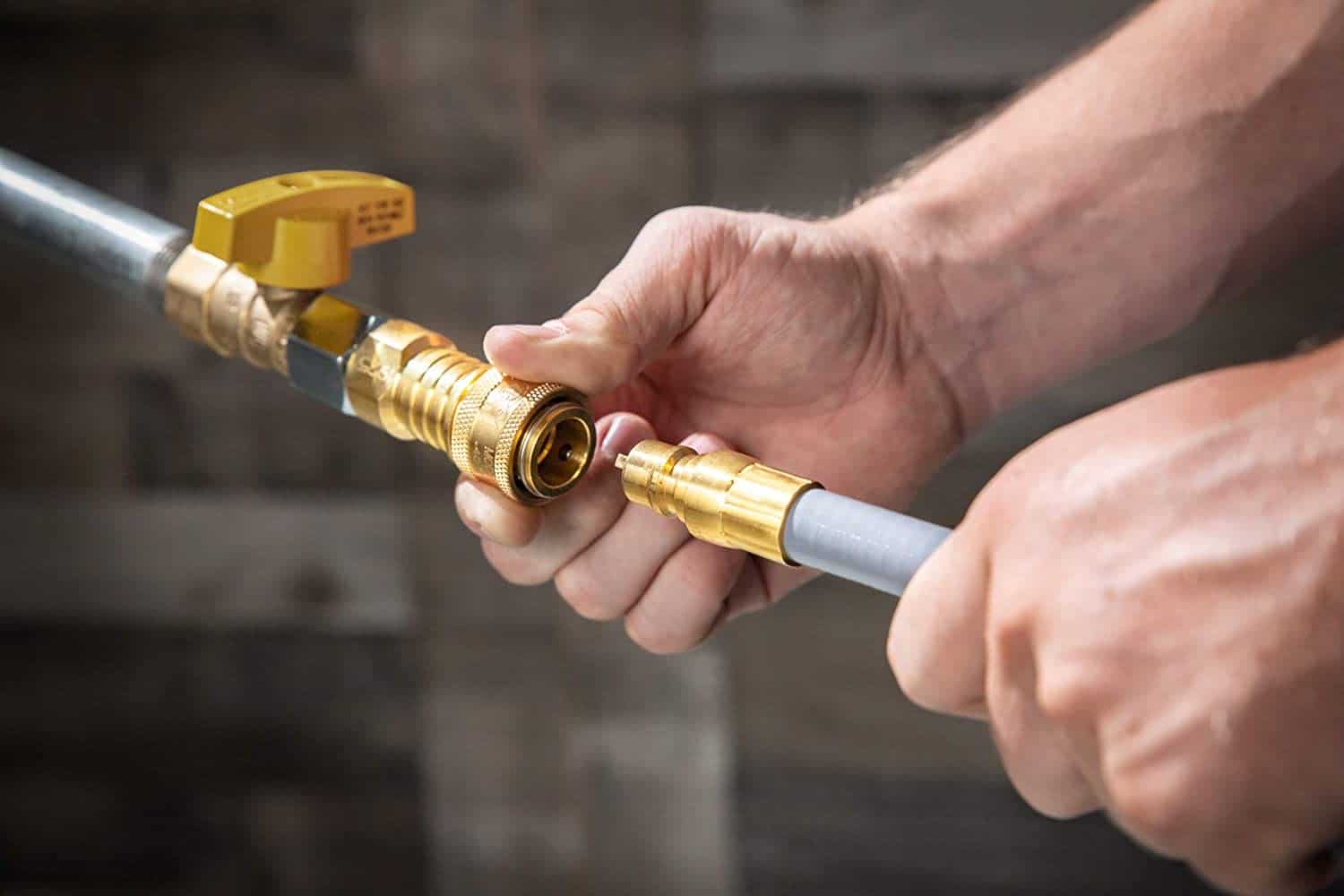 The most important factors to consider while searching for a propane conversion kit
Converting a gas-powered appliance, whether it is a stove or an air heating furnace, is usually more difficult than replacing that appliance.
Even though propane is more energy-efficient than natural gas, the price gap between these two fuel types is wide enough to cancel out the propane's energy-saving properties.
As a result, you'll be spending a similar amount of money to fuel the heating system in your home regardless of the type of fuel you're using. You should consider the following factors if you decide to install a propane conversion kit on a furnace.
The furnace's fuel conversion capabilities
A furnace or any other gas-powered appliance will be labeled NAT or LP if it is compatible with just one type of fuel. So, if your unit just has a NAT label, then changing the type of fuel it uses is impossible.
Models with both NAT and LP labels usually ship with a compatible propane conversion kit, and you don't have to search for an aftermarket solution. The components of these kits are durable, and you can use them for years without having to worry about replacing them.
The conversion kit model and serial number
Although checking if a particular conversion kit is compatible with the furnace you have may seem like a straightforward process, this isn't always the case. The manufacturers of these kits rarely include this list of compatible devices in the product description.
The best option is to search for a kit manufactured by the same brand as the furnace you'd like to upgrade, but even in this case, you should try to find out if your kit choice is compatible with the unit on which you want to install it.
The complexity of the installation process
Go through the list of components a propane conversion kit contains and try to ascertain how difficult it would be to install these components. The process of installing a low gas pressure switch or regulator spring kit isn't a task for a DIY enthusiast.
Instead, it is much safer to let a licensed technician do the conversion for you than to risk making a mistake that could cause the engine failure and destroy the appliance.
The kit's durability
The information about propane conversion kits is scarce and most technical, making it difficult to assess how durable the kit is. Furthermore, finding online reviews of specific kits requires you to browse through hundreds of comments on different forums.
Once you manage to dig up some information about the kit you're interested in, you'll have no way of verifying the validity of the source. Despite all these obstacles, you should still do as much background research as you can to determine if a propane conversion kit is durable and reliable.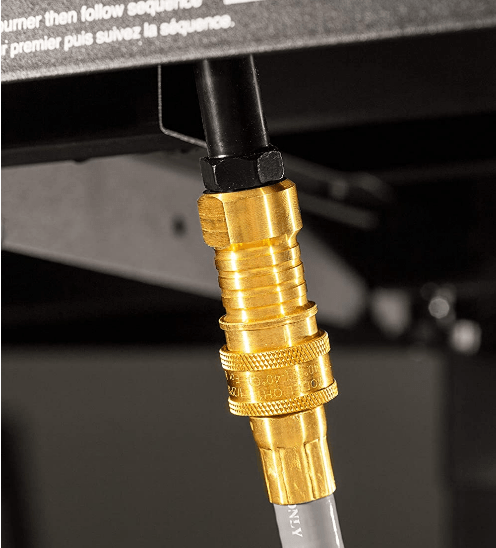 The replacement costs
Create a rough estimate of the costs of the propane conversion, and then compare them to the costs of getting a new propane-powered furnace. Doing so would enable you to determine if getting a new unit would be a more affordable solution than converting the unit to run on propane.
The kits themselves aren't expensive, as they can cost up to $300, while the average installation cost is around $200.
Nonetheless, the costs of replacing the components of a furnace designed to work with natural gas with those optimized for propane can be higher or lower depending on the complexity of the system.
The advantages of propane conversion kits
Lower power consumption
A single unit of natural gas contains around 50% less energy than a unit of propane. So, by switching to propane, you'll be using 50% less fuel than you were using with natural gas to heat the area of the same size.
Excellent durability
Once they're installed, propane conversion kits can last for years. All components of these kits are made of materials that can withstand exposure to high temperatures or handle operation under high pressure.
Besides, you'll get a seemingly unlimited fuel supply that will enable you to heat your home in cold weather conditions.
Getting a propane conversion kit add-on can be an emergency fuel backup
Even though this option isn't always available, it is worth checking if the manufacturer or the company that should install the heating system can include the propane conversion kit in the setup that will enable you to switch between different types of fuel.
The disadvantages of propane conversion kits
Complicated installation process
Changing the type of fuel a furnace uses involves replacing its regulator, burner, and burner air shutter. Besides, installing new vents might also be necessary to get rid of the fumes efficiently.
Top 5 propane conversion kits
Carrier/Bryant KGANP4601 – The best propane conversion kit for Carrier furnaces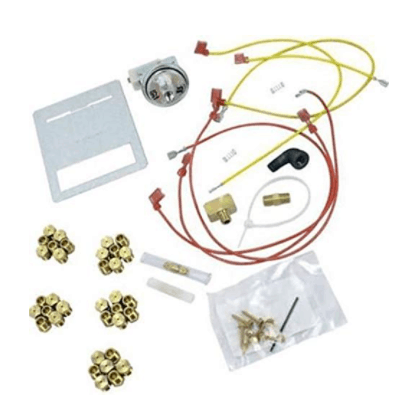 If you're using a Carrier, Bryant, or Payne furnace that features both LP and NAT labels, you should check if the model you have is compatible with the Carrier/Bryant KGANP40601 propane conversion kit.
This kit includes everything you need to convert a furnace because it comes with the wiring, main burner orifice, regulator kit, and other components optimized for systems that run on propane. The kit doesn't come with a set of installation instructions, and the installation process is complicated.
Pros
The kit includes all components required for a successful conversion
Moderate price
Serves as a replacement for KGNAP4101ALL and KNAP2001ALL kits
Compatible with most Carrier furnaces
Cons
Goodman LP Conversion Kit – The best propane conversion kit for Goodman furnaces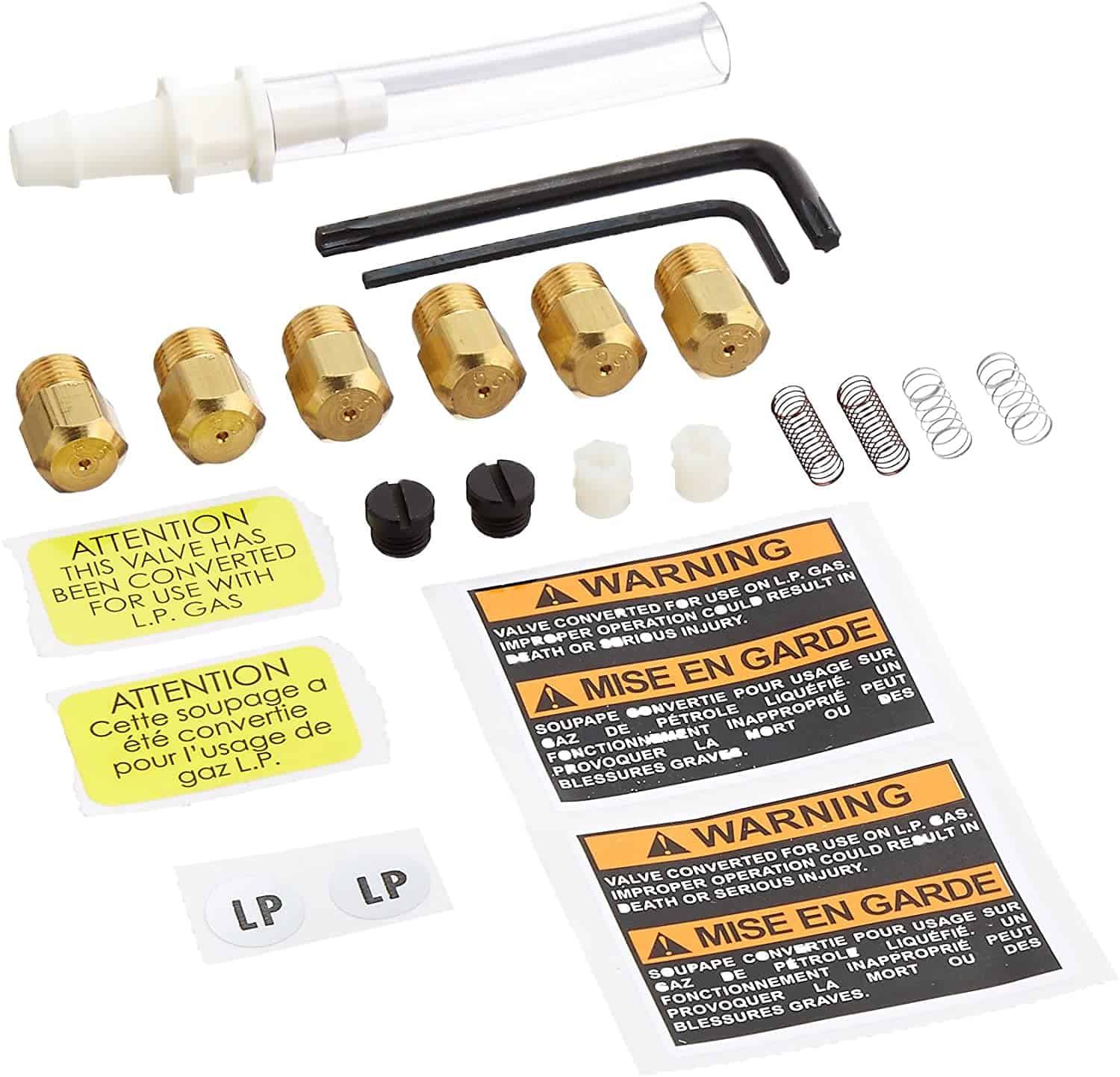 Designed for two-stage furnaces, the Goodman LPM-06 LP Conversion Kit replaces the older LPM-03B and LMP-05 conversion kits. You will get a 36G54 pressure check kit valve, spud orifice assembly, conversion label, Honeywell conversion kit, and White-Rogers conversion kit; you opt for the LPM-06.
The kit also includes a detailed manual which somewhat simplifies the installation process, but the manufacturer suggests that a professional installer should install the kit. The gas valve features a 3-pin polarized plug that prevents the incorrect installation of the wiring.
Pros
Excellent safety features
Allows for pressure adjustments
Replacement parts are easy to find
All component are made of high-quality materials
Cons
Only compatible with Goodman furnaces
Lennox 11K49 conversion kit – The best propane conversion kit for Lennox furnaces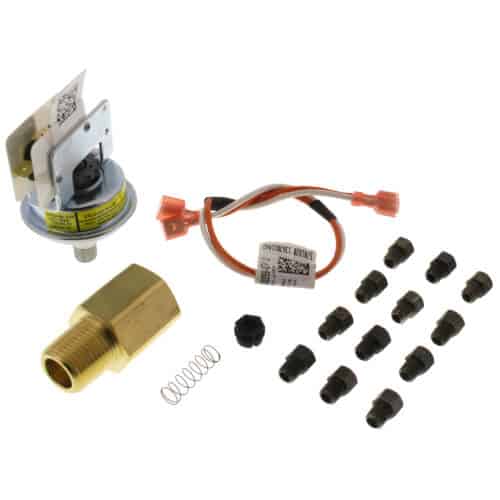 Owners of Lennox furnaces should check if the Lennox 11K49propane conversion kit is compatible with their unit. This kit replaces the older 11K4901 and 604888-12 kits produced by the same manufacturer, and it is compatible with most Lennox furnaces.
The 11K49 propane conversion kit feature 12 LP main burner orifices, a red regulator spring, a Honeywell Nat to LP gas valve conversion kit, and all other components you're going to need to convert a Lennox furnace.
Pros
Durable and reliable components
Up to date with industry standards
The kit includes 12 main burner orifices
Good safety features
Cons
White Rogers/Emerson F920659 – The most versatile propane conversion kit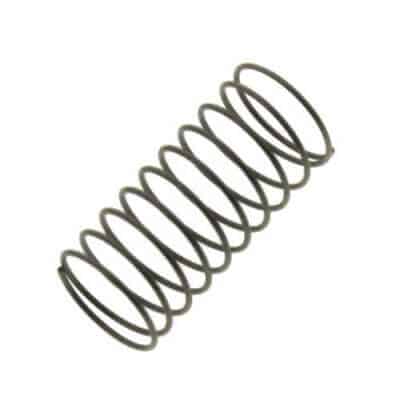 The White Rogers/Emerson F920659 propane conversion kit doesn't include all the components you're going to need to change the type of fuel your furnace is using. Even so, this generic replacement part is compatible with all furnaces that utilize 36C, 36D, 36E, and 36F single-stage valves.
In addition, the kit is compatible with 36G, 36H, and 35J two-stage regulators that offer a 7.5-inch to the 12-inch regulation range. The F920659 comes with a 1-year warranty that covers all defects of craftsmanship and materials.
Pros
Compatible with furnaces produced by different manufacturers
Suitable for single-stage and two-stage regulators
It comes with a 1-year warranty
Affordable
Cons
Doesn't include all component required for conversion
Honeywell 393691/U – The best propane conversion kit for Honeywell furnaces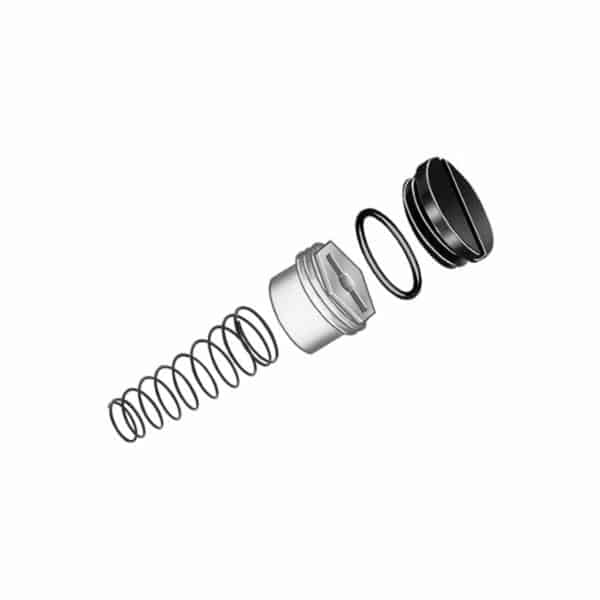 You can use the Honeywell 393691/U propane conversion kit to switch from natural gas to propane fuel on single-stage furnaces. This model is designed primarily for Honeywell's furnaces, and you need to check its compatibility with furnaces produced by other manufacturers.
The Honeywell 393691/U has an 8-inch to 12-inch adjustment range that lets you control the flow of the fuel through the furnace.
Pros
Made of high-quality materials
It fits a wide range of single-stage furnaces
Inexpensive
Broad adjustment range
Cons
Frequently asked questions about propane conversion kits
Question: Does the furnace's BTU affect which propane conversion kit I can use?
Answer: You can use any propane conversion kit compatible with the furnace model you have, regardless of how many BTUs it has.
Question: How long does it take to install propane conversion kits?
Answer: Depending on the complexity of the system and the extent of adjustments you need to make, the installation process can take between a few hours and a few days.
Question: Do propane conversion kits include propane fuel?
Answer: No, you must purchase the fuel separately from the propane conversion kit.
Question: How long do propane conversion kits last?
Answer: After a successful installation, you won't have to replace its components more frequently than once every few years.
Our verdict: How to know which propane conversion kit is the best?
Switching from gasoline or natural gas to propane isn't always possible since some gas-powered appliances are only compatible with one type of fuel. One of the main reasons to try using propane as a fuel for your air heating furnace is its high energy level, enabling you to use less fuel.
However, heating a 2000sq/ft house with propane costs between $150 and $250 in cold weather, while heating a house of the same size with natural gas costs around $100 to $200.
Consequently, switching to propane will turn out to be a more expensive option despite the fuel's high energy potential. Propane conversion kits are designed for specific furnace models, so the right kit for your furnace is the one that is compatible with it.
If you have a Carrier furnace, you should check if it is compatible with the Carrier/Bryant KGANP40601 propane conversion kit, while the owners of Goodman furnaces might be able to use the Goodman LPM-06 LP conversion kit to switch to a new type of fuel.
Was this guide to the best propane conversion kits useful? Leave a comment and let us know, or continue reading our guide to humidity control systems.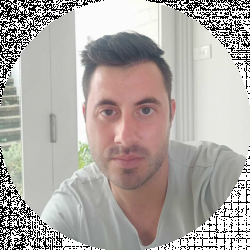 Latest posts by David Borgogni
(see all)